Is this the world's youngest entrepreneur?
Before entering her teens, Zymal Umer founded a business that is helping the environment and the underprivileged in Pakistan.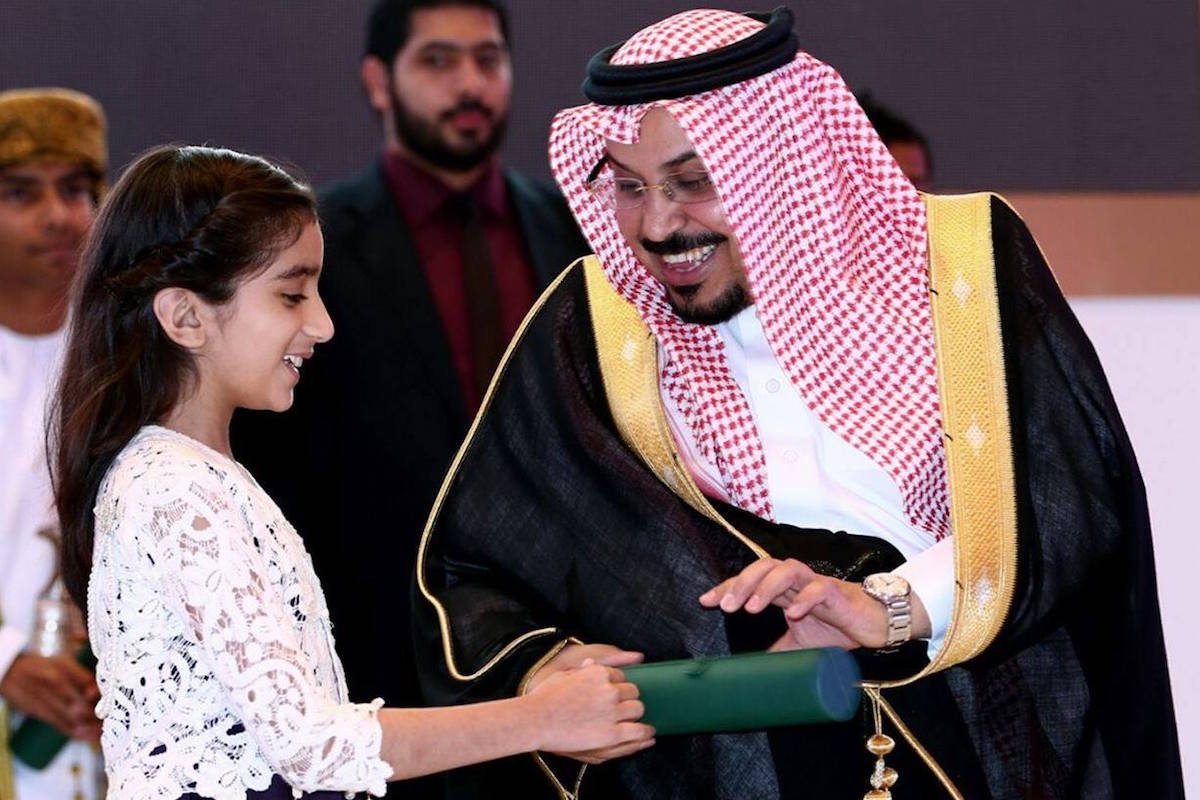 In a land where colourful mountains of plastic bags, metal and general waste stretch further than the eye can see, a Sargodha schoolgirl is changing the country one bag at a time.
Dubbed Pakistan's youngest social entrepreneur, when she was just nine years old, Zymal Umer founded Zee Bags – an innovative upcycling enterprise that turns old newspapers into beautifully decorated biodegradable bags.
"Three years ago, I went with my parents to the local market; there was a lot of pollution caused by plastic bags and sewage problems. When I saw this, I thought something should be done that would not further harm our environment," Zymal told the BBC.
In that moment, she noticed a shopkeeper handing out paper bags to his customers and was instantly inspired.
"I made my first bag and sold it to my cousins. At the beginning, I didn't sell many bags, but my business has grown and now I'm selling hundreds of them."
Zymal sells each bag for 70 INR (A$1.40), and in the space of just three years, her business is now worth up to 5 Lahk (A$6,200).
"These bags are not biodegradable which is destroying our environment. People use these plastic bags and just dump them. These things inspired me to start my project so that we can reduce the number."
Zymal decorates each of her pieces with different stones, buttons, ribbons and flowers, promoting the initiative on Facebook and Twitter.
"My father and grandfather help me run my business and they pay for my raw materials. If they didn't help it would be very difficult for me to keep going," says Zymal.
"It is believed that girls in Pakistan cannot work on their own. But in terms of my projects, I haven't faced any issues that a girl couldn't handle."
It is believed that girls in Pakistan cannot work on their own… I haven't faced any issues that a girl couldn't handle
A social entrepreneur in the making
Zee Bags not only aims to help the environment but also the underprivileged population in Pakistan. Zymal donates part of her profits to charitable foundations such as SOS Children's Villages, which provides shelters for orphans and destitute children.
#ZEE_Bags brings smiles to underprivileged children in #SOS_Village. Distributed new clothes and washing machines. pic.twitter.com/FVrP2uugaW

— ZEE Bags (@zeebagspakistan) July 26, 2016
"The income I get from my project I donate here and I also organise some activities. I feel very happy when I see their smiling faces."
Her donations have helped the shelter to buy necessities including water coolers, batteries, and washing machines.
A student at Beaconhouse School System in Sargodha, Zymal manages to balance her social and environmental ambitions with her academic studies.
"My favourite subjects are English, Maths and Social Studies. It is very hard for me to do my schoolwork and run Zee Bags at the same time. That is why I make them in the holidays or on weekends."
In 2015, Zymal was honoured with the Prince Abdul Aziz Award for Children Pioneer/Ecopreneur Award in Riyadh, Saudi Arabia. She also received The Indus Entrepreneurs (TiE) Youngest Entrepreneurship Award and was awarded a gold medal from the Pakistan Federal Secretary of Education.
Meet the ambassador of our #WhizKids programme,Zymal.She is the youngest entrepreneurs of Pakistan@zeebagspakistan pic.twitter.com/pMkDrsWHmB

— Plan9 (@Plan9incubator) June 28, 2016
Pollution causes more deaths than violence
A report published last week by the Lancet Medical Journal revealed that worldwide pollution claimed the lives of nine million people in 2015.
This outstrips the number of casualties caused by war, violence, hunger and natural disasters, as well as the impact of any single disease. In fact, the figure is higher than the deaths cause by AIDS, malaria and tuberculosis combined.
As a result of South Asia's rapid industrialisation, its top-three most-populated nations account for more than one-third of these deaths (3.1 million people). In Pakistan, more than 311,000 people died because of pollution in 2015.
"Pollution is much more than an environmental challenge – it is a profound and pervasive threat that affects many aspects of human health and wellbeing. It deserves the full attention of international leaders, civil society, health professionals, and people around the world," said Professor Philip Landrigan of Lancet's Commission on Pollution and Health.
According to Pakistan's Environment Protection Department, 20 million tonnes of solid waste is generated each year. With no coherent plan to deal with the problem, this figure continues to grow by 2.4 per cent annually.
If people just took one moment to think about what they are doing, then maybe they would think twice and our environment would be better
An estimated one trillion plastic bags are used and discarded every year around the world – nearly two million each minute.
"When I look at all of it, I feel very bad because if people just took one moment to think about what they are doing, then maybe they would think twice and our environment would be better," said Zymal.
Only half of all rubbish generated in Pakistan is collected by the government and there is a severe lack of adequate landfill sites. The most common methods of disposal include dumping and burning – posing severe risks to public health.
Zymal hopes her endeavours will encourage authorities to take the steps needed to fix the waste-management disaster. "I think the government should use all of this to make electricity and build some power plants," she said.
The young entrepreneur told The Express Tribune that she plans to launch a website and a mobile app in the near future to increase social awareness and reach more customers.
"When I think about my project and to keep it going, I feel that I should become a businesswoman in the future. My biggest dream is to grow my business not only across Pakistan, but to expand it internationally too."