Sabu Jacob, CEO and Managing Director of Kitex Garments, is today the head of the second-largest manufacturer of infants' clothes in the world, but his first foray into the workforce was in a much humbler role. "My career started when I was 13 and my father took me to clean the workers' toilets in our aluminium factory," he recalls. "I worked there for almost 14 months. Then he promoted me to sweeping the floor of the factory."
Sabu's father, industrialist MC Jacob, later elevated him to other roles during the company's construction of factories, and the young Sabu spent a couple of years mixing concrete and plastering, then installing and commissioning machines. He then gained responsibility for one weaving machine and worked his way up to overseeing eight.
After a detour to the shipping department, he returned to the loom as an assistant weaving master, then as weaving master, and finally as director.
Armed with this experience, Sabu struck out and started his own company, Kitex Garments, in 1992. Working at different stations throughout his father's companies gave him firsthand experience of the manufacturing process, and it showed him the importance of comfortable working conditions. "I saw the problems and pain in every job," says Sabu.
An investment in worker comfort pays off
When he set up his own factory, which provides accommodation and meals for its employees, Sabu's appreciation of these pain points was front of mind. "I was very concerned about the workers and their welfare. That's why I made it a centrally air-conditioned factory. I placed a lot of importance on getting everything right – their dormitories, their kitchen, their food."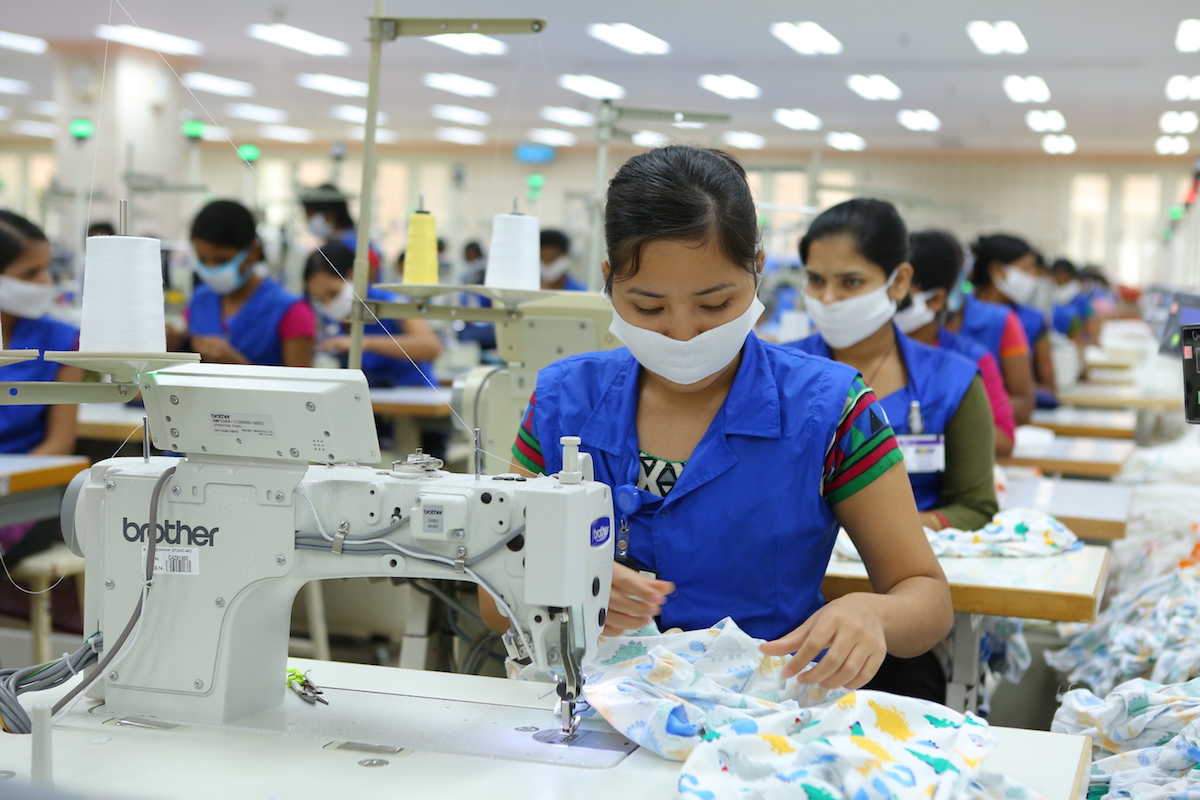 Sabu says other industry players initially thought the expenditure on workers' living quarters was pointless. "People said it was big foolish," Sabu recalls. "But now the situation has changed and all my competitors are copying us. They are constructing hostels, adding more facilities. It's become necessary."
The initial investment in workers' conditions has paid off in a number of different ways. "A lot of our competitors are facing very big problems, whereas my workers are very stable and want to work as much as possible.
"My competitors are facing workforce shortages, while my factory is in a very comfortable position and more and more people want to stick around. It has all changed now: unless you offer a good dormitory and good food, people will not stick with your factory.
"My efficiency is around 30% more than the global efficiency in this sector. That is because my people are getting full rest, getting very good, healthy food. The next day, they come back to work with full energy, they're fresh, and they can concentrate on their work."
Sabu M. Jacob has a deep knowledge of the garment industry
Sabu completed an economics degree at the University of Kerala, but found that on-the-job learning was more formative. "More than my studies at college, I got a better education from my father," he says.
More than my studies at college, I got a better education from my father.
"I got practical experience; I learned the reality of life. That was exactly what he wanted me to learn. That's why he put me through the very worst job and slowly let me progress into different areas. Basically, he made me a human being."
Before opening his factory, Sabu says, he put extensive efforts into developing a deep knowledge of garment production. "I toured a few factories in Tiruppur, the knitwear hub of India; then on to Chennai, Bangalore and Delhi, where I visited 18 different factories – woven, knit, different product manufacturers."
He found that many textile factories were operating well below capacity. "When I was in Tiruppur, people were only making knits; in Bangalore, people were only making woven, and so on. Some of the factories died after summer because they were only making summer dresses; they were very much affected by seasonal changes and would have to shut down in winter.
"So that inspired me to design a factory that could produce both knits and wovens and all kinds of specialties. I made sure my factory could cater for all seasons."
Kitex Garments future proofs with infant clothing
Today, Kitex Garments is 100% export based, with a client list including Walmart, Amazon, Target, Toys'R'Us, Gerber, Carters, The Childrens Place, Sam's Club and Mothercare. "Getting those kinds of clients initially was very difficult," Sabu remembers. "It's challenging in the garment business to get any business, but getting those good clients, that is extremely important."
He says that the mass-production capacity of his factory was a major competitive advantage as smaller competitors struggled with production setbacks. Kitex's unwavering commitment to maintaining high levels of safety compliance was also a useful point of difference.
In the early years of the company, Sabu says, it was difficult to attract potential buyers to Kerala, which had not traditionally been home to the garment industry. Finally, in 2000, a buyer from Gerber Childrenswear, an American company with an international retail network, was enticed to visit.
"He had heard good things about our factory and wanted to utilise that." Impressed by the factory and its adjacent living quarters, the buyer placed a US$5,000 order, a massive boost for Kitex at the time. Gerber remains Kitex Garments' biggest customer.
Another driver of growth was finding a niche. Sabu made the canny strategic decision to focus on the recession-proof market segment of infants' garments. While the early twenty-first century was a lean time for many clothing manufacturers, the infants' section of Kitex Garments remained resilient even as its women's and men's products suffered a downturn.
"I found that with infants zero to 24 months, parents will compromise on their own costs, but they won't compromise for their children. It's a very precious time for the mother and father. I realised this was a good business opportunity, and from that day I started concentrating on infants. By 2005, we had become a 100% infant-specialised factory."
Safety comes first
Sabu says there are many safety considerations that come with producing clothes for infants. "It is a very particular age, when a baby cannot recognise anything. A baby can bite any part of the garment: the zipper, buttons, labels, anything, and that could cause serious injury or even death."
This is another area where Kitex Garments' refusal to cut corners has paid off. "In 2000, when I started with infants clothing, there were not many safety restrictions. But now it has become a serious issue and buyers are looking for factories they can trust. There are few factories that offer mass production and meet all the safety and compliance requirements. Now we don't have any problem getting good clients."
Currently the second-largest producer of infant clothing in the world, Kitex Garments is determined to move into the number one spot. Part of its strategy to achieve this continuing growth is Little Star, its own clothing label that recently launched in the giant US market.
Sabu says Kitex carefully identified an underserved niche for its label. "We decided that this was going to be a totally different product, and we found that organic, in this age group, is very important, especially to the mums. A lot of the other mass manufacturers don't offer any organic products. Then there are some organic producers, but they are very small. So we decided Little Star would be an all-organic brand."
The new label went on sale in 2016 and Sabu says early results have been extremely positive. "We expected it to be a little tough, but now we're finding it very easy to get to market. By 2020, we think it will be recognised across the US."
Twenty20 Kizhakkambalam
As Sabu drives Kitex Garments to even greater heights, he remains determined to continue giving back to the rank and file workers at his factory, as well as providing growth in the broader Kerala community.
In 2012, Sabu and elder brother Bobby (Managing Director at Anna Aluminium) started Twenty20 Kizhakkambalam, a not-for-profit named after the popular cricket format. "We thought: 'Okay, we've grown and the factory is going to be number one in the world. We should benefit the community at the same time.' "
India is divided into 272,000 panchayats, and Twenty20 Kizhakkambalam is aiming to turn the local panchayat into the nation's best by 2020. To this end, it is investing in food security, healthcare, drinking water, housing, sanitation, education, agriculture, infrastructure development, and information technology. So far it has constructed more than 700 houses locally and is aiming to build another 350 this year.
This commitment to social responsibility can be traced back to the lessons Sabu's father imparted when giving him a start at the lowest rung of his company. "My father always used to tell us that when the business grows, the community should also grow. That was his mission and vision. He passed away in 2011, but my brother and I decided his vision should be realised."