Brandon Mitchener can't recall a time when he was not in the air. "I was used to flying at a very early age when I was literally still in diapers. I have a few nice, yellow-faded photos of myself standing on the wing of a Piper Cherokee," he says.
Brandon's father was a pilot, and he recalls the memory of growing up flying around in the small four-seater aeroplane. "It was absolutely not luxurious," he laughs.
Brandon Mitchener, aviation enthusiast
Brandon, CEO of the Brussels-based European Business Aviation Association (EBAA) since April, describes aviation in one word: "cool". "I think aviation is super cool," he says. "I grew up reading and watching science fiction where, of course, flying cars and spaceships and hyperspeed are normal." He also cites a moment where a colleague recently described aviation as the next best thing to teleportation. "I couldn't find any reason to disagree with him," says Brandon.
So it won't come as a shock to anyone that the US native views business aviation as exciting and vibrant. "Flying as it was meant to be," he remarks. "Point to point. Door to door. On-demand for a price which, if you consider the options available, is often not as high as people would expect."
This is not the first time that Brandon has been involved with an industry association. In his two previous roles working in corporate communications with Monsanto and First Solar (he was also a Wall Street Journal correspondent for nine years prior to that), he worked very closely with industry associations in other sectors, including agriculture and renewable energy.
The European Business Aviation Association is flying high
Brandon says the business aviation industry has been through a tough couple of years, with many of the smaller EBAA members, usually with only two or three employees, struggling to stay above water.
It's been a time of consolidation with less interest in investing resources towards building a strong industry organisation. But he now says that things are beginning to change, and that industry figures are opening their eyes to the lobbying power of industry bodies.
There was no way an individual company could really address the challenges that needed to be addressed, whether that be regulatory or political.
"The association was always going to be the answer. There was no way an individual company could address the challenges that needed to be addressed, whether that be regulatory or political," he explains.
"Now we find people are eager to become involved in the various advisory committees that we have on topics ranging from law and taxes to the safety of airports. There is a lot of interest in helping the industry mature and articulate a more coherent message to policymakers in Brussels and the other European capitals."
Single-engine turbo planes create new markets
One major issue on the agenda for the Brussels-based industry body in the past year has been around single-engine turbo planes. Planes normally have double engines so, in case one of the engines fails, it still has the other one as backup, which is normally followed by an emergency landing.
Using data, the EBAA, together with aircraft manufacturers and operators, proved to authorities that single-engine planes are not just every bit as safe as any other plane; they are perhaps even safer than other aircraft because the planes can always glide to a safe landing should the engine fail.
Because single-engine planes are cheaper than double-engine planes, Brandon says this is creating new markets for the industry. "It's opening up an entry-level business aviation option for a lot of people who otherwise never would have considered a charter flight or business aviation flight in the past," says Brandon.
He further notes that a couple of EBAA members have invested in single-engine turboprop planes, and that anywhere between a quarter and a third of the people using them are first-time users of business aviation.
"That gives us hope that, at the very least, that segment of the market will grow, because these aeroplanes can also land in a lot more places than a jet engine plane can. Once people get used to the idea of flying private or flying business, they might as well upgrade to bigger aircraft and jet aircraft in the future."
EBAA's membership base soars
Another way that EBAA is looking at growth is by broadening its membership base. In Geneva every May, it organises with its US counterpart, the National Business Aviation Association (NBAA), an event called the European Business Aviation Convention & Exhibition, or EBACE for short.
The event draws around 13,000 aviation professionals from around the world, more than 500 exhibiting companies, and has nearly 60 aircraft on the Geneva Airport tarmac. Brandon believes it's the best business aviation show not just in Europe but in the world.
"It is partly due to that strong partnership we have with Geneva Airport and the physical possibility of having 60 aircraft within a two-minute bus ride of the exhibition hall," says Brandon.
He also highlights the many transactions that are made at the event that give people plenty of work for the following year or couple of years. Brandon cites one Swiss aircraft manufacturer, Pilatus, that sold out the first three years of production of its new aeroplane, PC-24, at the show, and had to stop taking orders before the event finished.
"We create value for customers and for members in ways that really matter," he says. "We also rather cleverly organised it so that anybody who exhibits at EBACE is automatically a member of the EBAA. They keep coming back year after year, and EBACE is the reason." But Brandon also understands that it's simply not enough for an industry body to attract new members.
"We make sure we're there to listen and help"
It's also important to retain the members it already has, as well as the new members it recruits. The most crucial part of any industry association is how it listens to the concerns of its members, according to Brandon. While that may sound blindingly obvious, for an association boasting more than 650 members with wide and varying interests, this is easier said than done.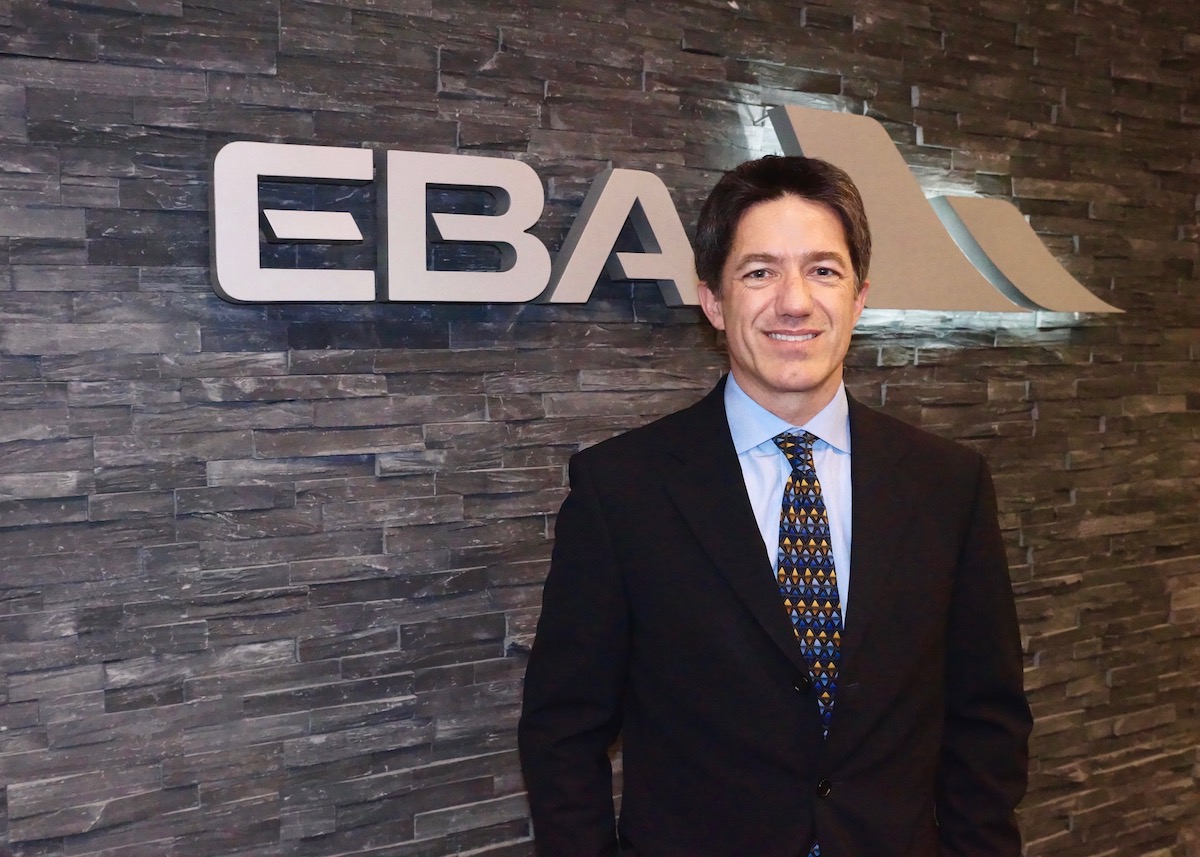 We listen and actively work with people in the industry on a day-to-day basis on certain topics. This helps keep us fresh and with our ear close to the ground.
The EBAA has attempted to institutionalise ways of receiving advice on specific topics on a regular basis. It currently has two levels of membership: operator members and associate members. The operators are, naturally, the people who operate fleets of aircraft for business purposes, whether that be planes or helicopters. Meanwhile, the associate members include airports, ground handlers, caterers, cleaning, servicing, financing, and any other group related to business aviation.
Combined with the two classes of membership, the EBAA has also set up two separate advisory councils. The first is the National Associations Advisory Council, representing the business aviation associations in individual countries. "We make sure we're there to listen and help them with their needs, which quite often transcend a nation's borders because, particularly in Europe, a lot of business aviation crosses borders," Brandon explains.
The other council, the Associate Member Advisory Council, focuses more on narrower topics and on more specific concerns at ground level. "We listen and actively work with people in the industry on a day-to-day basis on certain topics. This helps keep us fresh and with our ear close to the ground so we know what members need from us."
A whole new group of potential members?
Brandon says he revels in the challenge of representing the views of a large spectrum of members. In particular, he enjoys not being limited to promoting a certain technology or product at a given time, instead having to adopt a more holistic approach to the task.
"This is certainly the case for the EBAA because it represents the companies that make aircraft, including helicopters," he says. "It includes the regional airports, the people who operate the aircraft, service them, finance them, clean them, cater to them. It really represents the entire ecosystem, and I think that gives us a good platform."
But as would be the case for most industry associations, the main aim for Brandon moving forward is to continue its membership-growth trajectory.
"If you take our US sister organisation, the NBAA, by comparison, it has a greater percentage of the industry represented as members than we do. Our goal is to approach the same level of participation that it has," he explains. "That will help us make a more convincing case to the European authorities because the more people you represent, the better it is for us in political terms."
The EBAA is currently looking at manufacturers of vehicles like flying cars and drones as potential new members. Uber recently joined the General Aviation Manufacturers Association in the US.
Brandon believes that if there is a professional driver and it's flying a paying passenger, to him that sounds a lot like business aviation. "That would open up a whole new group of potential members," he says. "I won't say that for sure we will have them as members, but we're certainly looking at it."