For an executive in the automotive aftermarket industry, it seems fitting that Darryl Abotomey is always on the road. "One thing that you can be sure of is that I'm always travelling," the Bapcor Limited CEO and managing director laughs down the line. He apologises for the background noise that provides the soundtrack to The CEO Magazine's interview with him; we have caught him as he negotiates the midday Melbourne rush and talks to us via speaker phone.
In fact, even by the time our conversation draws to a conclusion nearly an hour later, he still hasn't reached his destination. "It was New Zealand last week. I'm back in Melbourne this week. I'll be heading back to New Zealand before I know it," he says.
The start of 2017 has been a brisk one for Darryl, but that's nothing new for someone who has spent nearly 20 years in the C-suite, including 6 as director and CFO of Paperlinx and, more recently, 4 in a similar capacity at Exego Group (now called GPC Asia Pacific) – Bapcor Limited's main competitor in the billion-dollar automotive aftermarket parts and accessories market in Australia with big-name businesses, including Repco.
His role in the acquisition of Burson Automotive in 2011 from private owners, with the backing of private equity firm Quadrant Private Equity, was pivotal. CEO from the day the transaction was finalised, he has overseen a period of immense growth and a transformation that extends beyond the new name – Bapcor Limited was known as Burson Group Limited, echoing its main trade business Burson Auto Parts, until July 2016. The new name was chosen to reflect the expanding interests of the company.
A market darling
The paint may still be drying on the updated signage at its headquarters and attached 16,000-square-metre distribution centre in the north Melbourne suburb of Preston, but Bapcor Limited's roots are firmly planted in these local streets where company founders Garry Johnson and Ron Burgoine started selling brake fluids and engine coolants to neighbourhood petrol stations and garages from the boots of their cars in 1971. Fast-forward to 1986, and Garry had become sole owner when Ron sold him his half of the business.
By this time, the entrepreneurial duo had opened 14 Burson Auto Parts stores to specialise in the supply of automotive parts and workshop equipment to trade clients. By 2011, that figure had grown to what Darryl estimates to be around 90 stores across Australia, and Garry was approaching his seventieth birthday. "He wanted to see the business continue to grow, but he also knew it was time for him to retire," Darryl explains.
Lacking a suitable successor, and recognising the need for younger, IT-savvy leadership, it is widely reported that Garry received around $148 million from the sale. "From day one we could see the huge potential, and we set out to invest in the business and in the systems and put the right people in place to grow and develop it," Darryl says.
In April 2014, the company made an impressive debut on the ASX – shares started trading at $2.05, higher than the $1.82 issue price – and has firmly established itself in the years since as a 'market darling', as The Sydney Morning Herald refers to it. "Today our share price hovers around $6," Darryl says (at time of writing it was $5.43). Its performance over the course of 5 years has seen industry commentators such as The Motley Fool become among Bapcor Limited's biggest – and noisiest – fans.
Not only did a recent headline on its website proclaim: 'I'd buy Bapcor Limited shares before BHP Billiton Limited shares,' but Bapcor Limited has been named its number one dividend pick for 2017. The Motley Fool panel aren't the only experts who believe Bapcor Limited's position as a defensive business makes it an attractive choice for investment. After all, if Australia were to fall into a recession anytime soon, most of the population would look to repair their existing vehicle instead of replacing it with a newer model.
Strategic acquisitions
A series of strategic acquisitions has helped both the company and the share price grow, none more so than in July 2015 when Bapcor Limited acquired Metcash Automotive Holdings from Metcash Limited for a reported $275 million, bringing the Autobarn, Autopro, Carparts, ABS and Midas brands – and their 416 stores and outlets – into the Bapcor Limited fold, along with 10 distribution centres. "That was a significant milestone as it changed us from being simply a trade-focused business that supplied workshops to a business that then had retail. It truly enabled us to have a footprint across the whole spectrum of the automotive aftermarket industry," he says.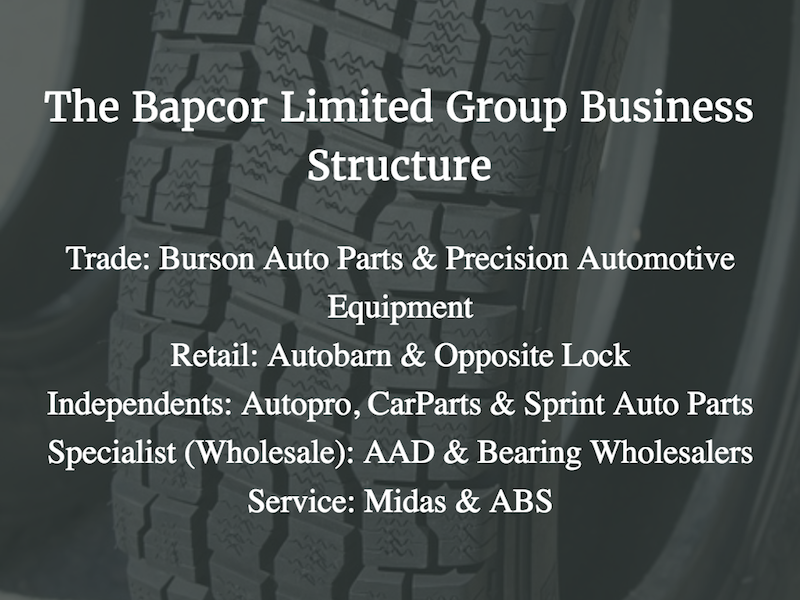 Further acquisitions, including 5 in 2016 alone (Bearing Wholesales, Precision Automotive, Baxters, MTQ Engine Systems, and Roadsafe Automotive Products), mean that today, Bapcor Limited is positioned as Australia's largest automotive parts supplier, with more than 750 locations around Australia. But that's not where the story ends. The reason for the increased frequency of Darryl's trans-Tasman crossings has been Bapcor Limited's recently completed NZ$351.8-million takeover of Hellaby Holdings, finally accepted in January by Hellaby directors after 4 months of protracted negotiations.
A leading wholesaler and distributor specialising in the mechanical, auto-electrical, and tyre and wheel segments, Hellaby has operations in New Zealand and Australia, and Darryl estimates that this will add another 120 locations to the business (Bapcor Limited has also inherited Hellaby's non-automotive assets, which it is likely to sell in the long term). "We're now an ANZ company; one of the best performing, fastest-growing companies in ANZ." According to an interview aired in October 2016 with financial advisers Morgans, Darryl also expects to have stores in Asia by the end of the 2017 financial year.
Trade at the core
Trade is still "the core of the business," as Darryl refers to it. "Our roots are in the trade segment, and it is still responsible for 60% to 70% of what we sell these days." Currently the company has 150 trade outlets across Australia under both the Burson Auto Parts and Precision Automotive Equipment banners and plans to open 50 more by 2019, a goal of 200 in total.
And while he emphasises that each store has a fair degree of independence and autonomy ("every one of them is almost like an individual business," he says), he understands how important it is that, globally, they all have access to one single stock inventory, especially when considering the product range they must be able to supply – with the shortest delay possible.
"In Australia, we have more than 400 models and makes of car currently on the road. Every car has different parts to it, so there is very little commonality." That equates to over half a million different parts that Bapcor Limited's trade arm supplies annually. "You can't carry every single one of those in every store," he laughs.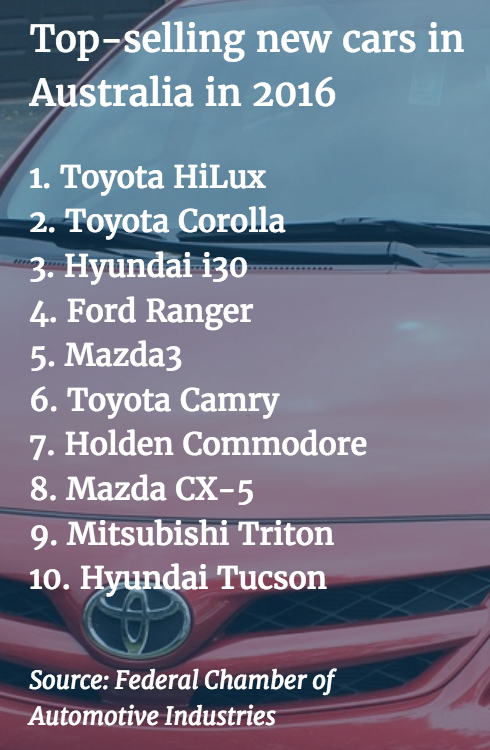 "So it's imperative that each store, whether it's in Orange, New South Wales, down in Launceston, Tasmania, or in Perth, WA, can see what's available in another store in real time. When they are trying to get something for a customer, they know straightaway if they can provide it and offer an estimate of the time frame. That visibility is a very powerful tool in terms of customer satisfaction," he says.
In the Sydney and Melbourne metropolitan areas, a permanent fleet of delivery vehicles ensures that parts can be collected between stores as needed and delivered straight to the client. Where possible, the company targets a turnaround of an hour, reflecting the time-sensitive nature of the trade business. "In most cases, a mechanic will have a vehicle up on the hoist, and if they cannot get the parts that they need quickly, the only choice they have is to reassemble the vehicle, take it off the hoist, put it to the side, and hoist up  the next vehicle.
Then, when the parts arrive, they have to go through the whole process again," he explains, before acknowledging that "we don't pretend to be the cheapest, but we do provide the best service," which, with its client base, is crucial. "A mechanic sells his time, and the more dead time he has waiting for parts, the less money he makes. So we try to help our customers utilise their time most effectively," he says.
The personal touch
It comes as no surprise to learn that mechanics still prefer to call in their orders (70% of orders come via telephone, the remainder electronically, Darryl estimates). "For a lot of mechanics, they still prefer the immediacy of a phone call. They like to ask, 'When am I going to get it?' because they have to plan their work, otherwise they sit there twiddling their thumbs waiting for an answer," he says.
With this in mind, the company has developed a specific online ordering system that allows customers to log on and be guided through the exact parts available for the specific make and model they are servicing. "They can then see for themselves if and where we have stock, and then, with the hit of a button, they can send the order through to the store that picks and delivers it," he says. Another incentive to ordering online is the extra information offered via the portal. "We upload tips and other useful bits of information, such as assistance with how to fit particular parts," he says.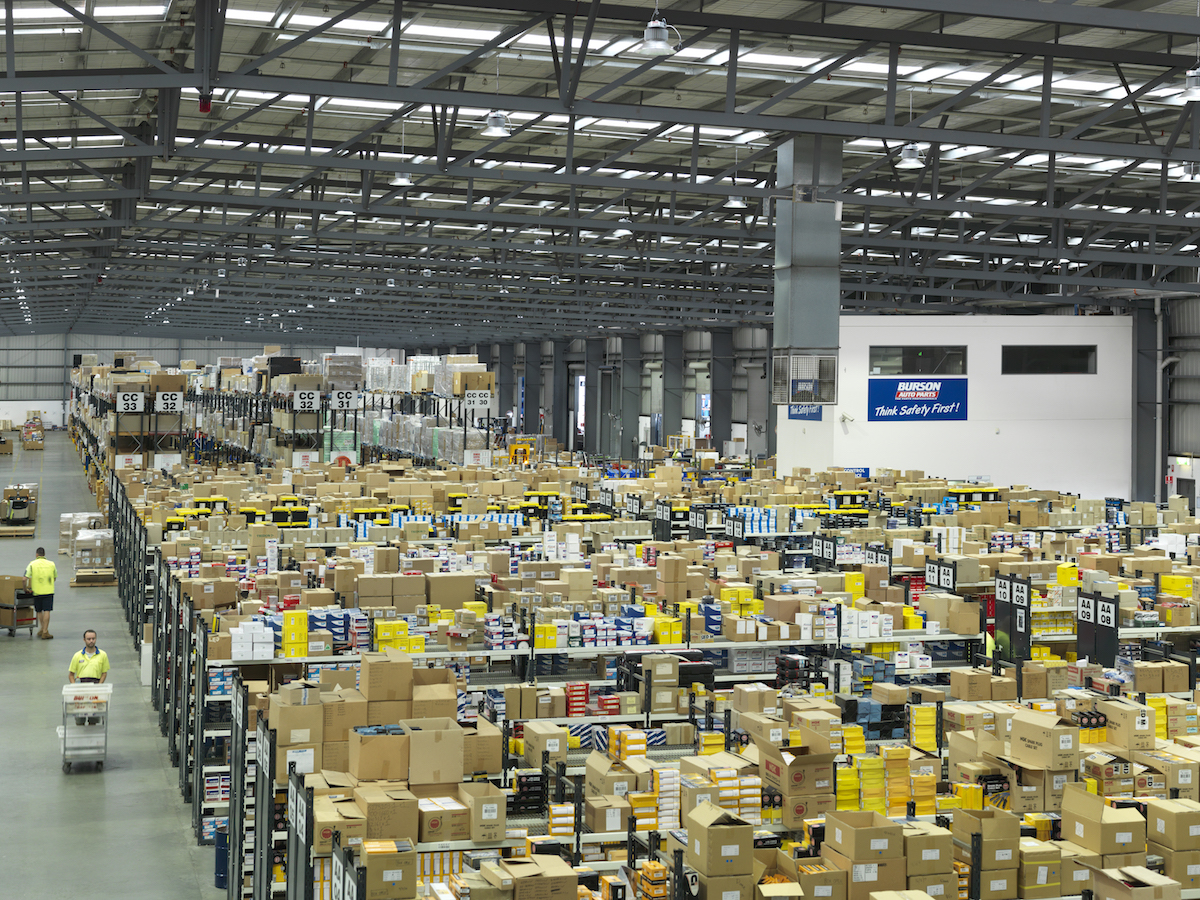 Despite the inevitable infiltration of ecommerce technology, some aspects of the business remain resolutely personal. Darryl still finds time in his busy schedule to handwrite birthday cards to every person in Bapcor Limited's trade business – a figure he currently puts at around 2,000 people. "I must admit it's getting to a stage where I'm starting to struggle," he laughs.
"I've lost count of the number of times I've said I can't continue. Originally, when we first took over the business, we used to call people on the phone. That became impractical fairly quickly and now the birthday cards are becoming a pretty hard task. But every time I contemplate stopping it, somebody tells me how much they appreciate the personal touch, so I can't give up now," he says. "The people in this business are very dedicated to it; they are passionate about it. Keeping that passion alive, keeping it very personal, is a very important aspect to me."
Exceptional culture
He has inherited what he calls an "exceptional culture" from the company founders, and believes that the people are one of the characteristics that make Bapcor Limited unique. "It is the nature of the business because we are working with cars; the people who work for us are passionate about both cars and the industry," he says. He acknowledges that his is an industry where people settle in for the duration of their careers, and proudly explains how every month marks the celebration of at least 6 long-service anniversaries across the different branches of the company.
"We have a lot of people who have been with us 10, 20, 30 years – many since the very early days – and we honour this milestone with service awards. If they have come from one of the businesses that have become part of the group in the last few years, we recognise their original service  date with their original business as well," he explains.
Fast facts:
An estimated 764 vehicles are ownder per 1,000 people in Australia, one of the highest vehicle ownership rates in the world.
In addition to the birthday cards and service awards that serve to acknowledge each employee as an individual rather than a number, Darryl says that incentivising staff across all parts of the business is a priority. "Everyone, from the delivery drivers to the people on the shop floor and the managers as well, is offered some sort of incentive based on the performance of their business or segment, so there really is this sense of sharing in the profits," he says.
Along with the financial bonuses that supplement the bank balance, Bapcor Limited's travel incentives are proving a popular, and highly sought-after, employee reward. "Throughout the year, we offer various incentive trips to encourage and acknowledge good performance," he says.
This includes an annual promotion where store managers or future store managers can earn a ticket to Las Vegas each November to attend 2 of the biggest trade shows in the industry. Held simultaneously, the Automotive Aftermarket Products Expo (AAPEX) and Specialty Equipment Market Association (SEMA) show are both annual events that attract exhibitors and attendees from around the globe.
"Not only does it offer employees the opportunity to attend the exhibitions, but we also take them to see similar types of stores to ours so they can do some comparisons, get some ideas – both good and bad," he laughs. But it's not all work and no play. "We also have a fair bit of fun," he admits. "For most of the people we end up taking, it is more often than not their first time in the US, especially Las Vegas. For some, it's even their first time overseas. So it's a pretty exciting reward opportunity for them."
It's obvious that Darryl and his management team have managed to undertake significant growth without compromising the real sense of family and belonging that permeates all corners of the business. "A lot of the companies that we have acquired are happy to come into the Bapcor Limited fold because we share their passion for the industry," he says.
He uses Metcash Automotive Holdings as an example. "These companies have come from being part of a grocery business to now being part of an automotive business, so there is a likeness and the chance to share common goals with others in the industry." Even the smaller, independent family businesses see the advantages in becoming part of the Bapcor Limited structure. "They recognise that they will have access and capabilities that they didn't even know existed," he says.
A strong, shared identity
Opportunities for employees to become Bapcor Limited shareholders also foster a strong, shared identity. "They really get a buzz out of it," he says, recalling a recent occasion where an employee called him over to show him the share-price performance of 2 companies: one Bapcor Limited and the other their previous employer before Bapcor Limited acquired them.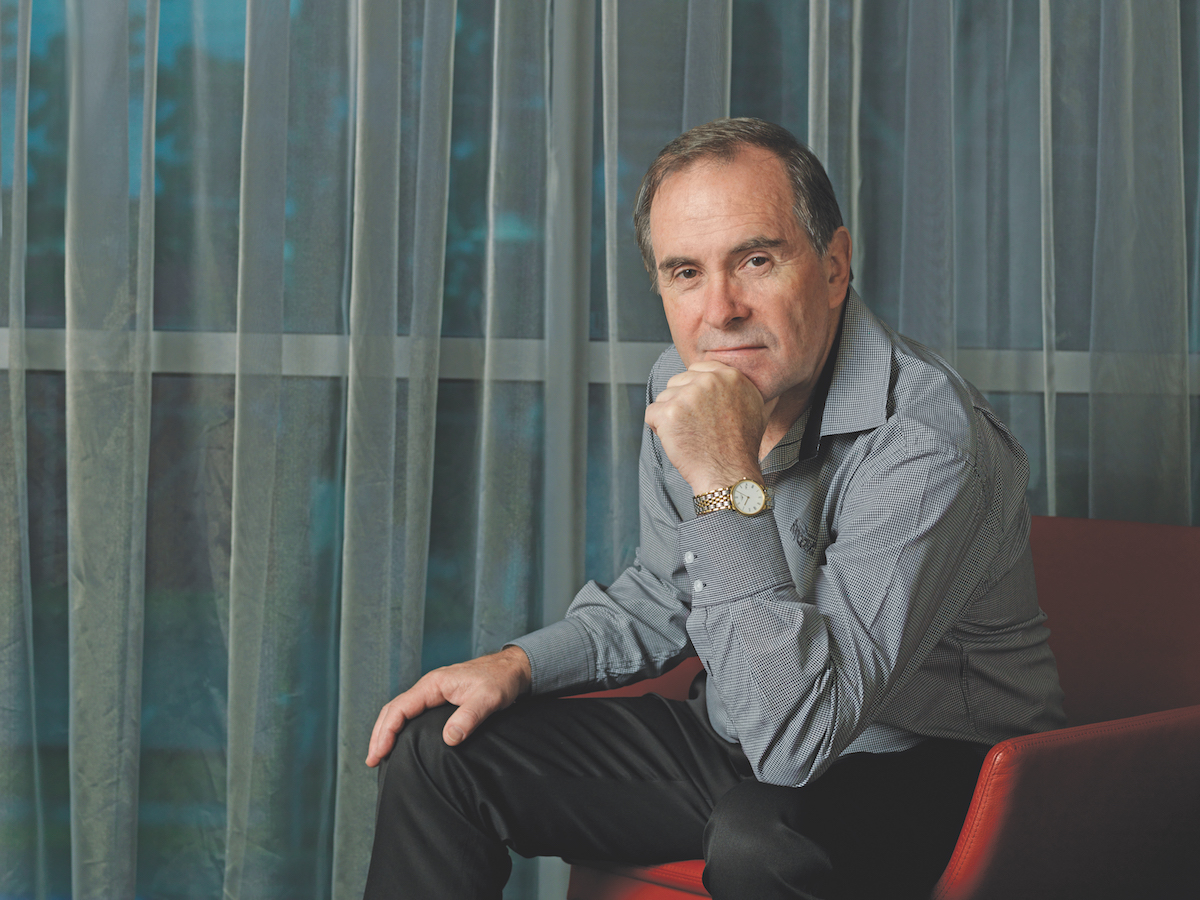 Keeping the passion alive … is a very important aspect to me.
"This person said to me that he liked working here because our share prices were looking good, whereas in their previous job they were looking awful," he laughs. Darryl says that the location of Bapcor Limited's headquarters, adjacent to the distribution centre, keeps him "grounded," but he comes across as down-to-earth regardless; a leader who prefers a polo shirt to a business suit any day.
"You know, I had to wear a suit the other day for the first time in a long, long time," he says, placing exaggerated emphasis on the vowels as he repeats the word 'long'. "We try to represent who we are, and business shirts, ties and jackets are not part of what we do as a business," he says. "The people in our stores wear polo shirts, and those working in the warehouse dress in appropriate gear. So when we go and meet investors, we always wear the polo shirts associated with the business." In fact, it seems that the Bapcor Limited-emblazoned polo shirts have gathered a bit of a cult following.
"It's funny," he says, "because when we were changing the name of the group, we thought that it would probably be better to wear our normal business shirts to meet with investors after one of our results. We were actually told in no uncertain terms that the investors didn't like the look, because we actually stood out when we wore the polos. Probably 95% of the people they see are dressed in suits or business shirts, while they were able to tell straightaway who we were because our polos had the Bapcor Limited logo on them." Apparently a number of investors have since asked for their own polos to wear.
Bapcor Limited is clearly a business that people get heavily invested in. "I think one aspect which is really important to our people is that we are an Australian-owned business," he says, admitting that was not necessarily always going to be the case when it was considering all its options pre-IPO. "We're the only Australian-owned, national player on the trade side to cover the full spectrum of the automotive aftermarket. A lot of people see that as being a big thing, and we agree."