During his 21 years as a banker with the Ayala Corporation in the Philippines, Dino Santos would inevitably unwind after a long week at work by hitting the open road on his trusty motorcycle. Today, as the COO of the new but rapidly growing KTM Philippines, his beloved bikes are an integral part of his working week, but now in the company's signature orange colour.
Dino Santos brings passion to his work
Dino has a wealth of leadership experience in the world of finance. After completing his MBA, he led the bank's small and medium enterprises group, and worked with exporters and locators across the Philippines. But when Austria's official trade promotion organisation, Advantage Austria, contacted Ayala looking for a local partner for the Austrian motorcycle manufacturer KTM, an opportunity arose for Dino to combine his weekend passion with his corporate skills.
He became a key player in the partnership negotiations between Ayala and the manufacturer. "It was a very smooth negotiation with KTM," says Dino. "I think that was because of the shared vision: both companies were looking for a partner that wanted to expand regionally."
Shortly before being approached by KTM, Ayala had developed ambitions to augment its operations by moving into manufacturing which, it felt, was a good fit for the local workforce. "Ayala wanted Filipinos to have a chance to modernise and develop competitive motor vehicles," he says. Ayala ended up partnering with KTM, not just as distributors but working alongside it to manufacture and export motorcycles. Since then, Dino has overseen the rapid expansion of KTM Philippines.
KTM Motorcycles Philippines sees rapid growth
In April 2016, KTM and Ayala signed the manufacturing and distribution partnership agreement, and Dino came on board KTM Philippines as employee number one. His first move was to set up a dealership. "We needed to open that first store to get some skin in the game, so others could partner with us and install dealerships nationwide," Dino explains.
KTM's inaugural dealership in the Philippines opened its doors in September 2016 and has already proved successful in encouraging other parties to join the new venture. There are now 22 dealerships across the island nation and this number will grow to 32 by the end of 2017.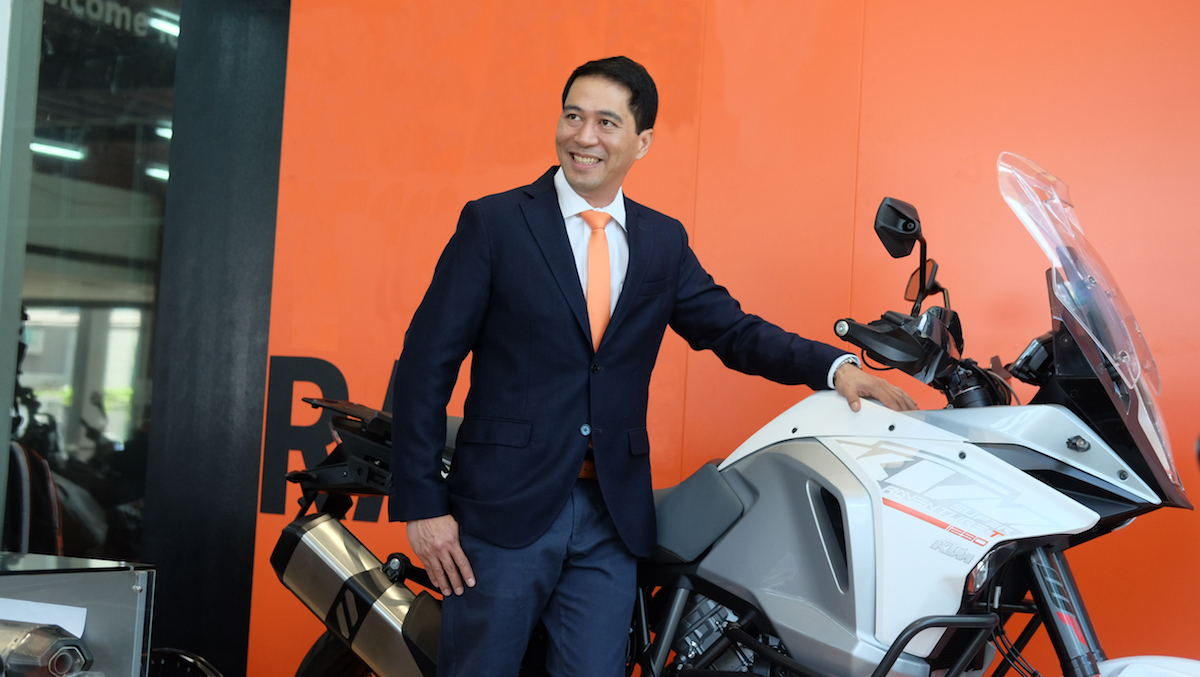 Our commitment isn't just to build the best motorcycle, but also to inspire an intense reaction.
KTM's local employee numbers grew quickly as well, and it now has 32 staff members in its distribution and dealership arm, and 35 in its manufacturing facility. Dino says KTM Philippines owes its rapid growth to its four cornerstone principles: Adventure, Purity, Performance and Extreme – where every new ride is an adventure, every KTM bike showcases purity of design and function, performance is the key to success, and extreme circumstances reveal extraordinary strength.
"Our commitment isn't just to build the best motorcycle for extreme performance, but also to inspire an intense reaction," Dino explains. "Every day, the team and I walk through the dealership to our office and our emotions are ignited by the style of motorcycles on display."
A new manufacturing hub
With the help of Ayala's subsidiary, Integrated Micro-Electronics, KTM was able to open a new manufacturing plant in Laguna within six months. The plant has the capacity to build 60,000 units a year and has already produced 1,000 units for the local market.
Beyond the raw numbers, there is the desire to make headway into a market not traditionally associated with the region. "The Philippines has always lagged behind its ASEAN [!association!] counterparts as a manufacturing hub for motor vehicles, but we are now able to create a supply chain," Dino says.
"This new hub really puts the Philippines on the map for motorcycle manufacturing." KTM Philippines is implementing a two-step strategy to achieve its mission. The first step is to produce motorcycles for local distribution, which will make it eligible for government incentives, Dino explains. The second is to produce motorcycles for export. The aim is to export to China by the end of 2017, and to the other ASEAN countries by early 2018.
A workforce full of motorcycle enthusiasts
Forging partnerships with local suppliers has been a major part of progressing towards these goals. "We already have more than 12 suppliers both in the Philippines and in other ASEAN countries. I feel having that local supply hub is something that really supports our business model."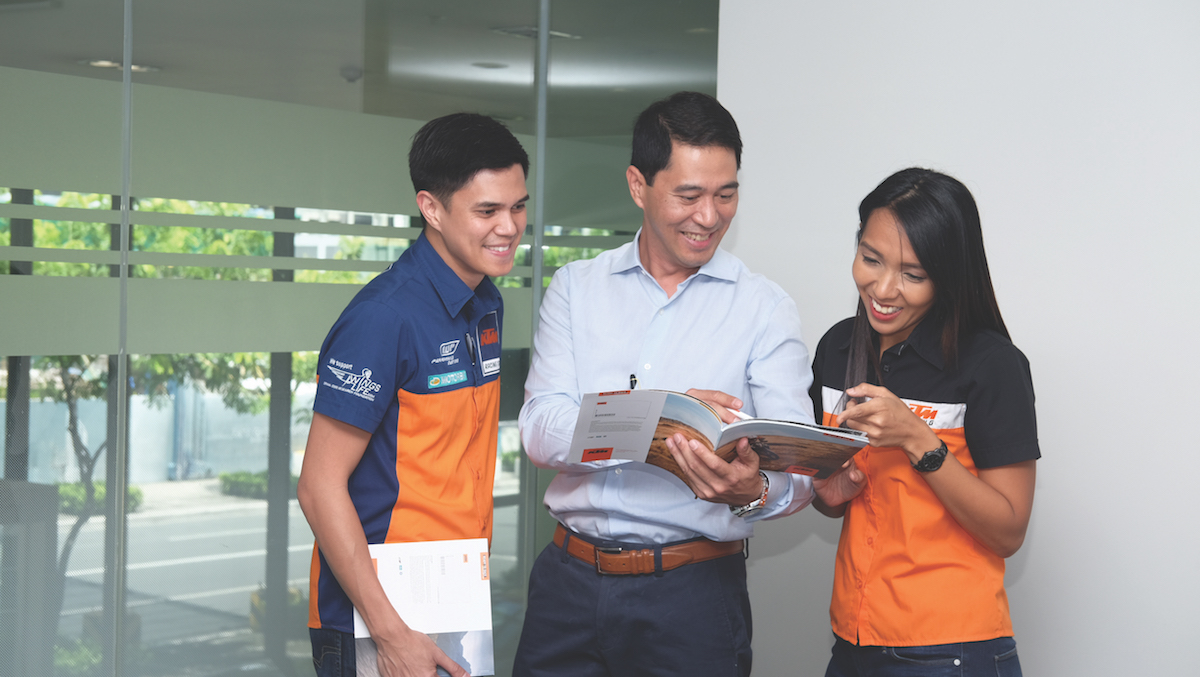 "Where the Philippines really excels is in its communication skills and its people," Dino says. "We've always said in Ayala that the greatest assets of the company are those who go home at night." The Filipino workforce's bilingual skills are a major asset, he adds. "I think that is what makes the communication here so successful."
Having been accustomed to being part of a large corporation where there was already human resources staff in place, one of the challenges Dino faced in this new venture was in recruiting people to fit the corporate culture. "One of the major requirements we've had in building the team is to look for people who are also motorcycle enthusiasts. We need to have that shared passion because we all need to feel and act like the rider who, ultimately, is our client."
For Dino, it's all about the bike
Dino himself has been in love with motorcycles since he was given his first bike at age 11. He is part of a group that rides every weekend, and he still owns the bike that started it all – a second-hand 50cc Mini Trail.
"At the bank, I worked during the week in order to fulfil my passion on weekends," he says. "Now I find myself working with passion every day because it involves something that really is a major part of my life. I find myself smiling all the time, and I hope this dream continues," he enthuses. "I don't want to wake up one day and say, 'This motorcycle endeavour is but a dream.' "