Fernando Teixeira believes everything can be improved.
In fact, he believes there is no limit to improvement as long as there is flexibility, a rather surprising concept for someone who has worked with steel for more than 30 years.
While the alloy is renowned more for its strength and resistance than its malleability, the industry surrounding it is proving more than pliable as it adapts to a global pace driven by consumer demands and technology.
As CEO of Valin ArcelorMittal Automotive Steel (VAMA), Fernando has witnessed the joint venture between China's Hunan Valin Steel and the world's largest steelmaking company ArcelorMittal Steel.
The venture combined the best of European and Asian talents to provide Chinese car makers with locally made, world class steel.
It was a solution to an obvious demand as China is expected to account for 35% of worldwide automotive growth by 2020.
Safety parts, structural parts and outer panels with high-end surface finishing in safe and cost-efficient lightweight designs are among the products being produced from VAMA's state-of-the-art plant located in the Economic and Development Zone of Loudi, Hunan Province.
A new era of manufacturing
It has created a new era of manufacturing in China, a country that has one of the fastest-growing automotive markets in the world.
In a market where China's overcapacity in steel was dominated by commodity steel grades, VAMA recognised the potential to supply consumers with high-end steel grades previously imported.
"When the two companies joined forces, China was the largest auto market in the world with a sales volume exceeding 23 million," Fernando explains.
"Manufacturing capacity was below 76% with up to two million tons of high-end automotive steel imported annually. VAMA positioned itself to supply this need, increasing steel production, without generating pollution."
"Car makers have a strong demand for high-strength steel to adapt to the demand for lightweight development. The demand in China last year was 20 million tons and there is an annual growth potential of up to 1.5 million tons."
From 'Just a Brazilian guy' on to becoming a CEO
Describing himself as "just a Brazilian guy", Fernando Teixeira joined CSN, one of Brazil's leading steelmakers in 1987, after graduating as a mechanical engineer.
Fast facts:

In 2008 Brazilian steel maker ArcelorMittal Steel was the first major foreign steel manufacturer to invest in an established Chinese steel company, acquiring a 37% stake in Hunan Valin Steel TubeWire, a subsidiary of Hunan Valin Iron & Steel. It was a clear indication of foreign interest in the Chinese market.
In 2001, he joined ArcelorMittal as head of pickling and tandem cold mill area at a new project called Vega.
In 2012, he was appointed CEO and led ArcelorMittal to benchmarks in cost, quality and operational performance. Three years later, he became CEO of VAMA, just a year after its automotive steel plant opened.
The VAMA plant, an investment in excess of US$800 million and involving more than 2,000 workers, took just two years to complete, compared with an industry average of 3.5 years.
It also achieved more than six million safe work hours and earned the reputation for being one of the safest steel projects in China.
VAMA was launched to supply international car makers and Tier-1 suppliers.
This includes ArcelorMittal's major customers in China, such as Volkswagen, GM, Ford, PSA, Daimler-Benz, BMW, Toyota, Honda, Renault, Fiat, Nissan, and domestic manufacturers Geely, Chery, Shanghai Auto, Dongfeng, Guangzhou Auto, and Changan.
"Locally produced high-quality hot rolled coil is further processed and transformed into state-of-the-art automotive steel in VAMA's plant," Fernando explains.
"This local service has the advantage of a shorter response time, shorter lead time, lower cost and, of course, local convenience."
"Since VAMA launched, we have been replacing a significant amount of imported steel with locally produced steel. With the technology and automotive knowledge gained from ArcelorMittal, VAMA can promote industrial upgrading for both the local steel and automotive industries, while guaranteeing the same quality and service level offered in Europe and the US."
"Since VAMA launched we have been replacing a significant amount of imported steel with locally-produced steel."
Addressing environmental issues
However, while VAMA continues to take China's automotive steel industry to the next level, Fernando also recognises the global automotive steel industry is constantly restructuring to meet expectations in environmental and production demands.
"VAMA has a deep understanding of the dynamic trends in the automotive steel industry and knows the requirements and challenges that car manufacturers must face. In particular, its environmental impact, such as CO2, weight reduction and recyclability," he says.
"However, while we focus on these concerns, we can't compromise on vehicle performance, including safety, durability and appearance, as well as a robust productivity."
"With the rapid growth of domestic car production and ownership, China is under increasing pressure from energy and environmental authorities."
"As a responsible company, VAMA is committed to meeting both Chinese and global standards in the disposal of toxins and waste, fire prevention, water and waste recycling, and reducing soil, water and air pollution."
Fernando adds that a report issued by the Hunan Province's environmental monitoring centre revealed that emissions from the VAMA plant are in full compliance with the emission standards required by environmental laws implemented on 1 January 2015.
The strict limits also require car producers to introduce new fuel-saving technologies.
"VAMA is devoted to working hand-in-hand with China's environmental authorities so we can take the country's automotive manufacturers to a higher level, while still complying with regulations."
"The advanced lightweight products and solutions provided by VAMA can address all these concerns and provide true added value to our clients every step of the way."
Another irreversible trend in China's automotive steel industry is localising the supply chain to meet not only consumer demand, but also the regulatory requirements of the local government.
Both supply and service have been streamlined through VAMA's partnership with Gonvarri Steel Services, a company with 60 years' experience in steel processing for industries including automotive, road safety and household appliances, and an extensive network of distribution centres throughout Europe and China.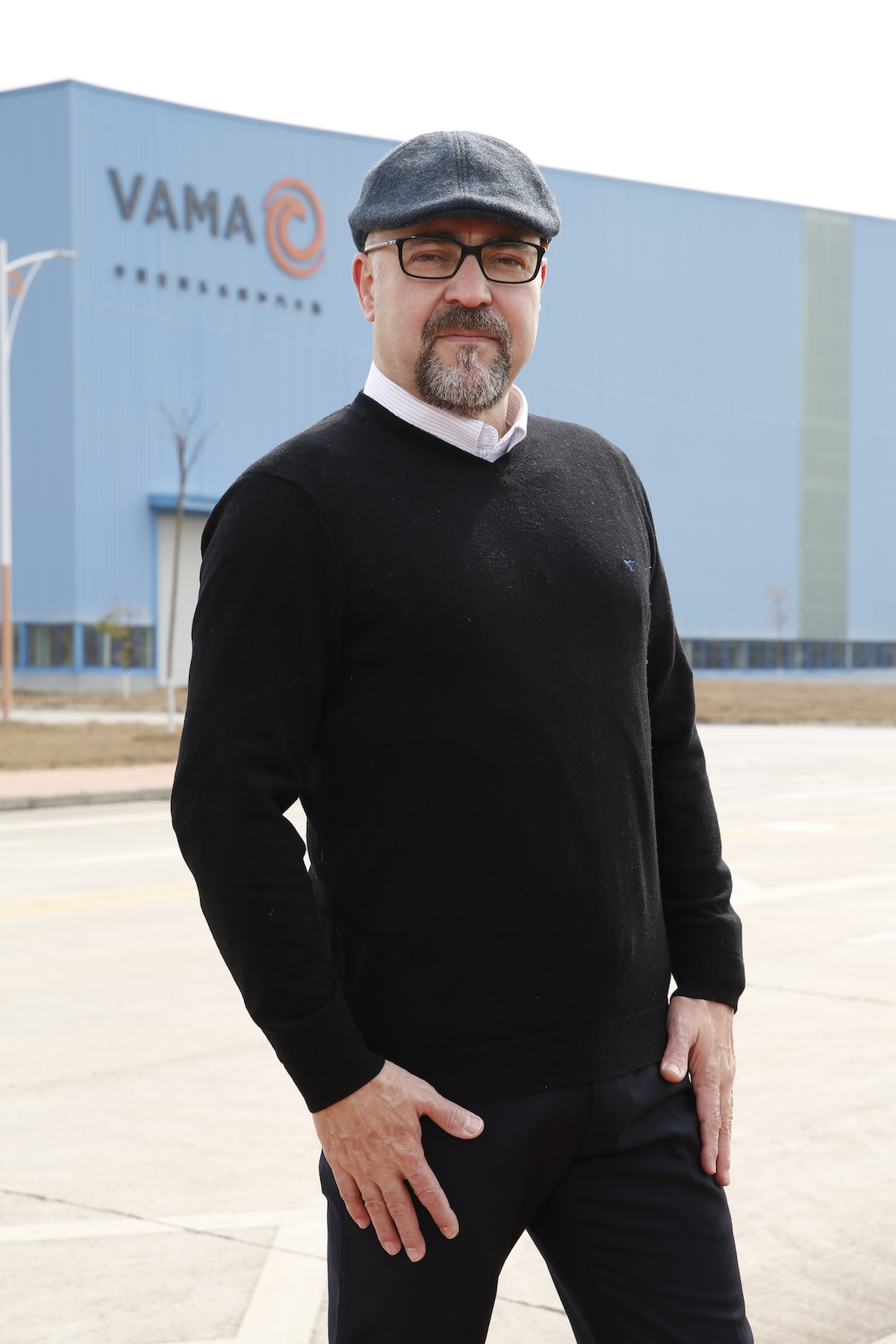 'Technology inspires me'
Joining with VAMA in 2016 to create the new venture GONVVAMA, the company now has four advanced technology solution centres in Loudi, Shenyang, Chongqing and Changshu to cover the major automotive clusters in China.
It offers steel solutions unique to the Chinese market with capabilities to blank and level both the strongest steel grades. It also offers the advanced technology of producing laser-welded blanks on coated hot stampable material.
This allows high-tech solutions such as a complete door ring made out of specific steel grades, which can be hot stamped in a single operation.
VAMA has also introduced early vendor involvement teams comprising experts with more than 20 years of experience in ArcelorMittal's global R&D centres.
The teams are pouring support and resources into the latest technology and solutions for the early stages of model design from all phases of vehicle development.
It's a proven strategy to boost competitiveness while reducing research and development costs for China's OEMs.
"ArcelorMittal has been developing new technologies and products that we have been able to transfer to China," Fernando says.
"A good example is the new generation of hot stamping products such as Ductibor® 1000, which offers reduced weight without compromising vehicle safety or performance."
"Over the next 18 months, we want to expand VAMA's growth and build more stable and long-term relationships with OEMs by introducing new products from ArcelorMittal."
"Value creation, our business model copied from ArcelorMittal, means selling not only steel but also the solutions and services in full partnership with our customers."
"Value creation, our business model copied from ArcelorMittal, means selling not only steel but also the solutions and services in full partnership with our customers."
As China catches up with global manufacturing trends in its drive to be one of the most powerful automotive manufacturing nations, it's fuelling industry competition to become even fiercer.
"Yes, VAMA aims to become the number one steel-solutions provider in China to cater to this," Fernando says. "We will always be committed to supporting car makers and face the upcoming challenges with solutions and new technology."
"Technology inspires me. Look at what it has achieved in our lives. It has changed the way we think and do things in everything. From medicine to space, from EVs to satellites. I'm excited about the future."
Inhouse leadership development
To lead his staff to first place, Fernando has been working on developing the leadership skills of his management teams.
"I value people. I train and motivate them to pursue avenues to gain better results," he says.
"I have used the best advice from an international company to devise a customized program."
"It focuses on leadership skills such as engagement and ownership, and having clear and tangible targets to strongly encourage the team in the right direction."
"We dare people to go the extra mile to achieve their goals and ambitions. We inspire them to excel at everything they do and to grow professionally."
"Great things in business are never done by one person, they are done by a team of people."
"The best advice I was given was to be persistent and never give up. That way, you will get there."