Given its reputation as the world's leading motorcycle market, India was the ideal location for the Japanese-born Suzuki Motorcycle to plant its roots and establish a strong foothold in Southern Asia, and it shows no signs of slowing down. Satoshi Uchida took over as Managing Director of Suzuki Motorcycle India Private Limited (SMIPL) in April 2016 and, despite being new to the role, his long and respected history with the brand dates back to 1983.
Having held various management positions within the company across Spain, France, the Philippines, Japan, China and Thailand, Satoshi was well equipped to lead the India subsidiary in its aim to dominate the market. "We must look at how best to sell our product in the new market to grow our domestic and export sales while upholding the quality, purity and legacy of the brand," says Satoshi.
Suzuki Motorcycle India builds brand awareness
Suzuki was one of the first Japanese 'big four' motorcycle companies (Honda, Kawasaki, Suzuki and Yamaha) to bring its high-end bikes onto Indian shores back in 2008, following a change in regulations the year before.
"For Suzuki, the market in India is very important, not only in automobiles but for motorcycles too because it provides endless opportunities for future growth," says Satoshi. "The market is young but it is growing quickly, and with so many customers we need to lay a strong foundation to build on. This means making local connections and establishing a strong motorcycle culture."
For Suzuki, the market in India is very important.
SMIPL now produces two-wheelers best suited for Indian customers out of its manufacturing plant in Gurgaon, which has an annual capacity of 540,000 units. Satoshi explains that he's fully committed to creating products that meet customer demand by using Suzuki's dynamic technological advantage and excellent human resources.
In April 2017, SMIPL reached a milestone in producing three million two-wheelers at its Gurgaon factory, and Satoshi is confident about further reinforcing SMIPL's position in the market.
A valuable working relationship with Maruti Suzuki
Central to this growth strategy is SMIPL's valuable working relationship with Maruti Suzuki, the first Suzuki subsidiary to enter the Indian market more than 30 years ago. SMIPL now follows in its footsteps to take advantage of the increasing demand for two-wheeled bikes in the region.
With Maruti's 47% share in the Indian passenger vehicle market and India's burgeoning motorcycle market, SMIPL's future seems assured. "Maruti Suzuki already has a very strong and established brand that we're harnessing to endorse our bikes," says Satoshi.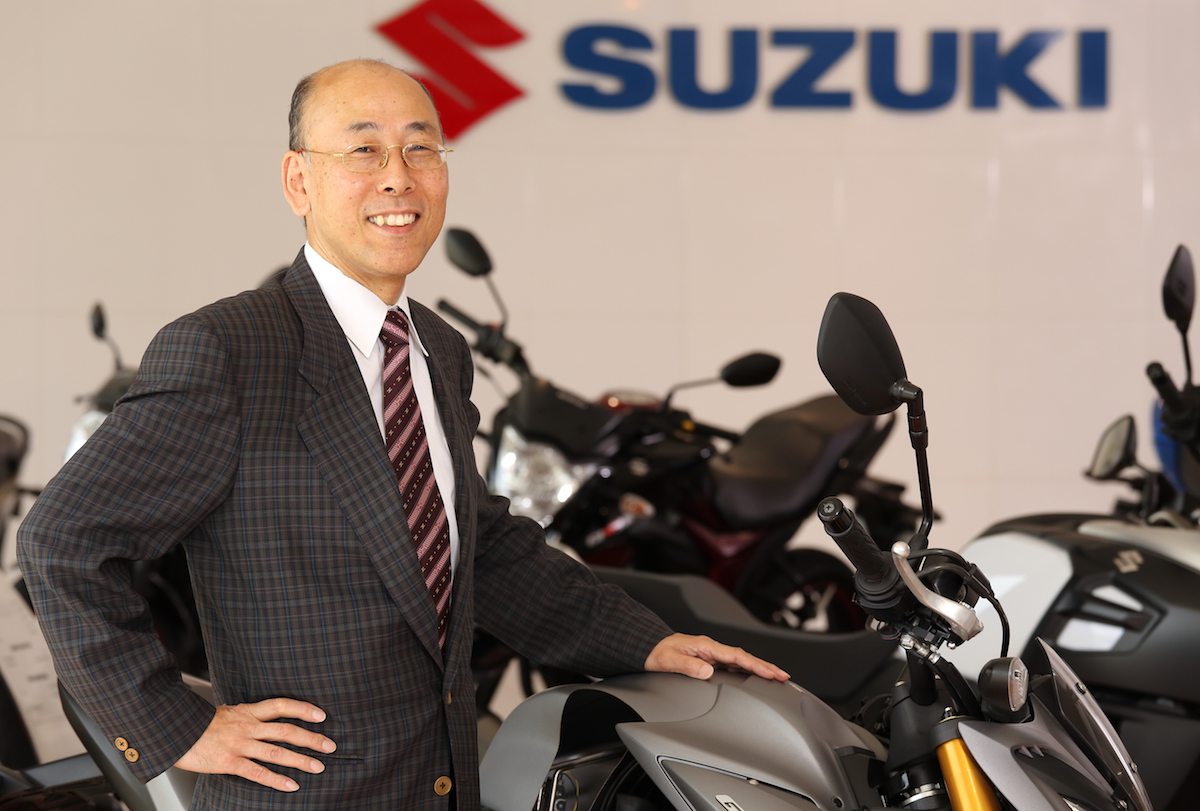 Currently, 25 Maruti Suzuki dealers are carrying Suzuki motorcycles. "The Suzuki brand has already cornered the Indian market, and we are now reinventing this image to include motorcycles as well," explains Satoshi. "We are using Maruti Suzuki to interact with dealers, suppliers and customers, and we're able to use common component suppliers at a discounted rate."
The goal now is to further expand SMIPL's footprint in India by increasing the number of Maruti Suzuki dealers and mutual suppliers. "As our popularity grows, we'll help drive Maruti Suzuki's sales while boosting our joint reputation. It's a win–win for both companies.
"Our supply partners are crucial to the success of the company. We find it very easy to work with them because they know exactly how the process works and they respect the Japanese culture and technology of Suzuki. Many of them have motorcycle experience already, so they understand what we wish to achieve. Their input is key when innovating with new products."
Satoshi Uchida on CSR at SMIPL
Corporate social responsibility plays an integral role in the Suzuki brand, and it is constantly inventing mechanisms for better environmental systems. The Gurgaon manufacturing plant is a testament to this, built as a zero-emissions factory reliant on recycling, natural light and water harvesting.
SMIPL's full range of bikes has already been aligned with the new Bharat Stage IV emission standards, which came into force in April 2017. "We are constantly working to balance and reduce emissions without incurring a cost increase," says Satoshi. Suzuki's Eco Performance technology will see further improvement in making the two-wheelers more fuel efficient.
The company's growth strategy now rests on making its dealer network more efficient, introducing new models and expanding its foundation across India. "I am strengthening the culture at Suzuki Motorcycle India, as I have done in the impact-driven countries of China and the Philippines," explains Satoshi. "India is a new environment, but our team is becoming more proactive in learning how to navigate these waters."
Ever since our premium bikes entered the market, they have been in high demand – India has loved them.
SMIPL is planning to sell 500,000 units in the 2017–18 financial year, up from 350,000 units last year, with a goal of one million by 2019. Satoshi says the company is currently developing a range of new scooter and motorcycle models, with a focus on the 125cc and 150cc premium segment.
"Ever since our premium bikes entered the market, they have been in high demand – India has loved them," he says. Satoshi is in the early stages of creating an education initiative to instil a healthy motorcycle culture within India. "We are currently trying to organise a Suzuki riding club to educate people on important safety issues, enhance the riding culture, and increase our customer base."
The quality brand of choice for Indian consumers
SMIPL is currently working on several new technologies for its upcoming and existing models. This includes developing anti-lock braking systems, and having all motorcycles in the 125cc and above range equipped with ABS before April 2019. Satoshi is also focused on efficiency and improving factory operations for an output of higher-quality product.
SMIPL is aiming for a 15% increase in its motorcycle exports to every market it currently supplies. "We want to focus on our existing markets and strengthen our exports further," says Satoshi. This will scale up export volumes to 80,000 units in 2017–18, with 70,000 units in FY17.
SMIPL competes with strong local players in the Indian market such as Bajaj Auto, Hero, TVS Motor, and fellow Japanese company Honda. Working in such a highly concentrated industry that is constantly evolving and experiencing disruption, Satoshi says he has developed a calm yet analytical approach to dealing with change. "In the automotive industry, there is always fierce competition and contention," he says.
Satoshi's long experience with Suzuki has allowed him to recognise the importance of risk management and how to implement appropriate strategies: "I aim to remain calm, think logically, and take immediate action." Satoshi's expectations are high, but he is confident that with the support of Maruti Suzuki and its dedicated suppliers, SMIPL will soon be the quality brand of choice for Indian consumers.