Tarang Jain has a (kind of) familial connection to Mahatma Gandhi. While not related by blood to the Father of the Nation, he is the great-grandson of Jamnalal Bajaj, founder of the Bajaj group of industries, whom Gandhi adopted as his 'fifth son'.
However, when asked who has been most influential on his career so far, Tarang cites a different, but much closer, member of the family – his maternal uncle Mr Rahul Bajaj. What the managing director of Varroc Group remembers most about him was his strong value system, his hard-working nature and his humility. "He was an inspiration to me. He was running a highly profitable scooter business and that was very exciting. That's what got me into the automotive space," Tarang recalls.
Tarang Jain takes an interest in plastics
His interest in cars was further ignited during his MBA studies at the IMD Business School in Lausanne, Switzerland. "At that point in time it was more in general management, but we did a project for one of the plastic raw material manufacturers of polypropylene and polyethylene,"
Tarang recounts. "It was a Finnish company called Neste Chemicals and it was looking to take its plastic materials and enter the German automotive market. So, that was a project that got me interested in the plastic side of things."
Tarang set up Varroc nearly 27 years ago in 1990. The company started as a small plastic injection moulding plant for making two-wheeler scooter parts in the city of Aurangabad, around 330 kilometres from Mumbai.
Around the same time, the Indian Government began to open up the automotive industry to foreign investors, including Japan's Suzuki, Toyota and Hyundai of South Korea, and other global automotive companies. Armed with an MBA, and recognising the good long-term investment potential of the market, Tarang had found his frontier.
Varroc Group's competitive edge
Varroc has four different businesses: polymers (plastics); electrical-electronics; metallic; and exterior lighting. There are two main cores to Varroc's operations. The first core is the exterior lighting business for passenger cars and that accounts for around two-thirds of its total revenue, according to Tarang.
The other core is in the component and assemblies in the two-wheeler space (motorcycles and scooters), which was Varroc's original core business, representing the other third of its sales.
With regard to car lighting, Tarang is focused on differentiating Varroc in the marketplace. "We are the leader in customisation and personalised styling in the rear lamps segment," Tarang notes.
He also believes the company's other major point of differentiation in car lighting is its cost competitiveness; through its strategy of being located globally in relatively low-cost footprints, something he believes is extremely important in meeting customer expectations.
We are the leader in customisation and personalised styling in the rear lamps segment.
Tarang describes customer focus as "paramount", noting it as a crucial facet to how it approaches business culture and relationships.
"We strongly believe that our customers' success is our success. It's more like a partnership rather than a vendor–customer kind of relationship. We expect the same thing with our suppliers because, like our customers, they are more like an extension of us," he explains.
'Four Es of Leadership' – Energy, Energising, Edge, and Execution
As well as his uncle, Mr Rahul Bajaj, Tarang turns to former General Electric CEO Jack Welch for inspiration, admitting that he borrows heavily from his 'Four Es of Leadership' – Energy, Energising, Edge, and Execution. The first two Es refer to personal energy and bringing up the energy of others, while the latter two Es are concerned with the ability to make tough decisions and produce results.
"We tell our employees it's ultimately about their energy, their ability to make decisions and then their final execution," Tarang says. He adds he is intent on retaining those employees who can display the four Es.
"Instead of just depending on the outside for talent, we want to build talent from within, people who can be future leaders and can communicate our values. Across our entire group, this is something that is extremely important for us and is a big area of focus moving forward."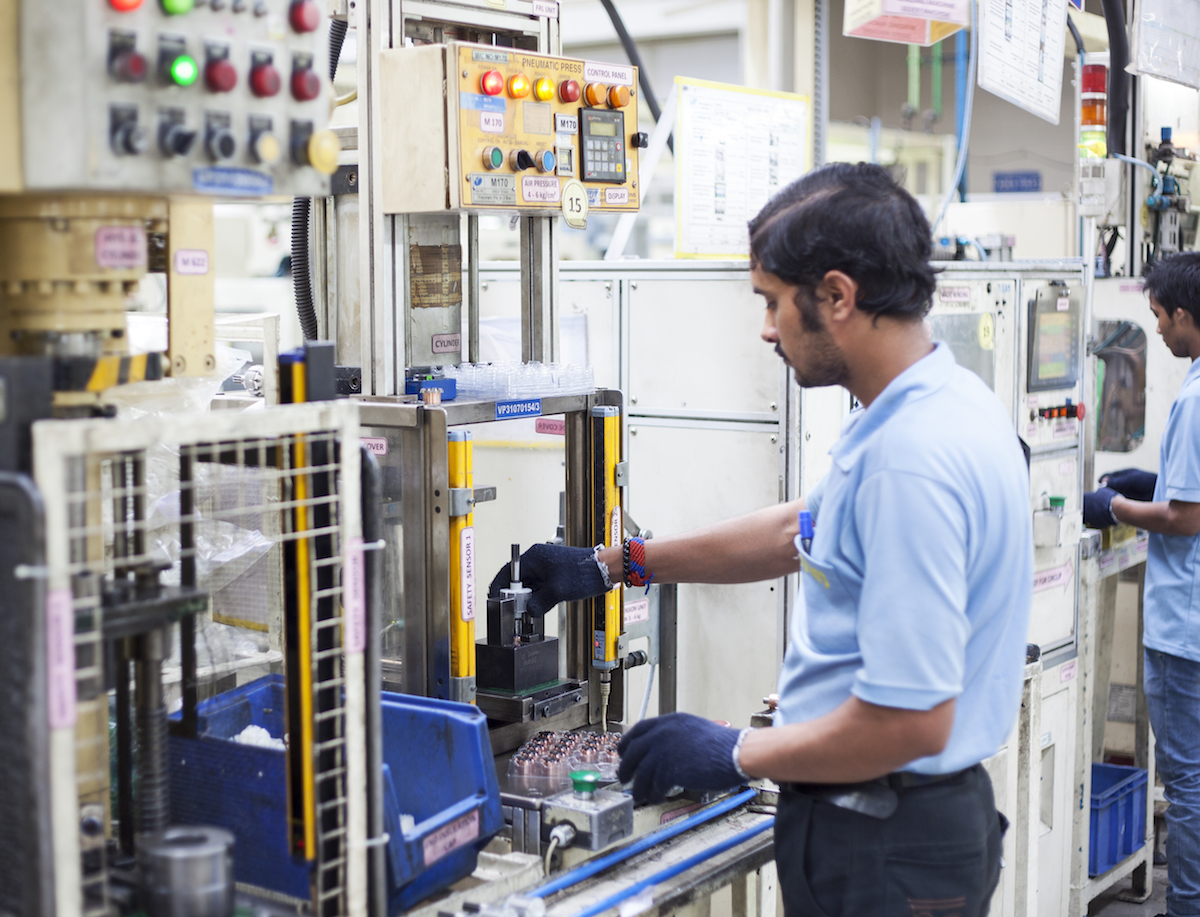 Varroc's graduate and management trainee programs are an important step in that direction. "Being a manufacturing organisation, there are certain challenges that exist in India. Meeting the rising quality expectations of customers is made increasingly difficult due to the archaic labour laws that exist today. There is no exit policy framework in place, which means most manufacturing companies employ a lot of contractual, daily labour.
"Due to the nature of the business cycle, if there is no exit policy, it's really difficult to have people on as permanent workers," Tarang explains. There is therefore an ongoing strategy being envisioned to use more and more automation and robots in the workplace.
Domestic & international growth
Varroc's other local challenge is to do with growth. The existing infrastructure in India is not world-class. While India has an annual growth in GDP of around seven per cent, which by OECD standards would be outstanding, Tarang believes that the government should be targeting closer to nine or 10 per cent as one of the two rapidly developing economies alongside China. He says this can only happen with a greater investment commitment from the Indian Government.
"For many years, as an Indian company, we've been expecting a world-class infrastructure in India," Tarang says. "Now the government, led by Prime Minister Narendra Modi, is doing something about it, and we are hopeful and optimistic that things will start happening on the infrastructure front."
As for the business abroad, Varroc has plans to have presence in all regions of the world. As an example, Varroc's lighting business presently has overseas operations in the Czech Republic, China and Mexico. It now has plans to expand its manufacturing to Brazil and Morocco, and is looking at inorganic opportunities in Turkey and other regions of the world as well.
Growth in the exterior lighting business is very important and the effort in the future will be focused on increasing its market share in the passenger car segment from the current seven per cent. As the world attempts to address the problem of global warming, it is also disrupting the automotive industry especially in India.
Disruptions in the automotive industry
In April this year, the Indian Government implemented the Bharat Stage Four (BS IV) emission norms, mandating that vehicles that do not adhere to a certain standard of carbon emissions will not be allowed on theroad. In 2020, that standard will be revised to stricter BS VI emission norms, which will put India on par with the current European standards.
Tarang believes the new BS VI standards will create new opportunities for the organisation in the two-wheeler segment. "We are investing heavily in electronic fuel injection systems technology, because from 2020, every engine, even the ones for low-cost bikes or scooters, has to have this system to comply with the BS VI emission norms," he explains.
Come, 2020, it is also looking at further growth through increased use of LED lamps, digital clusters and components and systems based around the hybrid and the electric vehicle. Varroc is planning to list in the near future, as it is looking at an exponential growth trajectory in the coming years.
Regardless of the disruptions that lie ahead for the automotive industry, Tarang is happy that he is in a dynamic space with plenty of opportunity. "I feel confident about this business going forward," he says. "We have a good future and we will achieve all our targets."