Founded in Lucerne in 1874, Schindler is one of the world's longest-running construction companies. In 1980, it gained the distinction of founding the first Western industrial joint venture in the newly opened China.
Daryoush Ziai, now CEO of Schindler China, was perhaps always fated to work there, given he developed a fascination with construction as a child. "When I was younger, I used to build things in our yard," he recalls. "I would build lots of different things: forts, roads. One time I even built a bridge with wood and cement and everything."
Daryoush Ziai realises the value in teamwork
The young Daryoush wasn't just interested in making things, but in trying to understand their inner workings. "I was always taking things apart. If anything at home broke, I would be the one who tried to fix it or rebuild it. I'm not so sure I was being useful, but I tried."
As he approached the end of high school, he started to see a career path in these interests. "I said, 'I enjoy maths, I enjoy science. I want to study engineering.' " His degree in Civil Engineering at Virginia Military Institute led to a role with the US Department of Transportation, where Daryoush worked designing highways.
While doing this job, he also undertook a Master of Civil Engineering at Purdue University, and he completed his MBA at Purdue's business school shortly after. Yet he admits that his interest in construction was never purely academic.
"I realised that the part I liked about the whole thing is that no one person can build anything substantial on their own. So it's ultimately about people. It's about leading people, creating and leading a team and getting things done. Pretty early on in my career, I decided that teamwork was very important."
Daryoush goes up in the elevator industry
Daryoush had his first exposure to the elevator industry at Otis Elevator Company, where his role spanned construction and elevators. He then made an unplanned move into finance that ended up broadening his expertise in a useful way. Management approached him, suggesting his combination of skills would be a good fit for a more senior role.
"They said, 'We have a lot of guys that are good at numbers, but they don'thave a very good understanding of the business. You understand business, but you also understand numbers.' "
From this role, the opportunity arose to run an Otis branch in Central Florida. Then, at Carrier Corporation, the world's largest supplier of air-conditioning and refrigeration, he became head of Financial Planning and Analysis in the Transicold division.
When Carrier acquired Sensitech, a logistics company with particular expertise in cargo temperature monitoring, Daryoush was tasked with integrating the new subsidiary into the parent company. From there, he progressed into setting up Carrier's business in Asia, where the company previously had little presence.
Further roles in Shanghai and Dubai followed, and in 2013 Daryoush took up a role which saw him commute between the two cities, running Carrier's business in the Middle East. He again returned to Otis Elevator Company, as vice-president of China service, before moving to his present position with Schindler China in 2015.
Making the move to Schindler China
China represents the world's biggest market for elevators, but recent years have been something of a challenging time for the industry – since 2014, the new equipment market has been in decline.
This is primarily a result of growth tapering off in both residential and commercial real estate. Schindler China faced some challenges of its own as there had been a major compliance incident the year before Daryoush joined.
"Yet, despite all of those challenges, we've continued to grow and to gain market share," Daryoush says. He credits this resilience to Schindler China's commitment to constantly building its staff.
Despite all of those challenges, we've continued to grow and to gain market share.
"We continuously worked on developing our team, our people. It's been a combination of investing heavily in training and developing people in-house, which I think is always a very important piece of managing and growing the business. It means you are able to deliver value to your customers.
"As we've grown, we've needed more people, so we've taken the opportunity to bring in people who have enhanced and strengthened the entity – not just at the high levels, but throughout the organisation."
Schindler China expands its geographic footprint
Instead of taking investment out of research and development in response to the market growth slowing, Schindler China expanded its R&D capacity and also boosted its engineering and manufacturing capacities.
Daryoush said these capacities are now much stronger than before and that Schindler China's overall portfolio is the strongest it has been. Now some products that are sold globally are being developed and manufactured in China.
Its geographic footprint has also grown considerably throughout China, and it now has more than 100 offices right through the nation. Furthermore, Daryoush is proud of Schindler China's customer support, which he says has been critical to this expansion. "Those after-sale elements are just as important as being there to sell the product," he notes.
Having been vice-president of Service at Otis Elevator Company, he has a strong understanding of the benefits of prioritising service. "You can sell a product one time, but if you aren't also able to provide good service and installation, that will be the last time you ever sell to that customer."
---
China is the world's largest elevator market
In 2016, China already has four million elevators, compared to 900,000 in the US.
Berenberg analysts have estimated two out of every three new elevator installations are made in China.
The second-largest market for elevators in the world is India, which is less than 10% the size of the Chinese elevator market.
Factors that may drive market growth are rapid urbanisation and industrialisation across the region.
---
It has been estimated that only a quarter of elevators in China are serviced by original equipment manufacturers such as Schindler China, suggesting there is broad scope for this aspect of the business to grow significantly.
Daryoush also nominates Schindler China's joint venture with Volkslift as a highlight of his time at the company to date. This move saw Schindler China acquire 25% of the lift and elevator multinational, with an option to purchase future shares.
Volkslift already had its own manufacturing, maintenance and installation operations in China, and the move allowed Schindler China to expand further into geographic areas where it had little footprint.
Challenges & opportunities
"The pace of urban invasion in China creates challenges, but also opportunities," Daryoush says. "I liken it to a coin. A coin always has two sides, just like these challenges always present an opportunity. The ageing demographics, for instance, are a challenge, but they also present opportunities because as people age, they have different needs for where and how they live, and these different requirements create opportunities.
"Another trend is that the lower-tier cities, and even what we call towns in China, are now beginning to become important markets for us. Again, it's both a challenge and an opportunity. If you're in the right place, with the right products, you can take advantage of that."
Daryoush expects a maturation of the new equipment and new building business in China over the next three to five years. Presently, China accounts for some 65% of the market, and Daryoush expects it to remain by far the world's largest market for the foreseeable future.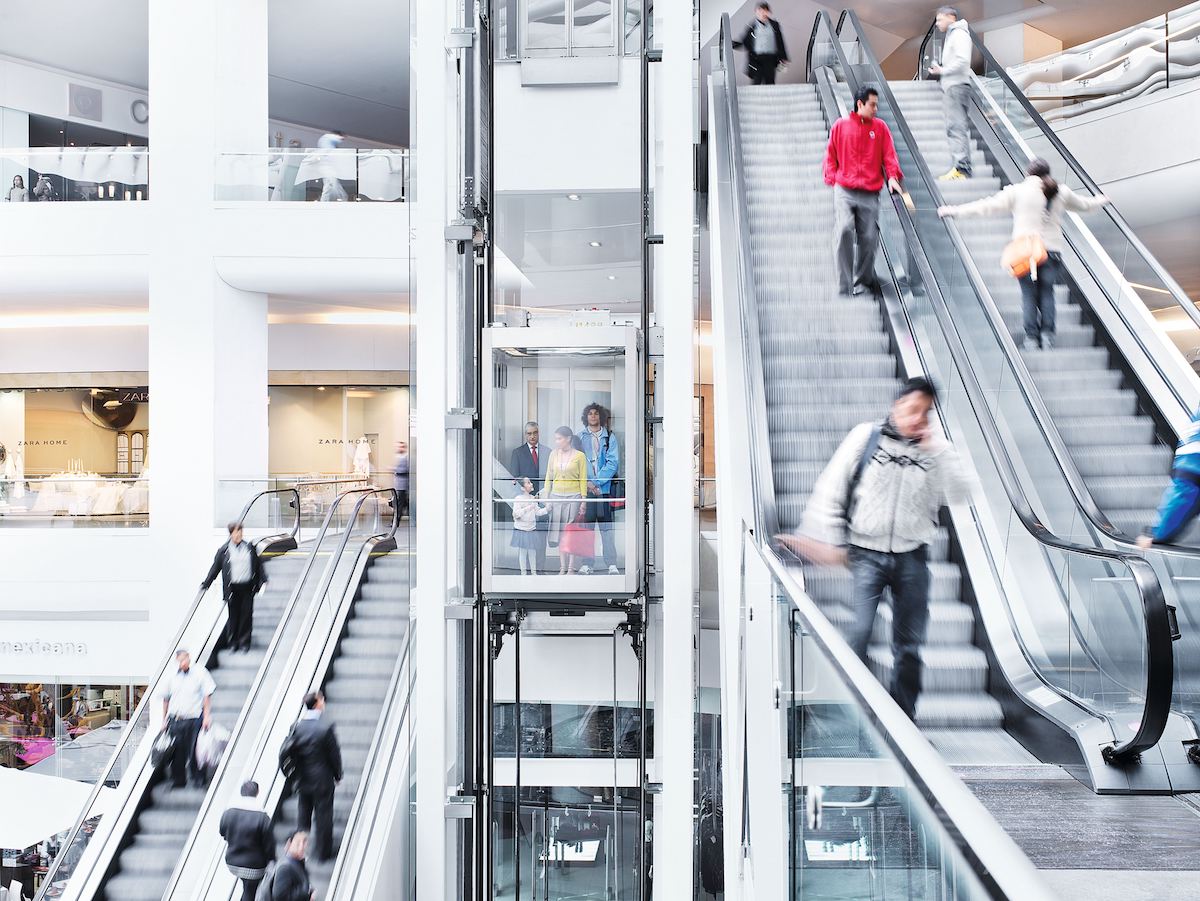 A coin always has two sides, just like these challenges always present an opportunity.
"We will continue to invest in our products and people and our structure, so we can continue to grow there," Daryoush says. "Though I think the growth rate will become more cyclical and we won't see the same growth rates that we saw, let's say, in the first half of the decade."
Daryoush also forecasts significant growth in modernising or overhauling elevators. "It's already a sizable market, but nothing compared to the new equipment market. It will become much more relevant and sizable, so we are investing heavily in both our people and products to tackle this change in the market and make the most of this opportunity."
The service business is also growing at 30% per year as the huge numbers of elevators sold over the past few years are installed and completed. This means that Schindler China will again face the challenge of finding suitable staff, particularly field supervisors and execution managers.
Committed to developing people & creating value for customers
To meet this increased fulfilment demand, it has partnered with 12 technical colleges and provided them with elevators and escalators. The colleges then install this equipment, assisted by training that is provided by some of Schindler China's most experienced field staff.
The partnership with these technical colleges is already paying dividends. "Through this initiative, we've created an avenue for attracting young, well-trained potential employees."
It's a mutually beneficial partnership, Daryoush says, as Schindler China also uses the facilities to train its own staff. Further, it has become an important component of the company's corporate social responsibility program. "It's a good way to contribute to the communities where we live, work and do business."
Daryoush points out that Schindler originated in Switzerland, a country not noted for its proliferation of high-rise buildings. Yet it has become an industry leader based on its strong focus on safety, quality, integrity and its commitment to developing its people and creating value for its customers.
"We can talk about products and technical training and all of that, but ultimately it's our adherence to those core values that has allowed us to deliver the products and services year after year for over 140 years and will ensure us success into the future."
Daryoush has come a long way since his early days playing with Lego, but like the elevators he works with, his story remains one of ascent.