Detail. Intricacy. Aesthetic. A dream home isn't built by accident, it's built by intention. An intention to not only look beautiful but to perform beautifully as well. An intention that takes into account those who will be creating memories within its four walls; the walls that keep them safe and snug in a world that can sometimes feel anything but.
James Hardie Industries gets this. As the world's number one producer and marketer of high-performance fibre cement and fibre gypsum building solutions, the company understands the concept of home as a sanctuary, as a canvas for self-expression without compromise. That's why it's dedicated to providing premium, quality cladding solutions that enable endless possibilities for design and aesthetics while also delivering what matters most – peace of mind.
"What's so unique about our company now and, particularly, moving forward is that we have the technology and the capability to deliver a different look, shape and size of our Hardie® product to homeowners whether they're looking to build new or renovate and remodel. In North America, we also offer them more than 700 different ColorPlus® Technology finishes. And not only do we deliver that aesthetic, but the product itself is very durable and is low maintenance," Jack says.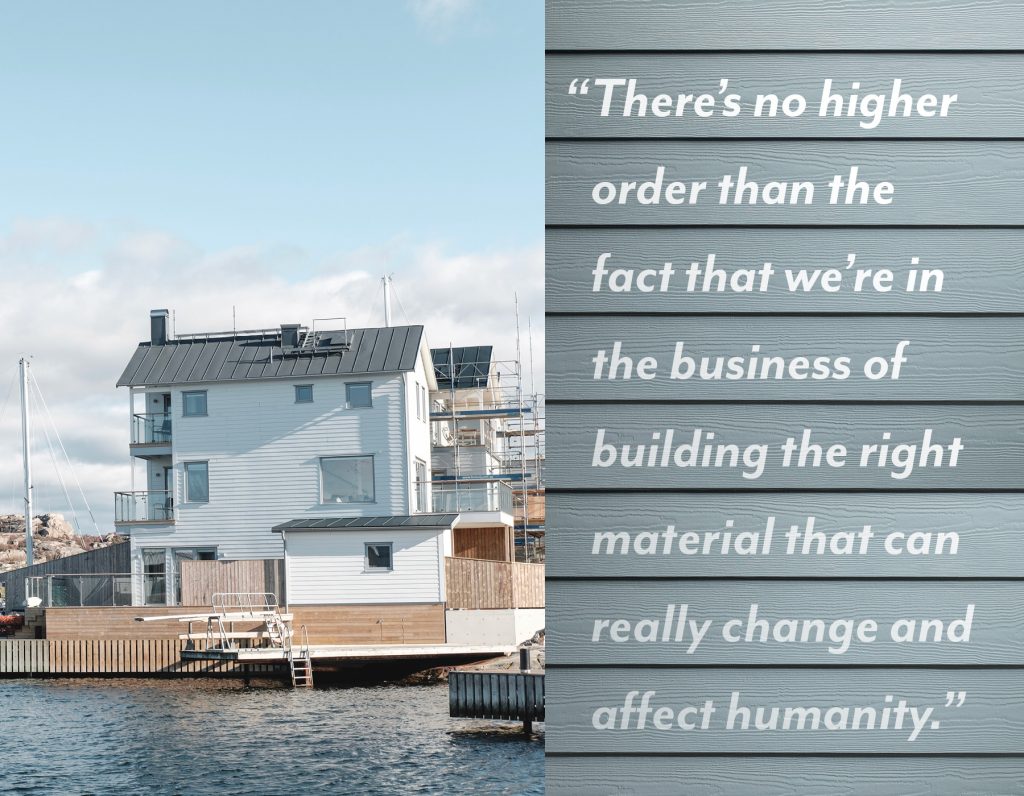 "At the same time, our products are non-combustible and water resistant. So, if you think about global warming and all the effects of climate change around the world like the hurricanes in the US, wildfires in Australia, and the flooding in Europe and elsewhere, our products not only provide the pride and joy of aesthetic beauty on the homeowner's exterior, but their durability and weather resistance helps protect their home, giving them peace of mind."
With a rampant, global pandemic added to the mix, it can be argued that the concept of home and what it should be has never been more important. Much more than a place to rest one's head or escape the hustle and bustle of modern-day life, a home today needs to provide shelter, safety, a sense of normalcy and a place for joy. It needs to be the beautiful calm within the storm.
This feeling combined with the pandemic-driven, global home price boom, which sees many choosing to remodel rather than buy new, is contributing to a fundamental shift in households around the world. And James Hardie couldn't be in a better position to take advantage of the opportunity. "We feel that we are now in the right place at the right time, and we'll help drive the change to support this new consumer behaviour," he says.
"Your home is your castle, and the exterior of the home gives the look of the home to the world while at the same time protecting your family. With James Hardie and all the innovation and products we have, homeowners have an endless possibility to design and build their homes with an exterior they're proud of and that helps protect their home and family."
Making the old new again
There are a lot of building material companies in the world, but very few of them are global entities. And the reason is simple: it's very expensive to ship material around the globe. Even more, construction styles vary significantly from one country to another, making it even more challenging for many companies to break into the market and become profitable in their global pursuit.
"The housing markets around the world have always been very regional-based. Even within a country or region, the style of homes varies from one part to the other and then of course, from one country to another. The tastes are very localised," Jack says.
"But what's unique about our company is that we are a global company with deep and expansive operations in North America, Western Europe, Australia, New Zealand and the Philippines. We also have sales and marketing operations, manufacturing, R&D and supply chains in each of the regions to serve our customers. Having this position as a global company gives us a front-row seat to design trends from around the world."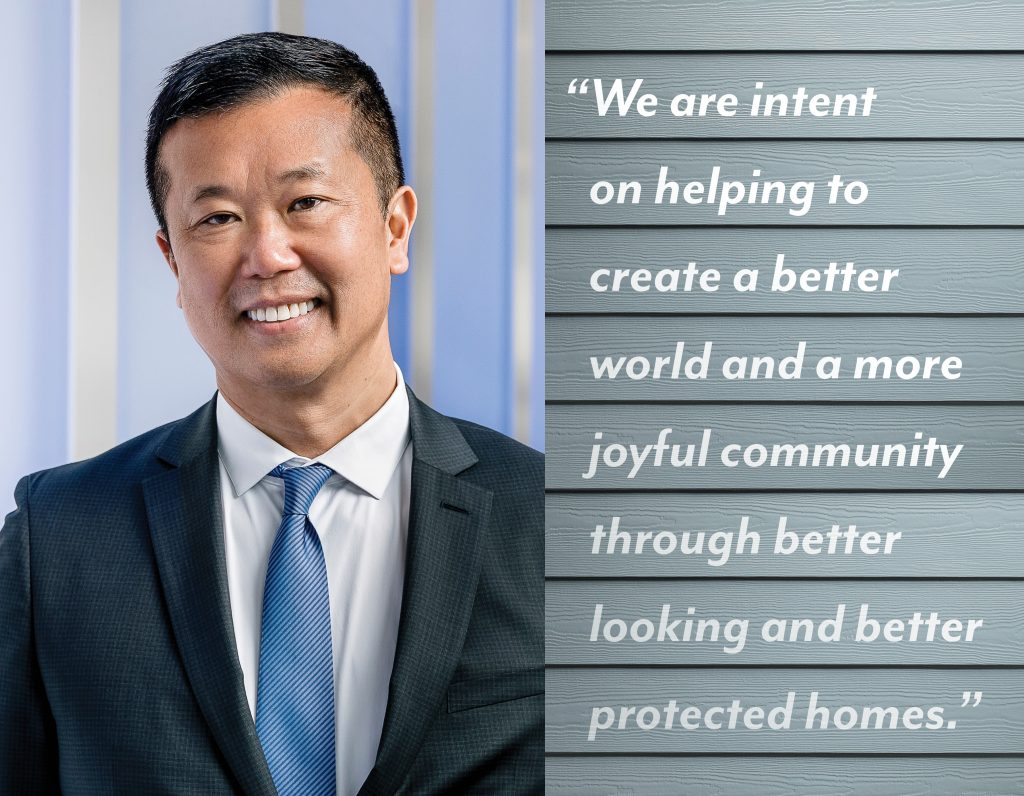 And the best thing about these trends, Jack reveals, is that they often move from one country to another, which is good news for James Hardie – the company doesn't have to constantly start from scratch, wasting time and resources. It already has the know-how and deep supply chain integration, allowing it to ramp up fast and deliver. "We're a big believer in that what's old in one area is new in another," he says.
"For example, the modern- and contemporary- style homes trend that we see today started in Australia roughly a decade ago. And then that trend moved to Northern Europe, primarily in Scandinavia, particularly Copenhagen and Sweden. It made its way over to the US about four or five years ago, predominantly in areas along the West Coast from Southern California up to Portland, Oregon and Seattle, Washington and then in the south-east in Atlanta, Georgia. So, we were already there, ready with the right product, our Hardie® Textured Panels, which provide contemporary textures and clean, architectural lines to serve our customers."
Of course, providing the market with products that help to build a better home is just the beginning. Through the company's continued investment in innovation, it strives to advance its ability to build better homes by introducing the homebuilding materials of the future for homes that are safer and more resilient. To this, James Hardie recently introduced three new products to the global market in May this year, including Hardie® Textured Panels in the United States, HardieTM Fine Texture Cladding in Australia and Hardie® Brand VL Plank in Europe.
"What we're doing here is inventing new-to-the-world materials and products, which essentially transform the way the world builds," Jack says. "We have created a material that allows designers, architects and builders to build homes with different types of mixed, design looks that differentiate one home from another and one neighbourhood to another. And it's something we take very seriously.
"We are the trendsetter. We see these trends evolve, and then we develop innovative products in one area and later get to introduce them to a new location. Our global outlook gives us the opportunity to become a driving force to create design changes around the world. It's a true benefit of being a globally connected company."
Green and lean
Like other industries around the world, the construction industry contributes to global warming, emitting large amounts of carbon dioxide with each new project. As infrastructure increases, so too does pollution and waste. And as the output of construction continues to multiply, so can its damaging effects.
Aware of these issues and passionate for change, James Hardie embraces sustainability and weaves it into every step of its energy-efficient operations. Its products have been manufactured with an emphasis on reducing environmental impacts by way of using cellulose fibre sourced from sustainable, plantation-grown timber and abundant, natural raw materials. Thanks to this, James Hardie products have a smaller footprint on the world compared to many others on the market.
Give your enterprise the best chance for success with these expert tips from James Hardie Industries CEO Jack Truong:
1. Build a deep, strong, aligned, and connected leadership team that drives your strategy forward. Remember these words from Steve Jobs: "If you want to go fast, go alone. If you want to go far, go together."
2. Develop a clear and specific vision and mission – and relentlessly execute towards them every day. Check progress frequently, and adjust and adapt as needed.
3. Lead by example and empower your employees to take ownership and accountability of their specific aspect of strategic initiatives – foster a collaborative and engaged team environment.
"Sustainability is ingrained in our operations. It's something that's important to us, and it's also something that excites us. For us, it's truly about how we're building products that help the environment," Jack says. "Our products last a long time; we offer up to 30-year warranties. And they're low maintenance too. So, from an environmental standpoint, you're not having to repaint or redesign your home as often as you might when using other materials.
"At the same time, we provide alternatives to stucco, render, brick and stone, which can be heavy to build with and may also take longer to install, increasing costs. Our products end up saving homeowners money in the long run while helping developers and builders build homes faster."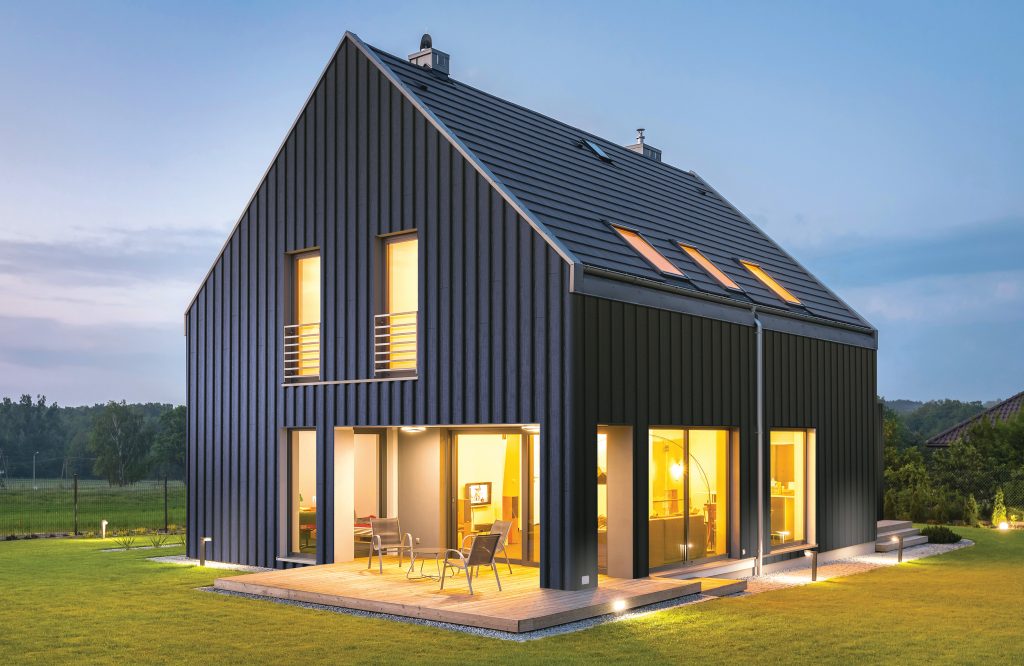 More than building homes, James Hardie takes a stance that it's building communities, sustainable communities. Therefore, it puts great care into "thinking global but acting local", ensuring to source, employ, and deliver locally. "It's really about creating jobs within a community – 98 per cent of our employees are hired locally near where we operate," he says.
"And, at the same time, we ship our products within the areas that we operate, so that the homes are built in a community where our manufacturing is located. In doing this, we help the environment by lessening our carbon footprint, lowering our emissions and building homes faster without using labour-intensive and more costly material. We are intent on helping to create a better world and a more joyful community through better looking and better protected homes. It's something we're very proud of."
Along with its focus on sustainability, James Hardie is also passionate about operating lean. More than benefiting the company's bottom line, its world-class manufacturing naturally reduces waste, improves employee and customer satisfaction all while allowing the company to leverage its scale. "We are the largest fibre cement producer in the world, but that will only benefit us if we take advantage of our scale and operate with the same standard across the globe," he says.
"So, we have a unique operating system based on lean, which we call the Hardie manufacturing operating system, that allows us to connect all of our manufacturing plants around the world and run off one standard operating procedure that's really about driving continuous improvement based on the customer's needs. As these needs change, our manufacturing plants and processes also must change accordingly. Therefore, we focus on the needs of the customer, and then work back into our operation to make sure that we cut out the waste in our processes that don't add value to our customers."
When every plant runs on the same procedure, it reduces the variation in product quality and output, creating more value for the customer. And, at the same time, it also cuts waste while saving employees' time and effort. "Operating lean has also helped to reduce the amount of turnover in our company significantly," Jack shares.
"The first year that we implemented lean, our attrition rate in our manufacturing plants was around 20 per cent. One year later, that dropped to approximately 13 per cent, and now, it's trending toward nine per cent. There's a lot of benefit when you have less attrition. You have engaged employees, and you don't have to continually go out and hire new ones. When you execute lean correctly, it reduces a lot of waste beyond just products and material, allowing our manufacturing teams to work more effectively."
A magnitude of opportunity
Three years ago, James Hardie broke into the European market with the acquisition of German-based fermacell® – a market leader in fibre gypsum and cement-bonded boards in Europe. Doing so presented the perfect opportunity to give James Hardie the scale it needed in the area to be an influential player.
"We now have five manufacturing plants here," Jack says. "We market and sell both exterior and interior products, and the interior products are based on the fibre gypsum material, which is a really premium product for flooring and walls. It offers high-impact resistance, it's fire-rated and it's also an acoustic-reduction material, so it's a great product for the interior of homes."
It's also been tremendous in the construction of commercial spaces like schools, hospitals and galleries, which often require quick turnarounds that aren't at the expense of engaging designs that inspire. Take the modern primary school in Swindon, for example, with its fun-and-fresh exterior, displaying a striking visual of green, blue and white vertical stripes. The project was finished ahead of schedule despite its challenging timescale thanks to the easy-to-cut-and-fit Hardie® Plank boards that were available with a short lead time for delivery.
JHX Share Price (US$)
1 Jan 2019 – 30 Sep 2021
Value Creation Since Jan 2019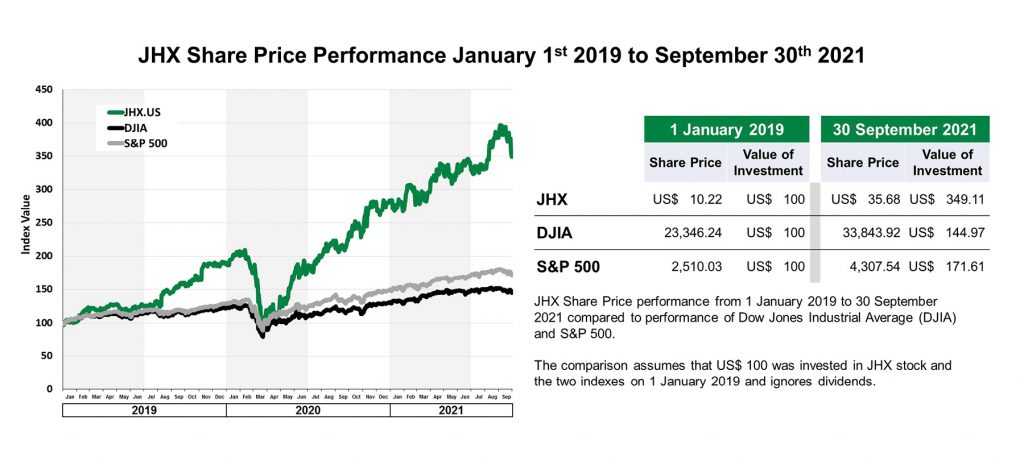 With its portfolio of brands, including Hardie®, fermacell® and Aestuver®, which easily meet the market's demands for modern building materials that can be produced efficiently within a short timeframe that are easy to handle and install, saving time and money, James Hardie has positioned itself well to achieve its ambitious growth targets. The company intends to expand its European footprint, deepening its presence in Germany, Switzerland and BeNeLux.
"Europe is a growing business for us," Jack shares. "But now that we have both solutions for the exterior and interior, the business has seen recent growth in the double-digits. And we're very excited about its continued growth potential."
Even more exciting for Jack, perhaps, is fulfilling the tall order of delivering new innovations to the market that not only continue to drive profitable growth globally into the future but that also bring joy and protection to families everywhere. "There's no higher order than the fact that we're in the business of building the right material that can really change and affect humanity. We get to help make beautiful homes that people love to come home to," he says.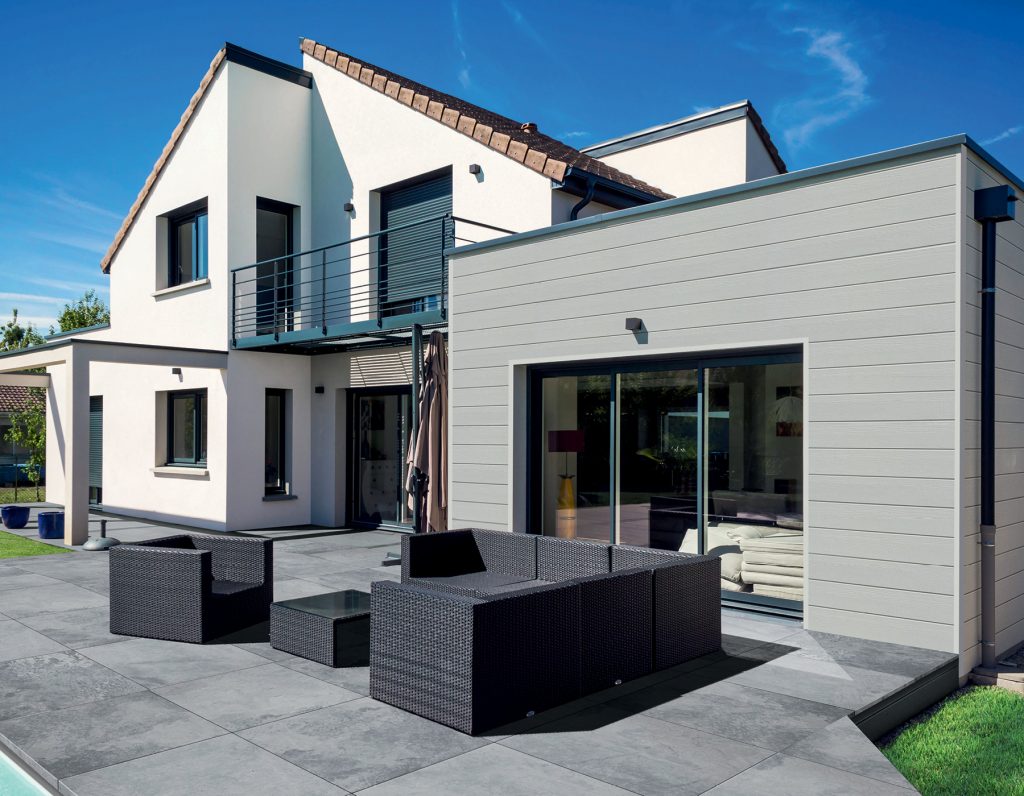 "It's that pride and joy that we deliver to the homeowners, knowing they'll also be protected by it. It's something I'm very passionate about. And for me, being the leader of the company that's delivering that, knowing that I have a direct hand in charting the course for this innovation for many years to come, and that I get to help build homes and communities and provide jobs locally, well, it's something that makes me want to do better every day. Because what we do matters. It matters to all kinds of stakeholders: employees, homeowners, communities, customers, suppliers, investors, and the world at large. It doesn't get any higher than that."
Proudly supported by: