John Landis Grove was travelling across the US with his wife in the late 1960s when they stopped to take in the awesome sight of the Hoover Dam. During their visit, the inventor and industrialist witnessed a terrible tragedy: two workers were electrocuted and killed while working on scaffolding.
After that day, he decided that there was a pressing need for a better and safer way to work at height in the construction and maintenance industry. When he returned from his trip, he set up a company in Pennsylvania and with just 20 employees developed the first-ever cherry picker.
With that he founded an entire industry: the access industry. Today, the company that bears his initials, JLG Industries, has a strong global presence and offers a broad range of access products and related services to the market. It is the world's leading designer and manufacturer of access equipment.
"John's legacy and his solutions-oriented approach are still one of the main guiding principles moving this company forward," confirms Karel Huijser, JLG's General Manager and Vice President for EMEAIR. He was very focused on the jobs-to-be-done approach. He really looked at the problem and he came up with a product solution," Karel says.
"He not only started JLG, he actually started the industry. JLG was the pioneer in this space. "Today, when we come together and discuss our strategy, we still talk about his pioneering spirit and how we can live up to that. As an established business, how can we continue to maintain a founder's mentality?"
Having smaller local facilities means we're able to move more product and respond to changing customer demands quickly.
JLG's current leadership has stayed true to its pioneering roots in a company that now dwarfs the cherry-picker-style lift manufacturing facility John started in 1969. The company posted revenues of US$2.5 billion (€2.3 billion) last year and has manufacturing sites in the US, UK, Mexico, France and China, as well as a sales and service presence in numerous other countries across the world.
It is the largest of several units of the NYSE-listed Oshkosh Corporation. "If you look at what John L Grove did at that time, today all our activities and investments that you see are still really connected with his customercentric thinking," Karel says.
"We call it the frontline obsession. We continue to live up to what we refer to as a founder's mentality." "In support of this, we built a new sales and service organisation in Sweden – a plant designed to service our customers in the Nordic region. We also upgraded our facility in Bremen recently, and in 2019, we moved into a new service facility in France. These are some very recent investments to get closer to our customer with the goal to be able to serve them better."
Reactive and agile
Since Karel joined the company in December 2012, JLG also invested in smaller manufacturing plants in Leicester in the UK, and in the French town of Tonneins. The smaller plants are part of a larger strategic plan to fulfil region-specific needs and requirements. Both locations serve large markets for the lifting equipment JLG makes.
"Having smaller local facilities means we're able to move more product and respond to changing customer demands quickly," Karel explains.
"In Leicester, at the new plant for Power Towers, we also built an innovation centre so that our customers can visit and see what the future will bring them and us. That was an important investment. We are divesting from larger plants, and investing in smaller, more agile locations."
People first
While safety remains at the core of JLG, it also sees a more profound role for itself in the industry. "Our corporate vision is to enrich people's lives by redefining job sites," Karel says. The company not only focuses on the job sites of its customers, its vision also applies to the workplaces and lives of JLG's own people.
During the COVID-19 pandemic, with everyone working remotely, this meant communication was intensified via regular virtual town-hall-style meetings with the entire team in the region, as well as through 'pulse surveys'.
These surveys measure employee engagement through a brief set of questions and are carried out at each of these meetings to continuously gain staff views on topics such as communication, the overall work environment and job-related topics. The outcome of each pulse survey forms the agenda for the next virtual meeting.
"I don't want our people to work in their home office and feel they are lacking purpose," Karel points out. "We must still get the job done for the customer. We still need that focus on our front line."
Another initiative at the company to bring the leadership closer to employees is known within JLG as #HappyMonday, whereby staff can email Karel with the hashtag in the subject line and receive a direct response from him.
"I don't want our team members to have to go through the whole system via managers," he says. "We prefer to keep communication lines short. I give them an answer directly based on their questions so they hear straight from the source."
JLG has also kept morale high with virtual happy hours, an employee-led initiative that Karel tries to join as much as possible when time permits. "Now that we don't meet each other in the office anymore, things like that are crucial," he says.
Karel has steered JLG through the past year with what he calls "secure base leadership", which means simply to "keep calm and stay positive to encourage risk-taking". With that approach, he has focused on making sure people remain committed to the front line, despite the challenging times.
In other words, he has made sure to keep the founder's mentality alive. And when the pandemic ends, Karel is determined to ensure that the positive lessons learned from the crisis will not be forgotten with new ways of working for JLG based on how the company was forced to adapt.
First, you have to know what your vision is and what the needs are for the business to change.
"When this all is over, we might go to the office differently. We might not need as much office space," he suggests. "We can combine working from home with the office and find a hybrid. The office will be more a place to meet each other and brainstorm and be creative and solve problems. And then, to get the things done and executed, you do it from home."
Back to school
Prior to joining JLG, Karel went to New York to study at Columbia University in order to obtain his master's degree in leadership. At the time, it was around his 50th birthday. "A lot of people just don't do things like that at that age, but it was one of the best choices I made for myself," he says.
"To go and think about things, to go through the latest theoretical models and compare them with what I did in the past, learning from the mistakes I made". Karel's final thesis reflected on 10 projects he worked on at General Electric, Tennant and DAF Trucks, and compared execution versus theoretical models.
"It was super interesting. If execution and theory were aligned, it was kind of boring," he confesses. "But when execution turned out OK, while the theory would say I did it wrong, or the other way around; that's where I could really take a deep dive to see what happened and reflect. You learn when they appear to be different."
One of the key takeaways from his studies was the importance of mobilising commitment and "baking the belief" with people in the company, and building teams when things are set for a change, or when big projects are underway.
Building a team too early can lead to problems, Karel realised, because it creates a situation where a leader ends up having the wrong talent on board once the demands of the project become apparent.
"First, you have to know what your vision is and what the needs are for the business to change. It's important to do that before you set up the team," he says. Studying also exposed Karel to something he hadn't experienced for a while: working independently.
"It's nice to have a year for yourself. It is also interesting because in your career, you are used to having big teams working for you and doing things, and now all of a sudden you are on your own. It was hard work but very exciting," he beams.
The theme Columbia had adopted while he was studying there was 'valuedriven leadership', which encouraged Karel to take a closer look at his own values and motivators in order to see how he could best implement those upon his return to leading large companies.
After graduating, he had a clear idea of the kind of company he wanted to lead and JLG ticked all the boxes as it aligned with his commitment to doing the right thing. Karel values working for an ethical company and doesn't just evaluate his work based on business performance.
"I decided I wanted to work for a company where my personal values are symmetrical with the company values, and that's why I decided on JLG," he says. "There is a great fit because of the values we share and also because of the company culture. We have a strong focus on diversity and inclusion.
It's so simple. If you solve a problem for your customer, the product will sell itself.
"In the EMEAIR region, 50% of my leadership team is represented by women and 50% is from outside the Netherlands. The differences in management style thanks to this diversity is really something we embrace, as it drives us to deliver better results."
A lot of organisations mention putting people first in their value statements but, in JLG's case, Karel says people actually give and earn each other's trust. "They work hard and they work together to reach their goals. People genuinely want to make each other successful."
Long before Karel started working on his master's degree, he studied industrial design. His first role at DAF Trucks was as a designer, where he learned the importance of hands-on creativity.
"That's how I started my career," he laughs. Creativity, curiosity and a drive for change are behaviours that are integral to his approach to leadership. After eight years at JLG, he still feels constantly challenged to flex his creative muscles and has a hunger to find innovative solutions. "That is something that keeps me with the company," he says.
"The focus on the front line, the continuous innovation and the way people collaborate here is something I've never experienced before. I will continue to build on the foundations we've laid."
Customer oriented
The pandemic led to a significant decrease in sales volumes for JLG. Around 45%of business was lost. Large rental companies – representing 60% of JLG's business – managed the downturn by postponing investment in new equipment, and extending the lifetime of their existing equipment.
"Last year, we really focused on improving essential parts of our business, by working with our customers and asking them, 'How can we help? Which tools do you need from us to make things better for you?' We're continuously trying to improve," Karel says.
"On the service side, we started offering our customers new ways to optimise their operations with mobile control and mobile analyses. With the past year's digital leap forward and developments around the IoT, augmented reality and virtual reality software, we're able to add a lot of value in customer care.
"Thanks to advanced technology we are able to help our customers to be more efficient and provide the platforms to improve uptime and extend the lifetime of their equipment."
Better together
JLG's company culture is based on four core values: putting people first, persevering, doing the right thing and recognising that people are better together. "We talk about those values with our suppliers and customers because we believe that if you share those values, it will lead to a more sustainable relationship," Karel insists.
Partnerships are essential for survival and help drive business forward. Since 2010, JLG has partnered with Hinowa, a family-owned manufacturer in Italy, delivering their products under the JLG brand to the access equipment market worldwide.
What started as a manufacturing agreement evolved to a partnership where engineers from both companies collaborate with each other. By teaming up, both companies benefit. Another partnership, with Aertssen – a large logistics company in Belgium – evolved from storage and logistics into a full-service operation including equipment inspection, modification and cleaning.
"By giving trust, we earn trust. This mindset allows us to grow our partnerships and move forward. These partnerships also make us continue to learn and improve, as we accept other viewpoints rather than strictly our own," Karel says.
Problem-solvers
"John L Grove invented the cherry picker, JLG and the access industry. William Besserdich and Bernhard Mosling, founders of Oshkosh Corporation, were the inventors of the Old Betsy, the first four-by-four truck. There's a lot of pioneering technology in our company, which is great," Karel says.
"I have always worked in companies where the foundations are technology and innovation. As a designer myself, it's an important environment to be in and to add value to, and get value back from the company."
More recently, JLG has kept its innovative spirit alive by acquiring the Power Towers, a low-level access specialist, in 2015. Power Towers' products are four times more efficient than traditional means of access like ladders or small scaffold towers.
"They're brilliant products and they fit very well with our jobs-to-be-done philosophy. Another pioneer, they are a replacement for conventional ladders," Karel says. "See, a ladder gets the job done, but our product gets the job done better and more safely."
Yet another product that combines the approach of the 'jobs-to-be-done' mentality is the EC boom – an electric, lithium-ion-powered boom lift that performs as well as a diesel-powered version of the same product.
See, a ladder gets the job done, but our product gets the job done better and more safely.
"You can't hear it so you can work during the day but also at night. It is a very environmentally friendly product," Karel enthuses. "A zero-emission product, which fits very well with evermore stringent work requirements in low emission zones."
The award-winning, all-electric, zero-emissionproducing DaVinci scissor lift offers all the same benefits as the EC boom, such as high utilisation rates and silent operation, with an added innovation. The first of its kind, it has no hydraulic components, so it won't leak and requires almost no maintenance.
"The DaVinci is also a first in the industry to recover energy while the platform is descending. This capability contributes to a 70% decrease in power consumption," explains Karel.
"In short, it's the eco-friendliest scissor on the planet. For these reasons, its uses are incredible, and a good example of enriching lives by redefining job sites."
Continuously wanting to improve, JLG fielded input a few years ago from customers and other industry professionals about limitations they were facing on job sites and problems that needed solving. What they discovered was that many struggled with positioning elevated platform vehicles on uneven terrain.
As a result, JLG developed a self-levelling boom lift. With four tyres moving independently on uneven surfaces, this product allows the operator platform to stay perfectly level. "This innovation saves enormous amounts of time on job sites and, therefore, ultimately improves customers' bottom lines," Karel says.
"In essence, it's so simple. If you solve a problem for your customer, the product will sell itself. These are all products that I really love and are also the basis for the company going forward. We will continue to build on those. I see a bright future."
Proudly supported by: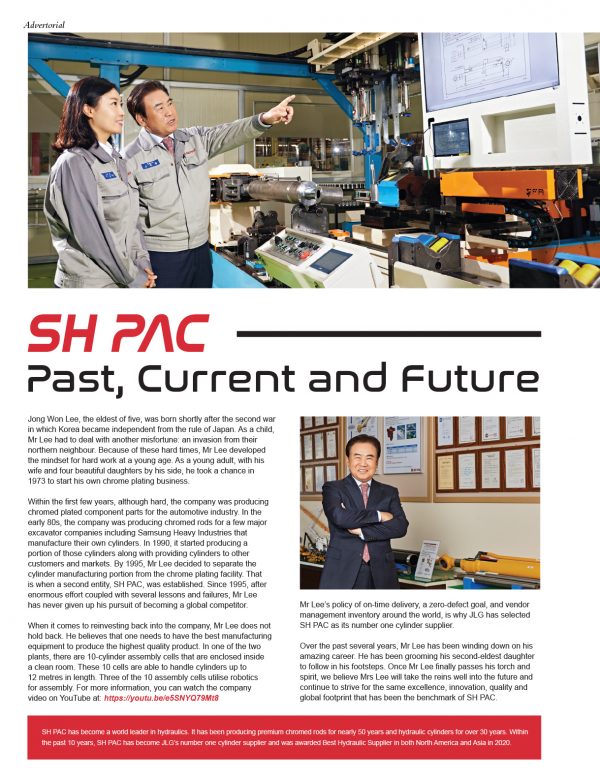 SH PAC