Born in Malaysia and educated at the The National University of Singapore (NUS), Progressive Builders' Managing Director Ng Yek Meng initially pursued a degree in Chemical Engineering. It didn't take much prompting, however, for him to be drawn back to his first passion. "There was a construction site near where I lived, and I saw a need. I went back to a dream from my younger days, to be a civil engineer." He switched degrees after the first year, and the move shaped his career.
He joined Singapore's Housing and Development Board (HDB), the statutory authority responsible for public housing. It has had a major influence on Singapore's residential construction; it is estimated that more than four out of every five Singaporeans reside in public housing provided by the HDB.
Ng Yek Meng rises the challenge of the top role
Yek Meng's first role at the HDB saw him work as a design engineer specialising in pre-casting technology, but the experience he gained there was much broader. His position brought with it valuable exposure to the public works tendering process. At the same time, he completed his Master's in International Construction Management.
Post-study, he worked for two construction firms. Through this period, he gained experience running projects, as well as tendering and executing projects, most frequently in the public construction sector where he began his career.
In 2000, he formed Strike Construction, a company that offered construction services in which he holds a 30% stake as a shareholder. "I didn't initially plan to be the boss of a company," Yek Meng recalls.
"I had been headhunted by an engineering firm to start a construction firm as they wanted to expand their business into the construction sector. I thought running a company was quite challenging, but I felt I was ready. So I took the challenge and joined as a 30% shareholder."
Progressive Builders, a company with a good track record in building public housing projects, was acquired by Strike Construction in 2003. "So, that was how we kicked off our entry into the public housing sector," Yek Meng recalls. "About three years later, the engineering firm which was the majority shareholder, divested some of its businesses, including the construction firm I was running."
Yek Meng had come to a crossroad; facing the choice of either buying out management or letting a new shareholder come in as majority owner. He chose the former and has never looked back.
Progressive Builders finds its niche
The next steps for Yek Meng were to raise capital for the buyout and to bring another investor on board. The latter remains as a private equity holder in the company. "It was actually quite a smooth buyout because all the staff remained, it was only a change of shareholders," he recalls. "Day-to-day operations weren't significantly affected."
Still, the company Yek Meng was now running faced significant challenges from the outside. "The market at that time was extremely competitive as there weren't many projects in Singapore to tender for," Yek Meng says. "But I enjoyed a lot of support and trust from my suppliers, some of the specialty sub-contractors who had been with me over the previous 10 years. So even though our company was quite small at time, they trusted us. They give us very good support for our project execution."
Faced with a challenging market, Yek Meng's approach was for Progressive Builders to avoid tendering for larger undertakings and instead specialise in smaller projects that were closely aligned with its particular proficiency. Such projects included those with a high engineering component, and design and build (D&B) undertakings.
"When we are the ones that design the project, we can control the costs a lot better and have more control over the speed of construction," Yek Meng explains. "We can design a building that is easy to construct, that cuts time by using a lot of pre-fabrication and uses less labour
when compared with a conventional construction. That is all part of the expertise we have."
When we are the ones that design the project, we can control the costs a lot better.
The decision to focus on this niche proved a winner and Progressive Builders became a multiple recipient of the Enterprise 50 award, which is given out by KPMG and The Business Times. It has also been recognised as one of the fastest growing 50 small and medium enterprises (SMEs) in the nation and received yet another award in the 'Promising SME – Crossing $50 Million' category in the Singapore SME 1000, both conferred by DP Information Group in 2011.
Leveraging efficiency & expertise to win tenders
One reason for this success has been an approach of always looking for efficiency savings. Staff are encouraged to come up with innovative ways of tackling problems. "In one of the tenders we won, we were supposed to add 10 lifts into five existing buildings," Yek Meng recalls. "But our engineering team came up with another idea. They said: 'Lifts cost a lot of money. We can reduce the number of lifts per building by using an alternative solution.'
"The purpose of the new lifts was to make the building elderly- and handicapped-friendly, and two new lifts were required in each building due to split levels. The team suggested installing just one lift per building and creating a spiral ramp to allow the residents to access the lift from the spilt levels within each building. This idea was quickly accepted and resulted in total cost savings to the client and we were able to clinch the project – a win-win for both parties."
In recent years, Progressive Builders has leveraged its efficiency and expertise in the D&B space to win a number of public tenders. Current public projects include SkyParc (Dawson C5), a three-tower project complete with a roof garden and community facilities, and a Round Island Route – a 20 kilometre cycling and jogging track. Progressive Builders hasalso built sewer pipes using the trenchless pipe-jacking method.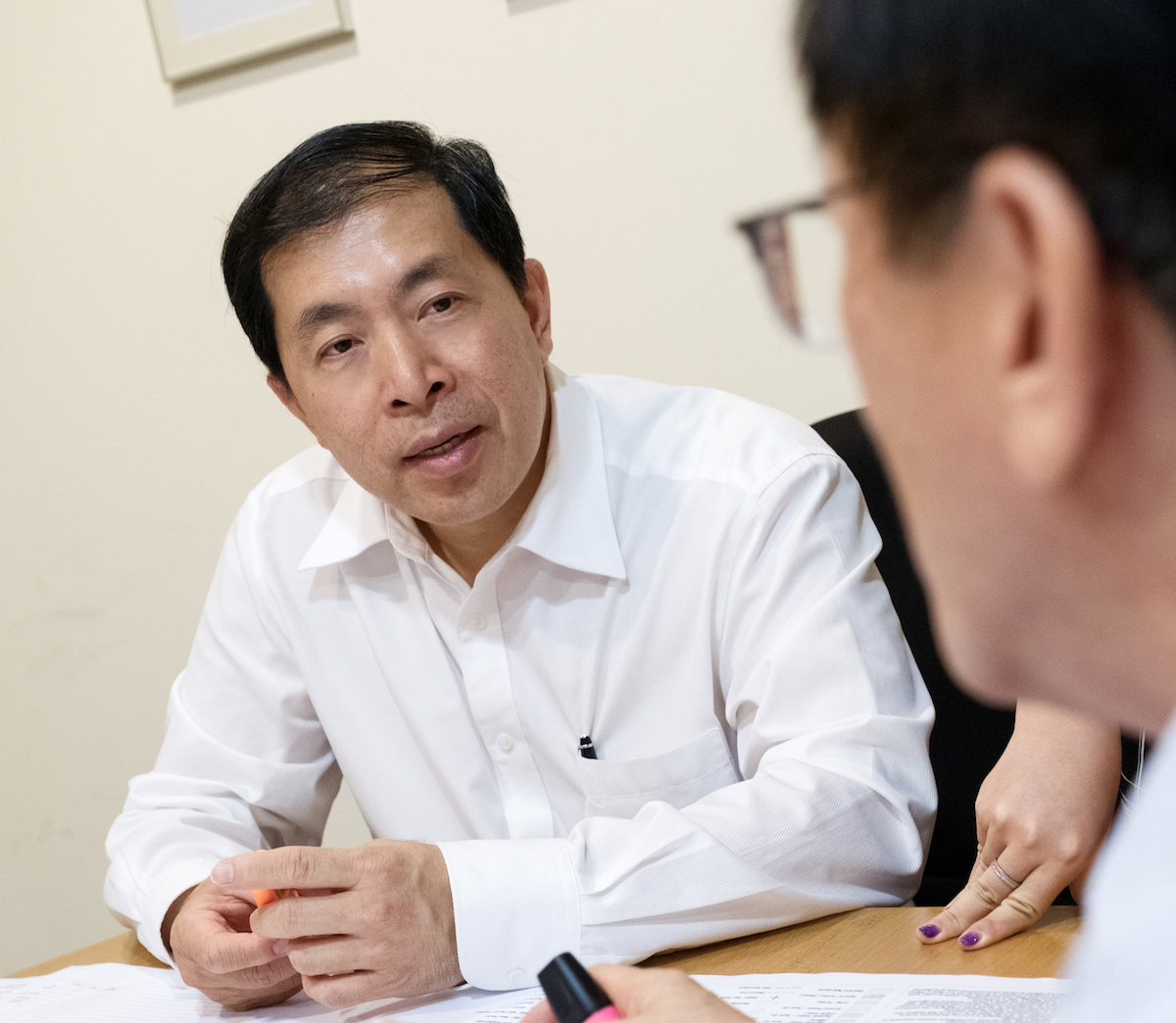 Elsewhere, its work doing additions and alterations to the elegant Art Deco Arcadia Hotel highlights the range of projects it can turn its hand to. Despite working on a range of innovative and socially responsible projects, Yek Meng says that Progressive Builders faces a challenge familiar to many in their industry, that of meeting recruitment demands.
"A lot of youngsters do not like to work in construction. It's challenging to get committed people in this industry," Yek Meng laments. "We have to change our work methods and expose young people to training to keep attracting them to our company."
Addressing labour shortages
Progressive Builders has established an Overseas Testing Centre (OTC) in Dhaka to address labour shortages. Accredited by Singapore's Building and Construction Authority (BCA), the OTC enables Bangladeshi workers to gain accreditation for Singaporean construction work.
Another part of the solution, Yek Meng feels, is to offer on-the-job training that goes beyond teaching construction and engineering know-how and equips young recruits with a feel for the more senior and management levels of the industry. "We teach young employees every aspect of management; managing people, project management, and showing them to apply these management tools in their work."
The influential Singapore Contractors Association Limited (SCAL), where Yek Meng is the first vice-president, also has a role to play in addressing this issue. With its members being involved in constructing some 75 per cent of Singapore's built environment, SCAL is an active body engaged in advocating construction as a career choice for talented young Singaporeans.
To help achieve this aim, it has established SCAL Scholarships, which create opportunities for talented students to study at the Nanyang Technological University's School of Civil and Environmental Engineering.
Progressive Builders also participates in the Corporate Social Responsibility (CSR) activities organised by SCAL. The CSR arm at SCAL has helped disadvantaged youth and the elderly with initiatives such as its Clean-A-Home program and a collaboration with the BCA to revamp the infrastructure at the Association of the Visually Handicapped. "I am quite busy with work, though I try to fit in some time for social work with my friends." Yek Meng says.
Embracing sustainability
Just as SCAL takes a broader view of how the construction industry can have a positive impact on the community, Yek Meng is mindful of ensuring that his company embraces sustainable modes of construction as much as possible.
Progressive Builders has made extensive use of solar panels in its projects. In some instances, it has enabled clients to offset a building's operating costs by including enough solar panels so surplus energy can be sold to major grids. It has also worked closely with an air-conditioner manufacturer to ensure the energy-efficient AC systems in its buildings are fully optimised.
This focus on sustainability forms a large part of its long-term objectives, Yek Meng says. "Our vision is to be a recognised builder throughout the region. We want to be known as sustainable, responsible builders who protect the environment. We also want to diversify and work on environmental projects more broadly, incorporating greater energy savings into our buildings and using environmentally friendly materials in our construction projects."
We want to be known as sustainable, responsible builders who protect the environment.
These efforts have already been recognised by industry bodies, who have chosen Progressive Builders for construction excellence and safety awards. BCA has also awarded it a Green and Gracious Builder Award, which recognises builders who incorporate environmental consciousness and public concerns into their work.
"I think a good leader leads by example"
Progressive Builders has also completed a project for BCA itself, constructing the state-of-the-art BCA Academy. This learning complex is one of the key industry facilities offering a place for students to learn about sustainable construction in an environment that incorporates cutting-edge green technology, vertical gardens and zero-energy buildings.
Sustainability may be a valuable strategic driver as Progressive Builders looks to expand outside its Singapore base. "We are looking at the region," Yek Meng confirms. "We started off in Singapore, but we've also started investing in property development and we are investigating countries such as Australia and New Zealand for further investment."
As Yek Meng continues to lead the company into a greener future, his management philosophy remains straightforward. "I think a good leader leads by example," he says. "They must also be committed, work with passion, and won't say no to any good ideas, no matter where they come from."
It's clear Yek Meng takes satisfaction from his company's growing portfolio of completed projects and the principles that have guided them. "I always show my children which buildings are built by us, I point them out and tell them about how we built them." With Progressive Builders' commitment to incorporating sustainability and environmental concern into its work, such parental pride is understandable.