Professor Linda Kristjanson AO has always been drawn to people at critical times in their life. Today, as Vice-Chancellor of Swinburne University of Technology in Melbourne, she steers the opportunities and experiences of people laying the path for their careers.
But once upon a time, Linda gave support to people at an altogether different part of their life – the end. "I've been at the bedside of many dying people while working as a nurse in palliative care, and it has taught me that we have one life, so we have to live it as meaningfully as we can," she says.
"While people like to think about awards they've won or promotions they've received, I know that at the end of life, we are remembered for how we treated people, and the way we contributed to society. It's not been too large a step for me to move from that field into education, where we have the power to really transform lives, improve communities, and build a strong, sustainable future for a wider society."
Linda Kristjanson's path from practitioner to researcher to leader
After gaining a nursing degree at Canada's University of Manitoba, Linda went from being a practitioner to doing a Master of Palliative Care, and then a PhD, involving research to improve quality of life through pain management in end-of-life care.
"Back in the 70s, we were real pioneers in the understanding of pain management, as well as starting to include the family more actively in the care. I wanted to usher in an understanding that cancer and terminal illness affects everyone," she says.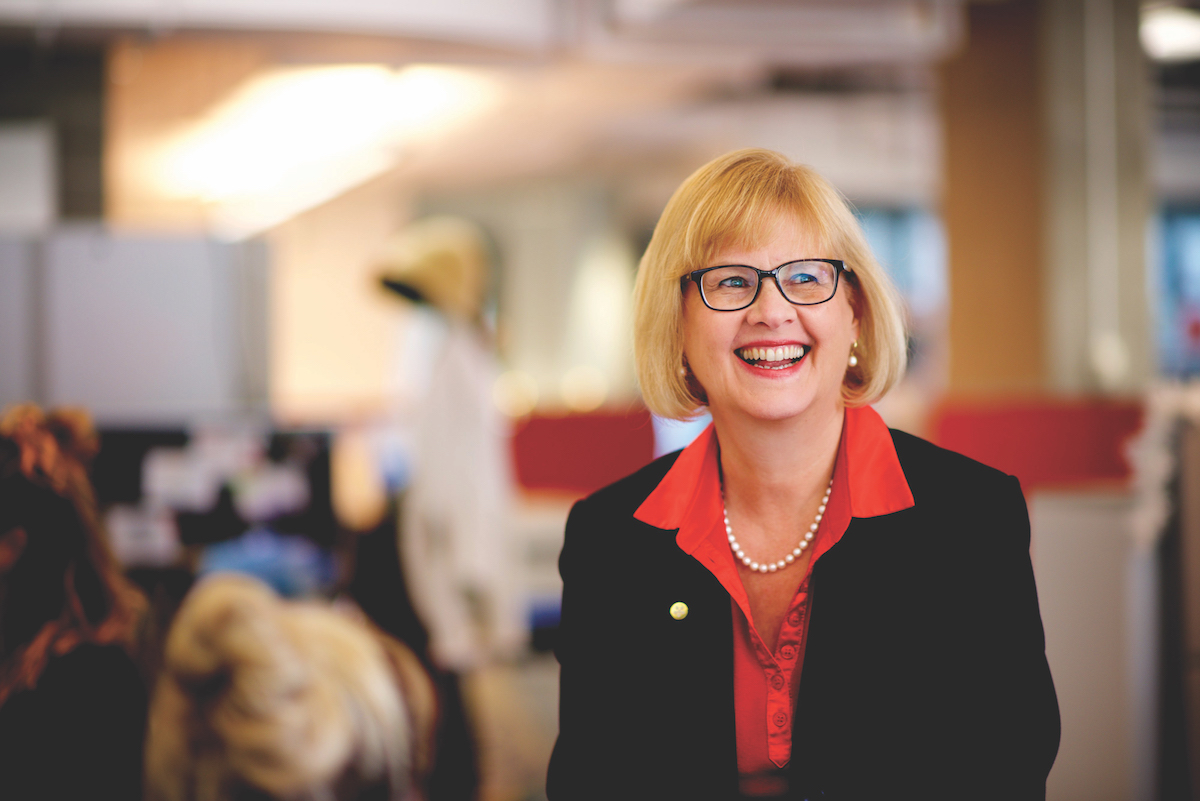 When she and her family moved to Australia in 1997, Linda collaborated with clinical research colleagues in Perth, making the full transition from individual bedsides to the broader platform of research. Over the past few decades, Linda has served as the inaugural Chair of Palliative Care, funded by the Cancer Council of Western Australia (2000–06) at Edith Cowan University. She also served on the National Health and Medical Research Council (2003–06).
"I started to move into research leadership positions, first in cancer and palliative care, then expanding to become associate dean in the area of science and IT, engineering and health at ECU. I later became deputy vice-chancellor of research at Curtin University," Linda says. By 2011, she was formally invited to move to Melbourne and take on the vice-chancellor role with Swinburne, which she accepted.
Swinburne University of Technology experiences a shake-up
Since her appointment, however, she has had no shortage of challenges. New regulations quickly saw Swinburne with a shortfall of $40 million in funding for its vocational education programs, spurring a shake-up that recalibrated the university's key vision.
While some course offerings were cut, others were streamlined or blended to align with the university's strategy to become a leader in science, technology and innovation. The campus footprint was also reduced, from five to three sites across Victoria.
"It was a difficult time for the university, because change always brings uncertainty and fear. But the decisions we made proved to be the right ones. We now have much greater integration between our different course offerings, and we've experienced a 15% increase in first preferences to Swinburne," says Linda.
Change always brings uncertainty and fear. But the decisions we made proved to be the right ones.
"We've also seen improvement in our interdisciplinary course offerings. We can bring innovative programs together, merging areas that might have stayed disconnected had we stayed in that old format."
A bright future for Swinburne & its graduates
Furthermore, the university now has a far more strategic collaboration with industry, with a stronger focus on developing industry-ready graduates, as well as an ideas-sharing ecosystem.
"We're really appreciative of the opportunity to work with innovative partners such as Wipro, and Textor Technologies, which provide excellent opportunities for our students to have practical internships or placements. The partnerships also contribute greatly to our research projects in areas like smart devices and next-generation IT architecture."
Linda expresses pride in the university's culture, noting that with challenge comes evidence of the institution's strength. "When you go through adversity and you come out the other side, you start to realise what you're made of. I'm very confident about the future," says Linda.
"Young people really are the next generation of leaders, and we have the privilege to educate them. They're bright, passionate, socially minded, and extremely creative. Students and researchers are precious assets, and it's a privilege for me to serve them."