Since opening its first store in 2011, Soul Origin has rapidly grown to now encompass 52 stores and franchises across New South Wales, the Australian Capital Territory and Queensland. With its motto of 'Eat Mindfully' capturing the current mood for a healthy, sustainable lifestyle, the company has recently announced a target of 200 stores by 2019. Chris believes that the retail background of the company's senior management team is not only responsible for its current success, but will also ensure this lofty ambition is achieved.
"We are all retailers. The senior management team have been in retail all their lives, and in retail it's not about wanting to do it; it's about just doing it. We have the mentality of 'whatever it takes' and we get things done because of that background. We don't over-analyse everything; we talk about decisions, we think them through, and then we execute them."
Making decisions that make retail sense
Chris has been with the company since 2013, when there were just two Soul Origin stores. Hailing from Taree in country New South Wales, he has experience across the spectrum of the catering industry, starting off in the family café before operating a Michel's Patisserie franchise. He was attracted to Soul Origin by both the potential to instil his beliefs and thoughts into the young business along with the opportunity to build the brand with fellow retailers rather than corporate players.
"I wanted to work in a business that was retail focused. So some of the decisions that we make as an organisation might not make corporate sense as far as dollars and cents go; however, they make retail sense. If decisions make retail sense, they then turn into retail dollars in the long term."
The first Soul Origin was opened in late 2011 and in April 2013 the second store followed. "The owners of the company wanted to prove the concept and justify the business model before they asked people to invest in them," Chris explains. Today, the target of 200 stores by 2019 appears to be one that is within their reach. "The momentum the company has gained and the acceptance by the Australian community and the Australian market has been incredible. We have gone with the momentum, embraced it, and just kept pushing."
Putting key people in key positions
As the organisation has grown, placing the right people into the business has become essential. "Two years ago, as a team, we had our hands across every part of the business. We were all running distribution, we were all running franchising, we were all running recruitment, we were all running store openings. So the focus recently has been bringing key people into key positions, allowing them to continue the journey that we have taken to date, and empowering them to do the job that we want to achieve as a team."
More than 70% of new employees are network recruited, which fosters a real sense of community in the organisation.
"I love coming to work because of the people at all levels of this organisation that we have brought on board and have come along on the journey with us," Chris enthuses.
'We view our business as five businesses'
Today, Soul Origin is a business comprising many parts. "We don't view our business as one business; we view our business as five businesses. We are a franchising business, we are a recruitment business, we are a food manufacturing business, we are a distribution business, and we run a very strong support centre business."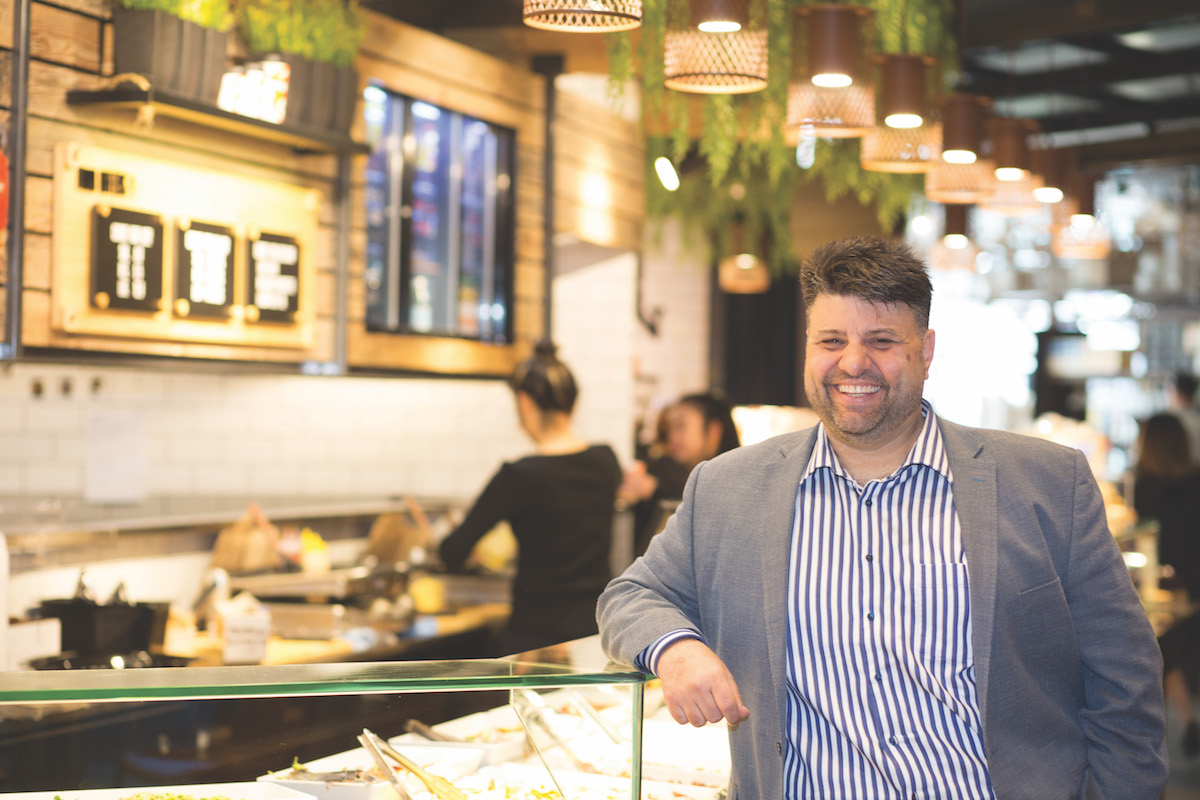 "We have to remember where we came from, because where we came from has led us to success, and going away from that could lead us to failure." – Chris Mavris
In order to guarantee consistency and quality across its franchises, the production is centralised in four kitchen facilities. "Having that control over the food that we serve is part of our strategy. Not having to rely on third parties to deliver the quality of product that we want as a brand has been very important. They are our recipes, we control the means of production, and we deliver that to our stores. We run all the testing; we have rigorous systems in place to ensure the quality and the standard is maintained."
As the instore menu diversifies to include such flavours as macha, kale and pomegranate, the importance of longstanding relationships with its network of suppliers cannot be downplayed. Many of these like-minded businesses have shown faith in Soul Origin from the start, and Chris is ever thankful for their belief and commitment to them. Navigating these relationships is not without obstacles, however.
Culture, family values and tradition
"Over the next couple of years, as we grow bigger, we face new challenges from franchises demanding better pricing, so we have to be able to manage these expectations and manage the relationship with those suppliers."
Yet Chris is unlikely to disregard the past as he turns to the future. "All of us retailers have come from humble beginnings, and my mantra is that we have to remember where we came from, because where we came from has led us to success, and going away from that could lead us to failure."
"It is the pillars of this company that are the biggest thing: the culture, the family values, the tradition. We have all come from nothing, from a corporate point of view. We have all been shopkeepers, we have all been retailers, and the founders who had a vision have given me a sensational system to be able to grow and develop, and we have all learned and grown together.
"It has been a real team effort to achieve the success that we have, and we know that the only way for future success is for that team to continue to grow and develop — both individually and as a group — to achieve that 200-store goal by 2019."