In 2013, Geoff Whyte was headhunted for the CEO role at Nando's South Africa. Since then, he has transformed the working culture of the restaurant chain and, through building on the organisation's existing employment programs and humanitarian endeavours, he has helped change countless lives for the better.
Having been promoted this year to oversee the India, Middle East and Africa (IMEA) region, Geoff is now taking that same approach to the new markets for which he is responsible. Of course, food is also central to the success of the business and Geoff explains how Nando's tailors its menu to suit different cultures while staying true to the core of the brand.
The CEO Magazine: You're now in charge of the brand's operations in IMEA. What opportunities have you identified in this expanded market?
Geoff: Historically, I think we missed some opportunities to innovate. In South Africa in 2013, for example, we hadn't really brought much that was new to our customers in a couple of years, so it was nice to be able to kickstart that process and bring some exciting, fresh products to market. I see lots of opportunity to extend that approach across the IMEA region.
I think we can also start applying the expertise we've built up in South Africa over the last few years in store location and design to the new territories we're » now supporting. Furthermore, I think we can deliver more effective marketing campaigns, hitting a higher standard more consistently.
Nando's has a reputation for promoting employee growth. Is that something you continue to drive within your region?
We are a people-focused organisation. From the very beginning in 1987, our founders, Robbie Brozin and Fernando Duarte, chose to invest in the people who worked in the business to give them every opportunity to learn, grow and realise their potential. That's something the IMEA leadership team believes in too.
The other aspect we are very focused on is changing lives. The more the business grows, the greater positive change we can bring. Whether that's internally with the people who work for Nando's, our customers, our suppliers, or the communities that we operate in, they're all very important to us. We often talk about 'changing the world one chicken at a time'. That's something we take very seriously.
Are you seeing the impact of this in South Africa?
Absolutely. In South Africa when I first joined, our employer brand wasn't nearly as strong as our consumer brand; we were falling short of creating an environment where all our employees – whom we call nandocas – felt comfortable. In the time that I've been here, we have really worked hard to remedy that. Nando's is now a happy place to work, where people can be themselves and grow in the organisation.
What else are you particularly proud of from your past four years at Nando's South Africa?
I guess we've been through a very turbulent period in South African politics, and that has had a negative impact on the economy. Despite that, we've produced exceptional business results in a difficult climate. I'm also very happy with the step change in the quality of our restaurant designs.
On balance, though, I am most proud of the changes we have made to Nando's culture. Seeing how relaxed and productive our people are these days is incredibly rewarding. Of course, the food itself is at the heart of Nando's success.
Presiding over such vastly diverse cultures, how do you ensure your restaurants cater to the specific tastes of the different countries?
We've built a highly successful global business serving the world's best flame-grilled PERi-PERi chicken, so our signature product is unsurprisingly front and centre wherever we operate. We do, however, mix things up from market to market around the edges to suit local tastes.
In India, for instance, there are many people who are vegetarian, either all the time or on certain days of the week, so we've strengthened our menu there in this area. If we weren't giving them something vegetarian and flame-grilled, basted in our PERi-PERi sauce, we'd be missing a significant opportunity.
In the Middle East, we've also been very successful with espetadas – an elaborately presented giant skewer of PERi-PERi chicken, which has got some lovely theatre to it. We also look to source different desserts locally and we have some really delicious options available across the region.
The Southern African markets are fairly similar in terms of taste, but we've got bigger differences in the Middle East and India – even on staples like rice. Long grain is popular in many places across the world, including the UK and South Africa, but there's a preference for a lighter rice, like basmati, in some of our Middle Eastern markets.
Speaking of the PERi-PERi chicken, it's said that the recipe is a closely guarded secret; is that true?
Yes, of course it is! I'm sure lots of people will have tried, either commercially or at home, to copy our chicken, but it's impossible to recreate. Our marinade and basting recipes are top secret, as is the unique way we cook the chicken to keep it deliciously moist.
Our marinade and basting recipes are top secret, as is the unique way we cook the chicken to keep it deliciously moist.
Going back 30 years, what attracted our founders to buy what would become the first Nando's restaurant – a Portuguese eatery called Chickenland in a rough area in the south of Johannesburg – was the outstanding PERi-PERi chicken they sold. To this day, no-one comes close to matching our chicken.
What, aside from your food, gives Nando's an edge over its competitors?
I think the experience we give our customers is quite special – from the warm service we offer to the pleasure of dining in our beautiful, individually designed restaurants, Nando's is pretty unique. We also have original South African art in all 1,300 of our restaurants globally, drawn from the biggest collection of contemporary South African art that exists anywhere. This authentic connection to where the brand originated is very powerful.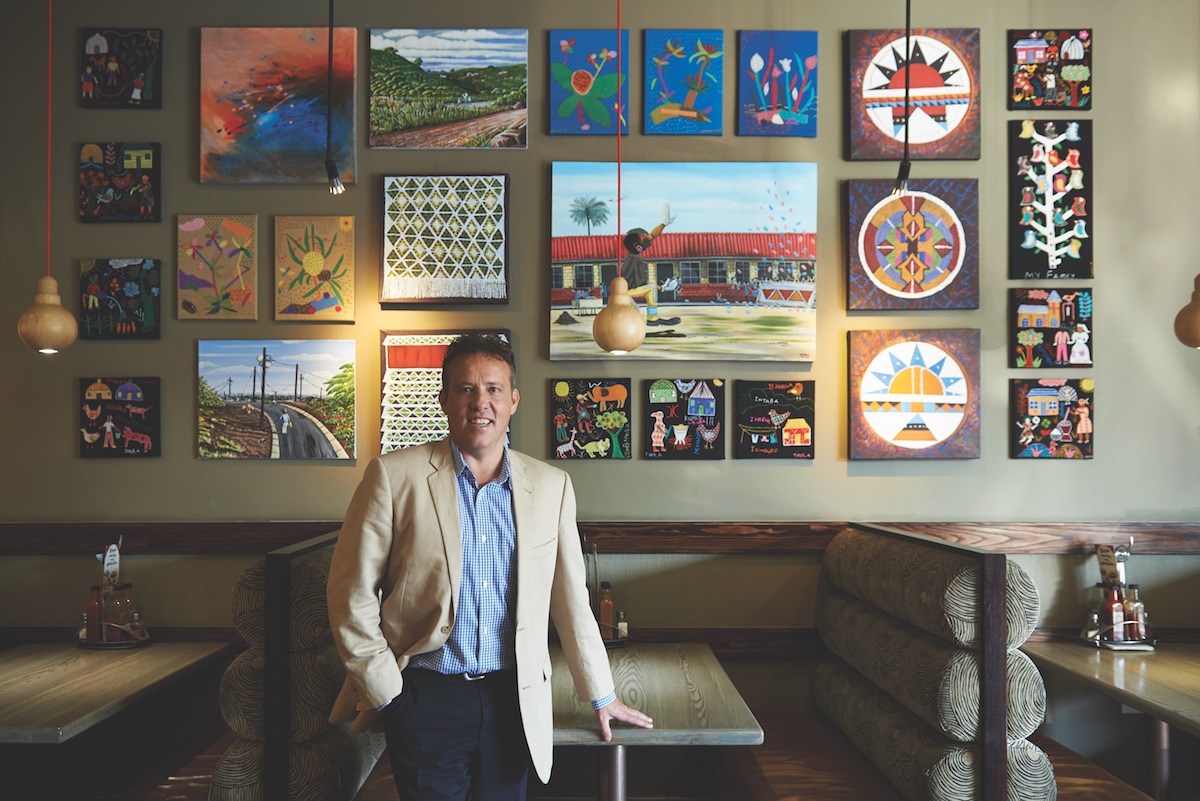 As I've mentioned, I also believe the investment that we make in trying to ensure our people are happy, energised, and realising all that they're capable of, translates into a great customer experience. We think of ourselves as an inside-out brand. If we have a happy and productive organisation, the people who buy chicken from us can feel that.
What does Nando's look for in its employees?
Inside the business, we talk about people with 'shiny eyes'. We look for people who are energetic, keen to learn, and who want to make a difference. They also have to enjoy engaging with people, because in our restaurants we have big teams of people who have to work together to deliver great food and service.
Before we get to more practical considerations, in terms of qualifications and experience, we look at a person's character. I don't think it's possible to train someone to enjoy working with people, or dealing with customers. I guess you could say we start with attitude and outlook, then we dig a bit more into practical skills from there.
You look for similar qualities in your suppliers; is that right?
Yes, it's very similar to the selection process we use for hiring nandocas. If we're looking for employees who are passionate and energetic, who take pride in great service, making the best possible food, and who want to make a difference in the world, then those are the traits we want in our suppliers too. It's important to us that they share those philosophies.
If we're looking for employees who are passionate and energetic, who take pride in great service, and who want to make a difference in the world, then those are the traits we want in our suppliers too.
Our South African business is presently working with suppliers on a program tackling youth unemployment. So, having partners who are excited by that and willing to engage to make a difference, is just as important as what they're able to produce for us and the price they can produce it at.
---
Giving back
It's not all chicken at Nando's South Africa. Geoff sheds light on the company's commitment to sustainability, malaria prevention and youth employment projects. "Malaria's a massive problem in Mozambique, which is where we source most of our chillies.
So, led by our co-founder Robbie Brozin, we have put programs in place to reduce and then eradicate malaria from big chunks of the country. These include a huge spraying program, which kills the mosquitoes and stops them breeding, as well as providing mosquito nets to people living in high-infection areas to protect them at night.
"Our support for chilli farming in Mozambique is also helping to regenerate what was once a powerful agricultural economy. "Furthermore, we're a founding partner in the Harambee youth employment initiative in South Africa. If you are a young adult living in a township, even if you've got your high-school certificate, you're almost completely cut off from the media, electronic communication, and business relationships, which makes it extremely hard to get into the world of work.
Youth employment in South Africa is very low – less than 50 per cent at the moment – and to address that, through Harambee, we've brought in kids from what are often quite remote areas and assessed them to help guide them into employment that they will both enjoy and be good at.
"Through this initiative we've been able to place well over 1,000 young South Africans in full-time jobs at Nando's. What we've found is that unless these youths get an opportunity in their early years of adulthood, they'll probably never work. So Harambee really is life-changing for them. This program has a scale and impact that goes way beyond Nando's that we're very proud to have supported from the beginning."
---
Do you have stronger partnerships with your suppliers because of that shared outlook?
We've developed a number of long-lasting commercial partnerships over the years, but if you share an ambition with a supplier to positively change lives, that can only strengthen the relationship. We held an event not so long ago where we hosted all the drivers who work for Vector Logistics – the company that delivers all Nando's products to our restaurants in South Africa – and talked
to them about the brand and our purpose as an organisation over some PERi-PERi chicken. This kind of engagement leads to a different level of relationship with suppliers.
At our global supply-chain conference last year, we spoke about some of the things that we're trying to do to change lives, and we found that the group of people we'd brought together as suppliers shared a similar spirit and ambition. A lot of them have since partnered with us on a number of
those programs, so that's exciting.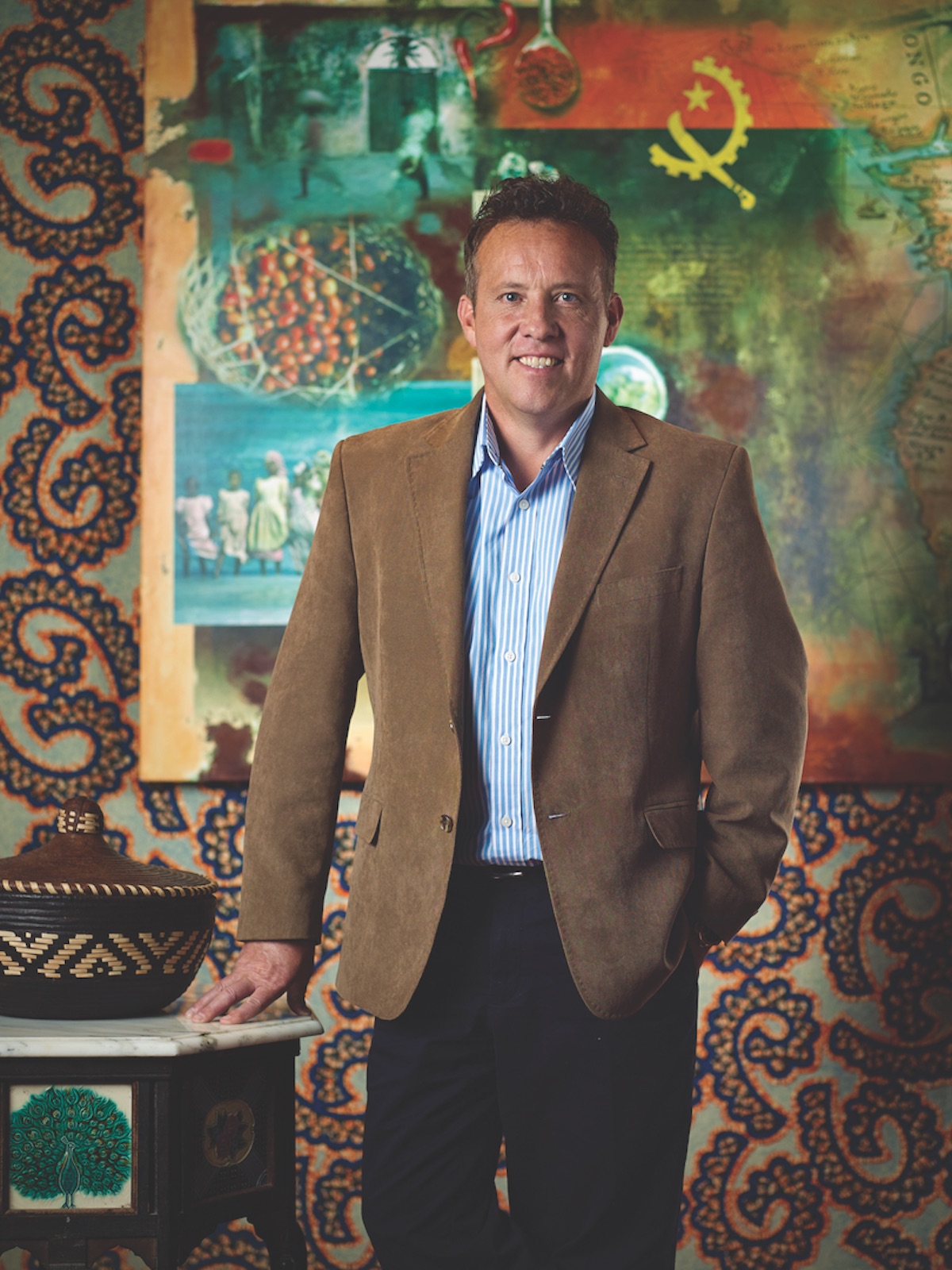 One of Nando's key partners is Coca-Cola. Why are the two companies such a good fit?
Coke share our interest in doing good in the world and changing lives, which gives our partnership a strong foundation. They have also been supportive of some of the work we've done in Southern Africa around preventing malaria – which clearly doesn't have much to do with selling chicken or Coke. So there's a shared set of values there, and a desire from them, and from us, to make a difference.
Also, despite Nando's being relatively small in world terms, we have a global relationship with Coke. We like to think that's an expression of their belief in the future of the company; they've shown a lot of faith in us. They have also been excellent partners in terms of sharing market insights and consumer information which has helped us over time. And when we've run big projects, they have always worked with us with energy and enthusiasm to make things happen.
Last year you were nominated for the CNBC African Business Leader of the Year award. How would you describe your leadership style?
Before you start any leadership journey, I think it's important to map out where you want to go and how you're going to get there. That needs to be a collaborative process where you involve the people who are going to bring the plan to life in defining the strategy, the objectives and the high-level actions required. It's critical to invest that time up front, to collectively chart where you want to get to as an organisation and the big levers that you're going to pull to get there.
Beyond that, I also believe that creating a world-class organisation is critical to success – targeting excellence in every position across a business. Then, with the right people in place, I think you need to give them the freedom to deliver in their own way. Steve Jobs talked about the madness of hiring smart people only to tell them what to do. He believed in hiring smart people so they could tell him what to do. I fully support that approach.
Encouraging and rewarding risk-taking is also important. Mistakes are inevitable, but trying things gives a business a dynamic edge. It also provides the best possible platform for learning. Going back to what you asked me earlier, about what makes Nando's different and special, part of it is the fact that we've been willing to try things, sometimes risky things, that haven't all worked.
What's the best advice you've ever received?
I worked with an HR director at Unilever in the UK and he told me once that » leadership was, at its essence, about managing flows of energy; amplifying when things are flagging; and course correcting when things are going off on a tangent.
That's fantastic advice, in terms of leading, because it's all about aligning, amplifying, and supporting other people. The business's success is their success, and as a leader you enable that. The analogy of managing energy flows is a great one that I've found very valuable.
What advice would you give to other executives within your industry?
Put people first, act with integrity, and work on being the best version of yourself that you can. Don't try to act the way you think you should act; be authentic in your own leadership style. Also, have a very clear view of where you want to get to, and communicate that vision clearly.
Resilience is incredibly important too. Life and business throw huge curve balls at you continually, and your ability to get up again, dust yourself down, refocus, and get back on track is incredibly important if you're going to be successful. Those challenges hit everyone, and are inevitable. It's about how you deal with them and how you learn from them that is most important in a leader