Neil Scales, head of Queensland's Department of Transport and Main Roads, is literally the last of his kind. "I was the last Sunderland Corporation transport apprentice ever," he says. "I've always been interested in all things transport, but public transport in particular."
He had been a good student, but left school early to take up the apprenticeship as his family needed the money. It proved to be an inspired move and his interest and aptitude for the field eventually led to roles in vehicle manufacturing, engineering and purchasing for a bus line and, later, high-profile consultancy work.
In assignments for the World Bank and European Commission among others, he leveraged his knowledge of public transport networks and, in 1997, he was appointed Director of Customer Services at Merseytravel, the public transport provider for the Liverpool region of England.
Neil Scales enters the C-suite
Two years later, he was promoted to CEO and Director-General of the company and had responsibility for managing more than 1,000 staff. His optimism, straight-talking approach and ability to get results made him a popular figure in the role.
He ended up staying 13 years and is widely credited with reviving the fortunes of the company. His work at Merseytravel saw him awarded an Order of the British Empire and named one of the most influential people in British public transport.
Five years ago, Neil made the jump from the Northern County of Merseyside to sunny Queensland to head up the state's public transport statutory authority, TransLink. After only a few months, the government changed and TransLink was merged into the Department of Transport and Main Roads.
The territory he was responsible for spanned some 10,000 square kilometres, around four times the size of the densely populated but compact area he had previously managed. "The tyranny of distance here is something that took me a while to get used to," he recalls.
"The distance from Brisbane to Cairns is the same as the distance from London to Rome. Then you get to Cairns, and you're only halfway through the state. That was one of the things that I had to come to terms with pretty quickly."
Dealing with natural disasters
Another major ongoing challenge for the Department is ensuring cyclone preparedness for the road, rail, transport and maritime network. Neil says he had never encountered such natural disasters before his move to Queensland. "Now, I've seen what nature can do in destroying infrastructure, peoples' houses and lives. Having to put the infrastructure back in place after a cyclone was a steep learning curve for me. Now, it's one of the things that we do well."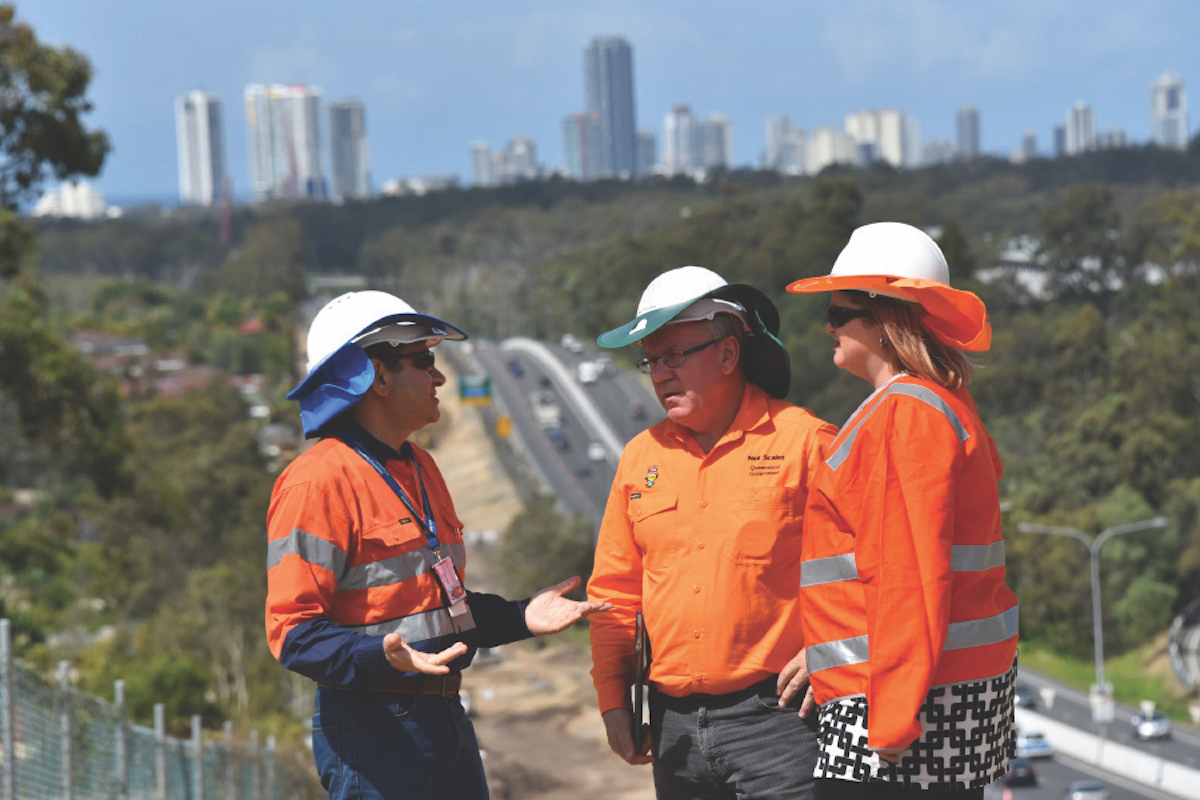 Neil adds that all the forecasting tools in the world can't accurately predict exactly when or where a tropical cyclone will occur. He is overseeing the major task of repairing the road network after Tropical Cyclone Debbie in 2017, which caused billions of dollars' worth of damage, including A$250 million worth of destruction to Queensland's state road network. "Some of the human cost, peoples' homes being wrecked; the devastation was just palpable. It was really difficult to witness."
An industry innovator
Despite his links to a bygone era of public transport, Neil has been an innovator in the industry he started in as a teenager. Under his leadership, the Department has been active in incorporating new technology wherever it can to assist with road safety and maintenance: drones are inspecting remote bridges, carts with lasers are evaluating the smoothness of roads and miniature 4WD vehicles equipped with GoPro cameras are photographing inaccessible culverts and sending footage back to iPads.
The Department has also introduced apps that use geospatial data to keep the public up to date and is using sustainable materials like foamed bitumen and crumb rubber in road upgrade and maintenance work.
Neil's role chairing the board at Austroads, the peak research and standards body for roads and transport authorities, has exposed him to some intriguing developments in connected and autonomous vehicles.
[!autonomous!] the most exciting thing I've seen in decades. It might allow us to approach zero road deaths.
"It's the most exciting thing I've seen in decades. It might allow us to approach zero road deaths. There's a technology called platooning of vehicles, where you can put three
or four vehicles with a driver in the first one and the rest following."
While Australia is simply too small a market to be a leader in automated vehicle technology, the possibilities these innovations represent remain truly exciting. "This stuff is not pie in the sky any more. It's with us now and it's exciting to see exactly where we'll go with it."
Streamlining the customer experience
The Department is very customer-facing, with more than 3.7 million interactions occurring each year in the 59 customer service centres statewide between Queenslanders and the Department's 940 customer service staff. Almost three out of every four interactions (of a transactional nature) are with the state government through the Department of Transport and Main Roads.
Neil says the Department has invested a lot of time into ensuring the customer experience is as streamlined and user-friendly as possible. "If you go into one of our customer service centres, say to have a licence renewed, you're triaged. You're met at the door, given a ticket and we measure how long it takes to serve you as a customer. We're also trying to reduce the number of forms you've got to fill in, and putting as much online as we possibly can. However, there will always be an element of people wanting to see a friendly face, rather than a computer terminal."
Monitoring staff's satisfaction levels
During his time in the British public service, Neil was recognised as a leader who took a real interest in the wellbeing of his staff. The organisation he now heads is also carefully monitoring staff satisfaction levels, and has implemented the 'Working for Queensland' survey, a comprehensive questionnaire that seeks to gauge stress levels and determine whether staff feel valued.
It also facilitates staff making suggestions on how the Department could make life easier for its workers. There is a complex and constantly shifting political network involved with Neil's role. Queensland has 77 local councils, each a stakeholder in the transport network. The federal government is also heavily involved in many of the Department's projects and Australia has had four prime ministers during Neil's tenure. He says it is important to avoid piecemeal solutions to network problems, no matter who is in power.
"At the end of the day, political turbulence is something you've just got to deal with. You still need to have an integrated transport network. The key thing is the investment decisions, which can't just be done at state level. You've got to get all three levels of government working in concert."
Having clarity of vision
Working with multiple levels of government and countless stakeholder groups, Neil says achieving clarity of vision is vital. "We've really defined what we're trying to do, which is to create a single, integrated transport network, accessible to everyone. That sounds simple, but it's not, and it's what I've been promoting for the past five years."
We've really defined what we're trying to do, which is to create a single, integrated transport network, accessible to everyone.
Neil is an adherent to the contingent management style, essentially meaning his approach changes to suit the specific situation. "There are four elements to it – the leader, the led, the task and the context. In certain situations, you've got to adopt a particular management style that is 'telling'; in other situations, it's more about 'selling'. Above all, though, you can't be a 'manufactured manager'. I would hope that I am authentic above anything else."
The challenges of the role are familiar but unending. "A problem I've had for the past three decades is that there are never enough dollars in the pot to do everything you want to. The whole purpose is to ensure transport gets its fair share, and that can be problematic sometimes. For if you've got ambulance stacking or a problem in education or social services, that can be seen immediately; however, if you're talking about deterioration in the transport network, it's measured over a longer period, so you have to make the economic case."
Using common sense and being empathetic
With a position that entails endless demands, Neil preaches common sense and an empathetic approach. "I try to balance my life as much as I can, even though having a director-general's job is like drinking water out of a fire hose. I spend time with my family, read and go out as much as I can, but always within the constraints of the job, because it really is 24/7, 365 days a year."
He says he tries to keep a close eye on whether those around him are getting down. "I'm always asking people if they're OK. That is part of authentic leadership. People might suffer in silence, so you've got to make sure that you go and ask your people as best you can. We've embraced R U OK? I'm always saying to our staff, 'Look after your family and look after your mates'."