When you think of industries affected by digitisation, one of the most obvious is film. The shift from analog to digital technology has been seismic. How does a company with a long history as a leader in the field transform and survive in the digital era?
Agfa, a 150-year-old company primarily known as one of the key players in photographic film, has had to shake off that image in order to 'adapt or die' in the face of a rapidly evolving world.
"When digitisation happened in the late 90s, most of our businesses, in which film was the key media, started to be affected," says Agfa CEO Christian Reinaudo."Obviously, in photography and cinema, but also in radiography and graphic arts. It was critical for the company to find a way to escape the trap of being a player purely in the analog film technology industry and to become part of the digitisation movement."
Christian Reinaudo steers Agfa through a digital transformation
Christian was initially recruited to run the IPO of Agfa's healthcare business in 2008 when the company was considering splitting into three separate entities: health care, graphic arts and specialty products. With the global financial crisis and other factors, the split never happened, but Christian stayed on and took over as CEO in May 2010.
Strategically, Christian says, 2008–09 was a time of transition. "We were rescuing the company, and going through the big storm of the financial crisis," he explains.
"Come 2010, having weathered that storm, it was time to rethink the business and develop the company. That's basically the mandate I received from the board at that time: to make sure the company was strengthened and to reflect on the strategy to ensure that, in the long-term, it could regrow." The regrowth that Christian is referring to is digital transformation.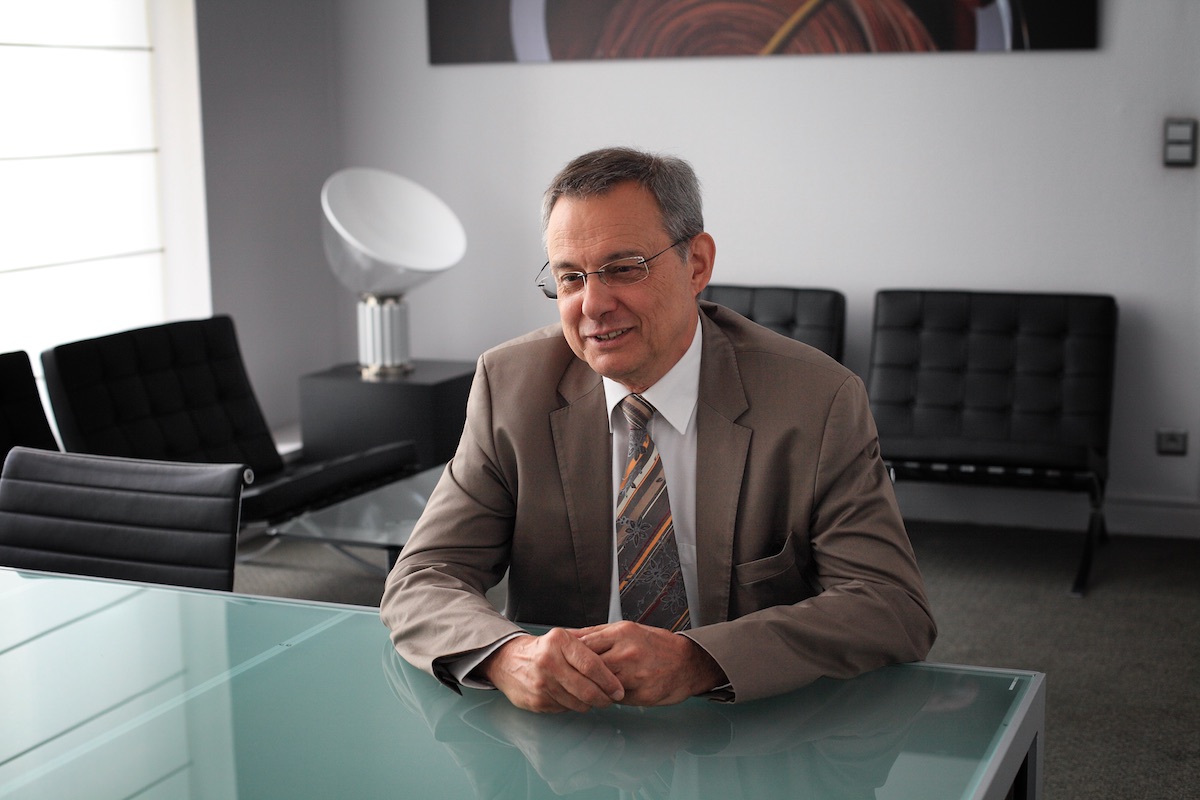 "We shuttered our product and solutions offerings to make sure that we were well-equipped for the digitisation of our customers," he says.
The strategy at that time was twofold: to strengthen the company and its products to fit digital, and to strengthen the financials. Christian details how, from 2010 to 2015, when its traditional offerings were diminishing, Agfa was remarkably able to turn around a €700–€800 million debt. It produced "a lot of cashflow", increased its operational profitability margin by almost 50 per cent, and didn't invest outside the company during that time, to ensure stabilisation.
Agfa benefits from a cultural change
Another key factor in the transformation was cultural change. "If you take Agfa at the beginning of this plan, we were still a company selling consumables through distributors. We are now becoming a company that's selling complete solutions, and we're very software-oriented, selling through our own sales force," explains Christian.
"It's a complete shift in know-how. Instead of selling square metres of film, you sell software and services to customers. Software engineers are replacing blue collars in chemistry."
It's a complete shift in know-how. Instead of selling square metres of film, you sell software and services
to customers.
Clever geographic repositioning has also opened up new markets for Agfa. As Christian explains, emerging markets such as India, Brazil, China and Africa have become good customers for Agfa's traditional businesses.
"We sell a lot of film to radiologists in these areas, for example," he says. Conversely, regions such as Europe and the US, in which most of the hospitals run an IT system for managing their images – a market in which Agfa is the global leader – are new markets for Agfa's IT offerings to manage the entire patient workflow in the hospital.
Now that the company has been strengthened, Christian says, there is a need for it to redevelop in what will be the second phase of growth over the next few years. "The weight of our traditional businesses, which are declining, is still too big compared with the size of the new businesses," he says.
Maintaining the balance between legacy, history & disruption
Rather than referring to disruption, Christian says he would prefer to talk of innovation. Agfa understands the best way for customers to evolve is for the customers themselves to create value in a digital world.
"This company has a huge capability to understand the needs of the customers, to transform that into solutions which will fit their needs, and to do that faster and better than most of our competitors."
Agfa has been around since 1867, and while this heritage makes managing the company complex, the current CEO remains focused on his goal to lead the change while managing the precarious balance between legacy, history and disruption.
"When you run a company that is undertaking such a long-term transformation, you need to manage these elements as cleverly as possible," he says. And, as Christian points out, its long history also works in Agfa's favour through brand loyalty and recognition. The company has survived and thrived for the past 150 years, so it "must know how to do a few things right".