It's a rite of passage for almost all technology companies – the visionary entrepreneurial founder hands over to a CEO who has the administrative abilities, people skills and corporate experience to turn a disruptive start-up into a well-established heavy hitter.
For Anabatic Technologies, now one of Indonesia's leading providers of integrated IT solutions, that transition period commenced in 2006, when the business was a mere four years old. Its founder, Handoko Tanuadji, invited his former colleague, Handojo Sutjipto, to take the control of the company.
Handojo Sutjipto takes the helm
Handojo, an electrical engineer from Cirebon, West Java, had accrued some impressive management experience but was still only in his mid-forties. Overnight, he found himself at the helm of the Anabatic Technologies group of businesses and needing to make plenty of make-or-break decisions about its future direction, partnerships, corporate culture and staffing.
"This was at the time when digital was starting to take off. Businesses, even small- to medium-sized ones, were becoming conscious of the need for greater efficiency and looking into things such as enterprise software and more sophisticated IT services to improve business processes," Handojo recalls.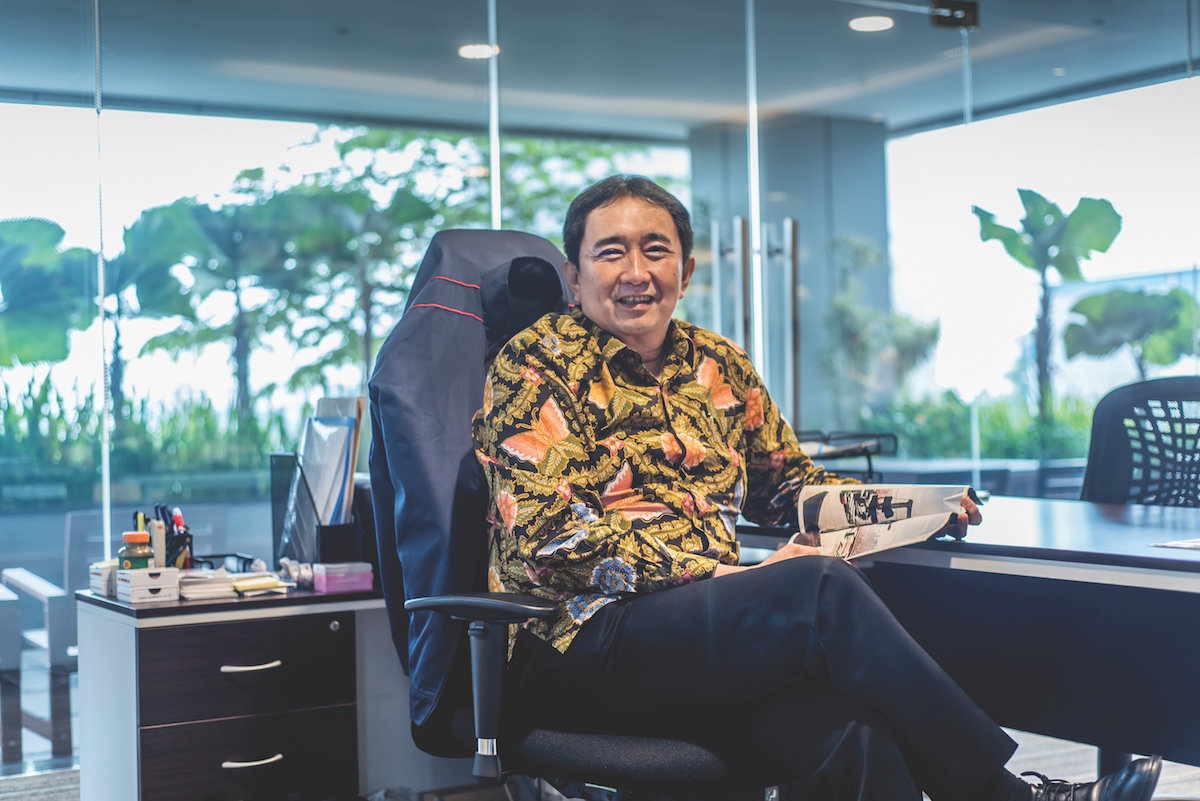 "We needed to capture as much as possible of this emerging market. I concentrated on doing that through a multipronged approach. First, I focused on making sure one or more of the companies in the Group had something to offer both public and private organisations, local and multinational, be they small, medium or large.
"Second, I put a lot of resources into developing Anabatic's own software licence (OSL). Third, I moved away from allowing certain companies in the Group to get drawn into unhealthy price wars by offering differentiation."
Anabatic Technologies is a trusted partner
Having adjusted the tactics, Handojo then turned his attention to strategic changes that would ensure his organisation's longer-term growth and prosperity. "The best bit of business advice I ever got was from my father who told me, 'Make sure you keep the trust that is given to you,' " Handojo says.
Some of the world's leading technology firms have trusted us to complete large and complicated projects for them.
"Over the past decade, Anabatic has managed to earn and maintain the trust of some prominent clients. These include big government departments and major players, especially in the banking industry. We've also partnered with the likes of IBM, HP, Microsoft, SAP, Temenos, WKFS and FIS. Some of the world's leading technology firms have trusted us to complete large and complicated projects for them. IBM, for example, engaged us to help it provide solutions for the financial services industry."
Corporate Social Responsibility
Like most IT CEOs, Handojo is passionate about getting the right people on board, as well as making a social contribution. "I'm a former HR director. I know that if your business operates in a fast-moving, ever-changing field such as IT, you need a creative, agile and innovative workforce– otherwise, you're going to be left behind. That's why I insist on high standards when it comes to recruitment. I also established the Anabatic Learning Centre to ensure that staff are continuously learning and keeping their skills and knowledge up to date."
Handojo is equally enthusiastic about using the business's well-funded Corporate Social Responsibility program to improve the IT skills of the community. "We have a program called Anabatic Mengajar. It involves expert members of our staff going to high schools to teach students about both IT and entrepreneurship," he says.
"We've also got a program aimed at entrepreneurs who've finished school. They are invited to become a tenant at our headquarters' canteen for a period of time. They don't have to pay any rent, but the catch is that the canteen is digital and all transactions must be done through a mobile phone. That teaches those entrepreneurs valuable ecommerce skills."
One of Asia–Pacific's great technology companies
It appears Handojo has been doing something right. Anabatic Technologies, which started out as a small Indonesian IT services provider with around 40 staff, now employs around 800 people. Over the past couple of years, it has expanded into India, Malaysia, the Philippines and Singapore. In mid 2015, the company listed on the Indonesian Stock Exchange.
The Group now comprises Mahacitta (providing IT solutions for the public sector); Q2 Technologies (providing IT security solutions); Aristi (providing cloud solutions); Emporia Digital (providing platform solutions to SMEs); and Svadaia Humana Praja (providing IT consulting services).
While by no means complacent, Handojo is confident that Anabatic Technologies is well on its way to becoming one of Asia–Pacific's great technology companies. "Corporate culture is vital to building a company that will enjoy long-term success," he says.
"I believe Anabatic has an impressive culture. It's based on our five core values of customer orientation, integrity, teamwork, excellence, and continuous learning. I also think our competitors will continue to struggle to match the impressive range of business lines we offer. These now include mission-critical system integration, business process outsourcing, IT outsourcing services, value-added distribution, and value-added business integration."