Luis Maroto says collaboration is the key to cutting through the red tape that currently encumbers the travel industry's progress worldwide. If there's one person qualified to make that statement, it's the CEO of Amadeus, the leading transaction processor and provider of advanced technology solutions for the global travel and tourism sector.
"The reduction of barriers and visas is a top priority," Luis says. "We can achieve this by working together with airports, airlines, travel agencies and technology companies. It would improve the travel experience considerably, and as a result, we'd see accelerated growth
of the industry."
Luis Maroto knows Amadeus inside & out
The Madrid-based businessman is well positioned to identify this opportunity, having been one of Amadeus's primary strategists since joining the company in 2000. "I started in the commercial finance area where I was in charge of all the subsidiaries around the world, the pricing policies and commercial support," he explains. "I was then made CFO in 2003, and later moved into the deputy CEO role for a couple of years, before being named CEO in 2011. 
"So I'm not someone brought in from outside the company. I was promoted internally, and therefore I have a very strong knowledge of the organisation both from the people sense and from a business perspective."
His direction proved invaluable as Amadeus made a grand entrance to the stock market in 2010, when it secured a €1.3-billion IPO. Listed at €11 originally, the value of the shares exploded to €55 as of June this year. Couple this with the company's most recent revenue report of €4.5 billion, and the results clearly indicate Amadeus is strengthening under Luis' leadership.
"During the IPO transition process, we developed our equity strategy for the company and our projections for the future," he explains. "My role as CEO was to follow the strategy that was defined at the time of the IPO. By executing that strategy, we have grown the company and created value for the stockholders, the customers and employees. These days, I'm quite involved in strategic planning and thinking about future growth."
Amadeus increases its global presence
While Luis reveals there'll be further acquisitions, he also stresses the importance of maintaining a healthy balance between investment and execution. "We will continue to increase our presence and our markets worldwide, and there will be further acquisitions and investments, if we find the right fit and price, of course," he comments.
"The travel industry is huge, and technology for travel is a very attractive part of it. So the potential for growth is immeasurable. But we also need to execute well in the areas where we are already present. Our objective is to be one of the top companies in any space where we are present. We are not here to be number three or four."
We are not going to do everything ourselves when there are companies that are doing it more effectively.
Amadeus has a vast and diverse portfolio, with its partners ranging from major airlines like British Airways and Qantas to technology companies and hospitality services. And Luis' message to his fellow travel sector stakeholders is simple: "We need to collaborate to improve the ease of travel and enhance the whole experience, and that means facilitating communication with the traveller."
"We have to focus on the customer as much as we can."
Indeed, customer engagement is so important to Luis and his management team that they're developing an operational structure that delivers greater flexibility for clients. "In terms of efficiencies and the way we work, we have to focus on the customer as much as we can," he says.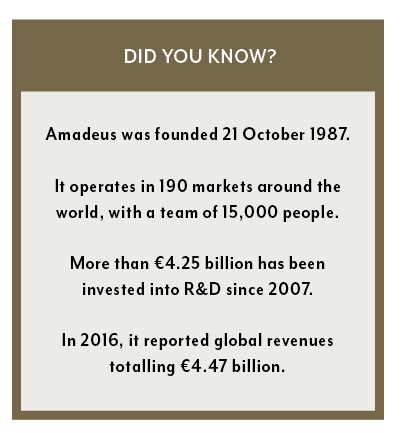 "Our organisation is based on customer segments and end-to-end accountability, which means the teams are working together to fix, solve, sell and work with the customers. For that, we are constantly working to find a balance between centralisation and localisation. 
"We are always asking ourselves, 'What are the things that need to be closer to the customers?' We operate globally, and a global company needs to be more central to maximise its efficiency. 
"There's ongoing debate about what should be central, regional and local, and how best to balance these. In other words, we are working on a continuous way of looking at synergies between the businesses while allowing for flexibility with our customers."
Embracing fresh ideas & new perspectives
Luis has even enlisted the assistance of outside experts, acknowledging it's smart business to introduce fresh ideas and new perspectives. "No one company in the world can do everything that the customers need. We all need to work with additional companies, agencies or experts to really bring solutions to the market," he nods.
"From time to time, we use external consultants to help us with this – and that's just part of the way we operate, because we are not going to do everything ourselves when there are companies that are doing it more effectively."
"At the end of the day, it's an ongoing challenge for the management team, and the teams below, to really implement the change and make it work. The pay-off will be greater efficiencies internally in the commercial and corporate organisation. The last thing we want is to be extremely bureaucratic and therefore very slow in the way we operate." 
Unrivalled investment in research and development is another reason Amadeus continues to lead the way. The company spends close to €2 million a day on innovation, and boasts 19 research and development sites around the world. "We invest consistently in innovation and technology so that we can keep building solutions for our customers in almost all areas of the travel industry," he explains.
"We have also decided to create a venture capital fund, to have small investments in start-ups around the world. Plus, we will integrate their solutions into our platforms to really get access to innovation taking place outside of the company." 
An agile & adaptive workforce
With the industry rapidly evolving, it's imperative that Amadeus also possesses a workforce capable of adapting to change. "We have been very fortunate in that respect," says Luis. "We have always attracted, in my view, top talent – very clever and well-educated people, with a strong knowledge of the company. 
"We pay a lot of attention to recruiting people who can integrate well into the culture of the company. And most importantly, considering the speed of change that is happening, our people need to be flexible." This allows the company to seamlessly group staff together from different departments to work with customers.
"On the technological front, we are moving to more agile methodologies, where people are assigned to projects in 'tribes', and they need to work together from the different units to redevelop a specific project with a customer," Luis explains. "This fosters collaboration and strengthens our relationship with the customer."
And as Luis makes clear, this is fundamental to creating a future of convenient and enjoyable travel.