Innovation is no longer a one-time event, says SAP Global Executive Vice President and President of SAP Greater China, Mark Gibbs. "Constant innovation is the new normal. Customers are looking to work with an organisation and go on a journey with them. And I think it's very important that this is the culture that SAP is sharing with its customers."
SAP is an enterprise solutions powerhouse. The Germany-based company was founded in 1972 with a vision to create standard application software for real-time data processing. Since then, it has become the third-largest independent software manufacturer in the world. At the company's core is innovation. "SAP is very clear in its positioning," Mark says.
"We focus on industry, the enterprise, and business processes. And we take a combination of those areas to deliver the 'intelligent enterprise'. Within each of those areas we look at how we interact with all of our customers, industry user groups and our solution user groups, and share the best and next practises around the world. It constantly fosters this innovative environment we work in."
SAP in China
Mark began his professional career working with ERP (enterprise resource planning) systems. In 2007, he was appointed as SAP's President of North Asia, which Mark considers the most dynamic and fast-moving region on the planet. "Technology was a field that interested me because I knew it was going to impact every industry in every part of the world, as it has," he notes. "And 25, 30 years later, I'm very happy that that was my path."
As SAP President of Greater China, Mark has a handle on the technology trends affecting the markets. "Computing has changed over the years," he says. "People are starting to move fairly quickly into the cloud. This is a huge change. Many companies are now looking at how they can migrate all or part of their business into the cloud. And SAP gives you the choice; you can run your systems on-premises, in the cloud, or have a hybrid model in between."
Another important trend is a greater concentration on the customer experience. "I think you'll see a lot of movement and innovation by SAP in this area as we effectively redefine this space," Mark continues.
"Computing has changed over the years."
"The power and demands of the consumer are so much higher now. Companies need to understand and respond to their customers like never before. How products and services are designed, delivered and supported today is very different from what it was even just a few short years ago."
And this ties in perfectly with the current technology landscape that SAP has taken advantage of. "There's been a lot of talk about artificial intelligence, blockchain, big data, IoT," Mark says. "But I think SAP has done a wonderful job of integrating these technologies into our core solutions. When these technologies are integrated into a company's business processes, it helps the firm refine or redefine its business model, drive efficiency and dramatically improve interactions with customers. SAP has brought those innovative technologies into our core offerings, and that has given tremendous power to our customers."
Digital disruption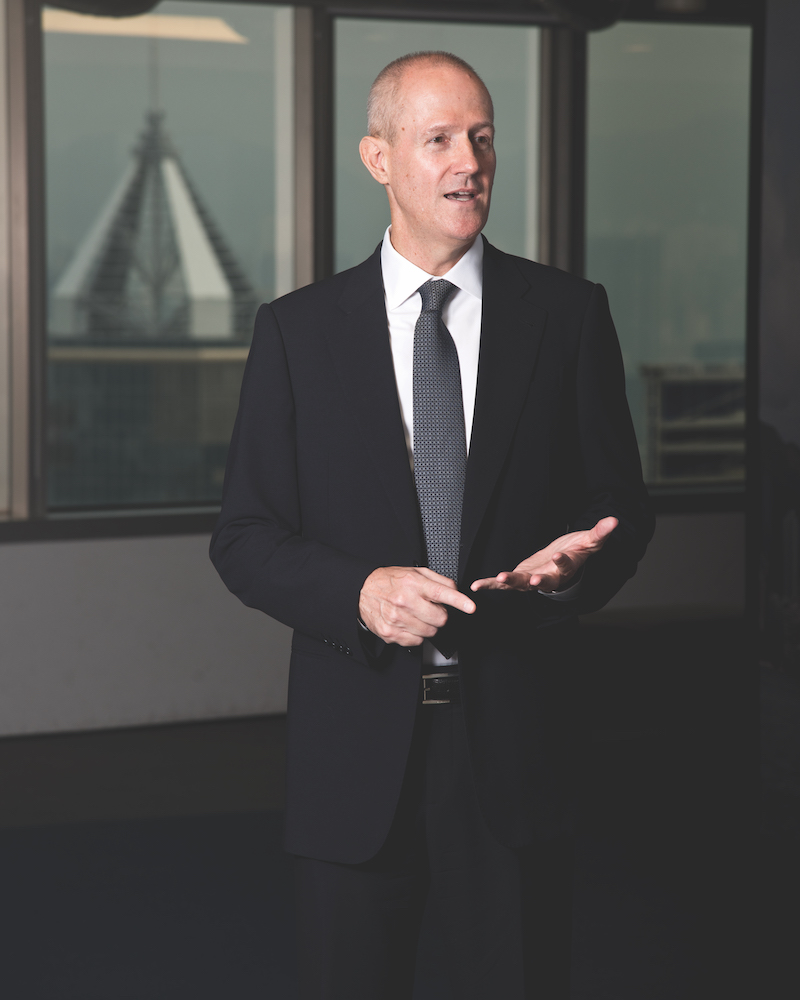 With technology comes the potential for disruption and Mark says companies need to be prepared. "The consumer will become more demanding and the companies that are the most creative in how they inspire and build loyalty with their consumers will survive," he says.
"We listen to our SAP customers, and many are not asking for best practices as they did years ago, they're asking for 'next' practices. And therefore, we look at what needs to happen in the entire value chain, from the consumer all the way back to the design of the product or the service."
Mark says this approach to digital disruption is a process, and SAP runs design thinking workshops on a regular basis that constantly challenge the customer's status quo and seek ways to improve it. "I think the companies that are embracing technology to become more flexible and adaptable to changing customer demands will be the sustainable models in the future."
Inspiration from the greats
Mark gains inspiration from several people, including SAP CEO Bill McDermott. "He wrote a book called Winners Dream: A Journey from Corner Store to Corner Office and just that title is a powerful message. I think it's something that every person in a leadership position needs to think about. You need to have a dream of where you feel you can go as a person, where your organisation can go, and what you can do for your customers."
Another figure Mark is inspired by is former SAP employee Jim Hagemann Snabe, who had a similar approach to McDermott. "He had a great saying," Mark explains. "He used to say, 'It's important to have dreams and details' because if you have a very powerful dream, you need to build a clear set of details and actions on how to achieve it, and over time you can achieve it. Those two men inspired me to think about what's possible, but always stay grounded at where am I today."
Mark further acknowledges leading Chinese entrepreneurs such as Alibaba founder Jack Ma, and Cheng Wei and Jean Liu of Didi Chuxing – the transportation start-up which bought out Uber in China. "In a few short years, what they've managed to achieve in China is astounding," Mark marvels. "And this is not an isolated case. There are so many areas of innovation in China and it's inspirational. I think, in the past, China was learning from the rest of the world, but those years have long gone and China is a powerhouse of innovation and learning."
"How products are designed, delivered and supported today is very different from what it was even just a few short years ago."
Solutions for the future
Mark is grateful for the amount of support the Chinese government has provided the IT industry. "Recently, President Xi Jinping clarified his national development principles which include five core areas the country is going to focus on – innovative, coordinated, green, open and shared," Mark says. "SAP has been working in each of those areas and looking at how technology, and more specifically how SAP technology, could be complementary to that strategy. I've put a lot of time, investment and focus on our China alignment, because I think the national development strategy is a wonderful blueprint for China's future."
Mark adds that SAP has a significant role to play in the country's future. "If you look at the Fortune 500 companies today, well over 100 of them are Chinese companies, and that number grows every year," he says. "So I think the impact of China and SAP's role to support those companies – both with their national and international agenda – provides a wonderful opportunity for us. It's something that I'm very much looking forward to."I'm very proud that SAP focuses on software and services, and providing value with our technology. But I also think about how we can live up to our vision statement of helping the world run better and improving people's lives."