With a vision to realise the business potential of technology, five entrepreneurs who also happened to be former IBM employees – Dietmar Hopp, Hasso Plattner, Hans-Werner Hector, Klaus Tschira and Claus Wellenreuther – founded SAP, which at its start in 1972, was called SAP System Analysis and Program Development. At the time, the company had one customer and only a handful of employees. Little did it know then that, despite its humble beginnings, it was on a path that would not only transform the world of information technology, but forever change the way companies do business too.
Now, 50 years later and 400,000 customers stronger, SAP continues to be fuelled by the pioneering spirit that inspired its founders all those years ago to continually transform the IT industry. As one of the largest enterprise software companies in the world, SAP helps businesses of all sizes and in all industries run better.
Vice President SAP Business Technology Platform Adoption Enablement Nis Boy Naeve has been helping the computer software company realise that dream for close to three decades now. "I'm pretty stunned myself when I think about how long I've been with SAP," he tells The CEO Magazine. "I studied physics in Germany and Ireland and, after that, I started at SAP as a developer in the HR space, which was in 1995.
"I said I'd give it three years and see how it goes. If I wasn't able to grow, I told myself I'd look for something else, something more heavily involved in the physics space. And, I guess you can see how it went. Here I am, still at SAP, and I really like it here."
The human side of software
After his three-year deadline, Nis Boy was promoted to Development Manager. It was a great role to further cement his understanding of the products and their impact. Then, his next gig found him on the user experience side of SAP; something that was a little outside of his element. "Coming from a physicist background and being very science-driven to suddenly going to the human side of software and trying to understand what works best was interesting," he recalls.
"It was all about figuring out how we could make it easier and better for humans to work with our software. I actually stayed in that position for a couple of years before I was chosen as the CPO, the Chief Product Owner for all SAP UI technologies."
The variety is what has kept Nis Boy motivated to stay with the company. "My career at SAP has been very rich and rewarding," he says. "I've really enjoyed having all of these opportunities that have fostered my evolution from a developer to a development manager, understanding design patterns, evolving new topics and being constantly challenged."
Of course, to make a person feel at home at work for nearly three decades takes more than engaging assignments. It takes great people, something SAP has in spades. "The element that really excites me at SAP is my colleagues," he smiles. "It's the people I work with both inside and outside of the company.
"I am German and I greatly appreciate and enjoy working within a global team. Our work also significantly benefits from the variety of backgrounds. And, at the same time, our customers are also very smart. It's amazing having all of these people with all these different interests making up the whole of the SAP environment."
Diversity in action
In a company the size of SAP – globally, it has more than 100,000 employees – it's important to lead effectively, keeping the organisation as agile and fast-paced as possible. While there's no one best practice to follow, Nis Boy finds a lot of benefit in trusting his staff and relying on their diverse and specific expertise. "You have to trust your people," he says. "I fully trust and empower my team.
"I actually expect them to be better than I am because they are experts in their specific fields. How frivolous would I be if I told them how to do what they already do best? I think an organisation really has to create an open environment where people feel safe, where they can speak up and where their expertise is acknowledged and appreciated."
Creating this safe space for everyone to share their ideas has been a key success factor to SAP as a whole. "The one thing that truly helps us as a global company of this scale is diversity," Nis Boy reveals. "It would be terrible if I had a team of people who thought exactly like I do. Of course, it'd be easy for me to handle, but there would never be any improvement. So, it's really having these discussions, sometimes painful ones, the right way in order to find the right idea and the best way forward."
Discover, design, deliver
In the world of technology, things are constantly evolving and the pace is lightning speed. To stay on top of things, SAP puts a laser focus on the customer. "We always look for ways to improve in order to continue providing the very best to our customers," Nis Boy shares. "This is personally where I draw a lot of enjoyment; understanding the customer and figuring out what they need, which is not always what they think they want."
Oftentimes customers will come to SAP because something isn't working, and they think they know why. However, upon closer inspection, Nis Boy believes that it's typically a number of different things and SAP's job is to really take a journey with the client to improve the entire process.
"Sometimes we can solve their problems by better integrating services, technologies and systems our customers have or by automating some of the steps," he explains. "And now with artificial intelligence, we can even further smooth things out. These provide many opportunities."
This process is more formally known as design thinking. "It's not a SAP invention, but we made it part of our DNA," he says. "This methodology has three steps: discover, design, deliver. The discovery phase is where you start analysing the problem. We have one problem as humans, and especially as intelligent humans; once we hear a problem, our mind starts already thinking about a solution before we're even sure we understand the problem correctly."
That's why one of the key elements in the discovery phase is to question. "You really have to question the problem five or six times before it's really understood. From there, we derive what the real problem is that we need to solve," he points out.
The design phase sees SAP thinking about solutions and creating prototypes. "With those prototypes, we go back to the customers, the real users, and figure out if what we came up with is really solving the problem. We get their feedback. And only once we are really sure that what we devised is truly solving the issue, then we start to implement it, which takes us to the deliver phase," he says.
Use cases plus
SAP has a large amount of what's referred to as standard software. That encompasses its solutions like SAP S/4 HANA, SAP SuccessFactors, SAP Ariba, SAP Fieldglass, SAP Concur and more. "They deliver best practices out of the box and help our customers run really well," Nis Boy says. "However, if our customers want to differentiate from their competitors, then they need to do something different. And that's where we start tweaking to bring out and enhance the company's specific expertise leveraging the SAP Business Technology Platform."
This is where SAP's catalogue of use cases comes in handy. "When customers have a specific problem and are looking for a solution, they can either start completely from scratch or go into our list of use cases and see if there's something that would also address their needs there.
"We offer use cases plus as Missions via the SAP Discovery Center. It's not just good enough to give our customers use cases; we want to give them solutions. So Missions include clear guidance on how to realise specific use cases. We guide our customers through it step-by-step, and those steps can be tweaked to suit their specific needs."
Future ready
While SAP has a fantastic starting point with so many loyal customers and global success, Nis Boy explains that none of it would be possible without strategic partnerships. "Partners are extremely important to us," he stresses. "We want to help the world run better and improve people's lives, but we cannot do it on our own. So we need many partners."
SAP categorises partnerships into four basic groups. The first is partners who build solutions using SAP technology and platforms, and merge with their own in some cases. The second partnership group are resellers and value-adding resellers. The third group offers their services like consulting or system integration in various aspects. Then the last group of partners runs SAP solutions for its joint customers as hosting or outsourcing.
"Of course, it's not a sharp line," Nis Boy concedes. "We have many partners that do one or two aspects and larger partners who do more. But they all work together in the SAP ecosystem, bringing all the pieces together to create an excellent customer experience."
Going forward, that experience is all about successfully navigating the business landscape, come what may. "Innovation motivates us, and we have a lot of growth with innovation," Nis Boy says. "Right now, a lot of us are focusing on this concept of digital transformation. We want to evolve our customers to what we are calling intelligent enterprises. It will help them be able to grow and navigate, regardless of what comes up in the future. They will be future ready."
"As a partner focusing on the user experience of SAP solutions, we have been able to create some outstanding solutions for our customers together with SAP. We are proud of this long-lasting true partnership for the benefit of our mutual customers." – Michael Kern, COO, sovanta
Sponsored by: Vertex
For more than a quarter-century, SAP and Vertex have worked closely together to drive innovation and better business outcomes for customers. Vertex's global indirect tax solutions integrate with numerous platforms and applications throughout the SAP ecosystem in a way that looks and feels seamless.
Read More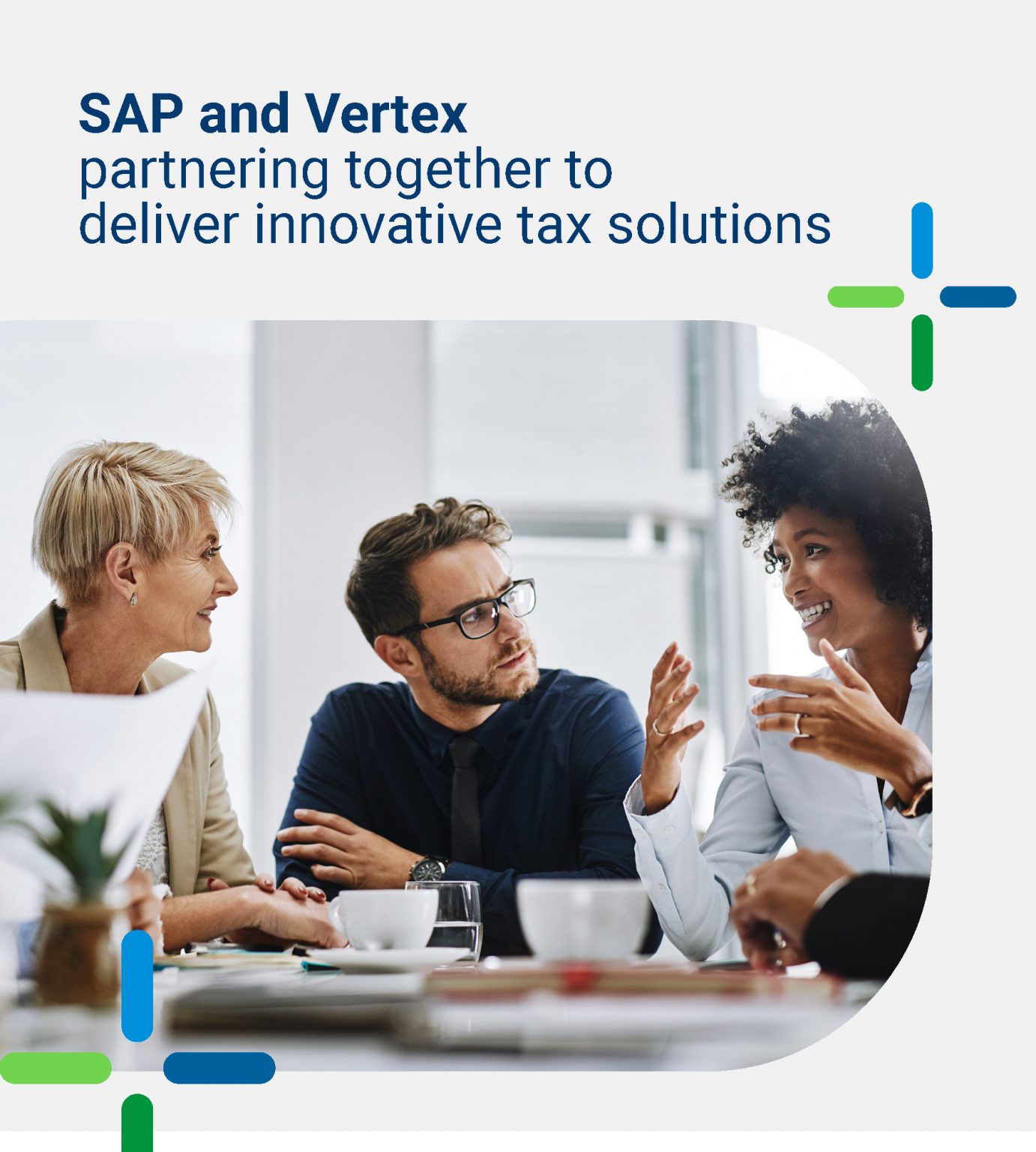 ---
Proudly supported by: