When Leon Smith, the fleet manager from an Australian fire agency, rang Rob Pulz to see if he could supply the department with a PTO-driven compressor for a prototype concept, he wasn't expecting the founder and CEO of Mobile Energy Australia (MEA) to reply with, "Sure. What for? CAFS?" CAFS, or Compressed Air Foam System, is the latest innovation in fire fighting, but back in 2012, when specialised fire-truck manufacturer Mills-Tui referred Leon Smith on to MEA, very few people were versed in the concept.
Rob Pulz, an expert in vehicle-mounted compressors
Rob Pulz, however, has a history of learning about developments in machinery long before they become a market staple. In fact, that's how MEA was established. He was running a tool-repair business called MSS Power in Mackay, Queensland, when a hydraulics hose company showed him state-of-the-art equipment made by Finnish company Dynaset. "I was impressed by the quality, so I rang Dynaset and offered them a distributor on the coast," Rob says. "I then flew over to Finland and next thing you know I'm bringing the stuff in."
Shortly after Rob returned, he mounted a hydraulic pump on the front of a ute, producing 100lpm at 210 bar, and used it to test a range of hydraulic-powered equipment (generators, compressors, water pumps). He wasn't a qualified engineer, but he was quickly establishing the reputation of one. He and wife Rose then moved to their current site in Brisbane, where MEA took on small contracts with the Queensland Fire and Emergency Services (QFES) to install hydraulic generators and compressors on command vehicles for a specific application.
He was shown a compressor made in Canada by VMAC that could be fitted under the bonnet of a Ford F550. VMAC restricted the import of the hardware unless it was through a local distributor. So, just as he did with Dynaset, Rob phoned the company's decision makers and convinced them to make him their Australian conduit. He got on the plane and flew to VMAC.
Mobile Energy Australia, the 'vehicle-mounted air compressor people'
The next step was to fit those compressors to Toyota LandCruisers, which he did with the help of his Canadian suppliers. It was a ground-breaking innovation nationally. After advertising his specialised service, William Adams asked him if he could do the same with Nissans. Now an old hand at this, Rob asked Nissan for an engine; he flew it over to Canada and had his suppliers build the required bracket. They sold 64 trucks at $12,000 a unit.
"That's how the underbonnet air compressor business in Australia began, and how we became the 'vehicle-mounted air compressor people'," he says. "We can fit a vehicle-mounted compressor to basically any vehicle." That brings us back to Leon Smith and the CAFS concept. The advent of CAFS has made MEA a hot commodity not just because Rob is the leading authority on vehicle-mounted compressors but because his team has designed and patented the CAFAID (Compressed Air Foam Air Injection Device), a device that Rob says makes the operation of superior-quality CAF manufacture very simple.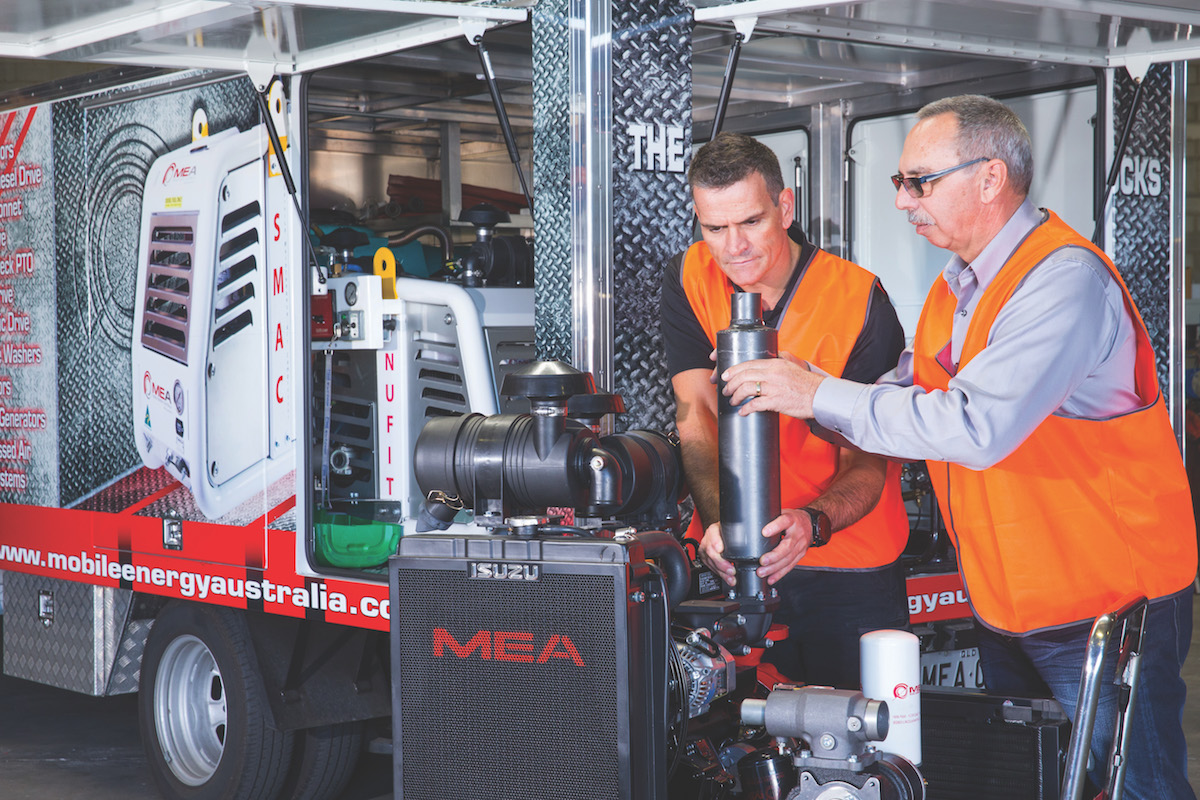 You're not going to get anywhere in this world if you don't take a risk.
"In the past three years, with increased insight into the benefits, demand for CAFS has grown massively. We're currently tendering for 34 CAF-enabled trucks in one fire agency right now," he reveals. "We're also fitting another 15 under-bonnet compressors in an agency in Queensland that will all have CAFAID devices as part of the package. "The installation of the compressed air-foam plumbing is extremely simple on fire trucks now, given the simplicity and functionality of the CAFAID. So customers who want the CAFS will go to the guy who has got the CAFAID."
Increasing the uptake of A-class CAF
While the A-class compressed air foam has been embraced by several national fire agencies, others have been slower in uptake due to a combination of reasons. Understanding and insight into the abilities of A-class CAF has been realised in the US for many years, but only recently in Australia after several high-profile incidents, including the 2014 Hazelwood coalmine fire and the recycling depot fire in Melbourne.
Although the benefits are measurable, and the CAF medium is validated as safer, more efficient and more environmentally appropriate, the challenge lies in acceptance within agencies where there's an underpinning of traditional culture and ingrained practices.
The interstate deployment of CAF capability to the Hazelwood brown-coal mine fire in 2014 saw the suppression of the fire that, prior to CAF intervention, was not responding to traditional methods of extinguishment. "The effectiveness of the A-class CAF as a fire suppressant is a science. The fact is that by aspirating A-class foam solution with the correct ratio of compressed air, a high-energy bubble structure is created that, when applied to carbonaceous material, latches to it, absorbing carbon – the fuel – and penetrating into it to effectively cool and extinguish, whereas traditional water is repelled and runs off," Rob explains.
At national fire forums, fire agencies have excitedly provided data to validate the effectiveness of CAF, revealing evidence to support the fact that A-class CAF is "up to 10 times more efficient than water as a suppressant, and has significant environmental benefit, including a reduction in particulate emissions (increased air quality) and run-off of contaminants into the environment".
Aside from CAFS compressors and the CAFAID, the other way MEA has grown is by developing its small diesel- and petrol-driven screw compressor systems (SmartPack35D/P). "We've made them extremely compact, and our SmartPack is one of the most tightly packed units in the world," Rob shares.
Rob Pulz's recipe for success
Not bad for a night-school graduate who had 27 jobs by the time he was 27. He says engineering just came naturally to him, and he has proceeded to turn his ingenuity into an enterprise with an annual turnover between $5 million and $8 million. The recipe for success? Take a risk and invest in research.
"You're not going to get anywhere in this world if you don't take a risk. It doesn't just come to you," insists the 66-year-old. "I've had two major failures on the compressors, and there have been nights I couldn't sleep and times I thought, 'Screw it, I should just close the doors,' but you just have to persist."
It makes it easier not to deviate from the path when you have total faith in your product range. Regular fact-finding missions, including recent trips to the US and the UK, ensure Rob is always ahead of the domestic game. "As you grow, you travel, you see things, you think, 'We could have that over here; we could do that.' You have to keep evolving in this industry, and we've never had trouble keeping pace.
"I suppose the biggest problem we have is that we're still relatively unknown outside certain circles," he continues. "I had a guy in here yesterday and I'm talking him through all this hydraulic and compressor stuff, and he said, 'I didn't even know you guys were here. But what you know, what you've got, and the information I can get, it's just amazing'."