When labelling and packaging multinational Avery Dennison strategically split its regional divisions in 2015, it picked a leader who had a solid track record leading the label and packaging business for South Asia and Sub-Saharan Africa. Having joined Avery Dennison in 2010, Anil Sharma had helped to accelerate South Asia's growth into double digits year on year while also successfully restructuring the more mature South African operation to deliver consistent performance.
The promotion to vice-president and managing director of the newly created business region saw more geographic areas added to his portfolio. "I now oversee business and operations for South Asia Pacific and Sub-Saharan Africa [!sapssa!], but essentially it should be called the Southern Hemisphere minus Latin America," laughs Anil.
"We're talking Australia and New Zealand, ASEAN, the Indian subcontinent and Sub-Saharan Africa. From emerging regions to mature regions – a very diverse geography, a multitude of currencies and political systems, trade barriers and regulations, and an almost 17-hour working day from the New Zealand sunrise to the South African sunset. It's a very diverse, enriching and exciting challenge for my team and I." 
Anil Sharma creates the new normal
One of his first tasks was to form his leadership team that will steer the business growth and operations in SAPSSA. "I want to enable and empower my teams to be able to think beyond the facts and figures, to create an ambitious vision, which is what will enable them to think and deliver beyond what is considered normal – to create the new normal," Anil says.
What is the new normal for Anil? Riding new mega trends and leading customers and suppliers on that journey of growth together. One such mega trend is sustainability.
"We are seeing consumers wanting more environmentally friendly products," Anil explains.
"So, yes, we continue to focus on sustainability within our innovation road maps, concentrating on the entire value chain of those products – through to their conversion and end use. In SAPSSA, in addition to innovating new, sustainable alternatives, we also focus on ensuring the stability and certification of our supply chains."
Providing service excellence
Since the formation of the new geography, the label and graphic materials division has seen great improvement in its interaction with specific regions and the customers within them, carrying a whole new perspective on how to apply resources, investment and capabilities. "We also now have more opportunity to leverage the best practices between the businesses across ASEAN, Sub-Saharan Africa and the Pacific nations, and build long-term partnerships with local industries and suppliers," adds Anil.
"I'm excited about leading this business, because we are now structured correctly to achieve the size and scale that it rightly deserves." In just one year, Anil has overseen the expansion of Avery Dennison's distribution centres and manufacturing capacity across Indonesia, Singapore, Malaysia, Vietnam and Kenya.
I'm excited about leading this business, because we are now structured correctly to achieve the size and scale that it rightly deserves.
"Serving our customers in this region requires a difference of approach versus our more established regions. First, in some areas, we work to educate our partners and customers on the benefits of pressure-sensitive technology, while ensuring that we're listening and responding to local needs.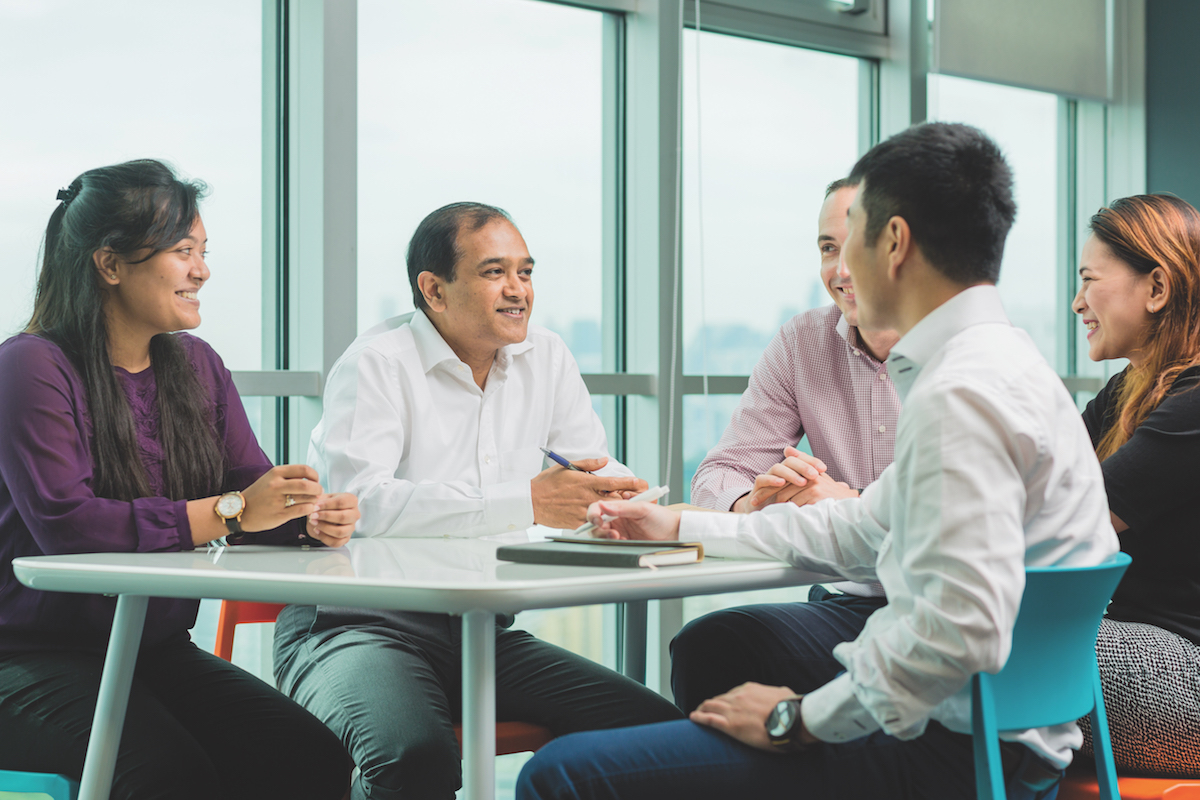 "Second, ensuring that our service levels reflect the local needs is critical to success. We pride ourselves on our service excellence," says Anil. "The other piece is that we are investing in improving our service levels in these markets, which consequently allows us to have a better connection with customers, thus bringing more credibility and conviction to the industry."
Innovation is at the heart of Avery Dennison
Innovation is also a top priority for the firm, and has remained so since its inception in 1935 when Los Angeles clerk Ray Stanton 'Stan' Avery noticed that price-marking stickers used in stores contained materials that damaged the products they were placed on. With just a US$100 loan and a bright idea, Stan went on to create and patent the first self-adhesive, die-cut labelling machine. 
He ultimately created a giant that today employs 25,000 people in more than 50 countries. "The very genesis of the industry starts from solving a problem and consequently creating a solution," says Anil.
"This is what has been a legacy for the past eight decades. Our knowledge of material science is key to the continuing evolution of our business. Our global and regional R&D teams consistently launch new materials that have advanced functionality, often with improved efficiency, sustainability and ease of application.
"We are leveraging local talent within this region to achieve global ambitions and aspirations," Anil continues, commenting on the company's innovation and knowledge centre in India, which not only drives new product development for SAPSSA's customers but also collaborates on global R&D projects for Avery Dennison worldwide. 
"Fundamentally, for us, innovation is at the heart of what we do in Avery Dennison. It's not just product and technology; it is a mindset and a continual evolution of our industry. It's enabling us to add real value to our customers on an ongoing basis."