From a young age, Dexter Lee was taught to value entrepreneurship, embrace change and pursue his passions. These core values have guided him through a distinguished career in finance, consulting and management, and underpin his position today as President and CEO of Meralco Energy (MSERV).
"My father was an entrepreneur and he managed his own business. He taught my siblings and me two main things: the importance of a good education, and that we should always be our own person," says Dexter. "Our upbringing was different to that of a typical Chinese family, where children are expected to follow a preconceived path and go straight into the family business. Instead, our father encouraged us to follow our own passions."
The first billion-peso company in the Philippines
Meralco was established in 1903 as Manila Electric Railroad and Light Company, which has operations in providing light, power and electric street railway systems that link Manila and its surrounding suburbs. In 1969, Meralco became the first billion-peso company in the Philippines.
This was all the more remarkable because much of it was achieved without recourse to government guarantees. This year, celebrating 115 years in business, Meralco is the largest electric distribution utility company in the Philippines and is committed to being the complete energy solutions provider of choice.
Dexter joined Meralco in 2012 as its Strategy Development Head and Member of the Board, immediately constructing a new and improved business action plan. "I paid close attention to ways in which the company could be more responsive to its customers, and identified a gap in the market," explains Dexter.
"Customers were needing more work to be done post-construction by their elected contractor to get the energy flowing. There was a high demand, especially in the premium sector, for a service that enabled customers to seamlessly integrate into the Meralco system. We filled this gap and the results were outstanding.
I guess the abbreviation for our company name, MSERV, was a result of that." On the back of this success, Dexter was named President and CEO in January 2014.
Three fundamental business principles
"I'm very grateful to the Meralco management team. One of the main motivations behind my decision to return to the Philippines was the opportunity to work with legends in the industry. I deeply admire Manuel Pangilinan, Oscar Reyes and Alfred Panlilio for all that they've done for Meralco, and I am very lucky to have been mentored by them. They had enough faith to entrust their business to me."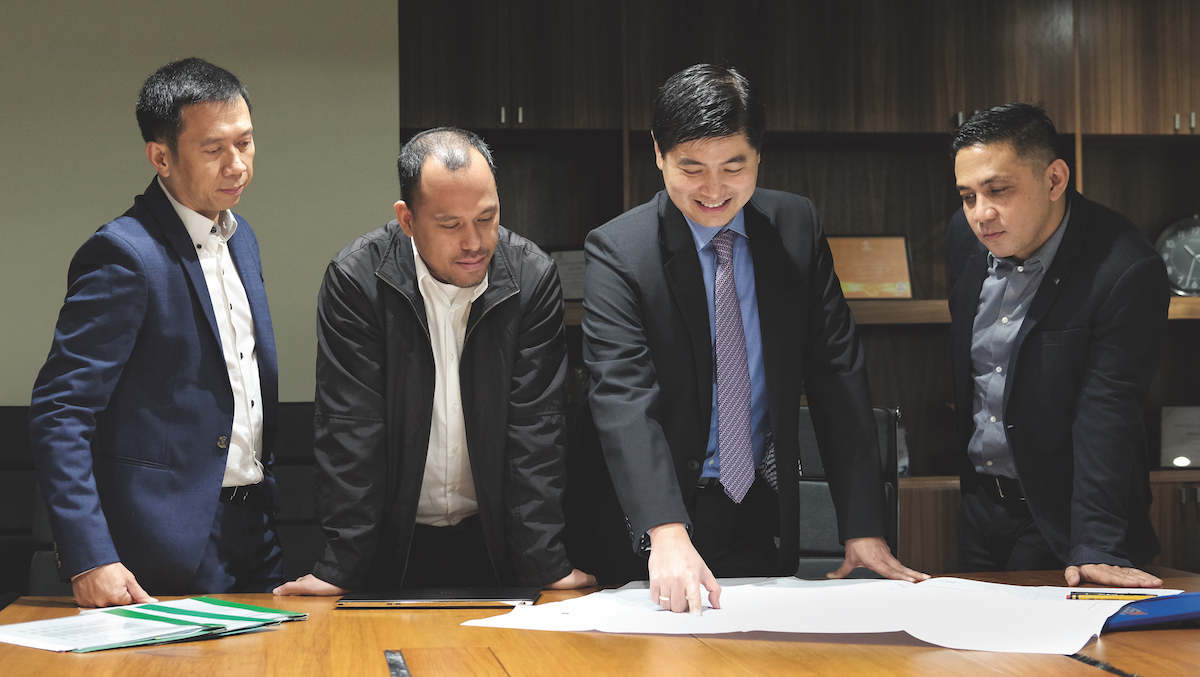 These mentors instilled in Dexter three fundamental business principles. "First, to adopt a customer-centric mindset. Second, to place trust in our employees and equip them with the skills they need to be successful. Third, to innovate and always look to the future."
This pertinent business advice, coupled with Dexter's extensive history in finance, consulting and general management, has propelled him to a position of influence and equipped him with a detailed skill set. After graduating magna cum laude from the University of the Philippines with a bachelor's degree in Business Administration, Dexter received his MBA from Wharton in 2005.
"I had a knack for numbers, so it was natural for me to gravitate towards finance. My first jobs were all in investment banking before I saw the opportunity to work in operations at Covanta Energy. That allowed me to continue to work on development projects in a management capacity even after they were financially closed, constructed and in operation," explains Dexter.
"After I received my MBA, I made the shift into general management. I worked as an Engagement Manager at McKinsey & Co., London's top consulting firm. There, I built a solid foundation in operations and supply chain management, which would later become crucial in my career," says Dexter.
"I then moved to a boutique consulting firm and gained experience in revenue generation and branding. These varying positions gave me a comprehensive understanding of exactly what it takes to be a successful general manager and eventually run my own company."
A Meralco Group subsidiary, MSERV has dedicated its electromechanical expertise to projects in diverse industries such as residential, commercial, industrial, power, highways, schools and even hospitals. The company continues to grow and diversify to expand its reach and promote sustainability.
A nationwide footprint
"In the beginning, our focus was on customers in the Meralco franchise area, geographically concentrated in Luzon," says Dexter. "We have now expanded to almost a nationwide footprint, servicing customers' needs in Visayas and Mindanao too." Meralco provides electricity to more than six million customers in 36 cities and 75 municipalities, in a franchise area covering almost 10,000 square kilometres and the core of the country's industrial, commercial and population centres.
"Our presence in the Luzon market has grown exponentially over the past five years and the proof is in the numbers: We grew from almost nothing in 2012 to approximately US$42 million in revenue by late 2017," says Dexter.
Our key point of difference is the century-worth of expertise we provide.
"Our key point of difference is the century-worth of expertise we provide. MSERV started as a small group of seasoned Meralco executives with 100 years of combined experience, allowing us to tackle any project with superior knowledge and understanding.
Today, our sheer size allows us to stay ahead of our competition, continuously drive costs down and form relationships with influential suppliers at every stage of the supply chain. As of last year, we are at least double the size of our nearest equivalent competitor. Once you reach a certain scale, processes must be put in place for growth to continue.
Going above and beyond for the customer
"The challenge now is to take MSERV to the next level without forgetting where we came from," says Dexter. "We must maintain our core vision for innovation." MSERV is looking at which of its services can be enhanced by developments in technology, such as the IoT, artificial intelligence and machine learning.
"We already have some ideas about the future of automated, energy-efficient distribution networks," he explains. The company prides itself on understanding the needs of its customers, custom-fitting products according to these needs. "Looking at the shifting requirements of our customer base, self-generated renewable electricity is becoming more and more feasible, and we must soon decide how to best meet this demand."
Dexter describes the workplace culture as a family. "I am a very hands-on leader and I'm fortunate to be surrounded by such an inspiring team of people. I empower and mentor my staff by aiming to equip them with what they need to be successful. I always encourage discussion within teams.
Solutions made by a group are generally much better than those made by just one person sitting in a room and trying to figure it out – no matter how good he or she may be. At the end of the day, our people are here because they believe what they're doing is important. In the Philippines, we call it malasakit: it means caring about the work you do, going above and beyond for your customers, and always considering how your work impacts the company, the community and society as a whole."