There's no doubt a chat with Dr Hans J Langer transports you to another world. And while we all live in a world dominated by technology, the world of Hans takes us to another dimension. Literally. The first thing you have to understand when talking to the EOS founder and CEO is the process of additive manufacturing. After all, Hans is a pioneer of the technology and EOS a world leader in the field. Mention additive manufacturing and it's likely images of food-combining that pop into your head, but mention industrial 3D printing and that's where we dip our toes into that other dimension.
While the phrase '3D printing' is often bandied about as a more general term to describe additive manufacturing, the process is distinguished by the adding of layers, rather than fabricating from a solid block. No tools or moulds are needed; instead, fine powder forms of substances such as plastic, ceramics and metal are used to build 3D objects used in industries that are as diverse as medicine, aerospace, automotive, jewellery and dental.
Number one in serial production
When Hans launched EOS in 1989, his vision was as simple as wanting to create functional parts that could be used in serial production. For the first 20 years, the technology was limited to research and development for the relevant processes and materials. Today it has accelerated into manufacturing, offering cutting-edge design to produce shapes never done before, at lightning speed never experienced before. Products can also be digitally customised and produced cost-efficiently in small numbers, or even as one-off designs.
With its forward-thinking technologies, EOS is focusing on digital manufacturing in the Industrial Internet, the German equivalent to Silicon Valley, and an area in which the company not only has strength but also sees growth. Its core technology is used in applications as sophisticated as producing large quantities of components for aircraft turbines and rockets, to the more practical everyday use of printing a customised implant to heal a broken bone.
"We are the number one player in additive manufacturing in the world, doubling our business over the past 2 years." – Dr Hans J Langer
Pluck a company from the top 100 in the world, and Hans proudly asserts you'll find EOS involved in the production process, particularly in aerospace or medical fields, with GE, Rolls-Royce and Siemens among them. The automotive industry is another huge consumer, with Formula One developing and making race parts impossible to craft using traditional methods. At the other end of the scale, and far more economical, are engineering students who are experimenting to generate their own innovative prototypes.
"Yes, my key vision to make functional parts with additive manufacturing has certainly been achieved; in fact, we've over-achieved it," Hans says. "We are the number one in serial production using additive manufacturing, doubling our business over the past 2 years.
As the key supplier, we have installed more machines in serial production than any of our competitors. We have more than 50% market share. This is who we are and where we are."
A portfolio no one else can offer
In May last year, with Hans still the major shareholder of the company he founded, EOS's achievements were recognised when he received the 2016 SME Additive Manufacturing Industry Achievement Award at RAPID 2016 in the US ­— one of the premier additive manufacturing and 3D printing events that showcases product innovations.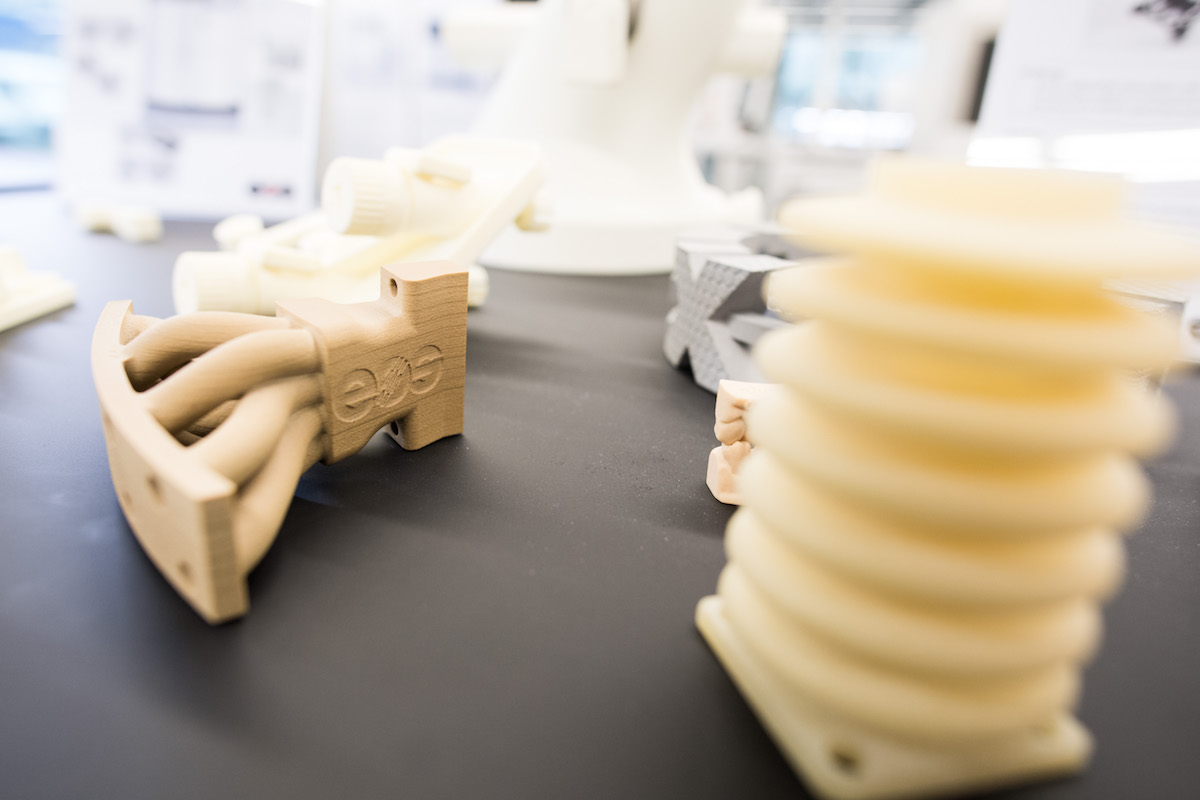 Headquartered in Germany, there are around 30 companies worldwide making up the EOS group, a huge network contributing to the global success of the company. Hans, however, views all that success as revolving around one basic principle. "We offer a portfolio of technology no-one else can offer," he explains. "If you look at our portfolio, we have competitors in individual parts of our portfolio but not in the whole portfolio. Some
of them compete in a very specific metal technology, or a specific high-performance polymer technology, whereas we own the core technology.
"Our direct competitors are also our licensees, and in the past we experienced very heavy patent litigation. But that finished in 2004, and since then we have licensed our technologies to some specific parties just to broaden the market approach. We are also joined by another world-market leader, SCANLAB, that specialises in laser beam positioning equipment. All our key competitors, everybody in the market, use this technology — so all our main competitors are also our customers."
A new frontier
An important new frontier for EOS is discovering new ways of service and consulting. Hans is the first to admit that most potential and existing clients don't know how to use EOS technology. An international team of consultants has been created to cultivate the right mindset, which extends way beyond simply buying an EOS machine and assuming a new way of manufacturing has been delivered.
"It is about taking a fresh look at production processes and the time and money it will take to make it work," Hans says. "You have to identify the right application, understand the science of the materials, and then integrate additive manufacturing into the conventional production process. Most people see additive manufacturing as a standalone, and this is the key problem for most of our competitors.
"In the future, we will see existing manufacturing environments dominated by conventional technologies, in which additive manufacturing will now be introduced. As such, customers can marry the best out of both worlds."