Kevin Brown has been in the appliance industry ever since he walked the halls of the University of Mississippi. Wanting to find a part-time job relevant to his undergraduate degree in electrical engineering, he applied for an assembly job, then worked on the second shift for Whirlpool to continue going to school during the day. He ended up being with the company, in a variety of capacities, for more than 10 years.
"The appliance industry is one of those industries that when you get in it, you really don't ever get out," Kevin tells The CEO Magazine. He returned to his hometown of Jackson, Tennessee to accept a position at Maytag, where he worked for five years before he was recruited by Viking in 2007.
"I had always known about this great iconic brand Viking. Being in a big box company, we had always chased Viking – they've always been the leader," he recalls. "I joined as a Chief Engineer even though it was a lateral move, I was attracted to this growing company because of the magic and entrepreneurial spirit."
The Middleby Corporation, a world leader in commercial kitchen technology, acquired Viking in 2013. With more than 100 companies in its portfolio, it has a proven track record of acquiring and growing companies by bringing innovative, patented products to the market.
The soul of Viking is design – whether you're in the industry or a first-time buyer, you look at it and it takes your breath away.
"We were the first residential brand that Middleby had acquired so there was a learning curve on both sides," Kevin says. "But what we did know was that Middleby is a disrupter, what I call a 10-times company. They hit the ground running.
"It was a challenging but exciting time for Viking. The improvements made during this transition made Viking who we are today and has set a standard of growth and improvements going forward."
In 2016, Kevin was appointed President responsible for the overall operations, sales and engineering initiatives. Prior to his appointment and during the transition to his new role, he oversaw the reengineering of Viking's product categories with around 85 per cent of products redesigned "from the ground up" – an achievement he describes as his "most rewarding".
"The soul of Viking is design – whether you're in the industry or a first-time buyer, you look at it and it takes your breath away," he says. "In addition to the design improvements, it was very important that the inside components reflected our exterior design efforts. We wanted to make sure that we were going to the nth degree of making what is underneath the hood just as exciting. We wanted to know that the true DNA of the brand resonates all the way through the product."
Since the acquisition by Middleby, Viking has introduced more than 50 new, innovative, award-winning products to the market. "Viking was the first professional, commercial style range for the home – it's an exciting legacy. Without Viking the luxury appliance segment would not exist," Kevin explains. "To further separate us from our competitors, we've taken what Middleby has to offer from the commercial side and infused the same technology into our product category."
Now, the company is focused on growing its vision. "For us, it's about taking that core and then evolving it for a younger generation with a more minimalist style, a tighter fit and finish catering to their expectations of a hyper-luxury brand," he says.
Innovation and technology are the core of these ambitions, with Viking maintaining the analog, tactile nature of its product. "We continue to embed innovation into our appliances to make products that are exciting," Kevin adds.
An example of this is Viking's Bluezone Fresh Preservation Technology, which was initially designed for the United States Army. The air purification solution can extend the shelf life of fresh fruit and vegetables in transport containers, cold storage rooms, walk-in refrigerators and general food storage areas throughout the global food supply chain. It removes microbes, ethylene, hydrocarbons, odors and other contaminants from the air inside the refrigerator unit.
Middleby is also using the technology to help restaurants and other food service operations to remove potentially infectious airborne elements from the air without the need for a filter.
Kevin reveals that Viking has also "doubled down" on colors, with the brand known for its range of hues. "It's been a challenge in this environment to overcome supply chain challenges, but we did not pull back on colors during this time," he stresses. "In fact, we launched The Delta Hues, A Contemporary Color Collection, in partnership with Sherwin-Williams, which is a collection of 14 additional colors that really tells the story of our brand, who we are and where we are from."
With growth a big part of the company's vision, continued international expansion is high on the agenda. That's why, when a new product is being designed, Kevin asks the engineers to "think of the world as flat". "That means that a product can theoretically go anywhere," he explains. "That's the moonshot – to have one product that can go anywhere in the world. It's a philosophy that has helped us continue to strengthen and expand our portfolio for international markets."
By Middleby sharing its game-changing technology, it creates greater opportunities to infuse new products with an extra layer of innovation. "I call it bookshelf technology because it's proven technology that's there on the bookshelf ready to go," he says. "I think that's served us well."
An overhaul of its operational processes has also helped the company to soar. "We follow the philosophy of making your today better than your yesterday," Kevin says. "Every day we come in, we learn, and through that process we continually enhance our operations, all the way through our supply chain. We look for weaknesses and gaps, and we do kaizen events. How do we improve those processes? We have infused millions of dollars into the infrastructure of operations."
This approach has led the company to install new lasers and make automatic tool improvements at its four location plants in Greenwood, Mississippi. Viking also uses kanban systems and has enhanced its enterprise resource planning system. "Because we build to order, the goal is for our consumer to have insight from the time the order is placed," he shares.
"That is one of the significant innovations that we're working on. We will continue to work on that initiative through the next year to improve our operations for improving efficiencies and quality."
We see our suppliers as an extension of our culture and our employees; we're like a family. Viking has always been that way – since day one we have had tight-knit partnerships with our suppliers.
While the supply chain is an area of exciting new developments for Viking, it is also a source of daily challenges as a result of the pandemic's disruptions. "We see our suppliers as an extension of our culture and our employees; we're like a family," Kevin says. "Viking has always been that way – since day one we have had tight-knit partnerships with our suppliers. Fortunately, because of these great relationships we have overcome these uncertainties.
"Failure is not an option, and so we've had to adapt and be creative. For example, we air-freight grates, which are the heaviest portion of the product, just to keep our products going down the line for our consumers. Our suppliers have been instrumental in that. They're extremely committed and diligent in their ordering process to ensure we have the parts needed to meet demand."
This all feeds into the importance of culture for Viking, which has helped it withstand the difficulties of the pandemic, according to Kevin. "I understand it sounds cliche to say our people are the most important part of our company, but they truly are," he shares. "The culture here in Greenwood has been an important part of who Viking is, and if you live for a why, you can always survive a how. This is what we're going through right now with this pandemic and the related supply chain issues.
"Our employees understand the why, they get it, they're committed to it. They love what Viking has done for the community. It's them who have made that happen. We take that very seriously. We're always thinking about how we can continue to build on that.
"After leading the field for nearly four decades, Viking is just getting started. We won't quit innovating or dreaming. Our advanced performance features and bold new design concepts are unexpected for the field, but not surprising considering Viking's place in the market. We can't wait to show you what's new and what's next."
Sponsored by: Kloeckner
Viking Range has been leading the luxury appliance industry in design and quality for almost 40 years, and it has relied on Kloeckner Metals Corporation as a top supplier of superior-grade metals and finishes for nearly a decade.
Read More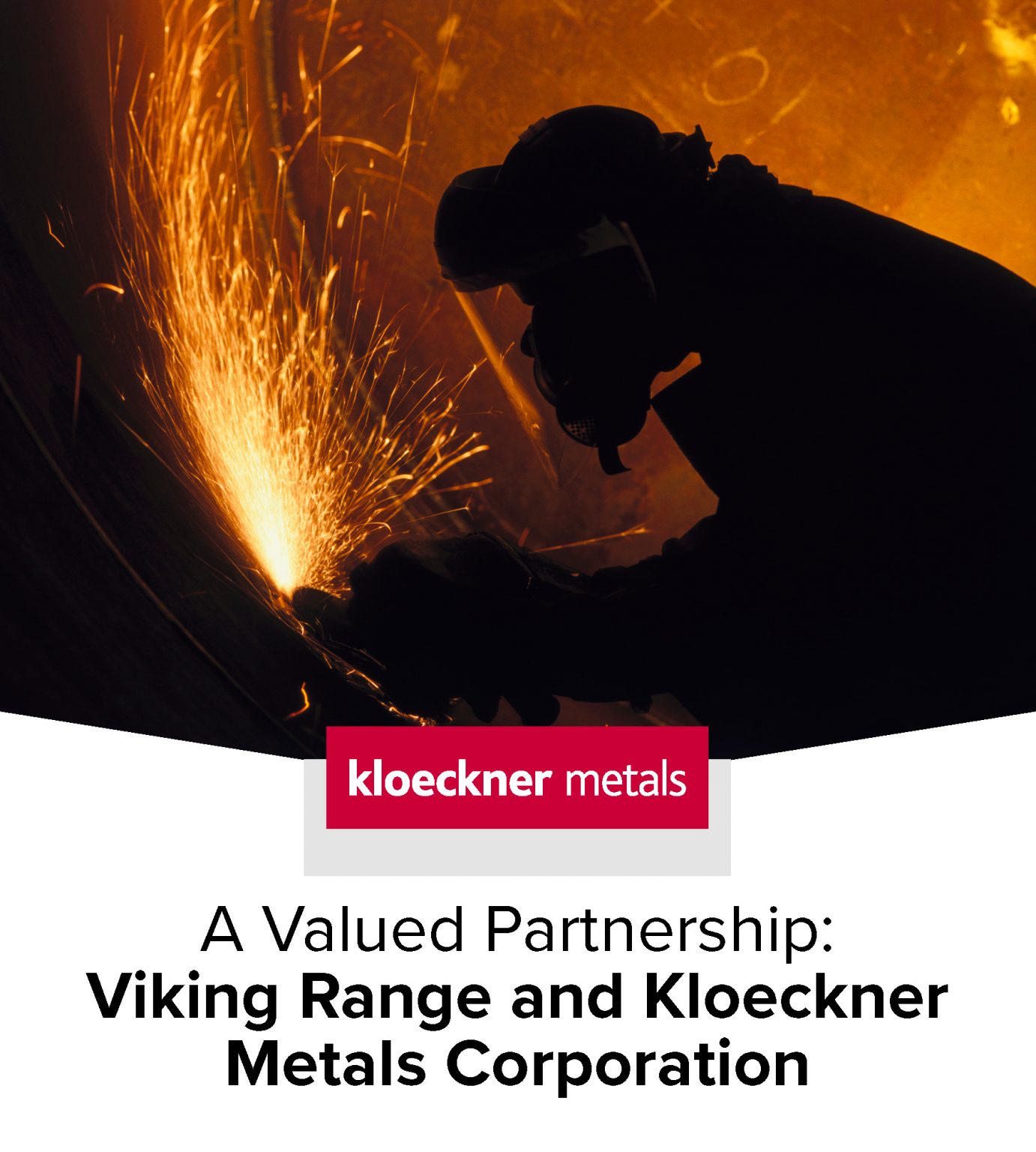 ---