Tony Pearson laughs when asked about Neville Middleton's popularity in China. "Yes, he almost has a celebrity status over there," the CEO of AH Beard nods. Neville doesn't fit the typical mould of Shanghai's promotional pin-ups. He isn't an Olympian, a pop star, or a runway model – he is a humble bed-maker. More accurately, he is a master craftsman, who's been with AH Beard (AHB) for 35 years, and is one of only four people to have earned the right to handcraft the family business's signature series mattresses.
It is this luxury range, regularly fetching up to $80,000 a unit, that has caught the eye of the well-heeled Chinese and made Neville something of a household name. "Our current partner in China, Shanghai Green, actually did a global search looking for the highest-quality providers of mattresses, and we happened to be on their list," Tony explains. "They literally came and knocked on our door."
The burgeoning middle and upper classes of China demanded product excellence, and AHB – with its intricate hand-stitching and button-tufting, microcoil technology, and finest Australian merino wool, alpaca, cashmere and mohair – sated their appetites.
Tony Pearson has an "absolute affinity" with AH Beard
Tony wasn't with AHB when the first convoy of Shanghai Green suits arrived at its Padstow headquarters in New South Wales, offering a golden ticket into the affluent Asian market, but he had been a consultant to then CEO, Paul Longman, and the board in the years leading up to it.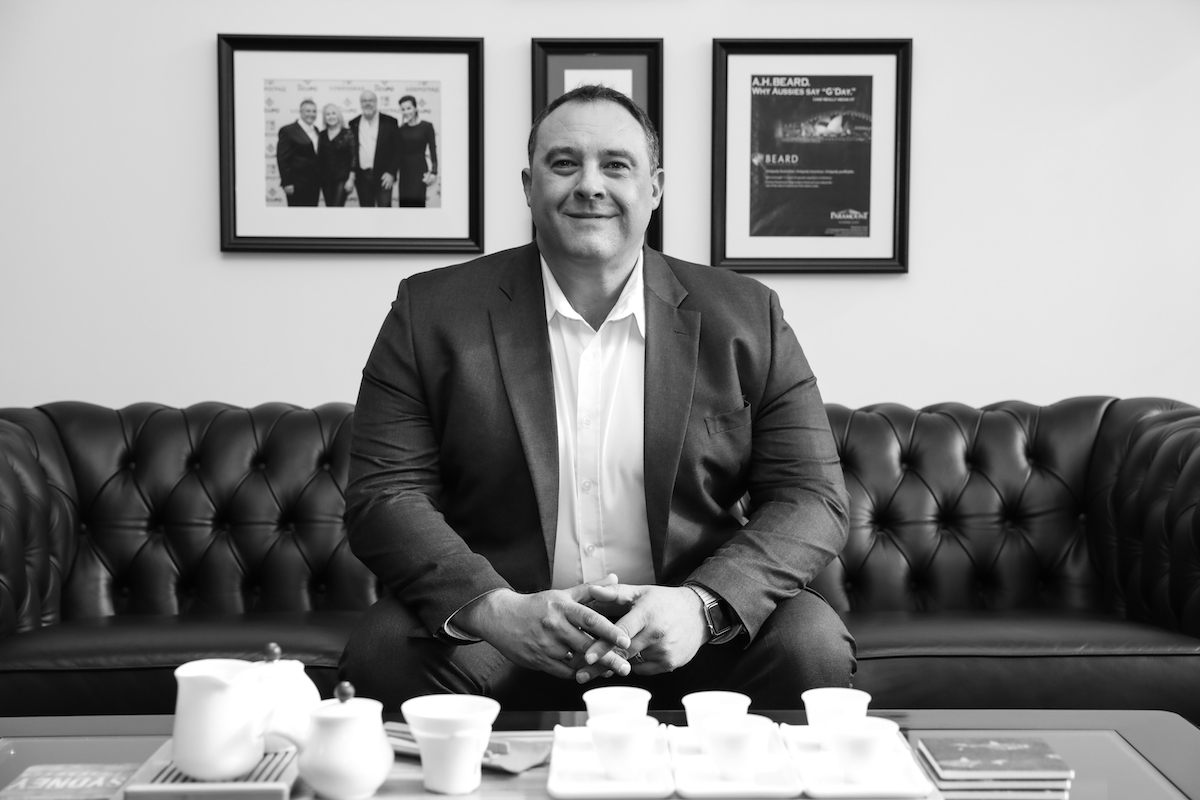 As it turned out, that professional relationship he struck up with AHB – including chairman Garry Beard, whose great-grandfather Enoch Beard started the company as Australian Bedding Mills in 1899 – was the reason he back-tracked on his plan to rebuild his own consultancy business.
"Paul was my predecessor here at AHB, and when he advised me he was moving back to the US with his wife, he suggested I reach out to Garry. After doing so, I decided to go through with the interview process and fortunately I was successful," Tony reveals.
"But I was actually just telling Garry today, I'd decided at that point that I was never going to work for anyone else ever again. I just had this absolute affinity with AHB and a passion for, one, who they are and what they stand for, and, two, the way they were trying to operate their business. It was an opportunity I couldn't refuse."
Learning from astute corporates & talented leaders
Placing their faith in Tony was an easy decision for Garry and the team too. After running his own Lone Star Steakhouse & Saloon Restaurant at the young age of 20, Tony proceeded to gain further hands-on experience within the hospitality, retail, and professional service sectors. He learned from astute corporates and established an extensive network of contacts, before starting his own consultancy firm called Infinity Solutions, which of course AHB utilised.
"Many of those people I worked under I still consider mentors today," Tony says. "Lone Star was brought to Australia by a gentleman named Bob Lapointe. He is quite an incredible businessman, and surrounded himself with amazing operators. For me, it was not just being exposed and surrounded by some really talented leaders, but genuinely learning from them. I didn't wait for them to come to me and provide those nuggets of brilliance, but rather sucked it out of them and absorbed it."
AH Beard expands beyond the mattress
While expanding AHB's footprint in China remains a top priority (it boasts 42 shopfronts as of June), Tony says the team is also looking beyond the mattress. "The other aspect we're looking into right now is expanding from just being a mattress provider to somebody that's providing an enhanced sleep environment," he reveals.
"For instance, we now have devices that we're integrating into our sleep environment that track the amount of light in the room, and illuminate using the colour hues to elicit melatonin, which helps you sleep. We're also looking at tracking humidity and noise levels, as well as building sleep surfaces that allow individual adaptability using temperature-regulating material. All of these additional innovative materials, products and services are aligned to AHB achieving its purpose of 'Improving Lives though Better Sleep'.
"It's been a pretty steep learning curve these past seven months, but having a 118-year-old business headed up by two current family members in the fourth generation, that's a lot of knowledge around what actually goes into the make-up of those rectangular boxes."