If there's a core value that both ESL Steel and its CEO Navnath Vhatte (who's commonly known as Vhatte) share, it's enhancing the lives of local communities. "We are not just here to manufacture steel and make money," he tells The CEO Magazine. "I believe that we must make an impact on the communities where we are running our business as well."
He hopes that the result is that people begin to attach themselves to the business. "I want them to feel like they are part of the company."
The way the COVID-19 crisis was handled in particular has brought this sense of relief into the community and the company hasn't been afraid to put words into action, quickly establishing a makeshift healthcare centre to treat patients in Bokaro, the steel city in the Indian state of Jharkhand where it is based. Known as the Vedanta Cares Field Hospital, the 100-bed centre is equipped with oxygen, ventilators, intensive-care unit beds and childcare units, and its operations are overseen by district doctors. "We are establishing another centre in Bokaro and are planning to make it a permanent establishment," Vhatte says.
Like other manufacturing companies, ESL has also spearheaded the largest vaccination drive within the community and city. It has established itself as the first vaccination centre of Jharkhand to vaccinate the highest number of people in the state, and also joined other players in the industry in supplying hospitals with liquid medical oxygen diverted from its steel plants.
Yet, while the fight against COVID-19 has obviously been the focus of its efforts, the company hasn't forgotten the other areas of health care that still need attention. Among its other health-related corporate social responsibility (CSR) programs are HIV screening and awareness days, family planning camps and nutrition weeks.
One way or another, people should benefit from the presence of our brand in the community.
The company's corporate social responsibility scope extends beyond health and medicine to initiatives in education, sport and self-help, too. "We run a vocational skills centre that offers a variety of courses," Vhatte says, giving the example of a sewing and designing course where attendees are taught to stitch garments. "We recently had a company from Chennai come and offer appointment letters to nearly all of the 60 people who were participating."
Then there are other success stories, such as the student of its archery school who has gone to represent Jharkhand at a national level in competition. "We may not be able to find everyone a role within our business, but one way or another, people should benefit from the presence of our brand in the community," he explains, adding that it's this community spirit that sets ESL apart in the marketplace.
Back to basics
An electrical engineer by qualification and a veteran in iron and steel making, Vhatte has spent more than 35 years in this sector, of which he spent more than 27 years in Sesa Goa, Vedanta (erstwhile highest iron-ore exporter in the private sector). In 2007, Sesa Goa was taken over by multinational mining company Vedanta, which also acquired ESL in 2018. Vhatte found himself in one of the teams responsible for carrying out due diligence of Electrosteel Steels resulting in final acquisition by Vedanta, and being appointed as CEO of ESL in April 2021.
"The company was struggling when Vedanta took over. It was under the Insolvency and Bankruptcy Code, 2016, and was being run by resolution professionals," he explains. A lack of capital led to a shortage of raw materials. "Once Vedanta arrived, ESL's operations have been constant, which in itself is a testimony to its acquisition." In fact, within a year of the acquisition, the company returned to profitability.
There has been even more progress in the months since Vhatte 's appointment. "I could see that some of our assets were not continuously working and there were quite a lot of setbacks," he recalls. "In turn, our operations weren't smooth and our margins were lower as compared to our peers. Improving consistency in our operations and ensuring the margins were my top priorities when I took over."
Addressing the concern of the staff members on job security, Vhatte made sure he established clear communication with his team. "When it comes down to it, employees are the ones who turn around a company so I assured our people that we were here for the long-term and that they were all an integral part of the journey," he stresses.
When it comes down to it, employees are the ones who turn around a company.
Since its incorporation as a public limited company in 2006, ESL has become a leading manufacturer of integrated steel products under branded names such as V-Ducpipe for ductile iron pipes, V-Xega for thermo mechanically treated (TMT) bars and V-Wirro for wire rods.
Now that the operational output has been brought in line with its main competitors in the market, Vhatte is looking to expand into new steel grades and markets. "For example, we are currently selling our TMT bars only to large projects, and not the retail market," he shares. "My aim is to ensure that our product penetrates the retail market for household use."
Vhatte has spotted another opportunity for expanding ESL's production of wire rods. Its V-Wirro range comes in three grades – low carbon, medium carbon and high carbon – and now is producing over 20 grades to serve applications across industries such as construction, engineering, power and automotive, among many others.
The company's greenfield steel plant, which includes a sinter plant, coke oven, blast furnace, billet caster, bar mill, wire rod mill and DI plant, was originally designed for a 2.57 million-tonne capacity, according to Vhatte. But some facilities remain incomplete, such as the blast furnace in the ductile iron pipe plant, so his aim is to complete the plant as it was planned originally. It's a move that should increase total capacity to three million tonnes. "I'm confident that we will soon have the requisite approvals from the concerned government authorities," he says. "Then we can go full steam ahead with the completion of the balance part of the project."
Green priorities
Today, health, safety and the environment are important concerns for Vhatte, who explains that he is working with Indian sustainable consultancy business DuPont Sustainable Solutions to create a three-year cultural transformation plan. "We want to ensure that safety is a top priority for everybody," he says, adding that the company already operates according to the Vedanta Sustainability Assurance Programme. "This ensures that we not only have systems in place when it comes to safety and the environment, but operational efficiencies as well."
He is also on a mission to ensure that ESL's greenhouse gas emissions are the lowest in the industry. "We are discussing the possibilities of running our third power plant boiler on coal bed methane gas, which has much lower greenhouse gas emissions compared to thermal coal," he says.
Without a strong network of suppliers or partners, you can't run the business.
In line with Vedanta's vision of net zero by 2050 or sooner, along with an interim target of reducing absolute emissions by 25 per cent by 2030 (from the 2021 baseline), ESL have come out with several ideas and initiatives to reduce our greenhouse gas emissions, such as moving towards renewables energy by settling power plant of 4.5 megawatt, installation of TRT and BPRT plants to use kinetic energy of BF gas, generating power from coke dry quenching in coke ovens, reducing specific power consumption and 100 per cent utilisation of waste heat and BF/LD gas in their plant.
Such innovation also drives other crucial sustainability initiatives; the company is starting to experiment with the production of low-cost green steel, which is made with hydrogen rather than coal. Vhatte explains that the company is in talks with the top institutes and industry associations, to explore the use of hydrogen in its production processes. He says such environmental strategies are "a top priority for me in the next 12–18 months".
Sustainable growth
As he moves forward with his business goals, Vhatte appreciates just how essential stable partnerships are to achieving them. "Without a strong network of suppliers or partners, you can't run the business," he points out.
Vhatte refers to an instance of stockout when, in order to procure raw materials, the company had to commit to paying for them in advance. "Such interruptions don't happen with healthy relationships," he says.
Today, Vhatte makes it a priority to keep the communication channels open with his top suppliers in each segment to ensure security for its supply of raw materials, something particularly pertinent in today's complex supply chain climate. Customer-centricity is at the core of all operations and activities.
"I think it's very important to have a regular interaction with your top suppliers and customers because you learn things from them that you can use to make improvements to your business," he reveals.
A Thirst for Knowledge
"Although I'm an electrical engineer, I've always been interested in learning everything about production and economics," Vhatte says. "I've loved getting involved in every aspect of the process, whether in a power plant or a blast furnace, to look at ways to improve productivity."
He believes this curiosity has given him a complete understanding of steelmaking – and this global knowledge of the industry has helped him in his role as CEO.
Apart from traditional alliances in the manufacturing arena, Vhatte is also fostering partnerships with entrepreneurs. "I want to make ESL a leader in digitisation, so we are engaging with a lot of startups in that space," he explains. "We give them the opportunity to use ESL as a platform to make their product successful."
It's this futureproofing of the business that means the company is in a great position as India embarks on a journey to increase steel production to 300 million tonnes by 2030 (a figure currently at 118 million tonnes).
However, Vhatte knows it's no longer simply about being part of that growth. "It's also about how you are producing steel," he says.
With that in mind, he's committing much of his efforts in the business to the manufacture of sustainable steel. He knows change is upon the industry. "We want to be there right from the beginning. We want to be a part of that journey," he explains.
Since the time of this interview, Navnath Vhatte has retired. The current CEO of ESL Steel is Ashish Gupta.
Sponsored by: M Resources
A trading, consulting and investment company focusing primarily on the metallurgical coal industry.
Read More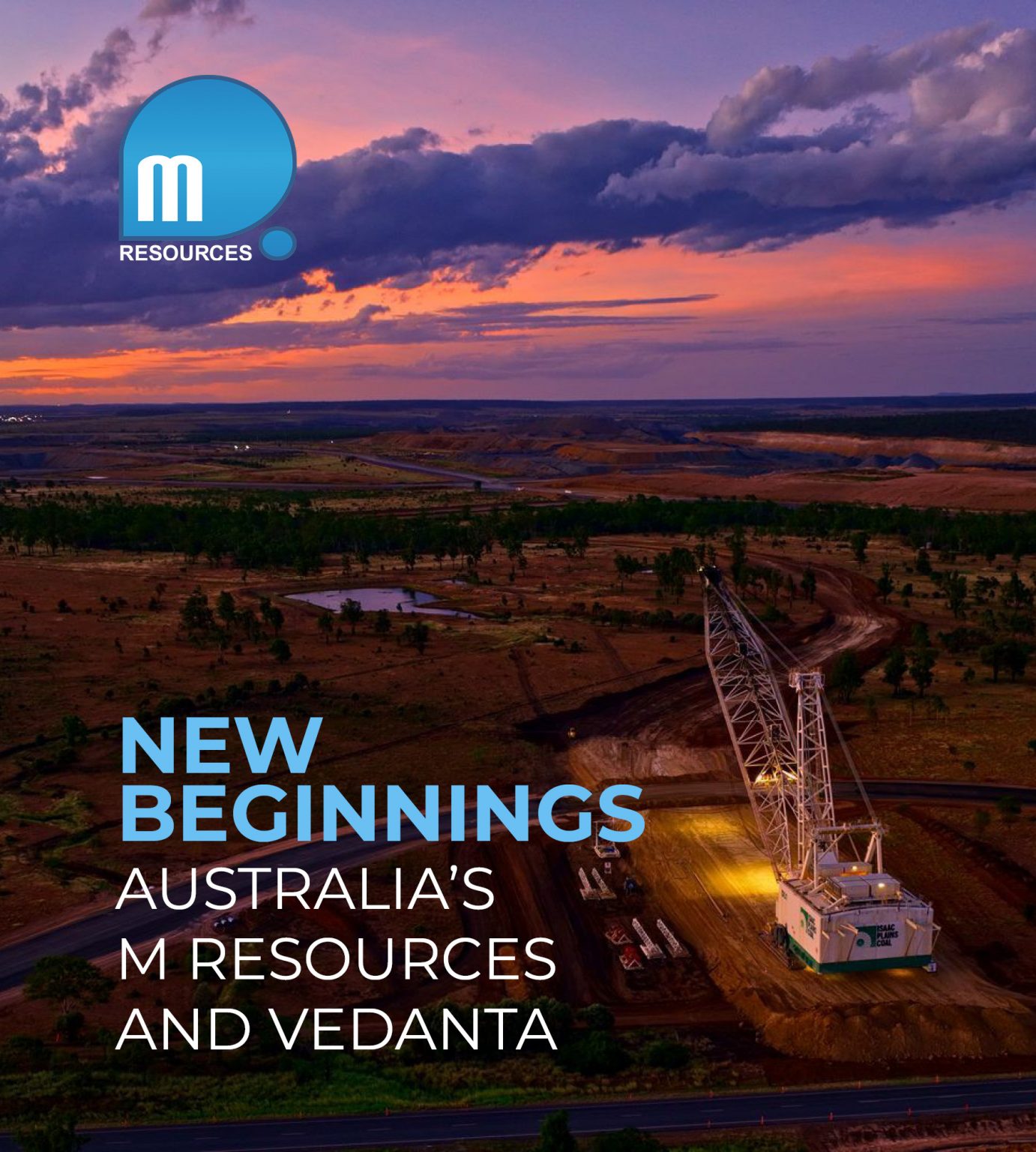 ---
Proudly supported by: