A senior player in Pakistan's financial sector, over the past two decades, Muhammad Ejaz has experienced first-hand the rise and fall of the country's volatile economy. He has served in senior positions at leading Pakistani and international banks, as well as other organisations including American Express, Engro and Emirates NBD. In 1992, he observed as private banks were set-up, capital markets opened, businesses deregulated and foreign investors came pouring in.
Climate of change
In this climate of change, Pakistan diversified its economy and budget concentration – which had traditionally focused on defence and agriculture – to include greater funding for infrastructure development, a necessary adjustment to accommodate a growing population of almost 200 million people.
As CEO and Executive Director of Arif Habib Dolmen REIT Management, Pakistan's first real estate investment trust (REIT), Ejaz is leveraging booming construction and real estate sectors to drive growth and help reform the US$700 billion industry. Real estate and construction account for approximately 2% of Pakistan's total GDP. Not only do they generate high levels of employment, but they also stimulate demand in more than 250 secondary sectors including cement, steel, chemicals, building materials and consumer durables.
"The World Bank estimates that Pakistan has a shortfall of around 10 million housing units. Each year, this shortfall is augmented by 400,000 units," says Ejaz. Compared with real estate markets in the rest of the world which generally follow a steady growth rate – Pakistan's market hits record highs and lows within the span of a few years, with unprecedented monthly growth rates of up to 10% at times.
However, like India's, Pakistan's real estate comes with negative connotations. "Many consider this sector as a parking lot for unreported money and tax evasion, so it's very hard to regulate," he adds. "Only in the past 10–20 years have large developers started moving in to formalise the housing sector, so it can attract capital. In 2009, Arif Habib was able to set up Pakistan's first REIT management company despite the global financial crisis."
"Many consider this sector as a parking lot for unreported money … so it's very hard to regulate."
A joint venture between Arif Habib Group and Dolmen Group, Arif Habib Dolmen REIT Management formed in 2013 to launch and manage REITs on select commercially viable real estate properties in Pakistan. To bring these investments within the reach of common investors, the company combines its parent companies' strengths in finance and investments, market analysis, property development and 360-degree property management.
One of Pakistan's four registered REIT management companies, Arif Habib Dolmen REIT is the first and only company to list a REIT fund on the Pakistan Stock Exchange and the first listed REIT scheme in South Asia. "When we started out, we set about reforming the previous REIT regulations. We were engaged with the government, Securities and Exchange Commission, and the Federal Board of Revenue to make it happen," he explains. "We got there in 2010 when land transfers duties and taxes were amended under the Eighteenth Amendment for REITs to feasibly operate."
Still, Ejaz says the current tax regime has meant at least eight mega real estate projects worth PKR80 billion have shelved plans for listing in the past three years, with his company alone withholding plans for five. He suggests getting rid of restrictive taxes to help the government document construction and real estate projects, as well as raise revenues.
"We are the only REIT management company that has expertise in both real estate development and capital markets. With 80% market share, Arif Habib is the leading cross-capital market player in the country and, in terms of quality real estate development, Dolmen is second to none," he says. "Nevertheless, I believe increased competition will be good for us because no matter how motivating our internal environment may be, external competition always presents a different sort of challenge."
"I believe that increased competition will be good for us because no matter how motivating our internal environment may be, external competition always presents a different sort of challenge."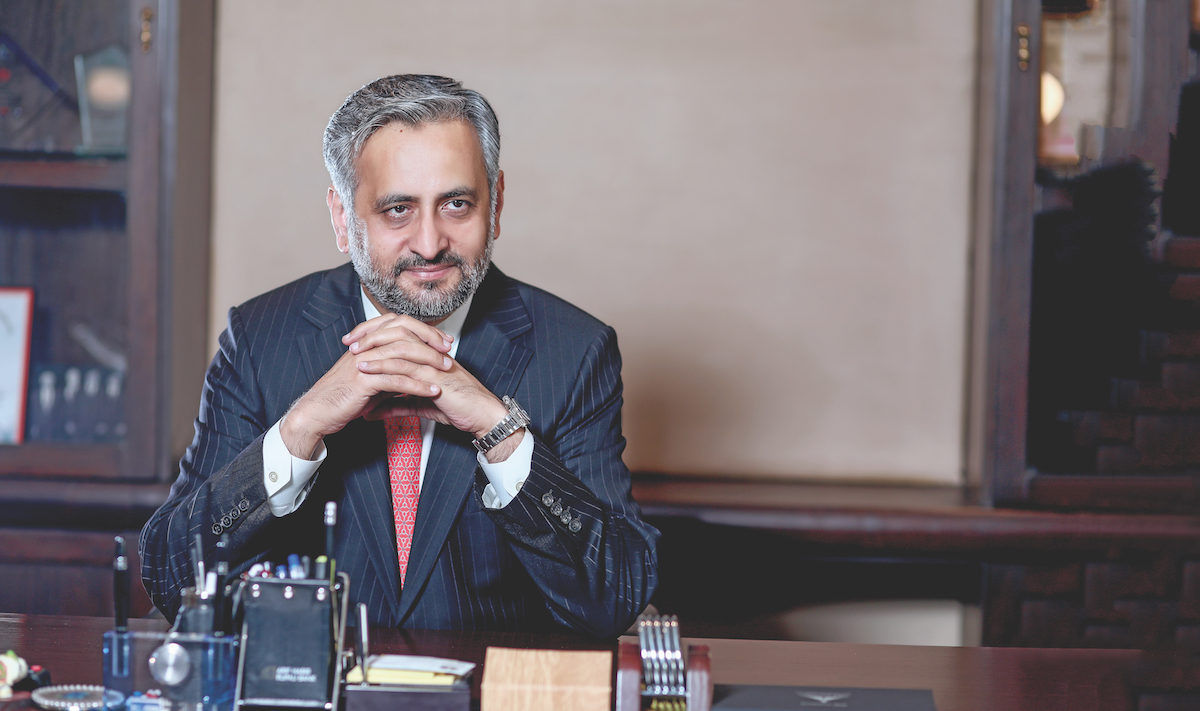 An opportunity to learn
Pakistan lags behind the real estate segments in India and Singapore, but instead of seeing this as a disadvantage, Ejaz sees it as a valuable opportunity to learn from those countries' journeys. "Unlike many other international developers, we're only involved in the domestic real estate segment – that's how confident we are in Pakistan's growth potential. Our competitors think we're crazy not to invest in places like Dubai or London, but our local focus remains strong," he remarks. "We pride ourselves on transparency, ethical standards, and commitment to helping our partners grow with us."
According to Ejaz, Pakistan's future is very reliant on the China–Pakistan Economic Corridor (CPEC), a collection of infrastructure projects valued at US$62 billion being currently built throughout the country. "The CPEC is focusing investment in the power, infrastructure and mass transit systems in Pakistan, and our 50-megawatt windmill power plant was one of the very first projects," he says.
"We hope the CPEC will help us go from producing 400,000 houses to a million houses annually to beat the current shortage. This will provide employment for many labourers, youths and unskilled workers. The greatest challenge for REITs in Pakistan is that they are at a distinct disadvantage compared with the informal segment."
Fast facts:

Over the past five years, the demand for apartments in Pakistan has climbed by nearly 30%, giving rise to an increasing number of newly constructed high-rise luxury apartments in Lahore and Islamabad. It is therefore unsurprising that between 2010–16, apartment prices increased by 120%.
"It's imperative for the future of REITs that formal and informal segments have a level playing field to encourage more movement into formal real estate development. We have recently observed large corporates moving towards formal real estate development, with groups such as Packages, Nishat, Siddiqsons, Yunus Brothers (Lucky) and Fatima setting up real estate divisions. Closing this housing gap is our main focus over the next 10–20 years."
It's a long way to go before Pakistan's real estate sector can be fully documented and formalised, but with a vision like Ejaz's, it's possible.