The word 'worldly' gets thrown around all too frequently. A 20-something takes an organised bus trip down the east coast of the US, and just like that they consider themselves to be worldly. They add the earth emoji to their Instagram bio and start quoting Mark Twain. 
Then there is the CEO of Heritage Brands. Constantine Gendis – a man who lived in Africa for 10 years, Asia for 7, and the UK and Europe for 6. He did so working for British household company PZ Cussons.
"My degree was in biochemistry, and once I'd finished, it came to: did I want to do a Masters and PhD or something else?" Constantine recalls. "I decided to start working at PZ Cussons straight out from my degree, and while I was there I developed a taste for sales and marketing. That was the beginning of a long-term relationship with the company that saw me go overseas at just 24 years of age."
Homecoming for Constantine Gendis
Constantine returned home to Australia in 2012 – 27 years after starting out with PZ Cussons – with the mandate to improve the profitability of the company's Australian arm. After turning to brands with strong provenance stories, like Rafferty's Garden and five:am, he did just that. He was expected to return to the PZ Cussons head office in the UK; however, Constantine couldn't walk away from the boundless potential he saw within the Australian cosmetics industry. 
"I came to a realisation that the world was changing, and all the legislation and everything that Australian business had been through actually gave an air of security and promise to people overseas," he explains. "There was this sustainable provenance and equity that was going to become more and more important globally. I could see a time when, rather than Australia just being a profit centre for global companies, it could actually start to dominate the retail space again, not only locally but internationally, if we played to what we do well.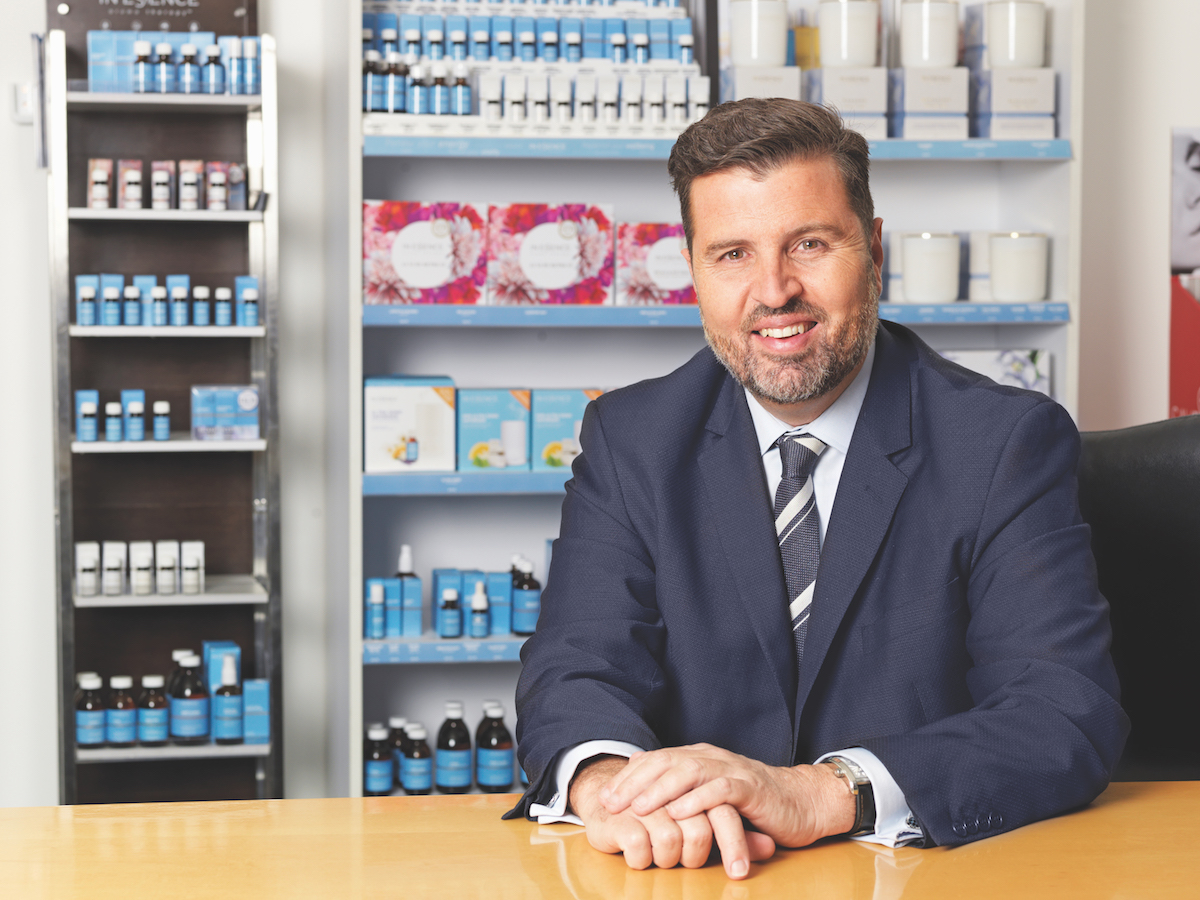 I could see a time when, rather than Australia just being a profit centre for global companies, it could actually start to dominate the retail space again.
"So I resigned and I looked for a company to invest my time in, somewhere I could build a strong provenance story. By coincidence, Heritage Brands happened to be looking for a new CEO, so the two universes came together. I'm in the fortunate position of working with an amazing Board of Directors who believe the provenance of Australian brands."
Joining the team at Heritage Brands
Heritage Brands was barely breaking even when Constantine joined the team, and his impact has been nothing short of extraordinary. The value of the Australian-owned company has since more than doubled to over $60 million, something which Constantine credits to the people and the values on which the business prides itself.
"One of the things I learned early on is that when a brand loses its track, the best thing to do is to ask, 'Why was that brand ever invented in the first place? What was that initial insight, and is it still relevant today?' What you find usually is that the answer is, 'Yes', and what you have to do is go back to those original insights and give a more modern interpretation to it," Constantine says. 
"At Heritage, as we grow, what we've got to do is remember to play to our own rhythm. What we shouldn't do is try to replicate 'big corporate'. Big corporate is good at what it does, but if we try to copy it we will lose. We have to play to flat structures, and have really clever people who are autonomous who look at the world and see what's working and what's not working, and make a call around what's best for the Australian consumer."
Working on well-being
"We also have to work on making life better for our customers, ensuring they feel good about the choices they're making, whether that's because the product is cruelty-free or ethically sourced, or is helping the community, or has no nasty ingredients in it."
"As we go forward, we're doing a really good job in the beauty division at Heritage, and now what we need to do is expand our footprint in the wellbeing space. We are in discussions with an Australian company that has amazing IP in delivering next-generation wellbeing.
"The fact is that more and more people are taking vitamins and supplements, and there are a lot of these types of products out there that aren't actually absorbed easily by the bloodstream. Therefore, more ethical solutions need to be developed, and the companies we're in talks with are at the forefront of those developments."
A cruelty-free company
Constantine and his team feel very strongly about the cruelty-free element of Heritage. "We don't test on animals," he states proudly. "We have a cruelty-free certificate on a global level, and that is very important for us to maintain. We do audit tests on our providers to make sure they follow the cruelty-free certification standards, and more and more of our products are going vegan-friendly. 
"Like any company, sometimes you learn as you go along. You realise a derivative of a derivative may have started from an animal, and that may not be obvious from the outset, but as soon as it comes to our attention we look for immediate alternatives." Constantine concludes that the success of any company comes back to the people within it. He says the greatest benefit from his time abroad was understanding the value of employees.
"The one thing I realised is that when you empower people, when you give them your trust and you don't micro-manage them, you create an environment that lets them prosper; they will over-deliver and always surprise you. You have to see past the cultural differences too, to understand a person's true value and the gift they're bringing to the company."
As the great Mark Twain once remarked: 'Travel is fatal to prejudice, bigotry, and narrow-mindedness.'