For Kansai Nerolac Paints (KNP) Managing Director HM Bharuka, India's shift from a saving to a spending economy has been a huge advantage for his business. "With more income at their disposal, people are opting for better products, including their choice of paint," HM tells The CEO Magazine.
"Education, too, has helped in making people brand conscious. They seek value for their consumption; and as far as paint is concerned, the companies offering additional features like non-toxicity, weather protection and eco-friendly production are more in demand."
After brief stints in the engineering, textile and paper industries, in 1985 HM joined KNP and steadily rose through the ranks to become managing director in 2001.
However, he had much to do to get the company in top shape. "I inherited a company where profitability was low, and it was facing serious competition from global players in India," HM says. "The biggest challenge was to not only revive KNP but also to make it relevant for the times ahead – and to do it fast." HM worked hard to turn the business around by implementing what he described as "bold, decisive initiatives".
HM Bharuka leads the team through a turnaround
He closed all the factories that were operating at a loss and had outdated plants and machinery; confronted militant unions; undertook a high-risk SAP enterprise resource planning implementation; and tackled supply-chain issues. On top of that, he set up new plants, put a heavy focus on productivity and cost reduction, expanded the product range, rebranded the company, and created a team of leaders that spawned a new organisational culture.
"The initiatives were without precedence in the history of the company and were a culture shock for the workers," HM says. "All these strategies, and many more, were led from the front and we had to sacrifice everything to restore the credibility of the company."
When HM took up the managing director role, the company had an annual sales figure of Rs682 crore; however, by 2017, it recorded close to Rs5,000 crore. This turnaround in business has been one of HM's achievements.
"These measures helped rebuild KNP into a high-quality, fundamentally strong organisation with high profitability, despite being one-third the size of the industry leader," he says. The Indian paint market is broadly separated into decorative and industrial businesses, and, to remain competitive, KNP specialises in both.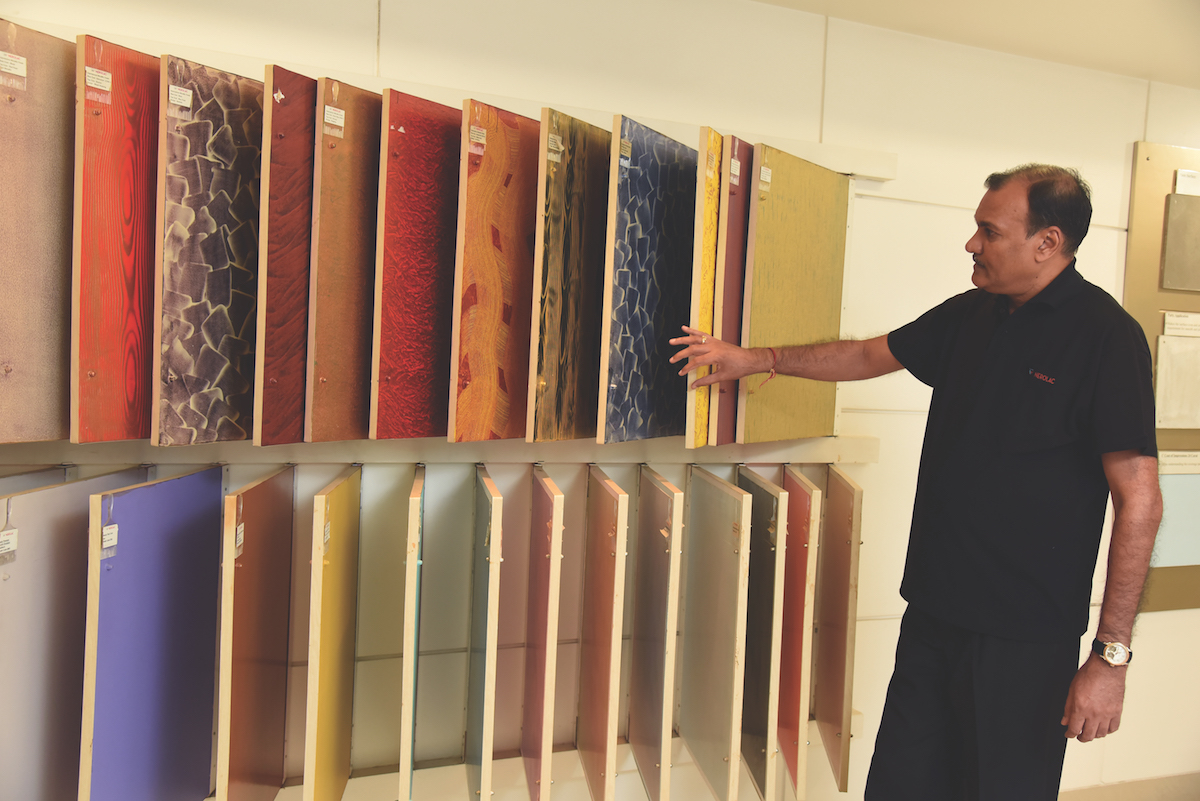 These measures helped rebuild KNP into a high-quality and fundamentally strong organisation with high profitability despite being one-third the size of the industry leader.
On the industrial side, where KNP is the undisputed leader of the Indian market, it's known for its innovation and differentiation when it comes to technology, quality, delivery, cost and service.
"KNP developed breakthrough technology like acrylic CED for two-wheelers, which eliminated the need for a second coat and reduced consumption and energy by 50%," HM says. "We also developed the 3C-1B [!three!], wet-on-wet application for four-wheelers, reducing energy consumption by a third."
Under HM's leadership, this part of the company enhanced its service and delivery capabilities through multi-location plants and process automation. Further, its value engineering approach has saved its customers money, while providing them with world-class products uniquely customised to individual needs due to KNP's deep customer knowledge.
Operations in the decorative paints space
On the decorative side, KNP's main challenge was to build the brand, infrastructure and capabilities, as it is mainly distribution led. To do this, the company adopted a multipronged strategy involving multifaceted investment in product differentiation. "To create differentiation, KNP was the first to launch environmentally friendly products, with the tag line 'Healthy Home Paints', and we created Colour Shoppe, an experience centre for customers to touch and feel the products," HM says. "We also had influencer programs like Nerolac Premium Painters to create long-term relationships with painters."
Based on the company's performance, as well as India's contribution to the global performance of Kansai Paints, Japan, in June 2017 HM was made a director on the board of the parent company Kansai Paints. He was the first non-Japanese person to be given this position.
Three priorities for the future
With business growth at the top of the agenda, HM will be focusing on three key areas: expanding the existing business; exploring new business opportunities; and seeking new markets in both the industrial and decorative sectors. The Indian paint market is approximately 75% decorative and 25% industrial.
In the industrial business where KNP is the undisputed leader, it already has many customers of high repute. "KNP specifically faces issues of global competition, predatory pricing from competitors, demand for price reduction year on year, exchange rate volatility, and inflationary pressure," HM says.
"Balancing a high market share and profitability in this scenario is a tough and serious challenge. The only way forward is to maintain a strong innovative technology edge and keep overheads low."
The decorative business, however, has adopted a strategy that includes focusing on
a selective market; expanding reach through new customer and market expansion; and creating unique brand equity with the key influencer segment of painters. "This strategy involves innovative marketing and best-in-class service backed by a solid IT/digital support system," HM adds.
Identifying different trends in paints
The future of KNP relies heavily on its ability to adhere to the latest trends in the paint industry. In the decorative space, while working on faster application processes and unveiling premium products, KNP is also bringing market-differentiated offerings based on functionality as it sees an opportunity here. The company is also trying to build equity directly with consumers through new age tools like social media.
For industrial paints, however, it's about nanotechnology, energy saving, and moving away from metal to alternative substrates. The company is proud of its ability to remain at the forefront of early innovation, especially in IT.
"In this digital age, there has been significant change in customer knowledge and expectation, and that's where IT plays a major role," HM says. "IT represents more than just technology, and we have used every wave of IT to create value for our stakeholders."
To this end, the company is investing a lot into original R&D to help create more products for the future. "In addition to the three R&D set-ups at the plants, the company will shortly commission its fourth global R&D centre," HM says. For now, KNP is actively looking at expanding its footprint in neighbouring countries in South East Asia.
"In conclusion, in this age and time when what has been done in the past does not serve as a guarantee for future success, KNP has in place systems and processes to proactively spot opportunities and continuously innovate so it always stays relevant to its stakeholders," HM says.