In 2008, it was Beijing's turn to host the Olympic Games and, not surprisingly, the Chinese Government pulled out all the stops in an effort to ensure it would be held without a hitch. After all, few occasions are capable of attracting as much attention as the world's biggest international multi-sporting event. 
"Understandably, it is of paramount importance that such major events are scandal-free," Jeroen de Groot, the CEO of Metro China, says. "The government recognised that our company, Metro, was the number one supplier in terms of food traceability, with around 3,000 articles traceable from the farm to the store."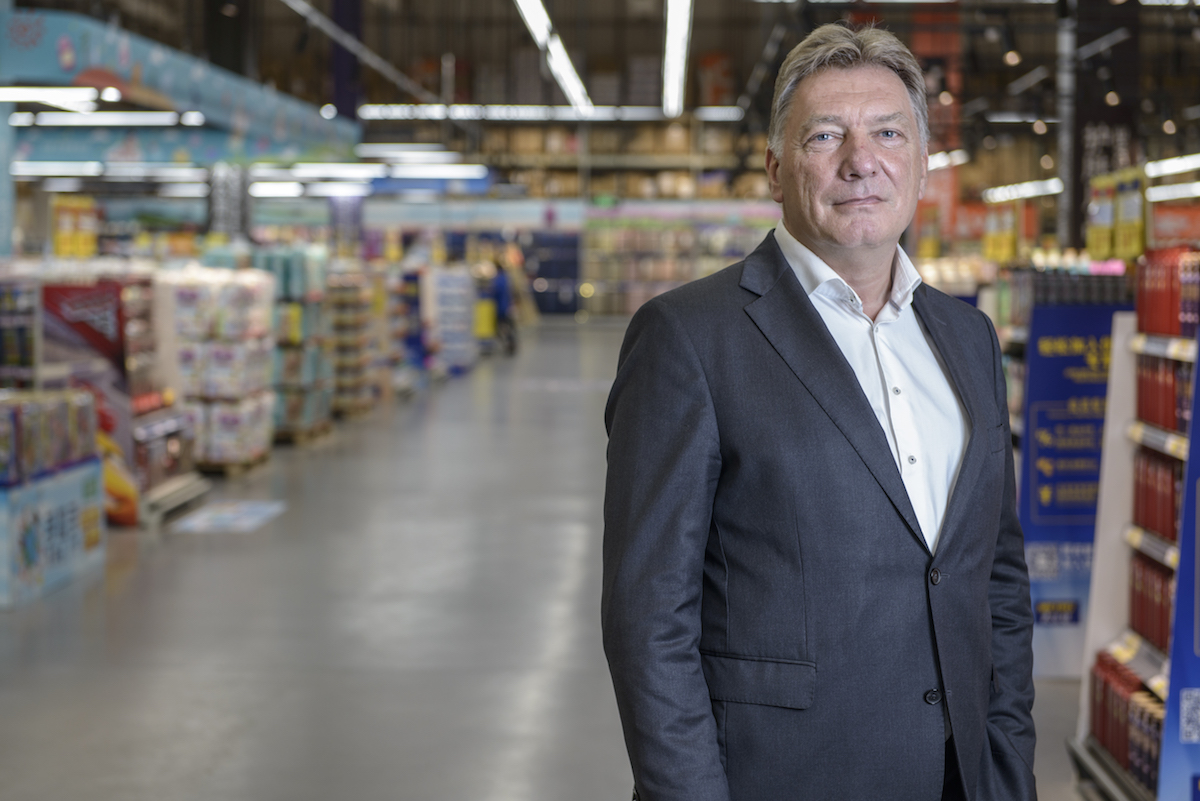 It was a major coup for the German cash-and-carry giant, which first established a presence in the country in 1996. "It was quite an honour, but it also came with many obligations," Jeroen admits. "The challenge was not to make any mistakes, while raising company awareness to a very high level." Other prestigious events, including the Shanghai Expo in 2010 and the G20 Summit in Hangzhou in 2016, have been staged with Metro again appointed the official food supplier.
Jeroen de Groot embraces the challenge of China
Metro is a leading international specialist in wholesale and food retail. The company operates in 35 countries and employs more than 150,000 people worldwide. It provides custom solutions to meet the regional and international needs of its wholesale and retail customers. Metro Cash & Carry is one of the important sales brands of Metro. 
Jeroen has been with Metro since 1992, after it acquired the European operations of his previous company, Makro. He held the managing director role overseeing Poland, Hungary and Russia, before returning to the company's Düsseldorf headquarters as Metro Cash & Carry's COO in 2012.
Fast facts:
Metro Group is one of the world's largest retailers with more than 2,200 stores in over 30 countries in Europe and Asia.
It didn't take him long, however, to realise he preferred the in-market buzz to the hum of the boardroom. "So the company offered me the chance to go to China, one of the most inspiring and challenging countries there is, and do some good work there." It was an opportunity he says he embraced "with open arms", and he has been the CEO of Metro China since 2013.
As he reaches 25 years with the company, Jeroen believes that the international character of Metro is responsible for sustaining his motivation. "I've been the operational director of four countries," he explains. "Every one of them is completely different and each has its own subculture within the company. The Group allows every country a certain amount of freedom to define its own market position." 
Metro China values quality & safety above all
And, after four years in China, Jeroen's enthusiasm for his new home shows no sign of waning. "China doesn't look like any other country in the world. The world is changing everywhere, but in China it's happening at a much faster pace because there is not this legacy of the past rooted in its behaviour."
The world is changing everywhere, but in China it's happening at a much faster pace.
Metro's Chinese operations are a definite reflection of this. While Metro stores are traditionally the exclusive reserve of professional clients, Jeroen explains that now individual customers too are welcome through its doors. "This also gives us a point of difference in the marketplace," he continues.
"We are a wholesale operator different from some of the other international chains such as Carrefour and Walmart, which started their Chinese operations at the same time as us." The main differentiation, however, is "our quality and safety promise," he emphasises. The agricultural advisory company called Star Farm, a wholly owned subsidiary of Metro China, is an important tool to achieve this. 
"It selects farms for us to trade with. We work with them to improve their production methods, so that we can say with complete confidence that what they supply to us has a lower level of pesticides or undertakes organic practices. By recording all information from farm to market, we can really reduce safety risks associated with food." Customers can scan traceable barcodes on the packaging to reveal detailed information.
Adding value to the local community
As Metro cements its place as an "economic partner of the local community and a responsible active participant in Chinese society," as Jeroen phrases it, sustainability has become a priority. "We are currently working towards our first carbon-neutral store," he says. To begin with, eight stores have been equipped with solar panels. 
"We are able to make both environmental and economic efficiency." In addition, the company undertakes significant amounts of charity projects. "Our ambition in China is to be regarded as more of a local than an international company."