An award-winning car dealer with decades of experience, New Town Toyota and Kalamunda Toyota Dealer Principal Joe Zito has a passion for the automotive industry that may be traced back all the way to when he sat on his father Guiseppe's lap and steered a tip truck around the farm as a four-year-old.
From an early age, cars and trucks were associated with excitement. Around the same time, he remembers the residents of his small farming community being filled with anticipation as they gathered on the side of the road to see the first Holden manufactured in Australia in 1948 pass through on a tour of the state.
As a teenager, Joe helped out with the family business, a service station/mechanical repair shop and fabrication shop, which was attached to the family home. The business was an integral part of the small community of Kirup, in the southern end of Western Australia, and Joe was hands-on from a young age, assisting customers and pumping fuel.
Joe says having this responsibility from an early stage gave him valuable exposure to the automotive industry as well as "the opportunity to learn the fundamentals of running a small business within the local towns and rural communities".
Just as excitingly, he got his first car at age 16 – a 1929 Darracq. The following year, he upgraded to a 1937 Ford V8 Coupe, and not even the mechanical braking system could prevent him from racing around town.
Joe Zito's interest in the automotive industry never wanes
Joe's interest in the automotive industry continued into the early 60s, when Joe became a sales rep for a tyre company, quickly progressing to trainee manager, then branch manager roles. From there, a move into the energetic world of car sales was a natural progression.
He worked at Premier Motor Group, which was the state distributor for car and truck brands like Ferrari, Aston Martin, Fiat, Triumph and Daihatsu for 14 years, becoming an equity partner and general manager.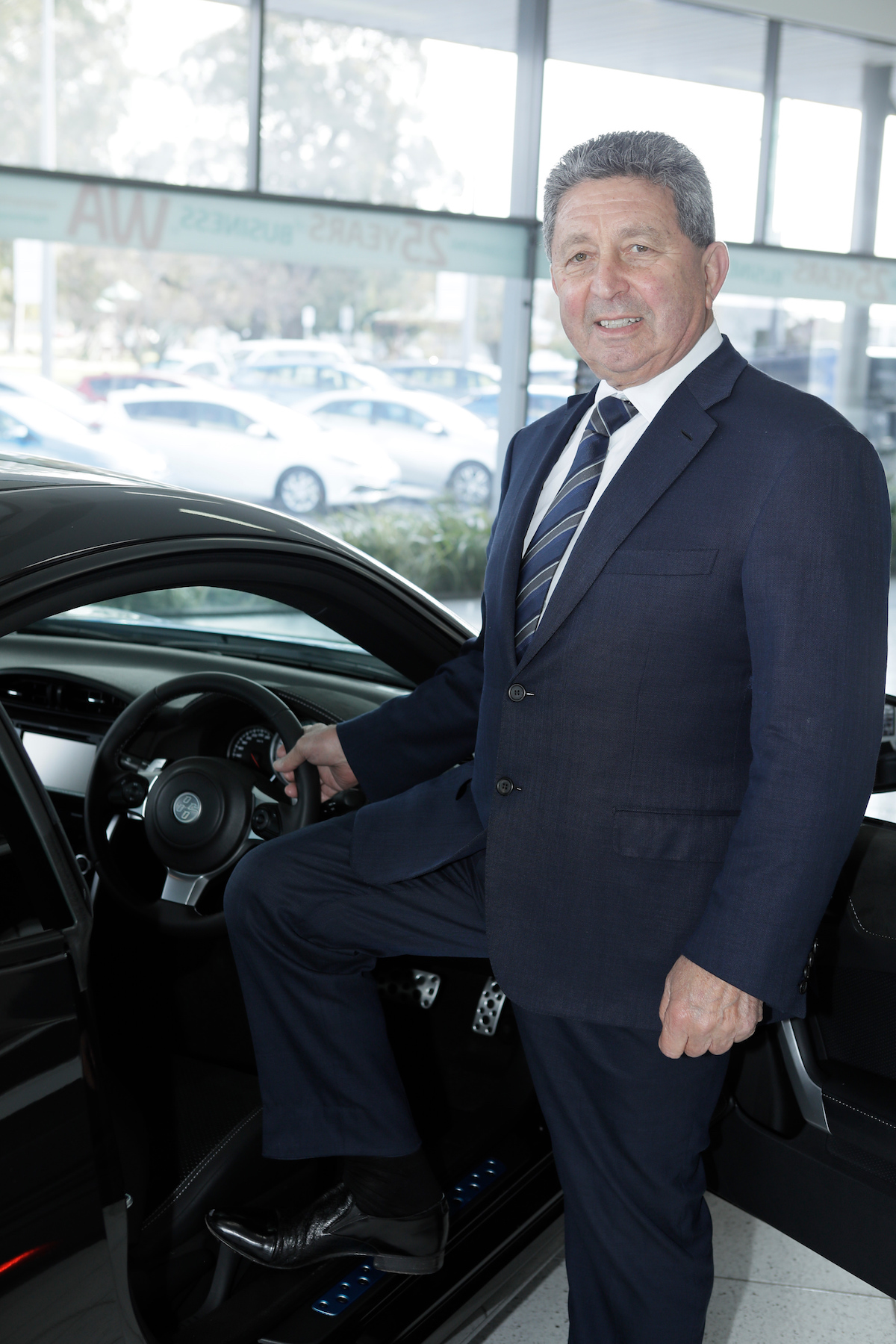 My leadership style is to demonstrate and deliver positive, open, honest communication.
In 1983, this experience led to him being appointed general manager of Kalamunda Toyota, just outside Perth. He had an option to purchase the dealership and, after doing his due diligence on the business, he purchased a 50 per cent share, and then the entire business in 1987.
Along the way, he returned to his farming roots for 10 years, buying a cattle property in Gingin, 100 kilometres north of Perth. However, his interest in the automotive industry remained strong and he continued to look for the right opportunity. In 1992, he purchased another dealership, undertaking a major redevelopment of the site and reopening it as New Town Toyota in Victoria Park. In 2001, it was named the number one Toyota dealership in Australia, and has also grown to be the biggest retailer of Toyota genuine parts in Australia.
A strong work ethic
Despite having achieved much in the field, Joe shows no signs of slowing down and remains an energetic, hands-on leader, often greeting customers on the showroom floor.
He is motivated by both an enduring interest in cars and a love of working with people. "I am passionate and enjoy working every day, with no retirement in sight," Joe says. "I love and care for my staff, customers and friends.
"The automotive industry landscape has changed immensely in the past 35 years," Joe reflects, pointing to the decreased popularity of large 6-cylinder and V8 vehicles, as well as the dominance of Japanese and Korean car manufacturers in the Australian market. The other major change that recently occurred was the three largest vehicle manufacturers in Australia – Toyota, Ford and Holden – all closing down local operations and moving to an import model.
Toyota, however, has been something of a constant and remains a major player. "Today, Toyota enjoys 20% market share while competing in an Australian car market with 60 other vehicle brands."
Joe says his strong work ethic has been a major part of his success. "My family arrived in Australia during the Depression when employment and wages were very low. I learned at a very young age that when times are tough, you have no choice other than to work and live within your means. I am driven by positivity and positive communication," Joe says.
"One of my strengths is my ability to create positive energy and positive outcomes within my dealerships. I love the automotive industry, and there is a lot of excitement during the final negotiations with our customers to purchase and again when our customers take delivery of their new vehicle."
Joe runs his dealerships with an open-door policy and strongly believes in investing in the personal development of his staff. "My leadership style is to demonstrate and deliver open, honest communication along with pride and confidence in my decision making," Joe says. "Also, when facing challenges that may be unreasonable, I encourage my staff to never give up the race and to be the best in town."
New Town Toyota's customer-centric culture
Finding staff who are a good fit for New Town Toyota's customer-centric culture requires a selective approach to recruitment, Joe explains. "We take time to establish we have chosen the best candidate for the position. The key considerations are to ensure the applicant has a high level of engagement, motivation, honesty, integrity, experience and common sense. They also must have the smarts to learn quickly."
Joe places an emphasis on customer retention, a goal he believes can be best achieved by treating customers like family, leading to them being loyal for life. When selecting suppliers, he says, his business has high expectations. He looks for suppliers who have a similar service philosophy, considering elements like ability to fit in with New Town Toyota's schedules and ability to supply the best-quality products and service at a competitive price.
"We look for long-term connections rather than one-off transactions. We look for suppliers that reciprocate and are willing to build a long-term relationship."
In a business where assisting and forging relationships with customers is paramount, Joe says he and his staff have learned to maintain a high level of service. "Some of my personal innovations at both New Town Toyota and Kalamunda Toyota were to develop a culture of respect and trust so that our customers become part of the Toyota family for life."
Sustainable & profitable into the future
Just as the product range has changed massively due to new entrants into the car market and the evolution of the Australian vehicle production industry to an import model, there is more competition for dealerships than when Joe began his career. In particular, online sales portals for vehicles have had an impact, Joe says. "Customer expectations have also come to the forefront, with greater visibility through social media platforms."
We have a great team and the capacity to lift sales and make a difference even during difficult economic times.
While caring for the customer will remain the primary focus for New Town and Kalamunda Toyota, Joe says he will also continue looking for ways to ensure the business remains sustainable and profitable into the future. "I see automation as part of our future success and am always researching opportunities in the technology sector."
Despite the changing market, Joe says, his business is well placed. "I do see New Town Toyota and Kalamunda Toyota enjoying continual growth. We have a great team and the capacity to lift sales and make a difference even during difficult economic times. We have a long history of performing well in a hard and competitive market."