Dubai Duty Free (DDF) is the largest single retailer found at any airport in the world. Situated at Dubai International Airport, the leading location for international passenger numbers, it's a place that never closes and rarely pauses for breath.
For Ramesh Cidambi, DDF's Chief Operating Officer, this means a whole network of logistics and operational issues that must be successfully managed for the store to serve its customers liquors, cosmetics, food and luxury items.
"We have 120,000 lines of merchandise and do 74,000 transactions a day. Without a robust back office to support us, we simply could not do it at all," says Ramesh.
These figures make DDF the world's largest airport duty-free retailer by sales volume. It has also maintained an excellent industry reputation while reaching this position, collecting more than 600 awards.
DDF is an operation of immense scale, and Ramesh knows it inside out, having worked at the company for 29 years. Before that, he completed an MBA at Utah State University.
He has also worked on a number of major projects owned by DDF's leisure division, including the five-star hotel Jumeirah Creekside Hotel, and popular Dubai venues The Irish Village and Century Village.
Ramesh credits Executive Vice-Chairman and CEO Colm McLoughlin for being the driving force behind the success of the airport retailer over the past 35 years.
Colm was one of the original Aer Rianta team members contracted by the Government of Dubai to set up DDF back in 1983 and has been at the helm of the business ever since.
"Colm is an incredible boss from whom I have learned a great deal over the years," says Ramesh.
"He has stayed in touch with all aspects of the business over the past 35 years and that continuity at the most senior level has been very positive for our business."
In 1987, Ramesh implemented the company's IT functions, including installing Oracle Retail Applications, an e-business portfolio, a commerce suite, and a number of custom applications, such as tools for workflow management and a new point-of-sale system.
This upgrade facilitated the store to extend its operations, necessary to keep up with the exponential growth at the airport.
Ramesh later progressed into a senior vice-president role, where he was responsible for the information technology and logistics arms of the business, before moving into his current COO position in 2016.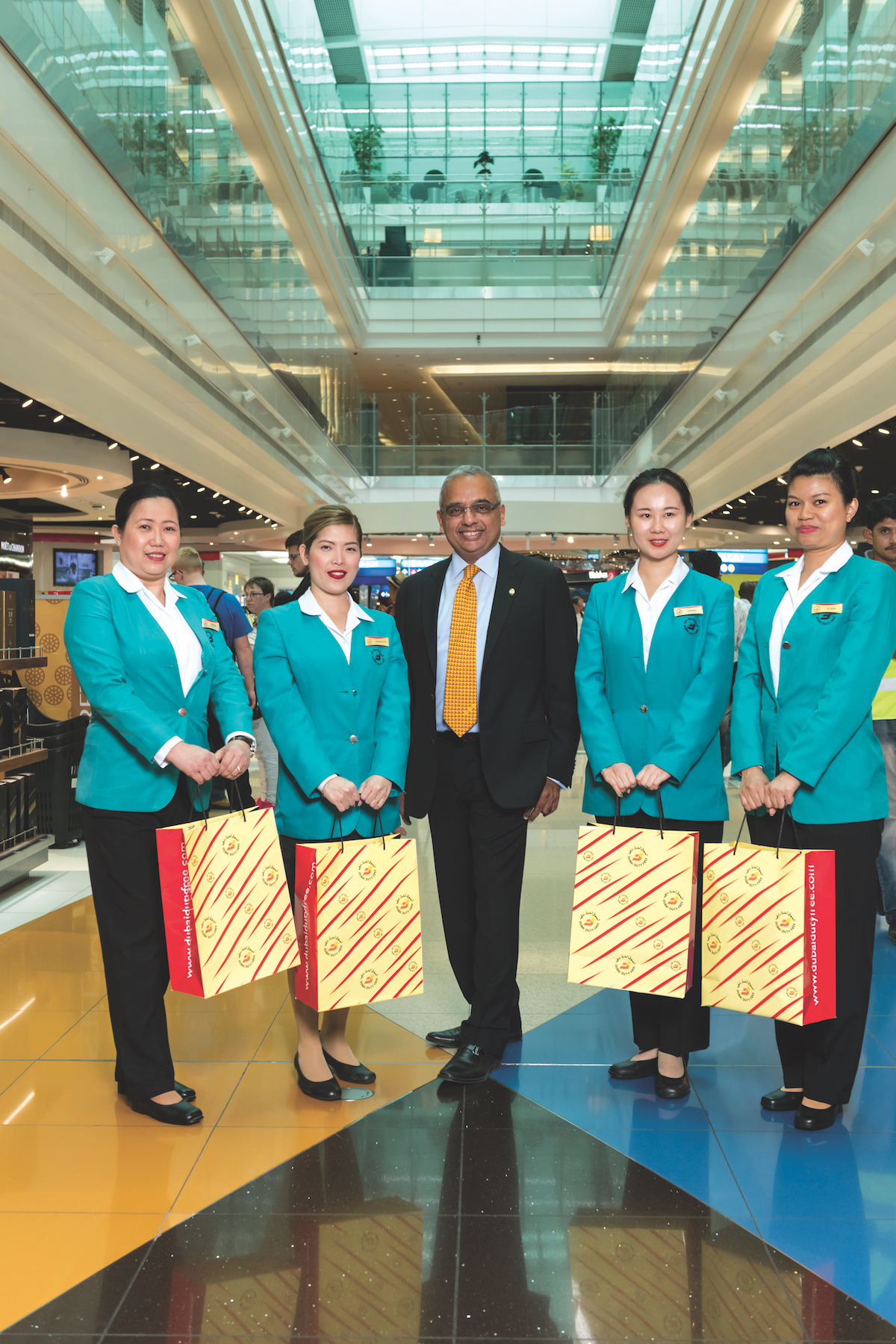 New retail spaces
Having previously overseen the launch of Concourse A, Concourse B and Terminal 3 at Dubai International Airport, Ramesh was ideally placed to helm DDF's addition of
a link corridor from Concourse B to Concourse C (which exclusively services the airport's flagship carrier, Emirates).
An even more significant project Ramesh managed was the development of DDF's giant Concourse D retail space, which spans more than 7,000 square metres.
Ramesh says the older DDF store at Concourse C was built in 2000 to coincide with the opening of the concourse. It saw all the traffic from Terminal 1 until 2016, when the airport changed its configuration. Retail spaces have also changed significantly in this time.
"That store is still very good," Ramesh considers. "The Concourse D space is now a brand-new building with a brand-new fit-out."
According to him, the project has been well-executed and a new train that connects the new concourse to Terminal 1 has been a roaring success.
"It's a fantastic retail offer," he enthuses. As passengers enter the duty-free area, they are met with an orderly layout of liquor, tobacco, food, fashion and gold bullion.
"Every passenger can take a journey through the retail area. But unlike a lot of other airport retail spaces, it is easy to orientate yourself and locate other things," Ramesh explains.
"You almost instantly understand where you are."
A clear layout is a vital component of leveraging a retail space, Ramesh says.
"Good orientation allows passengers to relax and make use of their time. It avoids making them anxious, where they are uncertain of how to get back to the gate."
"Often, when they get to the gate, they don't necessarily want to leave and go and do something else. So, the architecture of the concourse has been fantastic."
As expected of a leading airport retailer, DDF's stores feature a wide range of luxury products.
"Good orientation allows passengers to relax and make use of their time. It avoids making them anxious."
However, Ramesh adds: "DDF really caters to the wide range of preferences passengers have."
"Whether someone wants a packet of nuts, something from Tiffany & Co, a Nokia mobile, Chanel perfume or a Rolex watch, we cater to everyone in a compact and easy-to-shop environment."
Concourse D is a relatively simple setup, but it has everything DDF needs to facilitate a major retail operation.
"It has more basement space and better access to the ground and first levels, which is very useful. It allows us to improve the logistics of managing the goods."
Ramesh reports that DDF was hands-on during the rollout of the new area and consulted widely with the airport during a trial period before the concourse was unveiled to the public.
"We were an integral part of the airport's team, working on what we call the 'Operational readiness and transition process' for the concourse."
This level of involvement ensured a smooth launch of the new retail area when the concourse opened.
"Everything went well. The media coverage was good. The project worked well in terms of our own business. For passengers not using Emirates, it's a fantastic new retail offer."
Successful partnerships with luxury brands
As a retailer that works with a variety of brands, DDF often needs to meet specific requirements around how each brand is presented.
Ramesh and his staff are experts in merchandising and displaying branded products. Whether it is high-fashion, watches, sunglasses or liquor, DDF staff are highly trained and directly involved in selling.
"Even if you have the right attitude and are determined to be a fantastic partner for Dior, or Johnnie Walker or any other brand, ultimately, the experience the customer has with that particular brand in that particular shop is the most important," says Ramesh.
"What is important is the experience the customer has with that particular brand in that particular shop."
He adds that DDF has excelled at listening to the brands and understanding how they want their products positioned in the retail area.
The company also has a well-established vendor support program to ensure the fit-out for each product range suits the brand. Ramesh explains that staff directly involved in selling the merchandise are a crucial part of these partnerships.
Some staff are dedicated to particular brands and in some instances, will wear a branded uniform. DDF can also bring in partners to give staff special training on a particular product, such as watches, for example.
An unwillingness to view partnerships as purely transactional relationships has been beneficial.
"We always seek a genuine partnership where both parties are listening to each other," says Ramesh.
"In a partnership with a brand, both the brand and the retailer will have certain expectations."
"By and large, these objectives might align. In some cases, though, they won't, and it's important to communicate and reason why you want to do a certain thing. Then you try and find an understanding or middle ground."
"We always seek a more genuine partnership where both people are listening to each other."
With some partners, DDF is able to enter into 12- or 24-month strategic plans. They have entered into one such plan with spirits producer Diageo, for example.
When these longer-term relationships have been forged, both partners can collaborate on strategy.
"We can agree on what we will try in terms of innovations and the shop floor offer, as well as training and exclusive products. These strategic plans give us visibility and what is likely to happen in the next year or two."
"The overall strength of the operation is vital to how we work with partners."
"If we have strong automation in logistics and I can pick up products and quickly send them to the shop floor, then chances are that whatever the brand is doing will be turned into more sales and business."
"The marketing, messaging, training and customer service are all part of having a strong operation."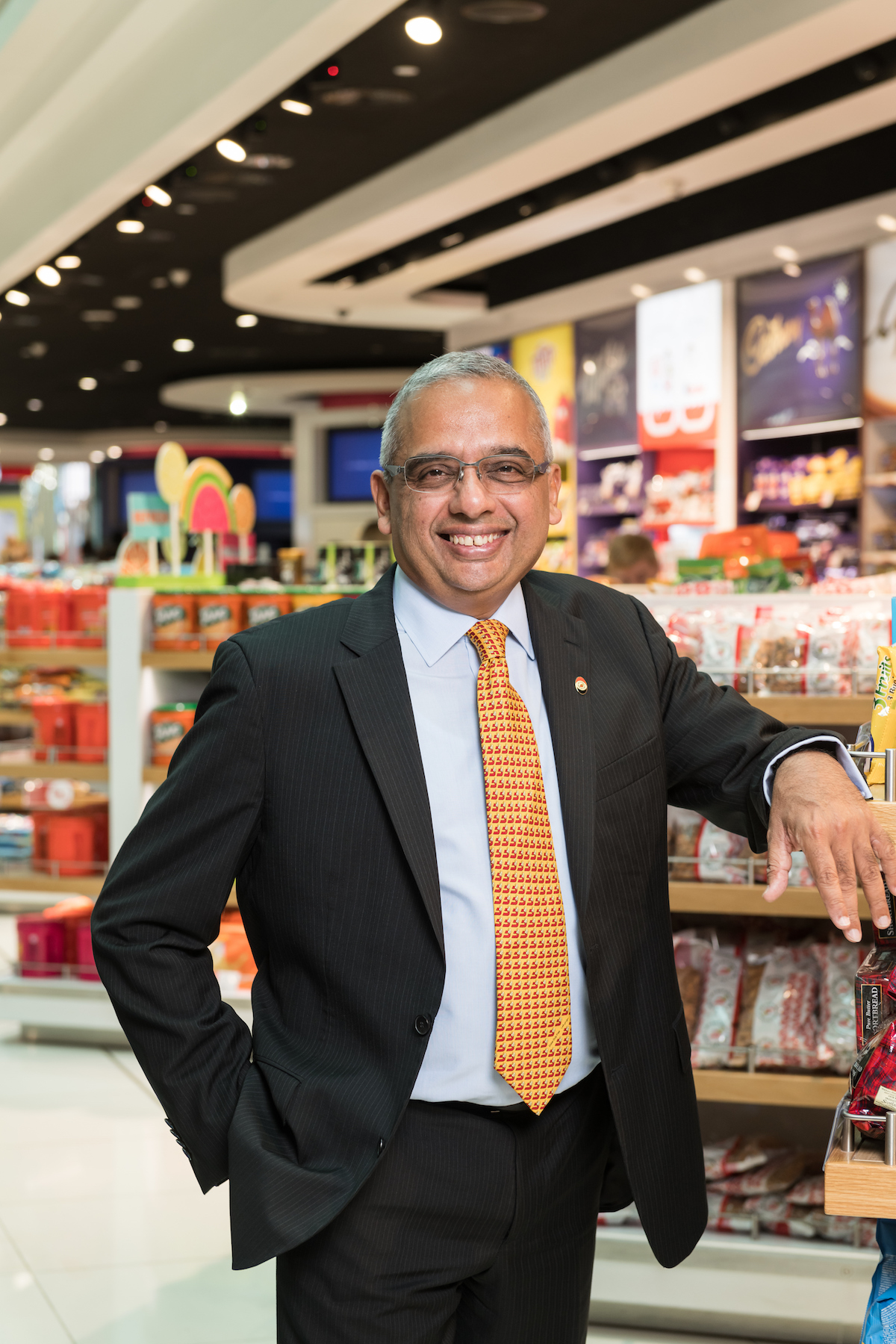 A distribution revolution
Any major retailing operation needs an efficient warehousing system and DDF prides itself on its distribution centre, which is considered a model for the industry.
In 2008, it constructed the facility, which spans some 27,000 square metres and includes a 9,000-square-metre mezzanine. The new space included automated systems capable of handling both bulk pallets and small items like perfumes and cosmetics.
It consolidated a number of warehouses into a single facility and marked the first time the company had moved away from a manual inventory system.
Updating its distribution centre indirectly improved almost every aspect of the store's efficiency, Ramesh says.
"It made us look at the surrounding processes in relation to merchandising. We looked at how orders come to the warehouse, how people order items in the shops, how the items are picked, consolidated and dispatched."
"We also examined how our promotions are done and looked at the algorithms. We check whether a minimum quantity has been reached and whether we should reorder something."
The back office efforts to improve the logistics and technology of the retail operation are important components of the partnership.
"There are a lot of elements around the operations that fall in the middle space between the point of sales and the actual sales transaction."
Ramesh explains how DDF implemented the Oracle retail merchandising system and managed to automate 95% of the warehouse's operations.
"That is not a made-up number," Ramesh claims. "It is real in terms of using the automated system. The manual system is only used for categories of items like cigars that need to be in cold storage. "
"So, we automated almost the whole operation and significantly improved the processes between the point of sale and the back office."
In 2017, the company upgraded to Oracle Retail Release 16.
Of the 8,000 retailers around the world using the system, Ramesh notes that DDF was the first to go live with the new version, a fantastic accomplishment.
Expanding capacity
Dubai International Airport has experienced sharp growth over the past three decades, with its passenger movements rising from 4.4 million in 1990 to 88.2 million in 2017.
Ramesh has driven developments to ensure the airport's retail outlets keep up with the accompanying exponential increase in demand.
DDF has significantly expanded its pallet automation system, moving from an initial capacity of 8,000 pallets to its current system, which can handle 20,000.
Other moves include the introduction of a shuttle system for storage bins holding perfumes and cosmetics, which performs 30% of all the picking done in the warehouse; "a step to modernise a significant part of our business".
Fast facts:
Dubai Duty Free by the numbers
In 2017, Dubai Duty Free recorded 27.2 million sales, totaling 73 million units of merchandise.
Its leading item by revenue was perfume, which represented 16% of its business.
Here are some of its most popular products:
Beer: 9.7 million cans
Whiskey: 3.2 million bottles
Cigars: 16.6 million units
Gold: 2,803 kilograms
Caviar: 465 kilograms
The most notable, change, however, has been the implementation of Oracle Retail. "That is an extremely important part of our operation," Ramesh says.
"The system looks after merchandising, price management, auditing, warehouse management and control of the sales transaction. It can also look after all the analytics and provide an insight into how the business is doing."
Since DDF has 120,000 items on its shop floor at any given time, the technology is crucial for an efficient business.
According to the COO, the software helps DDF maximise its potential in terms of location and the huge numbers of travellers who pass through its retail space, as well as customers who can potentially order items while onboard planes at the airport. The behind the scenes work is vital, he explains.
"If you had an attractive shop but a weak back office, you could not manage."
Dubai International Airport, already one of the busiest in the world is projected to grow even more. This will mean even more business for DDF, which is anticipated to reach a US$3-billion turnover by 2022.
"There has been expansion, construction, new terminals and concourses opening. But there is absolutely nothing… that has stopped us trading."
Ramesh says it currently caters close to 90 million passengers a year and is a 24/7 operation.
He is proud to add, however, that DDF has never stopped trading since it opened back in December 1983.
"There has been expansion, construction, new terminals and concourses opening," he explains.
"But there is absolutely nothing, no geopolitical event or anything, that has stopped our trading. Nothing has stopped us."