Speaking just after learning that Jardine Lloyd Thompson's (JLT) share price had hit an all-time high, it's fair to say that JLT Asia's CEO Dominic Samengo-Turner's move to the region has paid dividends. With more than three decades of experience in the insurance industry, Dominic has already seen much of what the field has to offer, but saw a unique opportunity in JLT Asia.
Having worked across insurance broking, international markets and global placement in the mature insurance market of London, Dominic was intrigued by the prospect of managing developing markets in Asia. He was also drawn to the firm's culture and management structure, which he says is unusual in the industry as it has avoided the common pitfall of overly complex reporting lines.
"It is not a heavily matrixed organisation. It's still run as a P&L structure, so people like me are responsible for all aspects of the business. All the decisions about the business are made within the country and, indeed, the region. You don't have decisions coming in from different parts of the world. JLT has a culture of being entrepreneurial and nimble with a very clear view of how it facilitates that."
JLT's origins
While certain markets that JLT Asia services may still be developing, it can draw on a long and distinguished history, dating all the way back to the formation of Jardine Matheson & Co, which founded Canton Insurance in the 1830s. That long heritage is combined with a modern management style that empowers its executive-level managers.
"The management teams at JLT are accountable and responsible for the business. The reality is there aren't many businesses of scale that are not heavily matrixed these days. It's fantastic, and it works perfectly for me."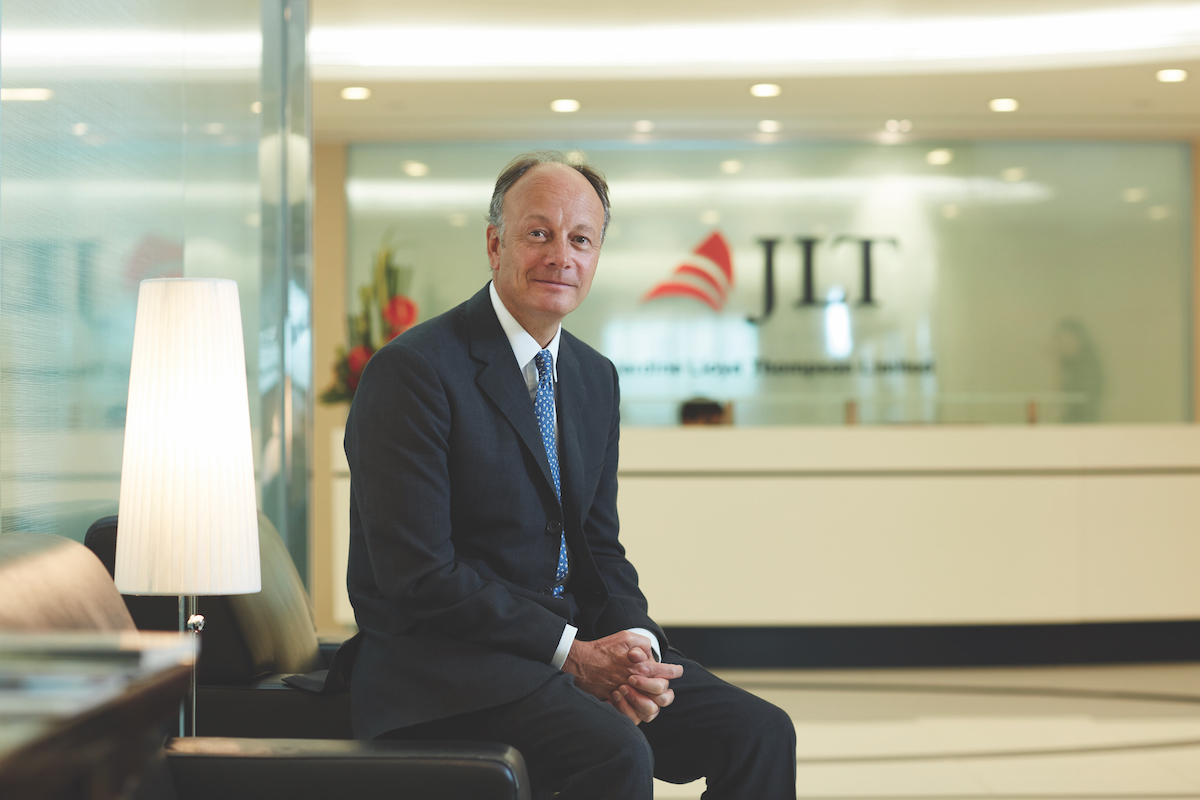 The reality is if you have a workforce that believes in the firm … you are going to be so much more productive.
Dominic also says JLT has been blessed to have Jardine Matheson as a major shareholder. "That is something that differentiates us. People see JLT more like a local broker in many of the markets as a function of that. They don't see us as a foreign broker servicing the needs of multinational clients."
Jardine Matheson, owner of 40% of JLT's stock, brings a wealth of valuable connections. "It's involved in everything from cars to supermarkets, property, chemists and construction companies," Dominic explains. "It's an extremely diverse company, and that gives us access to its connectivity, which is so valuable for us."
Four-stakeholder model
Another real point of contrast between JLT and its peers is its four-stakeholder model, which sees the firm balance the interests of its clients, shareholders, employees and the insurance markets. Harmonising these differing needs requires JLT to have an in-depth understanding of what each set of stakeholders require.
"In terms of the clients, for instance, we have to ask: what do they need?" Dominic explains. "Typically, clients want people who are close to them, local talent. They don't want to get the 'A-team' during the sales pitch and then have them disappear when the appointment is made.
"We had an MMC client recently who said, 'We're not going to sit through the slides; we're not going to read the report you've written. We're just going to ask you questions about how we would work together and how you would deal with the sorts of issues we think could arise through your appointment.' If we had just had the sales team at that meeting, it would have fallen apart at that point.
"On the other hand, when you have the actual people who will be looking after the client, you will do extremely well. Then you can answer the detailed nitty-gritty kind of questions. That's what it's all about: the people and the clients. It's about having high-quality people in front of clients who will work closely with them. If you can deliver that, you're looking after the clients."
JLT is focused on re-energising processes
JLT continues to fine-tune its ability to re-energise its processes to best help its clients manage risk. It is currently upgrading its IT infrastructure to strengthen its working platform. It also continues to embrace analytics to derive the most out of its data and to provide the best insights to its clients. Yet, Dominic says, even the most advanced use of technology can only take a firm so far.
"We can talk about the benefits of IT leading to a more productive workplace, but the reality is if you have a workforce that believes in the firm and is fundamentally happy with its leaders, you are going to be so much more productive and you can do so much more with it."
During the past year, the firm has launched JLT University, which Dominic says formalises its approach of emphasising the internal development of its staff. "We don't own anything. Our only assets in business are our people." This investment in its people is key to JLT satisfying all arms of its four-stakeholder model. "If we look after our clients, insurance markets and our people, the shareholders will get looked after by default."
Dominic has seen many industry competitors lose the confidence of their staff during change programs and is drawing on his experience to avoid this. "Businesses that are going through change can easily get demoralised staff and become very inefficient. You have to manage that extremely carefully. A happy staff is a productive staff, and when you have that, you can move in any direction you choose."
More than a professional manager
On his own management style, Dominic hopes his charges see him as a leader who grew up in the industry, who has lived through many changes in the field and remains passionate about the industry.
"I like to think they see me as more than a professional manager. I like to dive into the details of the problems we have in the business from experience, whether it's transactional or a problem with a client."
Dominic is also motivated to communicate the value of collaboration to his staff. "This business is like managing a football team," he explains. "You never win a game with one person. One player can make a difference and only one person will score the goal, but it's the full team that wins a game. Everybody has a part to play."
Considering whether there is anything he would change about his industry, Dominic's drive to demonstrate the value of insurance and his passion for the industry again comes to the fore. He refers to an observation that insurance is an industry with a self-esteem problem.
"If you look out your window, there's unlikely to be anything that you see that isn't insured," he points out. "Insurance, fundamentally, makes the world go around. As my old boss said: 'It is the DNA of capitalism, but our industry has never been very good at being proud of this fact.'
Insurance, fundamentally, makes the world go around.
"It's been a problem for as long as the industry has existed. We are constantly turning on the news and seeing natural disasters creating huge devastation. There is so much more we can do; particularly if you move out of the West, a lot of areas remain massively uninsured. We need to get over the self-esteem issue we have as an industry and take pride in the value that we provide to the world."