When Anytime Fitness Master Franchisee Maurice Levine was asked to implement the "crazy plan" of opening up franchises in the previously underserved South East Asian market, he initially admitted to having major apprehension about how the project would go.
"I was very, very nervous," the NYU-educated Maurice admits. "I thought: 'What am I doing? What do I know?' " His approach was to "drink from the fire hose" of knowledge from gym operators in the US. "I went to the Harvard, Yale and Princetons of gym businesses and I took in as much as I possibly could. I was soakingit all in. They're all gurus, with millions of years of combined experience."
Armed with this knowledge and his own boundless enthusiasm for Anytime Fitness's product, Maurice then met with the Minister of Sport and other gatekeepers in Singapore, hoping to get approval for licences. Emphasising the convenience of the gyms and their intimate, community-focused nature, the pitch was a winner.
Maurice Levine is inspired by his customers
Maurice's enthusiasm for the gyms, and their ability to impact on the lives of their members, is infectious. He relates the story of a customer with a bone density disorder who was considering using a wheelchair before he joined an Anytime Fitness franchise that had opened near his home. Now he is using the treadmill two or three times a week. "He told me: 'You gave me access to fitness and to these great people who now know me; you changed my life.' It was very emotional and I cried a bit when I heard that."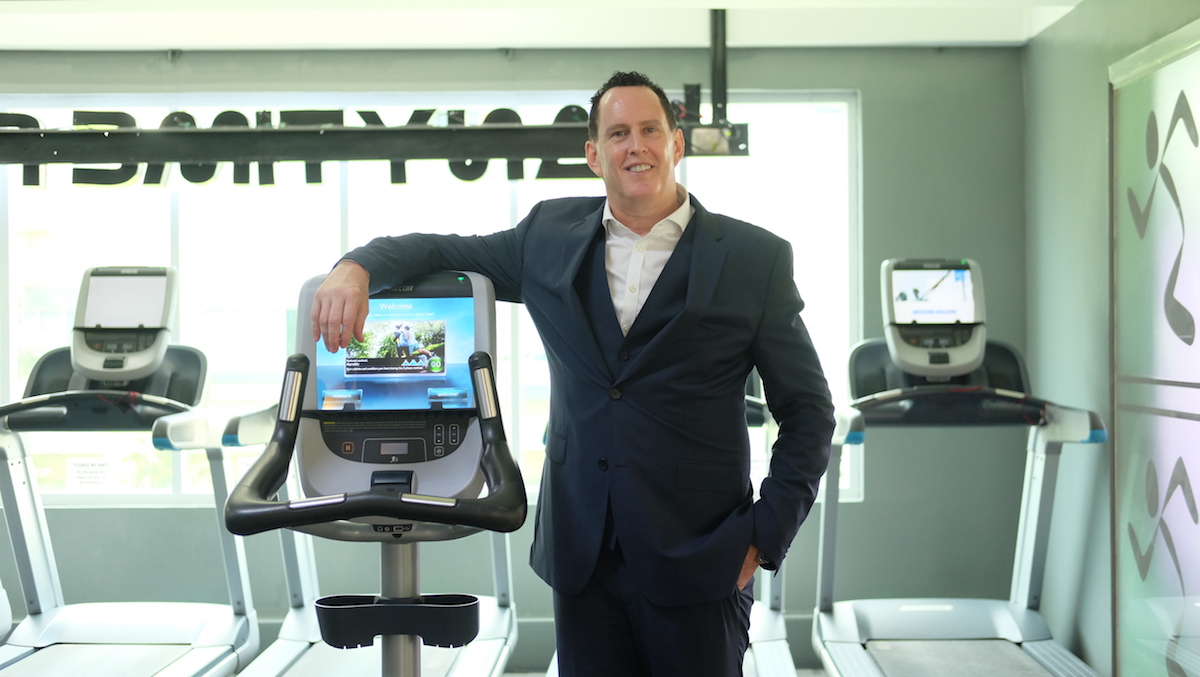 One year from now, we're going into mainland China in force. But we're not going to stop there! We're going to complete our mission of being available to all of Asia very, very soon.
Another memorable customer was a girl who suffered from anorexia nervosa. "Again, she cried with me and said I changed her life. I know I didn't do that; it was my franchisee that did. But just the fact that I can rub up against that, what a privilege! Among everything I've ever done, every transaction I have ever made, nothing compares to this in value."
Inspirational stories such as these drive Maurice even as he works to grow Anytime Fitness in a region that has not traditionally embraced gym membership. In Australia, he explains, the penetration rate of gym-goers is around 15%. In the Asian countries Maurice is responsible for, however, gym penetration stands at just 2.21%.
Anytime Fitness Asia combats consumer apathy
While some business leaders would consider this figure proof of a uninterested market, Maurice sees enormous scope for growth. "This is just an amazing opportunity," he says. Perhaps unsurprisingly, Maurice plans to win over the unconverted with sheer enthusiasm for his product.
"We're going to educate them, turn them, support them, guide them. We'll show them how Anytime Fitness can make them well or get them healthier. If we can go from 2.21% to 3% or 4%, we've won." In this battle for consumers, Maurice says Anytime Fitness's true rivals are not other gyms or fitness centres, but lethargy.
"Apathy is my main competitor," he explains. "To move the needle, we need to appeal to the aunts and uncles out there who have been intimidated by the 'big box gyms' all this time, people who think gyms are not for them, that they're too noisy and intimidating."
Focus groups alerted Maurice to a major barrier for many non gym-goers; many held the idea that gyms were only for those already in peak physical condition. It's an attitude he wants to eradicate. "For me, the value is not to intimidate potential members. The gym should be for all people, regular people, not just ones who are climbing the highest mountains."
Maurice's current objective? Asia domination
Asked what his company's objectives are for the next few years, Maurice doesn't play it safe. "Asia domination," he says. If that seems an unrealistic goal, consider that Anytime Fitness is to date the only US gym franchise to successfully gain registration in China, an achievement Maurice takes immense pride in.
"It took my team and me three years to get that registration; it is totally unprecedented.
"One year from now, we're going into mainland China in force. But we're not going to stop there! We're going to Thailand next, then look out Vietnam, Indonesia, Korea, the emerging markets. We're going to complete our mission of being available to all of Asia very, very soon."