Andreas Neocleous is a true telecommunications expert. He has spent the vast majority of his career working in the field, with his experience at large multinationals, including a seven-year stint at Sweden's Ericsson and five years at South Africa's MTN. He has even completed a PhD in telecommunications at Imperial College London.
So when he took on the role of CEO in 2019 at CYTA, Cyprus's largest telecommunications provider, he was as well-prepared to lead as anyone. But despite his extensive experience, Andreas knew he was taking on one of the biggest challenges of his life. "The role of CEO in the biggest telecommunications company in Cyprus is one that is exceptionally demanding," he says.
"This organisation has very high standards and was expecting a lot from the CEO. So there was a great deal of pressure." Not that this made Andreas think twice before accepting the role. "This was a challenge that I was more than happy to accept. It's actually what made me want to join – the fact that the expectations were so high.
"If you want to be in telecommunications and work in Cyprus, this is the top job. There is no better job there than this one. So it was a very easy decision to join CYTA – a big challenge, yes, but a challenge that anyone with my experience should gladly take up."
CYTA is state-owned and was founded in 1961, making it the country's oldest telecommunications provider, with an incumbent advantage that has allowed the company to become number one in every area of the sector, including television packages. "It's the market leader in fixed telecommunications, mobile telecommunications and TV," Andreas adds.
We have collective skills and experience in the local market that we have accumulated over 60 years.
"Everywhere you look, CYTA is number one." That ubiquity, however, is no cause for complacency. One of the CEO's main challenges is to ensure this success continues well into the future. As the telecommunications and entertainment markets become more globalised, CYTA finds itself competing not just with local companies but with international ones too.
"We need to make sure that we maintain this competitive advantage by investing in technology, the digital journey, the customer experience and new people to create a culture that is able to compete, not just with Cypriot competition but with global competition," Andreas points out.
"This is a game-changer that we're dealing with: CYTA is now up against Netflix, Google, WhatsApp and Viber. This means we need to step up and build new services." While manoeuvring within a more global market, Andreas says he is also working to weed out some of the inefficiencies that have crept into the business over the years.
"It's important to keep in mind the fact that this is a state-owned organisation and, when I joined, I was pretty sure there would be opportunities for CYTA to become much leaner and more modern," he reveals. "With a new management culture and new digital services, we will be able to maintain our lead on the competition."
Attracting top talent
Because it is state-owned, the company handles its human capital in a way that is unique among its competitors. "People who are employed at CYTA basically have a job for life," Andreas shares.
"They know that once they are employed in a state-owned operator, their employment is pretty much guaranteed, unless they do something really wrong. Under normal circumstances, there is no such thing as employee turnover at CYTA."
For this reason, the recruitment process is far more rigorous and takes far longer than it would at a private organisation. The company has an even bigger reason to make sure that all new hires are excellent and fit well with the demands, strategy and culture of the organisation.
"If we get the wrong person, we don't have the option to let them go and get someone else," Andreas says. Having to invest so much time and energy in recruitment is one of the negatives of being state-owned, but on the flip side, the fact that the company can offer such secure roles with good pay and attractive benefits means it is able to attract the best talent.
"Being able to offer a job for life is very important for a small country like Cyprus, where the diversity of employment opportunities is not that big," Andreas explains.
The challenge he is dealing with now is making sure that top talent is being managed properly. Last year, the company introduced a new performance management system, which is helping the leadership differentiate between people who are meeting their targets and people who are not, as well as those whose skills are a good match for the work they do and those who may need more training.
"This will allow us to start differentiating and even reward the people who actually push the company forward," he confirms. "I am very hopeful that it will deliver practical results to our performance in the coming years. CYTA is an organisation that traditionally attracts the best people, but now we're going to start doing a better job of managing these people to produce what they are really capable of."
Over the coming years, Andreas will be focusing his efforts on four main "battlefields" to improve the company's technology and services, the first of which will be to expand the availability of fixed broadband across Cyprus.
As part of the rollout, which Andreas describes as "very aggressive and intensive", every urban area of the island nation will be connected by the end of 2023, along with some remote rural areas, allowing many people access to broadband speeds exceeding one gigabit per second for the first time.
"This is very important in terms of unlocking all the future digital services that we want to have on this island," he explains. Alongside that, CYTA is also expanding mobile broadband connectivity with 5G services. It was the first operator to have launched 5G in Cyprus and now covers 80% of the population with the high-speed network. By the end of this year, 100% of the country will be covered.
"This means Cyprus will become a leader in the whole of the EU in terms of 5G coverage," Andreas says. "We want to use 5G in the coming years to also help offer new digital services."
The third battlefield involves improving international connectivity by building more submarine cables to connect the country with its regional neighbours and the rest of the world. CYTA has already invested in a new submarine cable that will connect Cyprus with France and Egypt.
"This cable will contribute significantly to the improvement of international connectivity services to Cyprus, especially upgrading the provision of cloud-based services," he tells. The company is now looking to invest in more submarine cables with the aim of making Cyprus a regional hub for digital services.
"Our infrastructure is going to be our main asset when competing or co-operating with the big global players like Google, Microsoft and Amazon," Andreas shares. Finally, CYTA is going to improve its data centre services. The company already has cutting-edge offerings here, as well as high-end cloud services, but these mainly serve the local market.
The next step is to build future-proof and green data centres that will help Cyprus improve its competitive edge globally by attracting more international business to the country. "All in all, these four pillars are going to be our main strategy in terms of technology and in terms of new services in the coming years," Andreas reveals.
"At the same time, we want to improve our customer experience in the existing services; we need to ensure the customer remains happy with CYTA, and that we make sure we have very high retention indicators." Just as the company is careful about the talent it selects, it also follows careful protocols when choosing its partners.
"We always ensure transparency and fair processes," Andreas asserts. "There is a large number of people who are assigned to ensure that the selection process of partners follows all the rules of corporate governance that apply to state-owned companies."
That means, as with employees, once a partner is on board, it is a long-term relationship. Durable partnerships also make sense because of the size of the investments required in telecommunications. "You cannot change your network every year because it costs tens of millions of euros to build the network," Andreas says.
"So every time you have an upgrade, you need to count on your existing partner." Making sure that relationships with partners are strong and mutually beneficial is a key part of CYTA's strategy. Anything other than a win–win situation would put the company at a disadvantage in the longer-term.
This is a game-changer that we're dealing with: Cyta is now competing with Netflix, Google, Whatsapp and Viber. This means we need to step up and build new services.
"We are not a company that is going to be very aggressive in pushing partners to their limits in terms of their financial or technical capabilities," Andreas explains. "We want a relationship where both the partner and CYTA are able to respond whenever there are unforeseen circumstances. If there is an emergency, I should know that I can count on the partner to provide me with a solution at the time I need it."
Hard to replicate
Throughout his 20-year career, the biggest lesson Andreas has learned is how to be adaptable. Every role he has undertaken has required him to change his approach and become what the organisation needed at the time, with CYTA being no exception.
His philosophy on dealing with failure – or more specifically, bad decisions – draws on the same principle: by listening to those with experience in an organisation and adapting accordingly, a CEO can reduce the number of bad decisions they make and reduce the impact of bad decisions when, inevitably, they do make them.
"You are definitely going to make mistakes, together with making good decisions, but by listening to experience, you will in the end be left with the impact of the decisions that were good, which hopefully are the ones that are going to carry the organisation forward," he reflects.
Not long after he joined CTYA as its CEO, Andreas was faced with an opportunity to put his approach to adaptability into practice. When the COVID-19 crisis hit, its revenues declined by 1% and much of its workforce had to quickly transition to working from home.
Throughout this experience, however, the company discovered that it was highly resilient, more than previously thought. It was able to move to remote working for 70% of its employees immediately, and although its revenues took a hit, the impact was less severe than the average for the telecommunications industry globally, which suffered a 2.7% decline in revenue.
Andreas was also able to drastically reduce costs to offset the impact of falling sales. "Our costs in 2020 were the lowest in 20 years," he says. "And we minimised the reduction in revenue. So in essence, we did not have any negative impact on our profitability due to COVID-19."
Part of the reason CYTA was so well-equipped to deal with the pandemic is its institutional expertise. "We have collective skills and experience in the local market that we have accumulated over 60 years," Andreas reveals.
"It offers us a unique competitive advantage, one that cannot be easily replicated by competitors. It goes a long way to explaining why we are still number one after so many years."
"Vodafone's longstanding partnership with Cyta as a strong local brand combined with our international brand has gone from strength to strength. We jointly introduced the first content services for mobile, accelerated innovation and modernised customer propositions. Together we drive digital transformation."
Paul-Gerhard Itjeshorst, Executive Director and Head of Europe Region, Vodafone Partner Markets
Proudly supported by: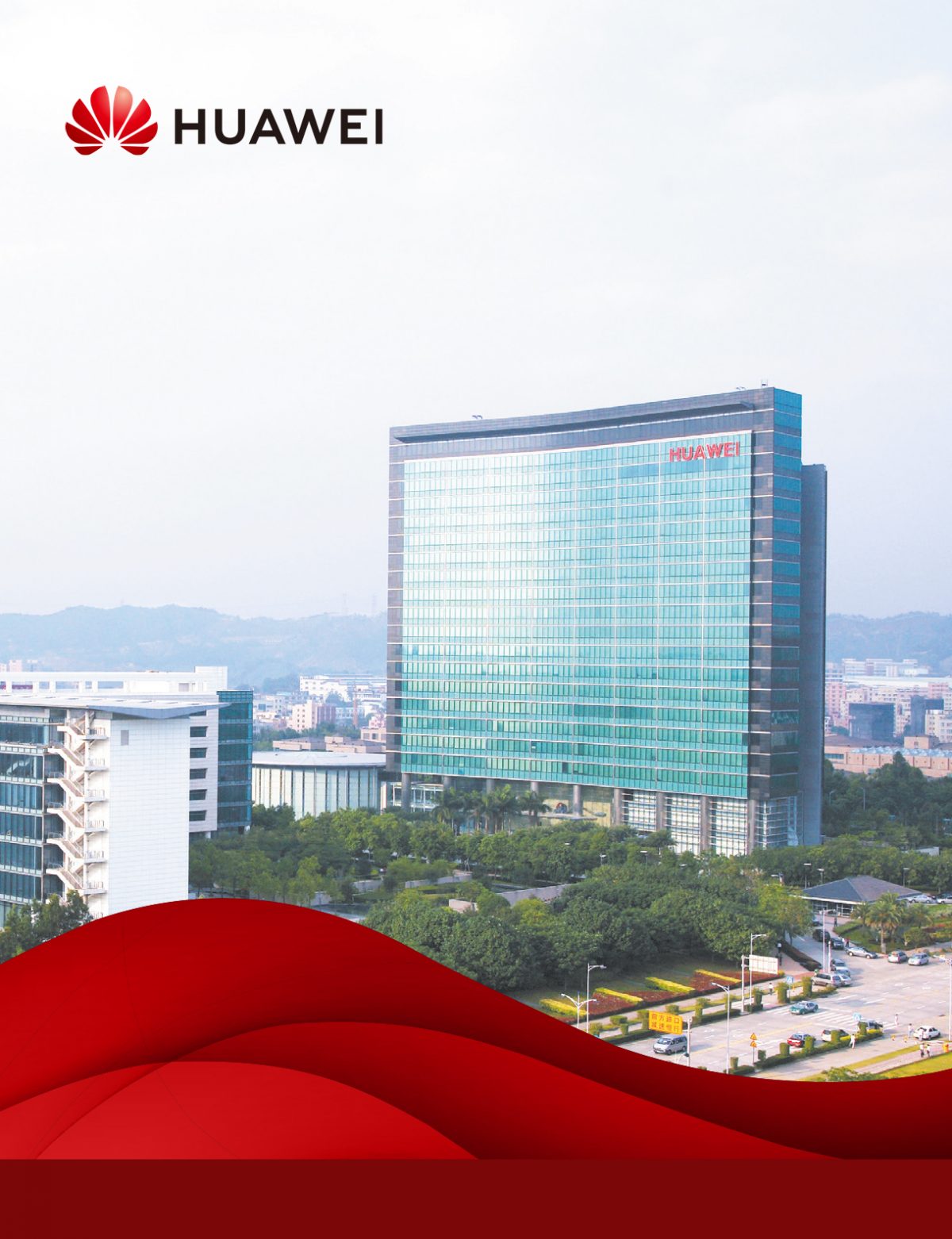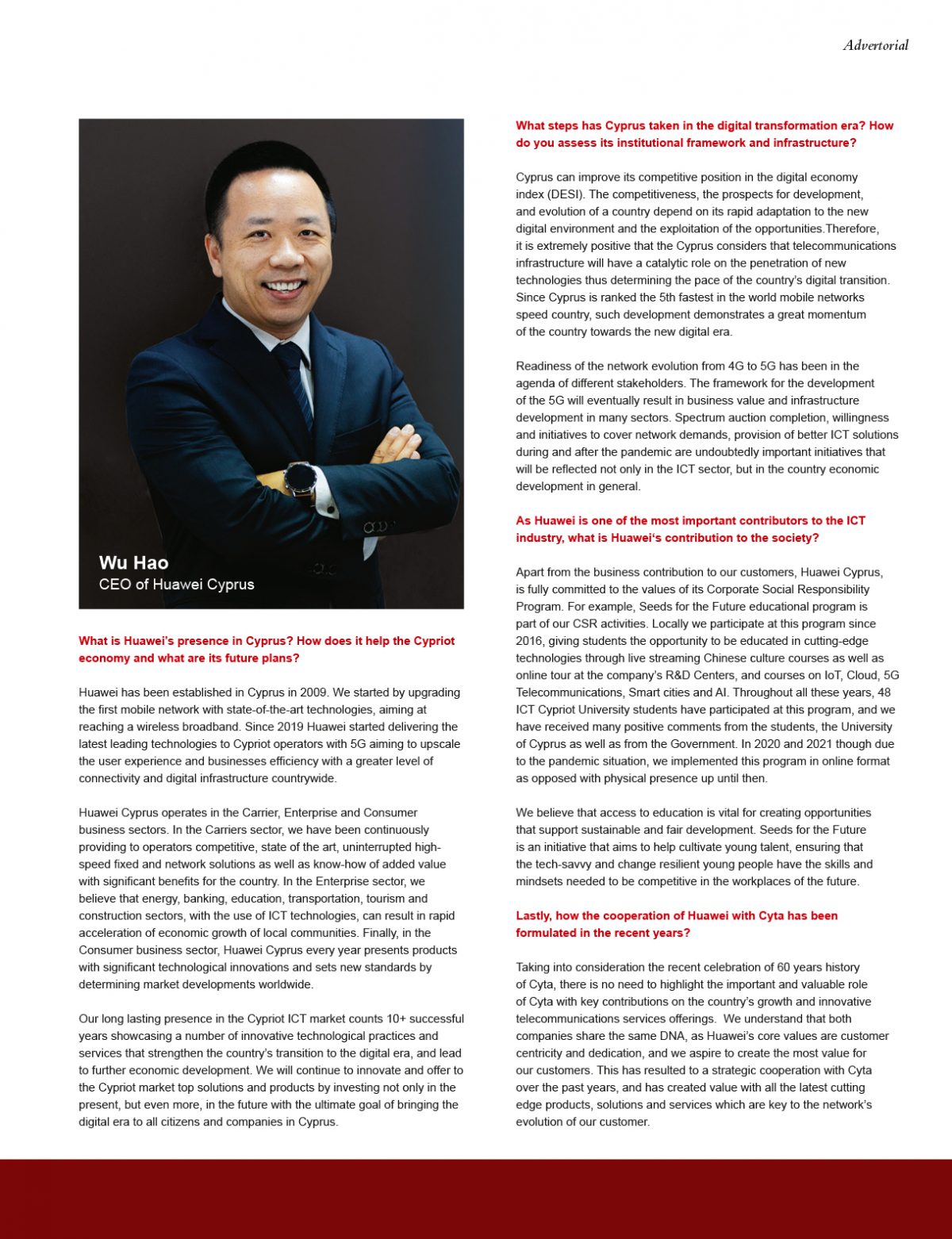 Huawei