General Tan Sri Muhammad Ismail bin Jamaluddin began his career in the Malaysian army infantry, progressing through assignments with the special forces and then working as a paratroop operator. During this time, he developed an interest and expertise in managing military technology, a field close to his current role at Weststar Aviation Services.
Established in 2008, the company began as a general aviation company and has since moved into the niche business of providing transport services to the oil and gas industry. It has assembled a cutting-edge fleet of helicopters, with a range of AgustaWestland and Sikorsky models. These helicopters all have advanced safety features, which is necessary for the offshore oil and gas exploration industry.
Since 2013, Weststar Aviation has been the number one offshore helicopter transportation services provider in South East Asia, offering services in Thailand, Indonesia, Morocco and Mauritania in addition to its home country, Malaysia.
Its major clients read like a who's who of the oil and gas business including Shell, Petronas Carigali, Exxon Mobil Corporation and Malaysia's state-owned oil and gas company, Petroliam Nasional Bhd.
General Tan Sri Muhammad Ismail bin Jamaluddin prioritises safety
General Muhammad says the company's proud safety record is its leading selling point. "We meet the clients' needs by delivering a safe and sustainable operation," he explains. "Our safety record speaks for itself. We have had no accidents ever since we started operation. A huge portion of my budget goes into the safety management systems and the training we do to enhance safety. We continuously raise the bar. We don't accept minimum standards; we accept standards probably higher or similar to our competitors."
Weststar Aviation helicopters are equipped with a whole raft of additional safety features, including flight data monitoring, traffic collision avoidance systems, automatic deployable ELT with navigation interface and GPS, and SKYTRAC, a satellite-based tracking and communication system.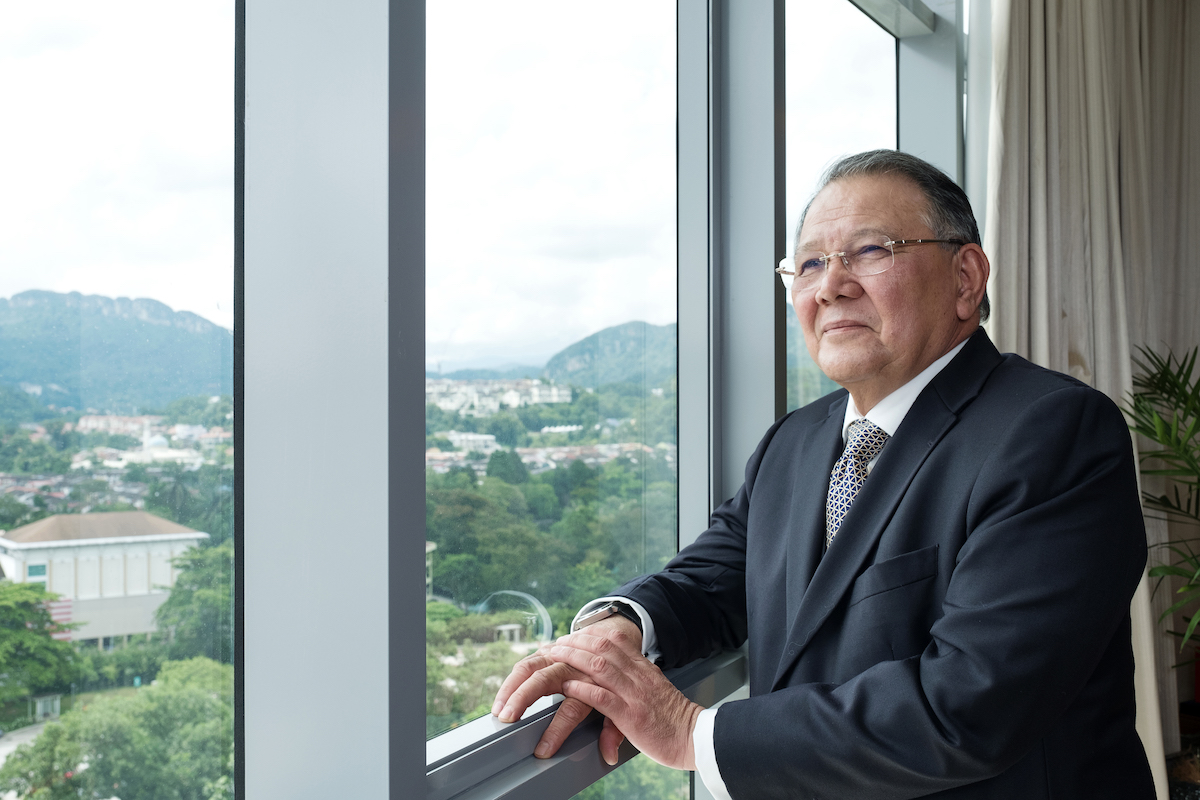 Additionally, the AW139 and AW189 models in Weststar Aviation's fleet are capable of Class 1 performance both offshore and onshore. This means that in the event of a single engine failure, they have the capacity to either land on a rejected take-off area or to continue with the flight to an appropriate landing area.
With this extensive range of safety features in place, Weststar Aviation has won 10 leading safety awards, beginning with the Silver Award from Safety Award for Excellence (SAFE) in 2009. The next year, it collected the Gold Award and the following year a Platinum Award. "Oil and gas companies have the highest safety standards," the company's chairman, Tan Sri Syed Azman, has said. "We are proud to be able to fully satisfy their stringent requirements."
General Muhammad says safety considerations dictate that Weststar Aviation sometimes turns down opportunities. "There is always commercial pressure to bring business in, but it is a challenge if the organisation is not up to par on safety issues. We don't take shortcuts. If at any point we see something is not safe to do, we won't do it. There have been a few lost opportunities because we felt it was dangerous to operate in certain areas."
There is always commercial pressure to bring business in, but…we don't take shortcuts.
Weststar is also involved in HeliOffshore, a collaboration, among others, with helicopter operators, OGPs, OEMs and regulators to promote aviation safety. "The whole idea of HeliOffshore is to collaborate with all the operators, the OEMs, the regulatory bodies, and also with oil and gas companies. We look at what best practice should be adopted to maintain a safe operation. The idea of setting up HeliOffshore is purely to collaborate and talk business; all we talk about is aviation safety."
Weststar Aviation works closely with customers
With oil prices stagnating, General Muhammad says it has become increasingly important for Weststar Aviation to coordinate with its customers. "Our customers are now looking at creating a more cost-efficient operation and we engage with them in discussing how we can develop more efficient methods. We engage with them monthly. We have ideas on what needs to be done, and hopefully we can mesh this together with the customers' ideas and come up with more cost-efficient options."
One example of this is a program called Power by the Hour. "For every hour one of our aircraft flies, the customers will pay us X amount of money and we will pay our vendors Y amount of money. So, the more we fly, the more money the vendors get.
"The big thing about this is that the OEMs will provide us with the spare parts and critical components for the aircraft. We don't buy them; they're supplied by the vendors. They are housed somewhere where we operate and the parts are swapped when needed. We just pay a minimal fee for housing those parts. It works very well."
In addition to working closely with its customers, General Muhammad says, Weststar Aviation will continue to examine other opportunities. Undaunted by the slowdown of growth in the sector, it aims to "expand vigorously into regional and global areas".
Expansion opportunities
One possibility for expansion is in the Maintenance, Repair and Overhaul (MRO) area. Weststar Aviation has been voted preferred partner for MRO by Professional Pilot magazine a number of times, although General Muhammad says the company has ruled out having a more extensive footprint in the MRO space for now.
"That's a completely different business altogether," he says. "If we want synergy, the opportunities will be in the government sector. That sector requires aircraft, whether they are from the civilian government or from military or paramilitary organisations."
Weststar has already made a number of proposals to the government in the aviation space, leveraging General Muhammad's military background as well as the company's core competency. "So far, we have been getting a good response," he notes. "We are moving in that direction; we are just not there yet."
The company is also evaluating new opportunities for expansion in countries such as Indonesia, Thailand and Myanmar. As Weststar Aviation moves into new territories, the challenges it will face will also change. "In any new region that we go into, we face two challenges. First, there are the regulatory challenges. There is a lot of regulation as far as aviation is concerned – tax law, labour law, and so on. However, those kinds of challenges can be managed.
"The second and more difficult challenge we have is in infrastructure. In most of the countries where they want to explore or develop oil and gas fields, there is insufficient infrastructure in place. If we intend to go in, we have to go in together with infrastructure; we have to build it ourselves. Otherwise, we just can't operate in those kinds of countries."
A real passion for the aviation industry
Expansion will also mean further recruitment. Finding suitably qualified pilots for the company is relatively easy, General Muhammad explains, as there are established benchmarks in place. "They have got to fly X number of hours as a captain, a number of hours offshore, and so on, and they need to have six to seven years' experience."
However, he says, recruiting management staff, such as flight operations general managers, is a more complex task."They spend 35, 40 years in the air flying, but they don't have much managerial experience. We have to not only look at their competency in understanding aviation but also their ability in managing and leading people in the organisation."
The important thing is when we make a mistake, we determine how we can learn for it.
General Muhammad says finding people with the requisite leadership ability remains a challenge. Faced with this uncertainty, Weststar Aviation will often look internally for management staff and has developed a talent management program for this purpose.
"We identify people at a very early stage and see their potential. If they have the potential, then we start to develop them, bringing them to the various departments where we feel they can become good managers and leaders."
Weststar Aviation also looks for a real passion for the industry in those it recruits as leaders. Enjoying your job may seem largely irrelevant to maintaining safety standards, but General Muhammad says a love for aviation is vital.
"This is a company that puts us under tremendous pressure all the time. It's a risky business, and we can't afford accidents. You can guess how much pressure my people are under. I tell my employees, 'No matter what, enjoy your job first. If you don't enjoy your job, you will be under tremendous pressure.' 
"What I do is motivate them to be happy with the job they are in. Also, I always try to emphasise that they should not be afraid to make mistakes. In this business, a lot of people are afraid to make mistakes because mistakes can cause accidents. But we are human beings and are bound to make mistakes occasionally. The important thing is when we make a mistake, we determine how we can learn from that mistake."