It's a complex but common truth that when working women have children, they will often step away from their careers by preference or necessity. However, issues can arise once the children are grown, and mothers hoping to re-enter the workforce struggle either due to feelings of inadequacy following a prolonged break, or because industries evolve and it can be hard to get the big break needed to get back into the flow of things.
One such woman was Tan Pheck Kin, an accountant by trade who decided to pack away the spreadsheets and board meetings in favour of raising her two children, devoting her full attention to her family for six years. Throughout that time, though, she never lost sight of her dream. "I love numbers. I'm very organised, and I've always wanted to run my own business," says Pheck Kin. "I got into accountancy to help me realise my dream."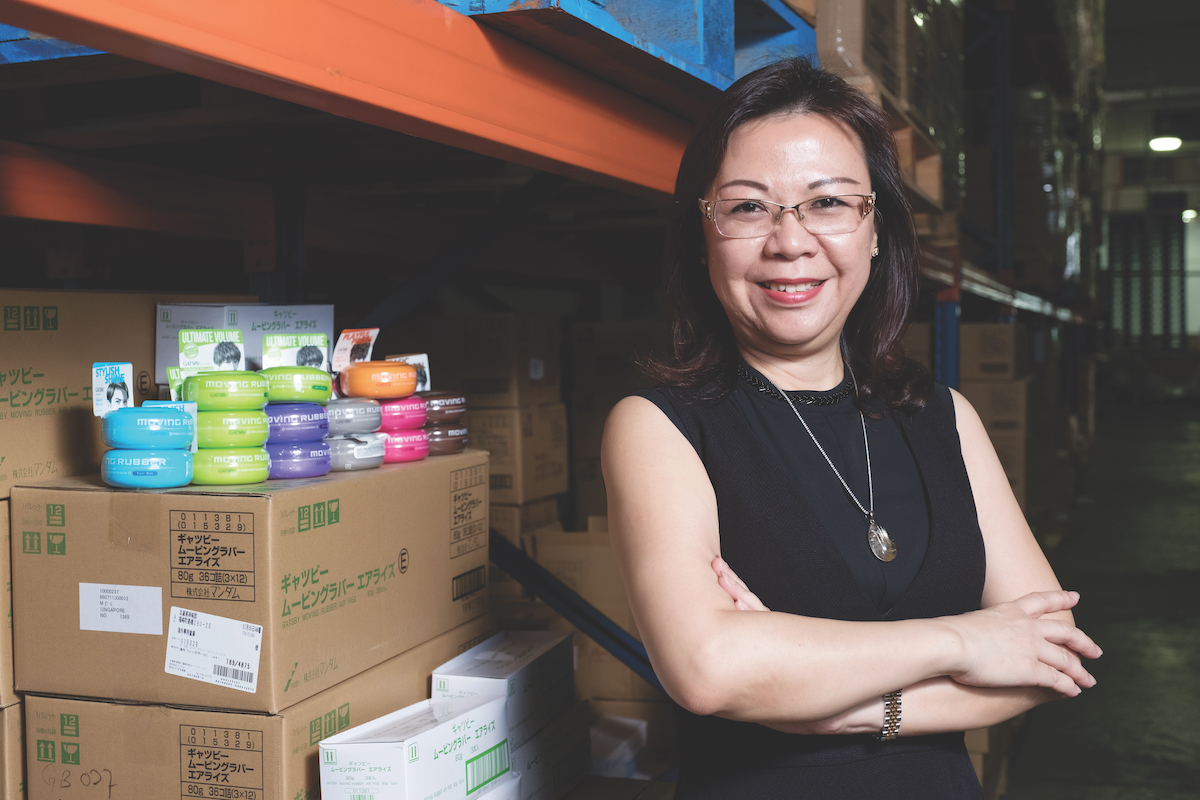 It was during her time in an electronics company 17 years ago that she made a valuable friend, a financial trader with whom she later entered a joint venture, before eventually taking leave to be a stay-at-home mum. Today, that friend has become her new boss, and it's because of this person that she could realise her dream as soon as she was ready to re-enter the workforce, potentially cutting years off her journey to business. Pheck Kin never mentions her boss by name, but praises him highly for the opportunity he gave her. 
"We kept in touch after I left work for about six years to look after my children," she says. "When he saw the opportunity to invest in a company called Chuan Seng Leong [!csl!] he asked me to come back to work and carry out the due diligence for him. That was how I got my start again, and how I first became involved with CSL."
Tan Pheck Kin realises her dream of running a business
Once satisfied that the company's finances and operations represented a good investment, her boss asked if she'd like to be the one to run the company if he were to invest. "I thought, why not?" she says – and that was that. Now the CEO for CSL, Pheck Kin is putting plenty of passion into the running of the business, which today is a leading distributor of fast-moving consumer goods to Singapore's major retailers and supermarkets, managing a variety of health, household and personal care products. "This has been my greatest professional achievement to date. I'm really happy to be doing what I do."
Having been in operation since 1976, and today working from a combined office and warehousing space of about 54,000 square feet, CSL is the sole distributor for many prominent brands in the region, including Reckitt Benckiser, Energizer, Mandom, Brand's Suntory, and Johnson & Johnson.
This has been my greatest professional achievement to date.
Pheck Kin has now been heading up CSL for almost two years and says she's loved every day of it. "I don't own the business, but it's still my business. Since my boss is very supportive and trusting, I have a free hand to run things. It's been such a good opportunity for me and I take the responsibility very seriously," she says.
 
Chuan Seng Leong [!csl!] is a finely tuned business
With Pheck Kin at the helm, CSL has grown to have an extensive network of more than 800 retail outlets, which is anticipated to grow with the recent procurement of more agency stock. "I'm working on making the company more modernised in the way we deal with our customers, our principal brands, and our back-end processes," she says.
"I've also considered how to improve our operational efficiency and cut down on a lot of unnecessary paperwork and costs. We're embracing new technologies for our assessments, end processes and reports. The next step will be embarking on an upgrade of our software system and starting to develop our ecommerce platform so that customers can order online."
These initiatives are set to finetune every aspect of the business. "With new systems in place, the flow of logistics is smooth and uninterrupted from start to finish." Pheck Kin says another very important competitive factor that she has instilled into the culture of CSL is an in-depth appreciation of the products.
"I want my sales team to understand that when we're handling our principals' products, it is actually our own business we're dealing with, and we must be able to differentiate between the products of our clients and others in the market to truly understand what we're selling. That knowledge is important to me. I want us to study the product, because we're not just selling brands; we're selling a lifestyle, and that's something we hope our customers and principals will appreciate."  
Creating a supportive family environment
It's no surprise that business leadership was a long-term goal for Pheck Kin, as she's taken to it like a duck to water. "I like to manage a team, and I really enjoy business administration. I'm a very hands-on leader: If I identify a certain procedure that is wrong or not good enough, I'll change it," she says. In fact, Pheck Kin admits that perhaps dedicating her time to raising her kids has prepared her for managing a team, creating a supportive family environment.
"Sometimes I have to do some nagging," she laughs. "It might be telling sales not to sit on returns, or for our teams to keep desks tidy. But this is the best place to work. We don't understand the word 'failure'; we just do our best and tackle issues as they arise. That makes for a nice working environment, and staff turnover is very low." But has she ever thought about bringing the kids in to work in the warehouse, to pay back Mum for her years of service? "No, not yet," she laughs. "But we'll see how it goes."