As Malaysia's second-largest independent power producer (IPP), Edra Power Holdings Sdn Bhd places strong emphasis on its dedicated multicultural workplace, the reliability and safety of its electricity supply, and the optimisation of its costs structure.
Headquartered in Kuala Lumpur and focused on gas power generation, Edra has 13 integrated power projects throughout Malaysia, Egypt, Bangladesh, the United Arab Emirates and Pakistan, with a total installed capacity under management of 6,532.5 megawatts.
Edra was formed in 2014 from the consolidation of three major IPPs in Malaysia – Powertek Energy Group, KLPP Group and Jimah Energy Group – each with an impressive history of more than 20 years in the development, operation and maintenance of power plants. With more than 30 years of industry experience, President and Executive Director Datuk Wira Mark William Ling Lee Meng was a key player in the smooth success of this transition.
Mark's introduction to energy
Born to a family rooted in business and commerce, Mark started his career as marketing director of the family-owned Kong Ming Bank in Malaysia. Here he was involved in project finance transactions in sectors including the privatisation of public infrastructure, power and telecommunications.
"I started work in power generation in the mid 90s to lead the development of Power-Gen International's project portfolio in South East Asia," Mark recalls. He then set up a private equity firm specialising in the energy sector, with a focus on strategic investments in emerging economies in the Asia–Pacific and Africa.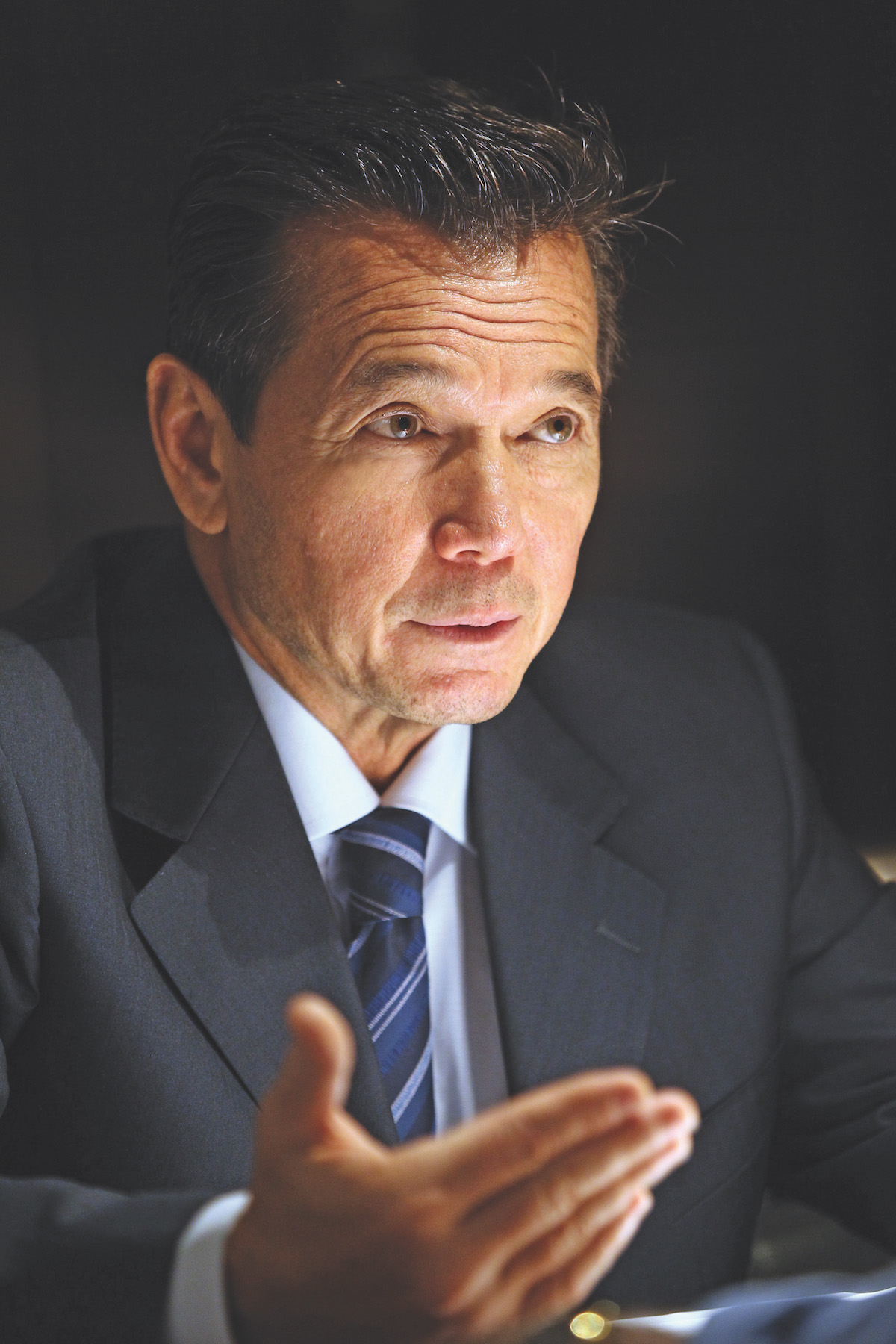 We are committed to ensuring that our projects benefit the local economy.
Mark has developed a diverse business acumen and an exemplary track record in companies including Malakoff, MClean Technologies, Stemlife and Powertek, making him the ideal leader to advance Edra's position in Malaysia and throughout Asia.
A new cohesive platform
In 2015, as part of the debt restructuring of Edra's outgoing shareholder 1Malaysia Development (1MDB), Edra was sold for RM9.83 billion to China General Nuclear Power Corporation (CGN), the world's leading clean-energy company. With more than 45 gigawatts of power generation capacity worldwide, CGN has helped Edra integrate its 13 power plants into a cohesive platform that upholds the highest of international standards.
"As president and executive director of Edra, I led the tender process and completion of the sale. The proceeds of the transaction were used in part to settle certain debts of 1MDB, brought about by the acquisition of Edra's power assets. This has left us effectively debt-free, putting the company in an enviable position for future growth. As a result, Edra's staff are confident in our future," says Mark.
"CGN's experience has widened our access to industry intelligence. Together with the valuable experience of our people, CGN has given us a competitive edge in providing reliable, safe and cost-effective power solutions. We maintain high availability and reliability, and minimise unplanned outages.
"With consistent results, we are able to provide confidence for our customers. The combination of our experience, our strong foothold in the industry, and the unstinting support of CGN has put us in a position to reach greater heights. Our shared resources allow us to identify, develop and acquire both green and brownfield opportunities in our core technologies of gas and coal, while also expanding our portfolio to include renewable energy and grow our footprint."
Post-acquisition success
Since the acquisition was completed in March 2016, CGN has grown its investments considerably in Malaysia. In April last year, Edra entered into a strategic power purchase agreement with Tenaga Nasional Bhd. "We work closely with our partners and suppliers, not only in our daily operations but also in the development of new power plants.
"Collaborations are very important because, by working together, we build trust, combine our strengths, and deliver better results," says Mark. "To enhance our earnings, we are currently developing a 2,242-megawatt combined cycle gas turbine power facility in Melaka, and have an allocation of 500 megawatts for solar power."
Lighting up 10% of Malaysia's electricity requirements, the new plant will deliver the most cost-effective conversion of fuel to electricity and will make Edra the largest IPP in Malaysia. With operations expected to begin in 2021, Edra contracted three domestic banks to raise RM5.28 billion through a sukuk, or bond program, in November last year.
"I measure success by relentlessly eliminating as many failures as possible. A leader inspires, empowers and motivates others to perform beyond their personal expectations. I strongly believe that teamwork delivers results you could never achieve on your own."
The project potentially has immense spillover effects for the local economy in generating more than 1,000 jobs, particularly for the local community. Mark says the company is committed to ensuring that the project benefits the local economy, and estimates the procurement of local supply and services for construction projects worth about RM1.5 billion. "In developing power plants, we create not only electricity but also employment and economic benefits. These impacts bring me great satisfaction and give me the momentum to keep going."
A large-scale project
Edra is in the process of completing a large-scale pilot solar photovoltaic plant in Kedah, with a generating capacity of 50 megawatts. The largest in the country, Edra's Kedah solar plant will generate electricity via renewable energy, contributing significantly to the state's economic growth and Malaysia's energy needs. "We want to mobilise our expertise and resources to ensure that the completion of the project is timely," says Mark.
In line with his vision to grow Edra's regional footprint, Mark ensures the company pipeline is always full of promising developments. "My main focus for Edra in the near future is to continue providing reliable and safe electricity supply to the markets we operate in. I will ensure that our current development pipelines proceed on time, and that we continue to increase our generating capacity and complete fundraising exercises," he says.
"We are actively sourcing opportunities for local and international expansion and exploring new mixes of fuels for future growth. To support this expansion, we are continuously strengthening our talent pool, and developing operations and maintenance teams so that we can provide high-quality services to third parties, governments and private power entrepreneurs," explains Mark.
"In addition to our conventional generating capacity, we are also interested in renewables, with solar photovoltaic and wind development projects in the pipeline. Over the past few years, power generation technology has improved tremendously, with better efficiency, and clean energy is quickly becoming mainstream. The industry is better regulated as governments are more concerned about the impact of carbon emissions on the environment.
Despite the renewables trend, conventional low-emission energy generation will still be used, especially in markets where these fuels are in abundance and are more cost-effective.
"Nevertheless, we always keep ourselves abreast of the latest industry developments and plan our strategy accordingly, allowing us to react to change in a timely and effective manner. Innovation is important to improve performance and generate electricity at a reduced cost without compromising on safety and reliability. In the case of the Melaka plant, we have selected the latest GE 9HA.02 gas turbines to deliver the most cost-effective conversion of fuel to electricity."
A solid foundation for growth
In order to optimise Edra's skills and resources, CGN retained the existing management team and employee base during the takeover, laying down a solid foundation for future growth.
"Culture represents the collective values of our organisation; it determines how we do business. The senior management at Edra are role models who communicate and instil our culture with the employees," says Mark. "Edra operates in five countries, each with its own local cultural background. We acknowledge these differences, and we encourage our employees to interact with staff from other offices."
Edra is deeply committed to strengthening its local supply chain, taking into account
local requirements and contributions to the economy. The company employs local talent where possible, creating employment opportunities where it operates. "Besides competitive remuneration, our employees are provided with opportunities for development throughout their career. These include structured training, job rotation, and continual exposure to challenges to keep them motivated."