Stepping into the CEO role at the Bahrain Petroleum Company (Bapco), Dr Pete Bartlett was keenly aware of the organisation's history and its enduring position in the Middle Eastern oil and gas sector. The industry veteran and self-described "amateur historian" recalls that he had little hesitation in applying for the position when the opportunity arose.
Having spent more than three decades working in oil and gas, the previous 14 years of which were with US multinational Chevron, Pete brought a wide range of experience to the role. He explains that the international exposure gained at Chevron had him well prepared upon joining Bapco in 2014.
"I had a broad grounding as to how our industry operates that one can only get from a large, international company with operations in many countries," he says. "I've had the good fortune not only to work in some of them but also to have travelled widely, and that set me up well for moving to Bapco."
Dr Pete Bartlett on loving life in the Middle East
On both professional and personal levels, the top job had appeal, as it represented an opportunity to work and experience life in a different part of the world, as well as in a region that is an oil and gas industry hub. "It excited me because I had travelled in and out of the Middle East for many years, trading oil and looking at projects in the region; however, I had never actually lived there," he recalls.
"The Middle East is so important to both the history and the continued development of our industry, and it is also a wonderful place to go to have another life experience. So, when the opportunity presented itself, I put my hand up."
Pete states he was aware of the part that Bapco – which was established in 1929 by Chevron predecessor Standard Oil Company of California – had played in opening up the oil industry in the Middle East, and that since taking on the CEO position he has learned more about the company's tightly integrated history with Bahrain.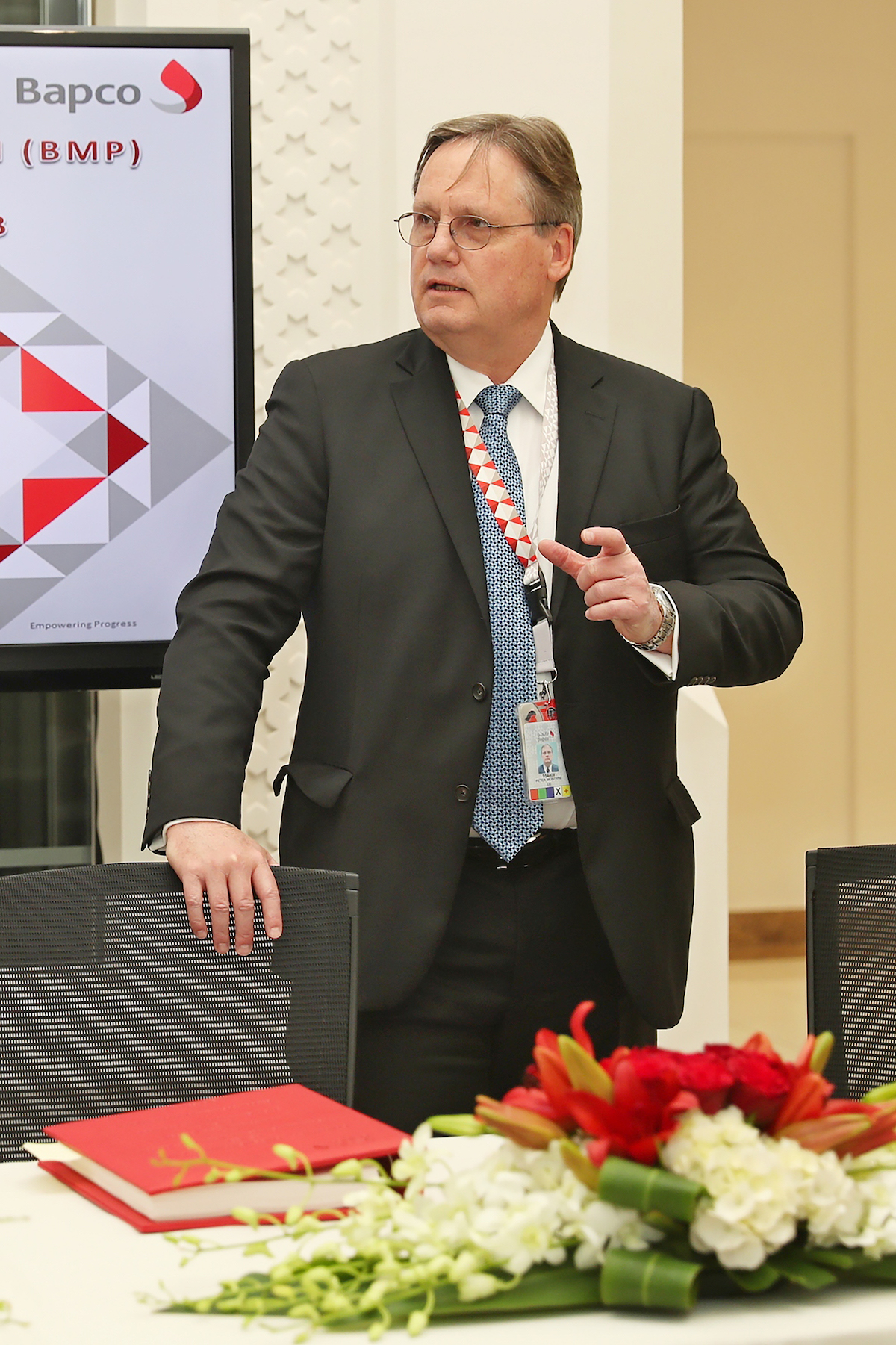 "If you're a leader who presents as someone who is a careful listener, then you will build a more sustainable commitment to the shared goals that we all have as employees.
Bapco is now wholly owned by the government of Bahrain, and its activities include exploration, refining and exporting crude oil, and selling petroleum products both locally and internationally. "I knew what Bapco was about," Pete states. "However, now that I'm inside the company, what I've also learned about is the span of its activity, not only in the oil and gas industry, but also what it does on behalf of Bahrain.
"Bapco has been very prominent in the economic development of the island, and that process, although less pronounced than when the company was formed back in the 30s, is nevertheless still very substantial today."
The Bapco Modernisation Program
In addition to being a keen student of the industry's history, Pete is also very much focused on its future in Bahrain. To this end, he has drawn on large project-management experience in overseeing the proposed Bapco Modernisation Program, encompassing an expansion and upgrade of the company's Sitra refinery.
He explains that if the program is pursued, Bapco will embark upon a period of widespread development, growing by up to 50% and ushering in a new era for the company, with it being a matter of getting "the investment commitment over the line".
"We are also installing, as we speak, a new pipeline from the eastern province of Saudi Arabia, where we have purchased a considerable volume of oil over many decades," he states. "We're replacing the old pipeline with a new one, and it is being constructed right now. I have also been involved in rebranding the company, which has included defining a new vision for Bapco, and this is all predicated on reinventing Bapco ahead of the investment that we may make in the modernisation program."
The future of the oil & gas industry
At a global level, it has been a turbulent time for the industry in recent years amid the sharp decline in oil prices. Pete also points to issues surrounding an ageing workforce and the need to develop the next generation of workers.
He notes that the oil and gas industry in Bahrain is now at a "proverbial fork in the road," and states that the modernisation program will increase Bahrain's exposure to the industry for the express purpose of buying time to develop other industries that will then make the economy more resilient and diverse.
"The industry has produced oil and gas and exported many hundreds of millions of dollars' worth of value into the international energy marketplace over several decades," he says. "I'm trying to help develop the business case for extending the life of Bapco, and the life of the oil and gas industry here in Bahrain, and there is a good commercial reason to do so."
A strong culture of accountability
Describing himself as a "consensus leader", Pete emphasises the importance of building trust and establishing credibility as a means of sustaining commitment within an organisation. He explains that Bapco has adopted the tagline 'Empowering Progress' with the company seeking to create a strong culture of accountability.
If you're a leader who presents as someone who is a careful listener, then you will build a more sustainable commitment to the shared goals that we all have as employees.
"If you're a leader who presents as someone who is a careful listener, someone who tries to galvanise alignment around a shared set of goals and objectives, then you will build a more sustainable commitment to the shared goals that we all have as employees," he observes.
"We're trying to encourage employees to take ownership and to assume responsibility for what they deliver. As a leader, I encourage employees to recommend a direction for my endorsement, and to then own that recommendation and the commitment to delivering on it."