As a business leader, Fifi Henirawati Hoo is driven by more than just numbers. The President Director of BP Castrol Indonesia is also passionate about making a difference, giving people a platform to grow, and mentoring potential talent. She says she wants to be able to touch people's lives every day. "I want to be more useful and impactful to other people," she shares. "I want to be able to build something that really helps people and gives them the opportunity to further develop themselves and their careers."
Fifi's mandate at BP Castrol Indonesia is to lead and drive the overall automotive, industrial, mining and heavy-duty lubricant business for BP Castrol in Indonesia, while also managing the local, functionally structured teams of several divisions: marketing; supply chain; commercial; HR; health, safety, security; and environment.
Fifi Henirawati Hoo's detour into the oil industry
Her ultimate vision is to ensure that the company is superior in terms of marketability, with a good distribution network and properly implemented logistics and channel management systems. "I really value and embrace BP Castrol's values, and they form part of what I do each day," Fifi notes. "BP has always had five core values – safety, respect, excellence, courage, and one team."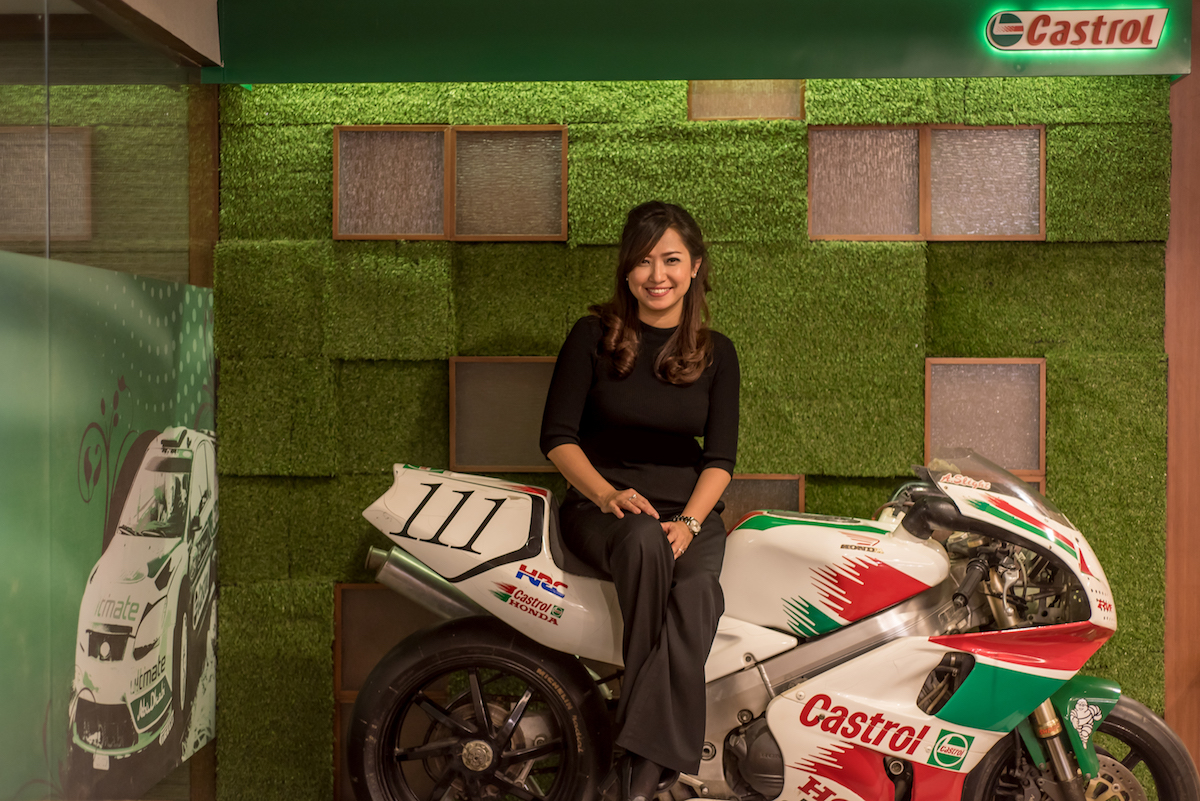 BP has always had five core values – safety, respect, excellence, courage, and one team.
The president director's professional journey in the downstream oil and lubricants industry extends 13 years, after she initially joined BP Castrol's Indonesian arm in 2004 as OEM director/B2B automotive lubricant head. The role was somewhat of a career detour – she had studied both a Bachelor of Architecture and a Master of Science in Industrial and Systems Engineering at university; however, post-graduation the Asian financial crisis hit and she realised that there were limited opportunities in those fields.
"It was a fairly different environment after the crisis," she says. "So, when I finished studying in Singapore, I worked for a few months as a consultant; then I returned home to Jakarta." Once employed by BP Castrol, she slowly moved up the ranks: she became the strategy projects and global mining coordinator, then the acting country sales director Indonesia, before being appointed acting president director of the region in 2014. Her role was later made official in August 2015.
BP Castrol Indonesia has growth potential
The oil and lubricants sector has evolved significantly over the past few years. Oil prices have been declining, sustainability has been a big issue of contention, and the downstream segment has made moves to become a bigger part of BP's overall strategy. Fifi admits that there have been plenty of challenges to overcome, but she is positive about the future of BP Castrol in Indonesia.
"I think the big picture is that there will continue to be growth," she states. "There is huge potential in the market here. We want to be one of the most prominent companies in the BP Castrol group and we want to be delivering on the key initiatives."
As part of its overarching strategy, BP Castrol is open to sponsorship opportunities. It has partnered with the likes of FIFA, Moto GP, and The BLOODHOUND Project in the past. Fifi says it's an interesting aspect of the brand: "It connects us with a massive audience and allows for excellent interaction with the customers."
Emotional intelligence is invaluable
According to Fifi, a few highlights of her career thus far have been joining the BP Asia Pacific Emerging Leaders in 2006 and the People Accelerator Program in 2014. "I was truly blessed by that," she comments. "The accelerator program was for people at a managerial level. It was for staff members across Asia–Pacific. Through the program, I was exposed to many facets of the business and I also had the opportunity to take on some major assignments.
"I believe that the best leaders are the people who have become the best versions of themselves. But having said that, they should never stop there. I think everyone has a different style – some CEOs believe more in the emotional side of a workplace culture, while others are more concerned with the numbers. For me, emotional intelligence is very valuable.
"I actually think that everyone has the ability to be a good leader if they work on becoming the best version of themselves. However, what might be the best version of me today might not be the best version of myself tomorrow. That's the philosophy I live and work by, to always try to better myself."
A strong role model for women in the workplace
Fifi adds that leadership is not necessarily about being completely across all of the technical aspects of a business. "It's about how you are actually seeing things and how you can solve problems," she says. "It is looking at the big picture and thinking three or four steps ahead – so, thinking about what is in the pipeline and how to set the direction for where you want the company to go. That is something that I have learned over the years."
Testament to her development and achievements as a leader, in 2016 Fifi was announced as a state winner in the Excellence in Women's Leadership Awards. Being a strong role model for females in the workplace is an area she is particularly passionate about. "Women can often be the quietest voice in the room – that's the experience I've had – but they do have a lot of great things to say, as well as ideas. I want to show that there is room for women to become leaders, even in typically male-dominated industries."
After a rewarding 13 years with BP Castrol, Fifi is now moving on to pursue her own start-up in the fintech industry.