With major changes impacting the water and waste management multinational SUEZ, CEO Jean-Louis Chaussade admits "It's not easy day to day. We have to manage a transformation and in order to do that well, we need to clearly explain the situation to all 90,000 employees and implement the change as rapidly as possible."
Overseeing a large-scale organisational shift may seem daunting to many, but Jean-Louis is no stranger to upheaval, having previously been CEO of the Group's subsidiary Degrémont Spain when it was caught in the crossfire of Basque separatist conflict. Jean-Louis looks back on his time there as one of learning. "It was a fascinating experience because the question was: How do you rebuild a company when everything has disappeared? After the blow we received, everything was gone: documents, drawings, everything."
Early days
Despite what could be described as a stressful period, Jean-Louis instead is thankful he got to discover Spain, a country he still loves. He spent three years in Bilbao and five in Barcelona, before transferring to another subsidiary, Lyonnaise des Eaux in Argentina. He says this globetrotting background gives him a genuinely multicultural approach, an important attribute in a company that is one of the world's longest running multinationals. "If you want to work well with many different people, you have to adjust your approach. The cultural issues are something I always thought were important."
A graduate of ESTP Paris (Engineering), the Sorbonne (a Master's in Economics), Institut d'études politiques de Paris and Harvard Business School, Jean-Louis has been working in the water treatment sector since the 1970s. His first role was with Degrémont and he was hand-picked to return to the company, and his native France, by its then CEO. "It was funny to come back to the company," Jean-Louis recalls. "You know, you go back a few years later as the CEO and you recognise all your colleagues, but you have to manage the company. I had to restore the profitability of Degrémont and a sense of possibility, which I did."
In 2004, Jean-Louis was appointed Deputy CEO of SUEZ (now ENGIE) and CEO of SUEZ Environnement (now SUEZ). He could not have picked a more eventful time to return to SUEZ as July 2008 saw it gain approval for a giant merger with utilities company Gaz de France. Just one day later, Jean-Louis had to start preparing for the public listing of SUEZ Environnement. Meanwhile, the global financial crisis played havoc with international market conditions. However, once again, Jean-Louis rode out the storm and approached the trying conditions with an optimistic mindset. "It was a new adventure for me," he recalls. "Being the CEO of a listed company was different to being the general manager of a big division."
The transformation
Even as the effects of the GFC began to recede, there were major hurdles to overcome with the migration to digital technology and a looming shortage of water and raw materials. "These challenges meant the company's business model changed significantly," Jean-Louis explains. "Our role was no longer simply managing the water network but managing the full cycle of resources."
SUEZ has placed the circular economy at the heart of its transformation. In 2015, all Group brands were brought together under the single brand name of SUEZ, positioned in the sustainable management of resources. The company continued to be acquisitive under Jean-Louis' leadership, purchasing Aguas de Barcelona (Agbar), a company specialised in water cycle management. It finalised the acquisition of the company formerly known as GE Water & Process Technologies for €3.2 billion in late 2017 and has confirmed it will continue to explore options for further acquisitions.
Jean-Louis describes the stock market listing and these two acquisitions as the most notable milestones of his time leading SUEZ. The new additions contributed considerably to the company's know-how (for example, the purchase of GE Water brought with it 650 R&D and expert staff), but the influx of new staff and processes meant there was significant work to be done in bringing the newly expanded company together.
"Frankly speaking, SUEZ already has a very strong culture, but it must adapt to the new reality. The major cultural issue for us now is how we bring together a collection of views and become a single entity."
"SUEZ already has a very strong culture … The major cultural issue for us now is how we bring together a collection of views."
The company is working hard on supporting its clients, local authorities and industries, in reducing the usage of water and raw materials. It is also pursuing ambitious targets in terms of recycling raw materials and reusing water. "We aim to use much fewer resources than we had before to provide the same service," Jean-Louis confirms.
"Environmental issues are absolutely vital to how I see the business in the twenty-first century."
"Environmental issues are absolutely vital to how I see the business in the twenty-first century. There is a lot of potential for SUEZ to embrace these concerns." Innovation will pave the way for both minimising environmental impact and driving efficiency gains. "The business model is evolving and therefore customers' needs are evolving," Jean-Louis explains. "We need to both provide new services and adjust our current services to meet these needs." To this end, SUEZ has developed technology to monitor water networks in real-time and detect leakages, leading to reductions in response time and water loss.
Other new technology includes a platform that enables real-time management of facilities such as waste-to-energy plants. This technology can anticipate when the plant needs to be shut down for modifications. Smart systems have become increasingly important and SUEZ is utilising these systems to monitor treatment plants and adjust the quality of the water and volume of the flow across its extensive network.
Jean-Louis says a clear priority for the company in the short term will be ensuring profitability and growth. He anticipates that public–private partnerships will become an increasing part of the SUEZ business model. Any change in strategic direction will be made in close consultation with its shareholders, including ENGIE, which has a 32% stake in SUEZ. Jean-Louis meets with them four or five times a year to provide updates. "We always try to explain the situation of the company and how it is developing; we very much have a direct relationship with individual shareholders."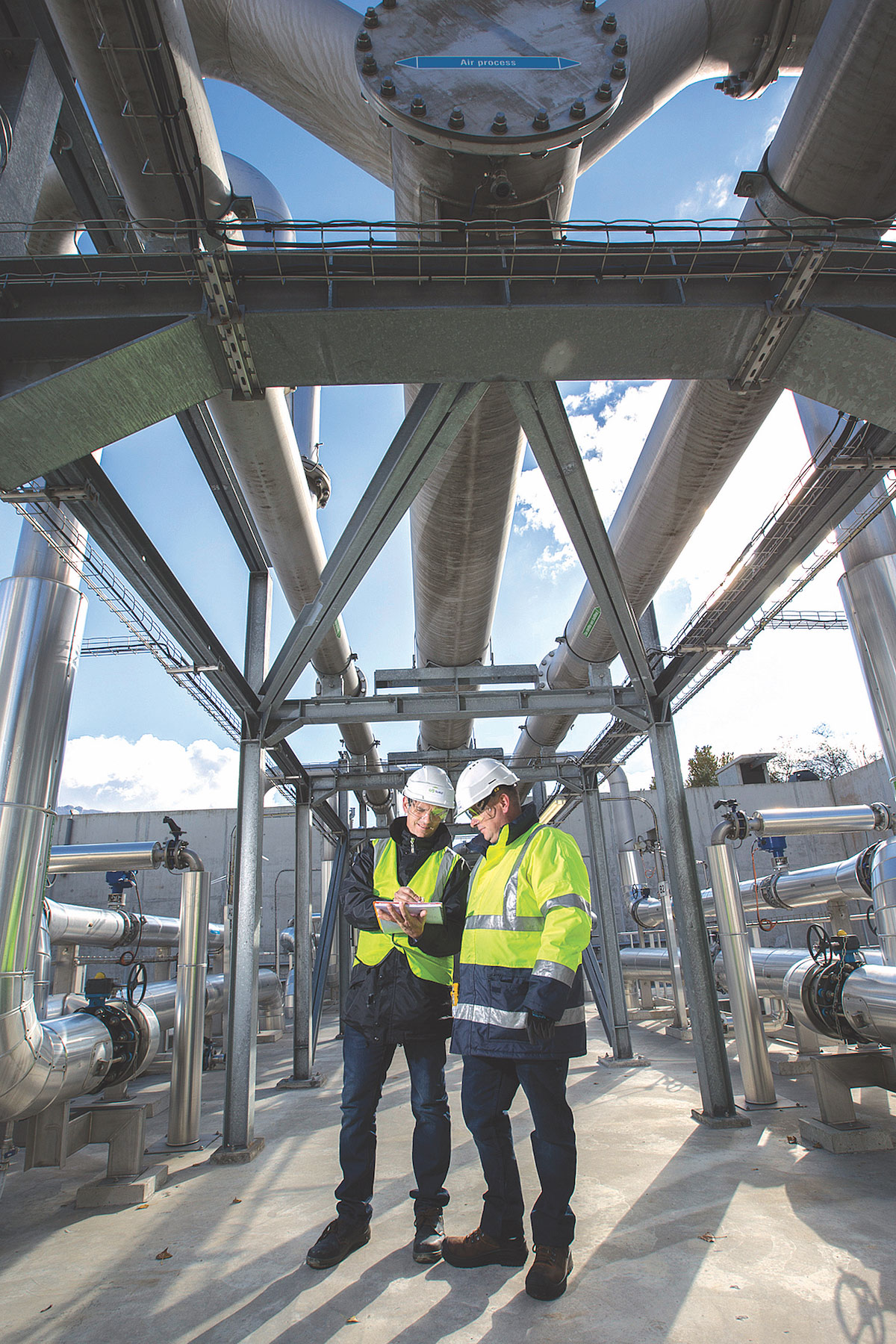 Giving back
Jean-Louis is also Chairman–Founder of SUEZ Foundation, the company's charity arm that aims to promote social inclusion. The foundation recognises that globally 1.8 billion people lack access to clean drinking water and 2.4 billion do not have access to basic sanitation services, and works in concert with local non-government organisations and charities to address this. It also supports the integration of vulnerable populations in France through education and employment.
Recent initiatives have included working to improve access to clean drinking water in Burkina Faso and extending the waste management service in Congo. In Niger, the foundation is supporting a local association called Les Puits du Désert that is building dozens of wells to improve access to drinking water and contribute to the creation of market gardens.
The foundation has an annual budget of €4 million. It awards two prizes of €50,000 every two years to innovative projects that improve access to clean water, sanitation or waste management in developing countries.
One prize recognises good work in terms of enhancing access to essential services and the other encourages social entrepreneurialism, particularly in employment or economic development for disadvantaged people.
As with SUEZ, the foundation will adapt to meet changing demands in terms of water consumption and waste management. Jean-Louis says resilience and flexibility will be its watchwords in coming years. "It is absolutely crucial the company adapts to the speed of change."
In this dynamic environment, Gérard Mestrallet, who recruited Jean-Louis back to SUEZ, remains a valuable ally and sounding board. The pair have worked together for more than 20 years. "I can exchange ideas with him, and of course I also consult people of my team on a situation and what decision needs to be made," says Jean-Louis.
Continuing to refine its technology and integrating the former GE Water activity and employees will be ongoing projects for the company throughout 2018, but Jean-Louis points out that SUEZ has a track record of implementing large-scale change. "Compared with when I started working here 30 years ago, the size of the company, the businesses, the stakeholders and, of course, the people, are very different now. We constantly adapt our business model to society changes, as we have recently with the digital and resource revolutions."