Most Australians probably don't dwell too deeply on water or where it comes from. As long as it comes out of the tap, fills a swimming pool and flushes the toilet, it serves its purpose. Goldenfields Water County Council's General Manager Phillip Rudd admits he was much the same a decade ago.
It wasn't until the electrical engineering student completed two internships at Gosford City Council – previously one of the largest council-owned and -operated water utilities in New South Wales – that the tide turned and water became more interesting.
"I was monitoring and reporting for all the water and sewer infrastructure, and it opened up the water industry to me," he says. "Before that, I was just like the majority of the community: I'd turn the tap on or flush the toilet, and that was all I'd associated water with."
Phillip Rudd's path to leadership
Straight from university, in fact still with studies to complete, Phillip landed the role of electrical engineer, managing 25 staff and a A$3.5-million budget, in control of the council's electrical assets, electricity contracts, capital works and maintenance programs.
Over the years, he moved through the ranks to become the council's water and sewer coordinator (electrical and mechanical), overseeing 60 staff and an A$11-million budget while somehow squeezing in an MBA, as well as a Water Leadership Program with the Brisbane-based International WaterCentre.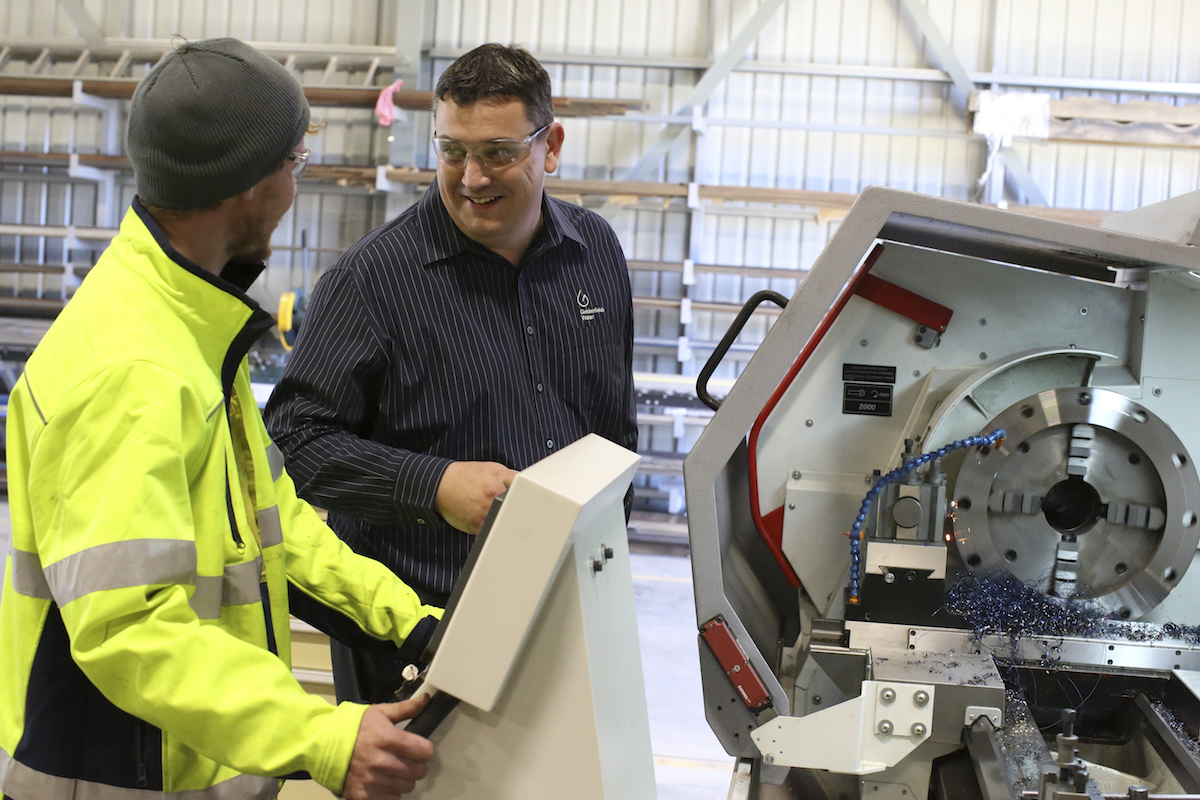 "I don't know where I would be without undertaking both those programs," Phillip admits. "While the MBA gave me a really good understanding of business and general management away from the very technical engineering role, I got even more out of the leadership program. It provided day-to-day processes for how to work with staff, support them and empower them to make decisions."
Phillip secured the role as director of infrastructure at Goldenfields Water in 2015. However, the appointment was short-lived, when only four days into the job the council's general manager took him to one side. "He told me he was going on leave. He never came back," Phillip says. "A couple of months later, the role was advertised and I was successful in securing the general manager position."
Goldenfields Water: 20 years supplying water
Goldenfields Water, which celebrated its twentieth anniversary in July, supplies drinking water to 46,000 customers across an area of 22,526 square kilometres in the South West Slopes and Riverina districts of New South Wales. Following the council mergers last year, it consists of seven local government areas: Bland, Coolamon, Cootamundra–Gundagai, Hilltops, Junee, Temora, and Narrandera.
"Over the past 20 years, we have spent something in the region of A$124 million on new infrastructure. We increased our storage by 14% and treated enough water to fill 77,000 Olympic-sized swimming pools," Phillip says. "We are a unique organisation in that we have the largest water pipeline network in the state, but very low customer density.
"We could have a major storm in one borough and drought in another, where we'll proactively work with our customers to reduce their usage. I don't know many other businesses that would advertise to reduce or not buy their product. But because we are a small organisation, it allows us to be quite nimble, to be able to adapt to the changes as required, while at the same time having that mass in order to deliver our large projects."
Working closely with consumers
Goldenfields Water has implemented a four-year cycle strategy to ensure it keeps up with the demand to not only continue to provide customers with high-quality drinking water but also to engage the community. "In the past, utilities haven't been seen; they just existed in the background," Phillip explains.
"We need to be working with our customers, making sure we deliver the services they want, how they want. For too long utilities have had the attitude that if the customer doesn't like it, they can just go away. But I'm a firm believer in being in touch with our customers – it's the only way we can improve."