Beach Byron Bay
Living in Byron Bay is the dream of many, so it's no surprise that chef Daniel Watt leapt at the opportunity to head up Beach Byron Bay's kitchen.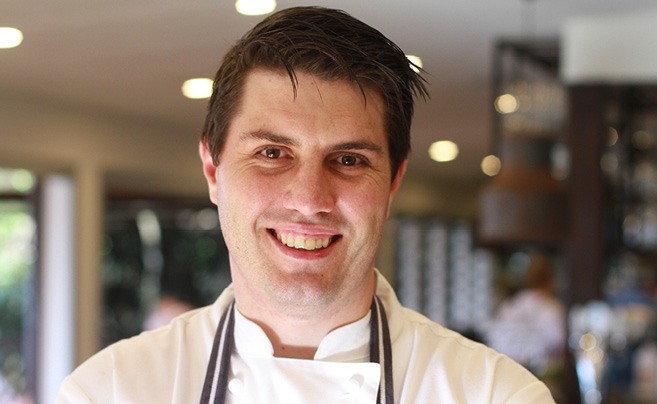 Ask anyone who has relocated to Byron Bay about the reasoning behind their move, and there's a good chance that the beaches, the surf atmosphere, and the food all contributed to the decision. It's not surprising then, that the head chef at Beach Byron Bay is pleased to have all of the above in his work and life, as the restaurant is perched high on the sand dunes above Clarkes Beach overlooking Julian Rocks, the surf is a one-minute walk away, and at work, he's surrounded by some of the best produce in Australia. The atmosphere goes without saying. After all, who wouldn't be happy sitting on a deck in the sunshine by the beach indulging in beautiful food and wine? The happy customers alone create an intoxicating atmosphere at this special place run and owned by locals Ben and Belinda Kirkwood.
The Kirkwoods were behind an equally successful fine-dining restaurant in Byron called 'dish' and a bar called 'raw'. Customers enjoyed pre-dinner drinks and oysters at raw, then followed things up with dinner at dish. Now, they have taken on Beach Byron Bay (which has been a local institution for 30 years, previously known as the Byron Beach Cafe), and have carefully renovated the building.
While maintaining the relaxed beach-shack feel that has been attracting people to this special spot for years, they've raised the bar and created a stylish, open-plan, contemporary beach-house feel, with natural light and open doors adding to the ambience and letting the wonderful outside surrounds in. It's all beach, ocean, sun, and sky.
"I was looking for a change when this chance came up and I jumped at it," says Watt. "I, like everyone who comes here, love the relaxed, casual vibe, and yet the food we serve is high end. It's the only restaurant here in Byron right on the beach, and people just love being here, as much as I do. Even after a really busy day and night, I can leave here feeling relaxed. That's incredible for a chef!"
Watt goes on to explain that the produce he has access to is second to none, so inspiration is always flowing. "At the moment, I'm loving the locally grown Piel de Sapo melons (they're like rockmelons) that are from Spain and grow well in Brazil, but grow so well here due to the similar climate.
You can download the full article below…