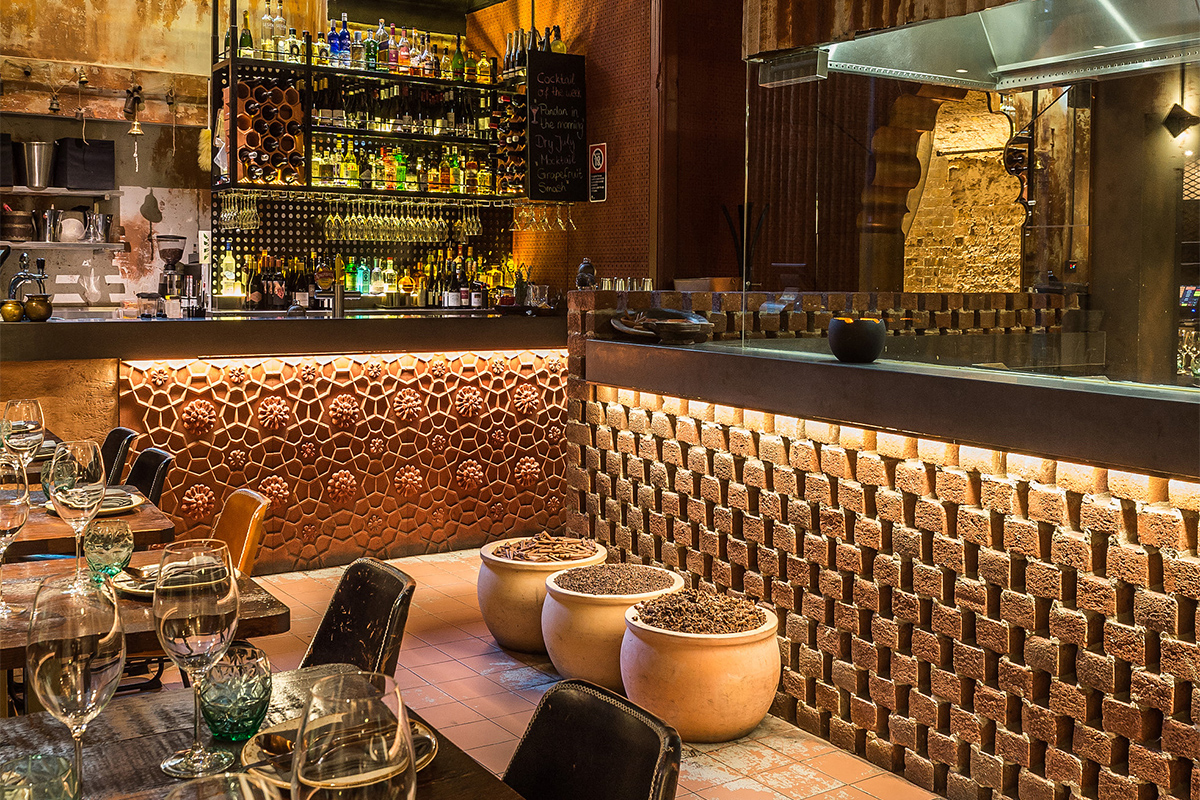 If you're looking for a modern Indian restaurant that serves more than just really great food, then INDU is for you. Because what it offers, alongside delicious dosa, golden paratha and silky dhal, is an experience that delights all the senses and stays with you long after the last of the mango marshmallow has been devoured.
Take a few shorts steps down into the dimly lit basement of the heritage-listed building at 350 George Street, and you're instantly transported to another time and place. Like a cross between a modern eatery and olde-worlde speakeasy, the ambient space is both bustling and sensual, with giant brass bells hanging from the ceiling, and huge terracotta pots brimming with cinnamon and cardamom lining the floor. The air is filled with a heady mix of aromatic spices and raucous laughter, and the atmosphere is as exotic as it is exciting.
The food doesn't disappoint either. Authentic and innovative, the menu takes you on a culinary journey of southern India, from the coast (spiced spanner crab and salt cod served on a betel leaf) to the village (twice-cooked lamb ribs with an almond and jaggery spice crust).
There's the cured sea trout with fennel, cardamom and herbs, served with a zingy green chilli and cucumber chutney. Light, fresh and flavourful, it's the perfect way to begin. Next up, is the goat's leg dosa; a standout dish. Rich, meaty, smoked goat's leg, served with zucchini ribbon raita, pomegranate seeds, chilli and bacon jam, and a buttery, fermented rice and lentil crepe to wrap it in. Please use your hands; just like with pizza, dosa has no business being eaten with cutlery.
The slow-cooked red lentil dhal, spiked with aromatic mustard seeds, is homely and moreish, while the watermelon salad tossed with mint, cucumber and yoghurt provides some light relief from the heat of some of the spicier dishes.
The star of the show? It's got to be the restaurant's signature dish, the lamb shoulder raan – "The Great". Marinated in sweetly spiced masala and slow roasted for 48 hours, this could quite possibly be the softest, tastiest lamb you'll ever eat. The fresh mint chutney that surrounds it is equally as sublime.
Finally, if there's room for dessert (and even if there's not), order the mango marshmallow with mango and red chilli soup. Sweet, spicy, soft and silky, it's the only way to end your culinary expedition and the perfect way to start your newfound obsession with INDU. See you there.