Blissed out in Bali
Tropical Bali is a must-book getaway for sun-seekers wanting to take in stunning views and experience uber-friendly hospitality.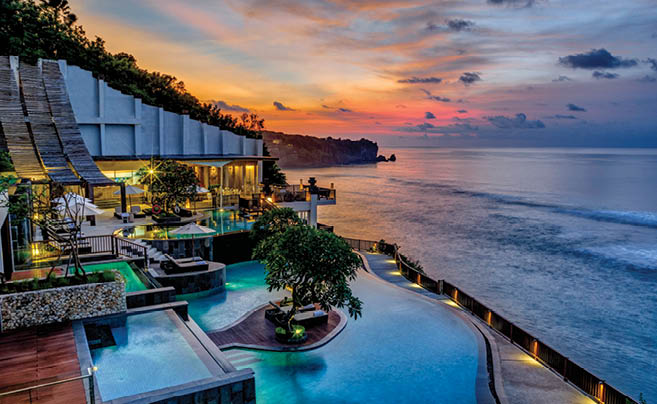 Known for its beaches, coral reefs, forested volcanic mountains, and rice paddies, Bali is a popular vacation spot for the Australian holiday-maker. Whether you want to relax and soak up some rays, participate in adventure activities, or hit the shops, there's something to suit every taste.
Anantara Hotels, Resorts & Spas has two luxury accommodation options on the island, the perfect way to indulge and see the best that Bali has to offer. Enjoy the panoramic ocean outlook on the isolated Uluwatu cliff face, or head to lively Seminyak for a high-end spa and boutique shopping experience.
Anantara Uluwatu Resort & Spa
On the secluded southern coast of Bali sits the ingeniously designed and incredibly luxurious Anantara Uluwatu Resort & Spa, cascading down a cliff side towards the beautiful Impossible Beach and overlooking the Indian Ocean. A stay at Anantara Uluwatu is a vastly different experience from what people might think a tourist-filled Bali is like. It's a place to get away from it all, relax, and take in the unadulterated panoramic views of sea and sky.
The resort has 74 ocean-view suites and private pool villas, as well as a penthouse, which are contemporary in design with Balinese touches. Each room is fitted out with a high-tech entertainment system featuring a 42-inch LCD TV, an iPod docking station, and Bose speakers. There is a double rain shower inside and a Jacuzzi for two on the balcony, as well as a Nespresso coffee machine and electronic in-room safe. Every detail is thought of, from the refreshing cranberry and lime drink which is offered on arrival after a tiring flight, to the array of exotic fruits which are replenished on your coffee table daily. There really is no reason to venture away from the indulgent haven that is Anantara Uluwatu.