Elementally Byron
Mixing business with leisure now has a new name: Elements of Byron.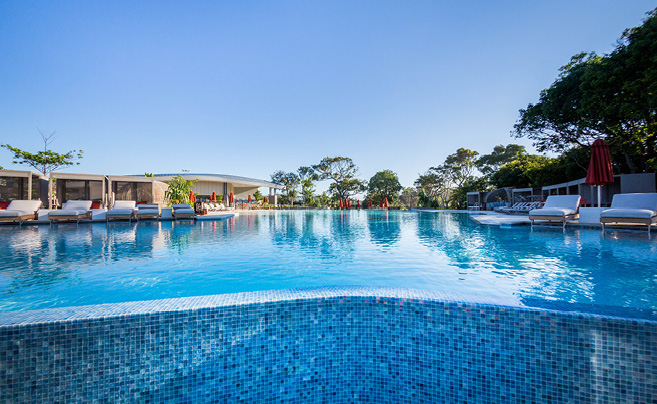 When most people think of Byron Bay, they think of downtime, party time, or health retreats. And that's exactly why the latest arrival on Byron Bay's hospitality scene is unique—it encapsulates all of the above, but it's also home to state-of-the-art conferencing facilities and enormous meeting spaces that will have any executive dreaming up the right project to take the entire team away for some serious business with a futuristic Zen edge.
Elements of Byron has everything that anyone after a resort holiday yearns for—fine and casual dining, an enormous pool with waterside cabanas, a top-shelf spa, an expansive bar—and, to make it one of the most outstanding places in this region teeming with accommodation options, it also has freestanding bungalows by a peaceful lagoon, and villas with a beach club nearby. The superb conferencing facilities on the grounds mean that when the business part of the trip is over, then the relaxation and rejuvenation can truly begin.
The conference wing of the main pavilion is located just steps from the resort's lobby, and it can be transfigured to suit businesses and events of any size—taking 450 people in a theatre-style arrangement, or 250 in banquet style. There's a host of different indoor and outdoor spaces, with dividing walls, high-speed wi-fi, full catering facilities, cutting-edge audiovisual technology including two 165-inch HD video walls, separate bar and courtyard with a green wall, vehicle access, customised lighting and sound bars, easily controllable natural light, and individual break-out courtyards—including one right by the pool with its own lush garden and lawns.
The (often-deserted) beach is a few minutes stroll through the beautifully manicured resort gardens and over a gentle hill, and it's an ideal place for team bonding—whether it's early-morning swims, yoga classes, meditation, or inspirational brainstorming. It goes without saying that it makes for a spectacular wedding setting.
The enormous pool is one of the defining factors of Elements of Byron, and it's understandably the hub of all activity. It has so many varied areas in which to relax and enjoy the sunshine, food, and drinks, that it's well worth moving about a few times during a day so as not to miss out on any. There's the luxuriously padded lounge-style lie-lows which jut out over the pool's edge so you can dangle your feet in while kicking back; a duo of giant, swinging pod chairs suspended over a pond-like pool that are as comfortable as they are sculptural; egg chairs hanging from the trees in the garden; and ginormous, spherical cocoon-like enclosures that are more like lounge rooms than pool seats.
You can download the full article below…