Luxury in the skies: Emirates unveils its new first-class private suites
The suites offer guests the latest technology and the peak of comfort.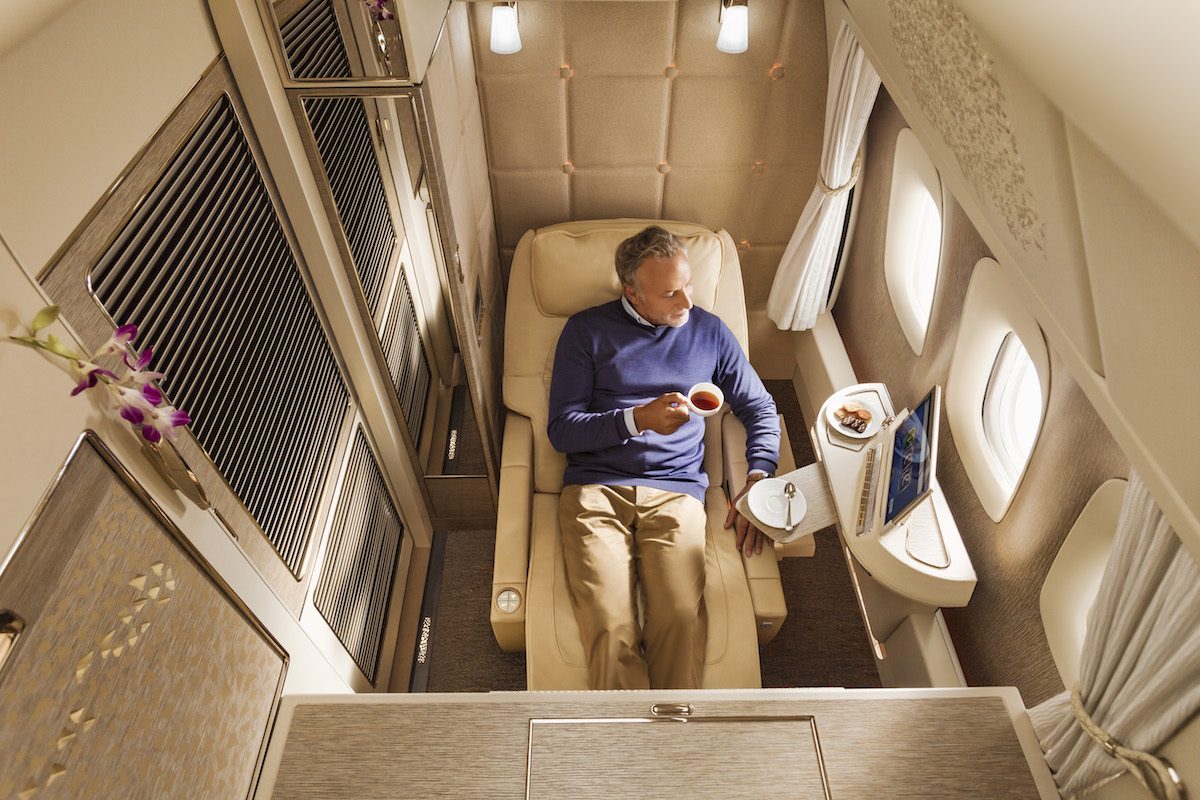 First unveiled at the Arabian Travel Market 2018 in April, the luxurious suites are now a feature on most of the airline's Boeing 777 and A380 planes. They are ideal for busy executives seeking peace and quiet to get some work done or to completely unwind and enjoy some much needed me-time.
Each suite allows the guest complete privacy, with floor-to-ceiling sliding doors creating an oasis of comfort. The service window also means staff can deliver food and drinks without interrupting sleep or work.
Sir Tim Clark, President of Emirates, said the airline had been at the forefront of the private suite concept, which it pioneered in 2003.
"Today, it's the industry benchmark when it comes to first-class travel. Over the years, we have continually improved on our private suites, adding thoughtful refinements and features.
"We are very excited about our new fully enclosed suite which is a real game changer in terms of privacy, comfort and thoughtful luxury."
Bowers & Wilkins noise-cancelling headphones allow flyers to totally zone out and immerse themselves in one of the 3,500 channels available on their 32-inch high definition LCD touch screen.
The spaces are also fully customisable, with controls for each suite guest to adjust their own temperature and lighting levels for optimal comfort. The spacious design and soft leather setting are an antidote to the cramped conditions of commercial air travel.
Emirates takes inspiration from the Mercedes-Benz
The design of the suites was inspired by the interior of the Mercedes-Benz S-class. It uses a muted colour scheme of champagne, light grey and cream that's nicely understated.
Beyond the sleek aesthetics, all the comforts you could wish for are there: a well-stocked mini-bar, Byredo skincare products and curtains instead of clunky window shades. Even the pyjamas are high-tech, designed to moisturise the skin while you sleep.
The features of the suites seem designed to counter every annoyance inherent in the flying experience. Tired of clothes getting crumpled up on the flight? These suites have full-length hanging space. Concerned that your brilliant in-flight musings will go to waste because you don't have a pen and paper? Fear not, each first-class passenger receives a complimentary leather-bound journal.
Even the old bugbear of being stuck in a middle seat and wishing you had views has been ingeniously countered. These suites incorporate virtual windows which use groundbreaking fibre-optic camera technology to relay real-time visuals to the guest's screen.
These suites incorporate virtual windows which use groundbreaking fibre-optic camera technology to relay real-time visuals to the guest's screen.
Another striking feature is the NASA inspired 'zero-gravity' seating position which gives guests a floating sensation as they move through the skies.
The new suites add to existing luxury features on Emirates. The menu switches out stodgy airplane food for smoked duck, caviar and Chocolate mille-feuille while the drinks offerings include Dom Perignon 2009 Champagne and Taylor's single harvest Port 1966.
The airline also offers first-class travellers a Chauffeur service; they are picked up and dropped off from the airport in a Mercedes-Benz. Furthermore, there are shower spas with BVLGARI toiletries for an in-flight freshen up.
In 2017, Emirates was voted 'Best Airline in the World' at the ULTRAS Awards.
Travelling for work? Check into one of these luxury business hotels.