Opulence at Oberoi
The beach town of Seminyak is home to some of Bali's finest restaurants, but for a true foray into luxury, you can't go past The Oberoi, Bali.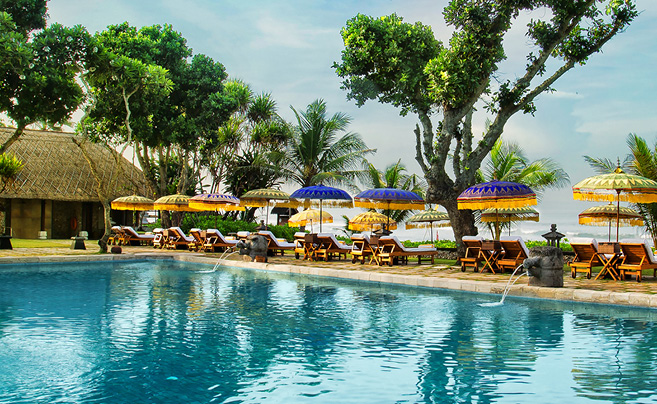 A balmy sea breeze envelopes me, and a distinctly 'holiday' smell — sunscreen, combined with salt water and frangipani — lingers in my nostrils. This is the scent of Bali, an Indonesian island renowned as much for its intimations of paradise as for its party scene. I am here for the former; a relaxing break that takes full advantage of the region's tropical waters, vivid coral reefs, and deep cultural history. And nowhere captures the essence of a 'relaxing break' more than the luxurious The Oberoi, Bali.
Located just thirty minutes from Denpasar Airport, The Oberoi boasts an intimidating list of former clientele. As I walk through the perfectly manicured garden that leads to the hotel's reception, I begin to get a sense of what attracted them. Vibrantly coloured flowers are interspersed between rustling palm fronds and baobab trees, and the sound of trickling water has an immediately calming effect on me. The lobby itself has glossy marble floors and a high thatched ceiling. I'm struck by the way tradition melds with modernity here — statues of the Hindu God Ganesha are positioned just centimetres from wall-to-ceiling glass sliding doors — and feel somehow soothed by the atmosphere it creates.
Looking around at the patent lavishness, I can't help but muse that I don't quite meet the caliber of the hotel's other guests. After all, I'm walking in the footsteps of celebrities like Julia Roberts, David Bowie, and Gianni Versace, all of whom have stayed here before, no doubt indulging in a little relaxation of their own.
My feelings of inferiority are soon assuaged, however, by a cheery and attentive staff member greeting me with a heartfelt handshake. I'm then shown to my room by a young man in traditional garb who wears a toothy grin that doesn't abate throughout my entire stay. In fact, his smile only broadens as he leads me through the customary Balinese entrance of one of the hotel's Luxury Villas. Furnished with rich, polished wood and embracing a natural colour scheme, the villa is indulgence incarnate. But it's the minutiae — the attention to detail — that really has me falling in love with the Oberoi.
Laid out on my side table, innocuously enough, is The Oberoi's pillow menu. It lists four different pillows to choose from to ensure the perfect night's sleep. I test out the royal cotton and supreme fibre comfort pillows before finally settling on the duck down; my indecision apparently a pleasure for the jaunty housekeeping staff. Another minor detail is the daily weather forecast I receive, completely unsolicited, proving that the hotel's staff is aware of my needs well before I am.
Of course, the room itself is something to behold. It comes complete with a grand four-poster bed, views over the Indian Ocean, a private garden and dining pavilion, and a sunken marble bathtub, which is every bit as relaxing as it sounds. In addition to the resort's fourteen villas and sixty lanai rooms, is the hotel's ever-popular Royal Villa. Perfect for honeymoons and wedding nights, the private little oasis is an immense 400 square metres, has its own six-metre long private pool, the option of hiring a private butler, and a fully-equipped kitchenette — not that there is any reason to cook, with the hotel's various restaurant offerings, and 24-hour in-room dining services.
Somewhat overwhelmed by that prospect, I venture out for a pre-dinner cocktail at Kayu Bar. Sipping a mojito while perched atop a plush, velour bar stool — the crashing sound of the surf playing out as a soundscape — it occurs to me that life doesn't get much better than this.
However, I'm proven wrong not two hours later as I tuck into a delectable meal at the hotel's fine dining venue, Kura Kura. Including Kayu Bar, which is perfect for nibbles or a light meal with drinks, there are four different restaurants at The Oberoi, Bali. And while they are all excellent, an evening at Kura Kura is an experience to remember for a long time to come. The menu is such that I'd be happy ordering almost anything on it; the selection ranging from traditional Indonesian dishes and tasting plates, to à la carte modern-fusion dishes. After much deliberation I decide on the Asian mixed pepper and black vinegar-glazed yellowfin tuna, which comes with Kombu dashi, udon noodle, grapefruit, young ginger, avocado, and crispy nori. The synthesis of flavours is like magic in my mouth.
Having been serenaded by the lyrical sounds of the angklung (an Indonesian instrument made from hollow bamboo tubes attached to a bamboo frame), I slowly amble back to my villa, the waves crashing violently on Seminyak Beach in the background. Contemplating what tomorrow will have in store, it occurs to me that while Seminyak is celebrated for its beach clubs, massage treatments, and selection of good food, The Oberoi offers all of these things within its fifteen perfectly landscaped acres. No matter what I decide to do tomorrow, I will be able to do it without having to venture out of the comfort and outright luxury of my resort.